He said that he had the ability to 'hear' color and used disparate elements to create painterly symphonies. A founder and master of abstract painting, he created compositions and improvisations, dreamed of merging music and color, and never stopped experimenting. Here is our account of some of the most important works by this Russian Avant-garde artist.
1. "The Blue Rider", 1903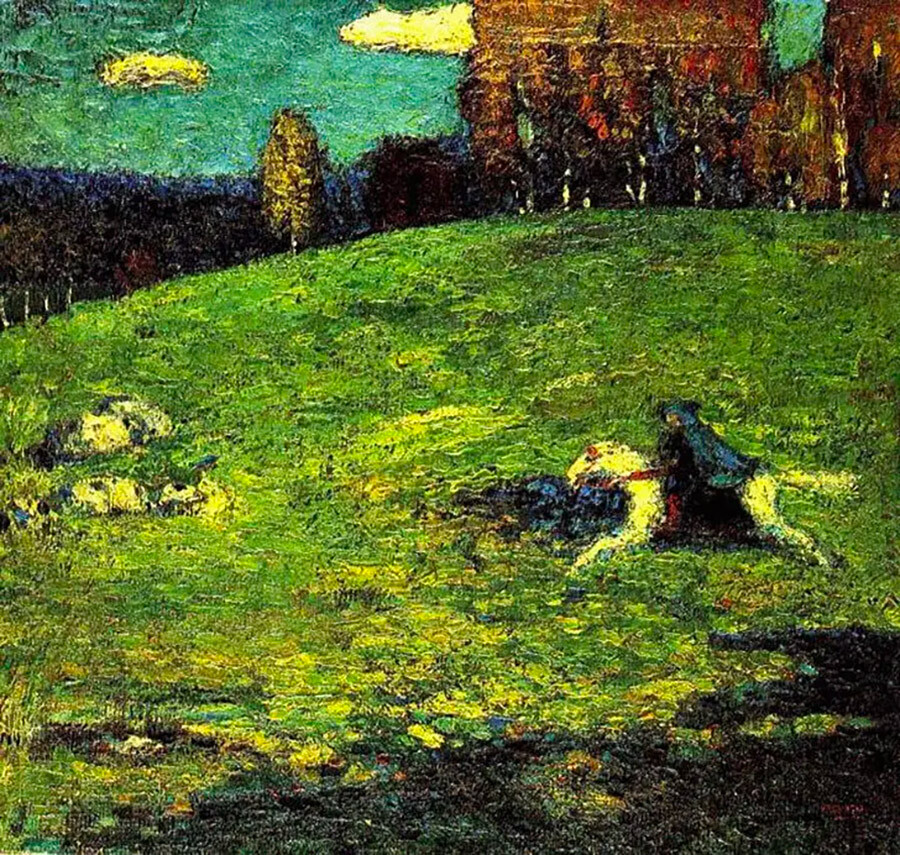 Kandinsky (1866-1944) was first introduced to painting in his childhood: In addition to attending a classical gymnasium (a grammar school that taught the Classics) in Odessa, he also took drawing lessons. The art lessons "lifted me out of reality", he recalled later. Already then, the young Kandinsky was seeking unusual color combinations since "every color lives its own mysterious life". Despite all that, shockingly he still chose a career as a… lawyer. Kandinsky graduated with honors and taught law at Moscow University. In 1896, however, he saw an Impressionist exhibition where, among other works, Claude Monet's "Haystacks" was displayed. At that moment his "irredeemable love for painting" got the better of him: Kandinsky gave up his position as professor of law at Dorpat (Tartu) University and left for Munich.
2. "Akhtyrka. Red Church", 1901-1903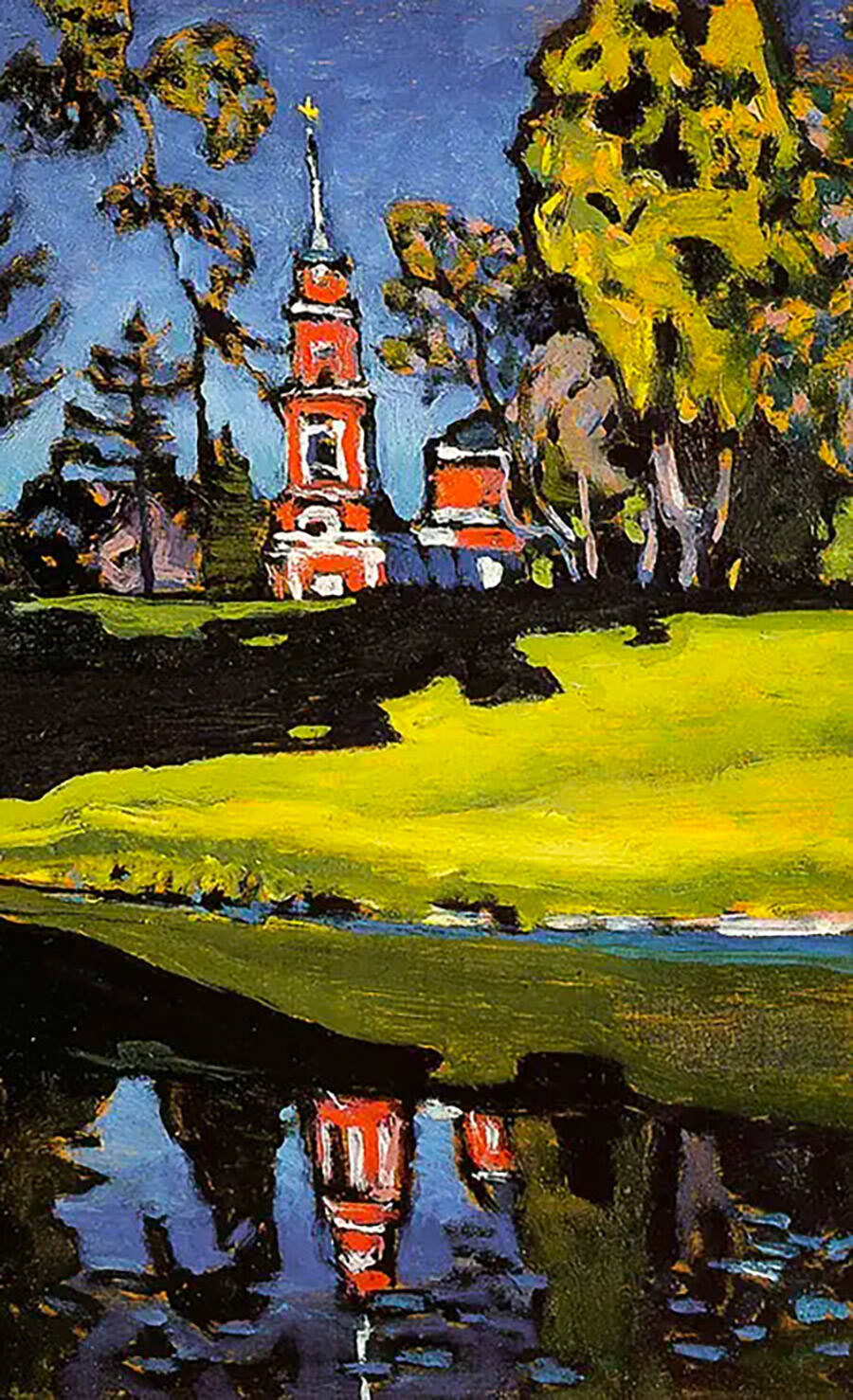 State Russian Museum
In Munich, Kandinsky studied at the Anton Ažbe School and the Academy of Fine Arts, and even founded an art association, The Phalanx, and his own art school. He traveled extensively through Europe and experimented with styles, trying to find his own language. He also went back to Moscow, regularly visiting his relatives, the Abrikosov family, at their dacha on the country estate of Akhtyrka in the Moscow Region. In the early 20th century it was one of the few estates built in the Empire Style. Artists liked to go there for sketching. Kandinsky painted the property on more than one occasion: the Akhtyrka Church of the Mother of God and the Trubetskoy country house.
3. "Murnau. Landscape with Green House", 1909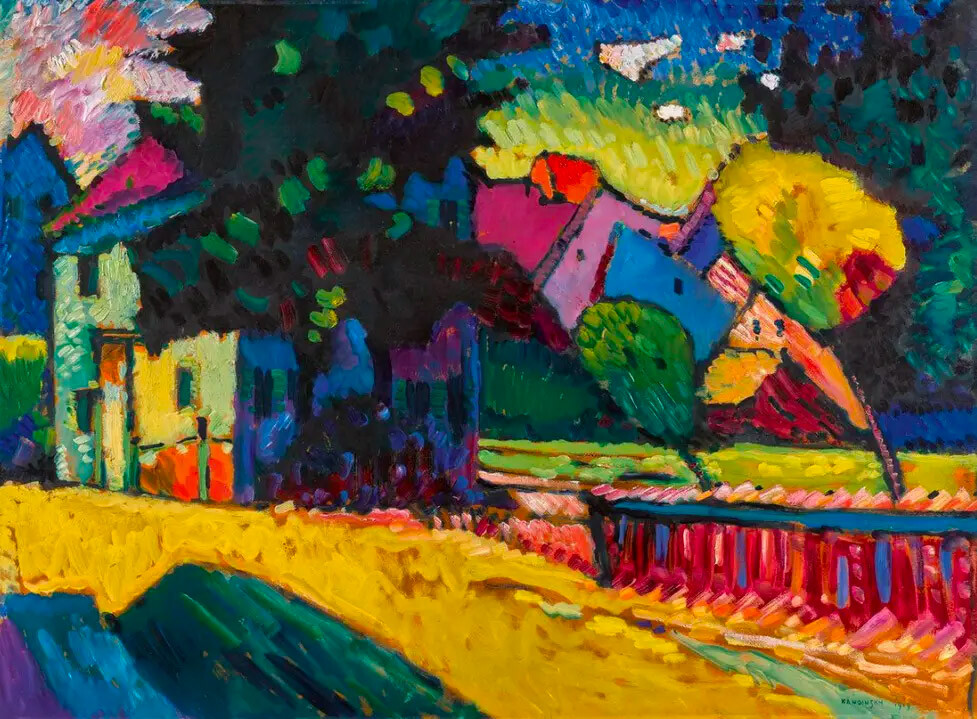 Private collection
He continued his experiments in Swabia and then in Murnau, where he also painted a landscape series. In 1901, he met a young female artist, Gabriele Münter. In 1909, they bought a house in Murnau where they devoted their time to their artistic pursuits. He painted views of the town many times, gradually moving away from an object-based style and leaning more and more towards expressionism.
4. "Untitled" (First abstract watercolor), 1910-1913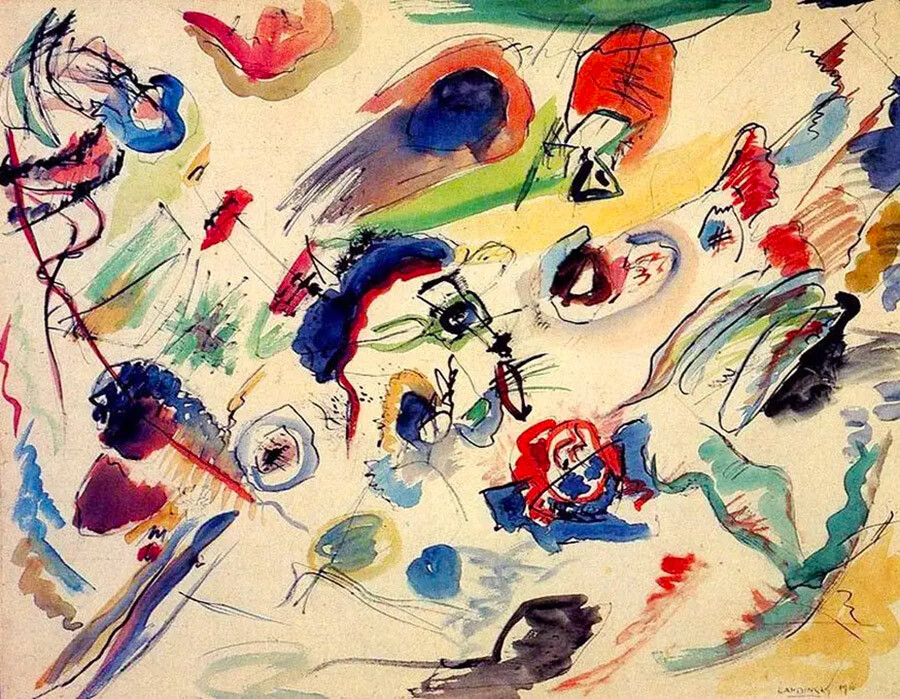 Centre Georges Pompidou
It's not by chance that Kandinsky said that every color had a life of its own, and he believed that every hue and form could sound like music. To him, the palette was a living organism, a musical stave from which a symphony of color and sound emerged. He sought to get away from form and express emotions and impressions on canvas. In 1910, Kandinsky created a watercolor with no subject matter, dominated by saturated yellows, greens, reds and blacks. It was his first entirely abstract work, which inaugurated the most important direction in his creative endeavors.
5. "Composition VII", 1913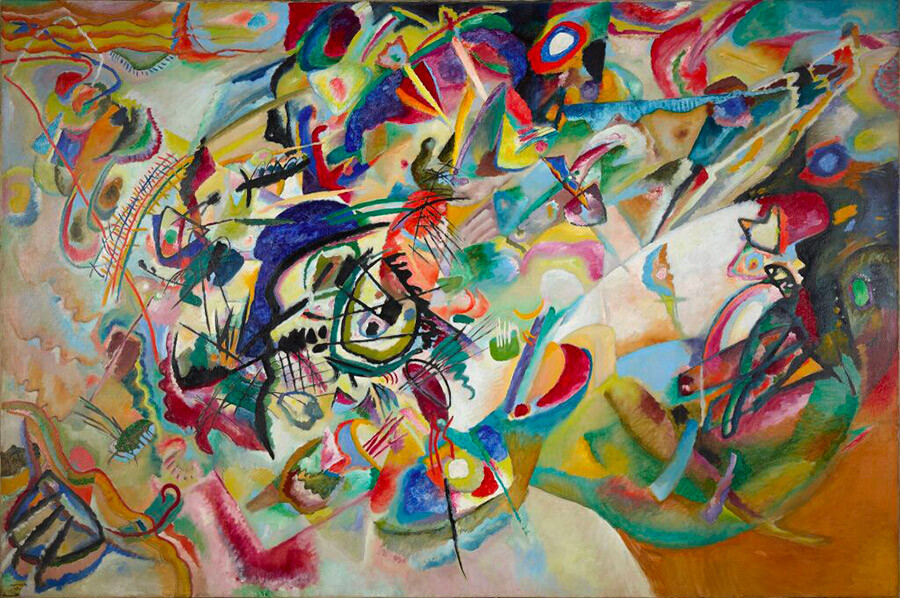 State Tretyakov Gallery
In 1911, together with the artist Franz Marc, he set up the Blue Rider (Der Blaue Reiter) group. Its members not only painted but also experimented with art, discovering the associative qualities of color, line and composition. A result of their research was Kandinsky's book Concerning the Spiritual in Art in which the artist argued that "painting is a language that, in forms peculiar to it alone, speaks to our soul about its daily bread".
While working on a painting, Kandinsky followed his imagination and consigned everything that arose in his head to the canvas. The works did not have titles. They were more complex - they were compositions. This enormous work of 1913, two meters by three, seems to "swallow up" the viewer: It is a new pictorial world filled with the music of the spheres, in which sharply-defined strokes convey alarm for a world in flux and thoughts of the Apocalypse.
6. "Moscow. Red Square", 1916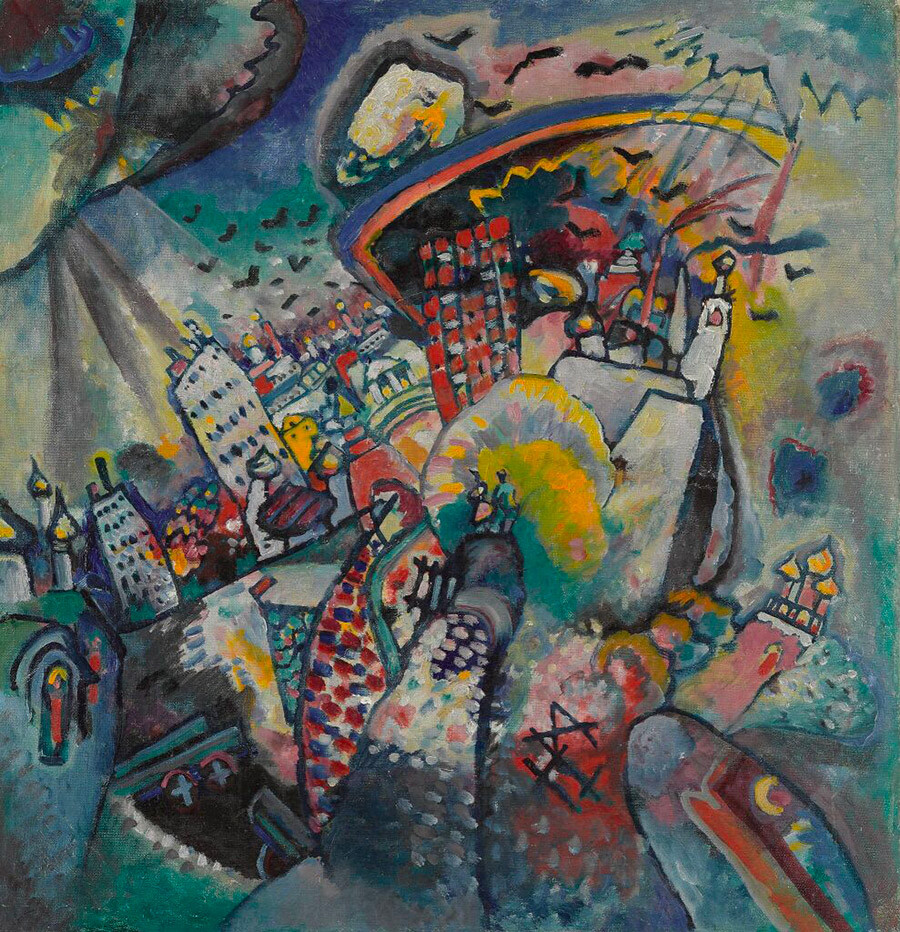 State Tretyakov Gallery
With the outbreak of World War I, Kandinsky returned to Moscow. The city was a source of strength for him. A view of the Kremlin opened up from the windows of his studio; a subject matter that he decided to commit to canvas. In order to get all the details right, Kandinsky would go out in the evenings to study the Kremlin churches from the required angles: And so churches, residential apartment buildings, factory chimneys, birds flying across the sky and a gleaming rainbow gradually appeared in the picture, creating a multi-faceted and colorful urban orchestra.
7. "Oval", 1919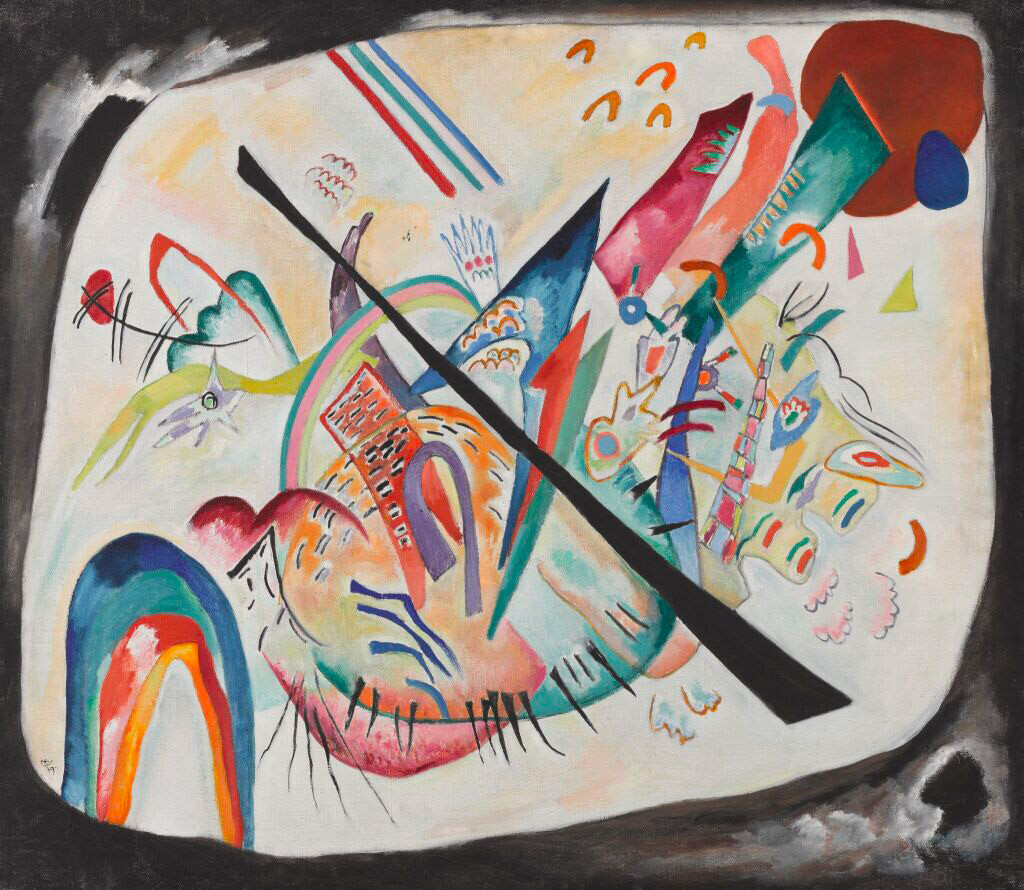 State Tretyakov Gallery
After the Russian Revolution, Kandinsky was involved in setting up the Museum of Painting Culture. He taught there, devising a special learning plan for students based on the analysis of color and form. In 1919, he painted "White Oval" in which he employed the principle of a "painting within a painting", making a black plane the background for a white oval, inside which the remaining elements of the composition were placed.
Far from all his fellow artists shared the same approach: Alexander Rodchenko, Varvara Stepanova and Lyubov Popova chided Kandinsky for his irrationalism. Not everything suited the artist himself for that matter: The intrusion of ideology into nascent Soviet art seemed to him something inimical. In 1921, he traveled to Germany where he was supposed to organize a branch of the Russian Academy of Artistic Sciences. He was never to set foot in Russia again.
8. "Yellow-Red-Blue", 1925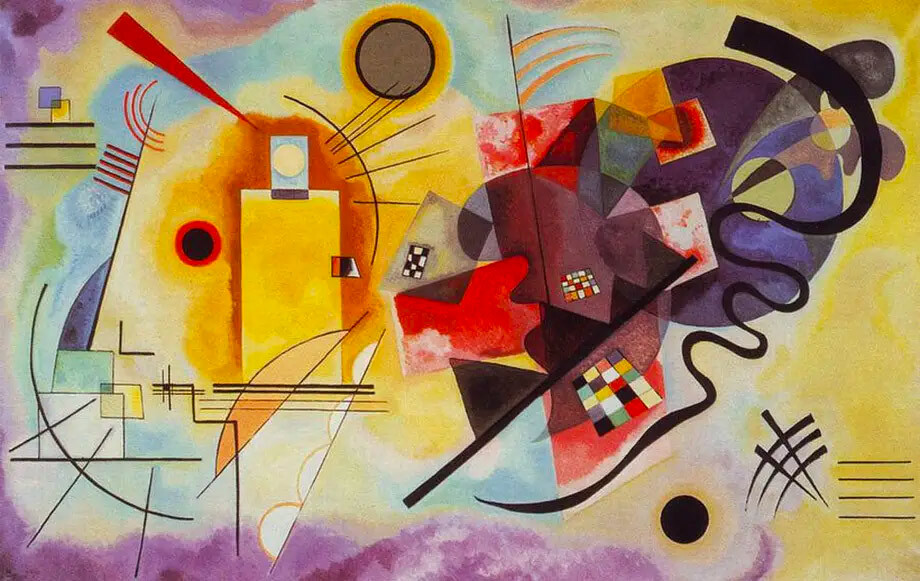 Centre Georges Pompidou
On settling in Germany, he joined the Bauhaus school of art and architecture. His artistic approach underwent a transformation: In place of intuitive painting, the artist created individual elements linked in linear compositions. He experimented not just in the studio but also the theater: Kandinsky put on the stage composition "Pictures at an Exhibition" to the music of Modest Mussorgsky at the Friedrich Theater in Dessau, for which he undertook the set design himself. The school that Walter Gropius had founded was shut down in 1932 by the National Socialists after they came to power. The artist, together with his wife, Nina Andreyevskaya, left for France. In Germany his work was branded degenerate art.
9. "Rigide et courbé" (Rigid and Curved), 1935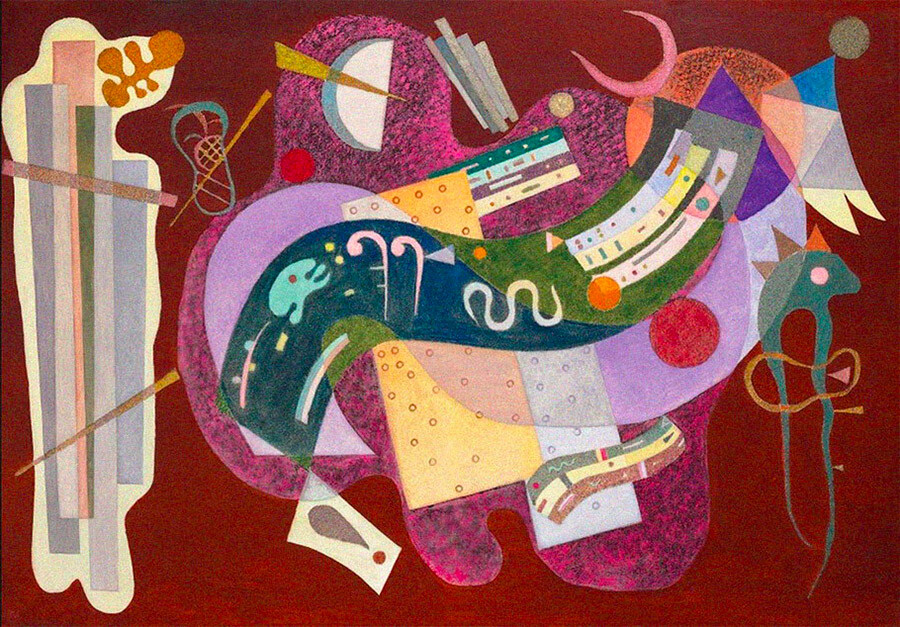 Private collection
In the late 1920s, Kandinsky met Solomon Guggenheim - the businessman and collector took several of the artist's works out of Germany, including "Composition VIII". Contacts between the two continued after the artist had left for France: At Neuilly-sur-Seine in 1936, Guggenheim acquired the composition "Rigid and Curved", painted in oils with an admixture of sand. The canvas went to America, where it was displayed frequently, but in 1964 the Guggenheim Museum sold 29 of Kandinsky's works to European museums and private collections. After that, nothing more was heard of "Rigid and Curved" until the painting was put up for auction at Christie's in 2016. It sold for $23.3 million.
10. "Composition X", 1939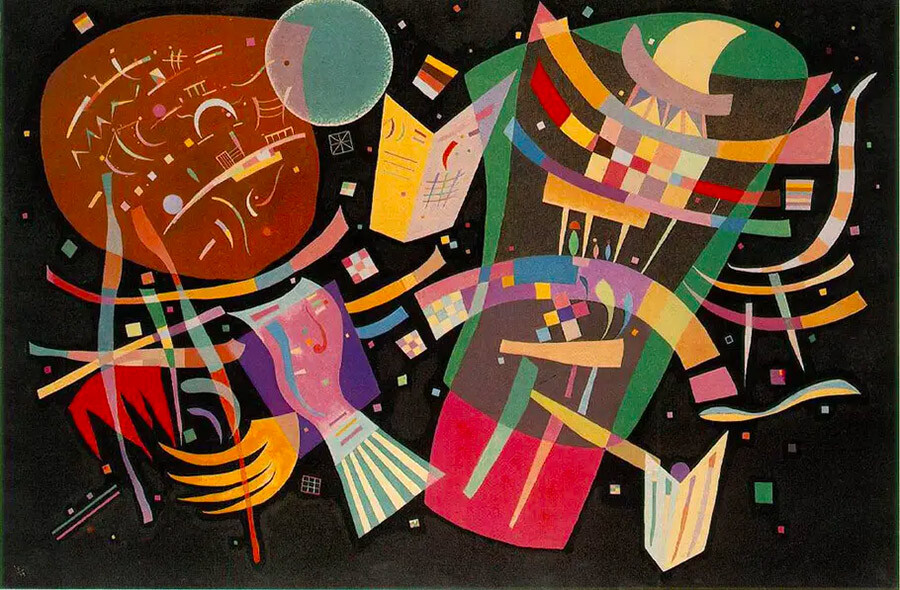 Art collection of the German Federal State of North Rhine-Westphalia (Kunstsammlung Nordrhein-Westfalen)
In France, the artist met with a cool reception as abstraction was out of favor. But Kandinsky continued to experiment with technique and form. While Germany banned his paintings from display and removed them from museums, he continued his creative endeavors in France. In 1939 he painted one of his last works - "Composition X". The artist's last exhibition took place at the Galerie L'Esquisse in 1944, and Kandinsky died in December of that year.
Dear readers,
Our website and social media accounts are under threat of being restricted or banned, due to the current circumstances. So, to keep up with our latest content, simply do the following:
Subscribe to our Telegram channel
Subscribe to our weekly email newsletter
Enable push notifications on our website
Install a VPN service on your computer and/or phone to have access to our website, even if it is blocked in your country
If using any of Russia Beyond's content, partly or in full, always provide an active hyperlink to the original material.