Annual Art Camp at the RCSC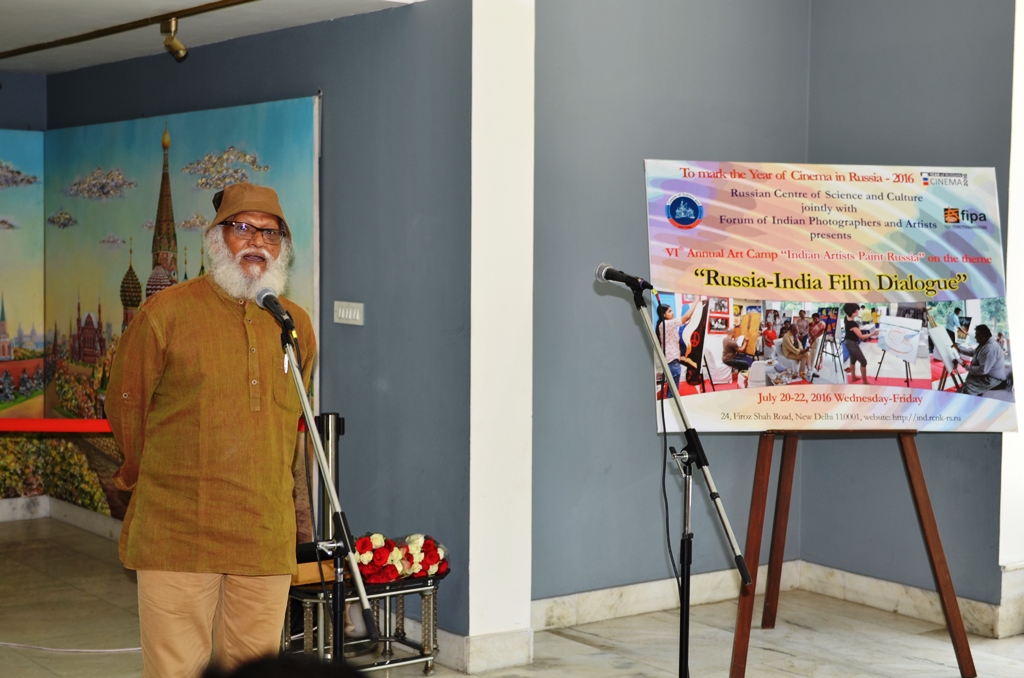 Jatin Das at RCSC in New Delhi.
RCSC
An Art Camp, themed 'Indian Artists paint Russia,' dedicated to the Year of Cinema in Russia, concludes at the Russian Centre for Science and Culture in New Delhi on Friday.
The sixth Annual Art Camp, titled "Indian Artists Paint Russia" on the theme "Russia-India Film Dialogue", was organised jointly by the Russian Centre of Science and Culture (RCSC) and the Forum of Indian Photographers and Artists (FIPA). The Art Camp, dedicated to the Year of Cinema in Russia-2016, concludes on Friday July 22.
Jatin Das, eminent Indian artist and Chief Guest, pointed out that Art Camp is the most appropriate forum to bring together artists, art-lovers and art critics to interact and exchange ideas. Lauding the efforts of the RCSC, Das said sensitivity and sensibility were pre-requisites for an artist and underlined the imperative of concentration while drawing.
Source: RCSC
After his inaugural address, Das made the inaugural stroke on a painting using a brush on canvas. His work, "Her Face, His Mask," in acrylic, depicted a woman with the mask of a man.
Vimal Mehta, President, FIPA, who was in the USA, sent a message of greetings. Padmini Mehta, FIPA representative, served as moderator, while Aakshat Sinha, also from FIPA, outlined FIPA's activities..
Underlining the significance of the sixth Art Camp in his welcome address, Arseny Starkov, Chief Consultant, Information & Culture, RCSC, noted that the focus this time was on cinema, to commemorate the Year of Cinema in Russia-2016. He said the Art Camp had become a permanent feature in the RCSC's activities, and the programme was becoming increasingly popular. Starkov mentioned the conspicuous link between eminent artist Jatin Das and his daughter Nandita Das, a famous Indian cinema artist, as being of exciting thematic relevance to the Art Camp.
Source: RCSC
Over 20 Indian artists participated in the Art Camp. The inaugural ceremony was attended by professional and amateur artists, film-makers, photographers, art lovers, art critics and media people.
By tradition, all the paintings being done by the participants of the Art Camp will be exhibited at the RCSC in September, 2016, and during other art exhibitions both in Russia and India.
All rights reserved by Rossiyskaya Gazeta.