How did you get the idea of making joint films?
One day I decided to go to the movies with my son but did not find any children's films, which I could watch, not a single one! That's when I first realized clearly that Russian cinemas did not show regular children's movies. There are only adult movies and American cartoons. So I began to think what movie I could make for our children. Then I got the idea of ​​an international project, a partnership with a country that has a developed film industry. Then I just decided that the film should be made jointly with India.
The film's working title is "Best Friends". This will be a film for and about children: a good film, about adventure and attraction, in which the main characters are three boys, three friends: a Russian, a Chechen boy and an Indian boy. Action will take place in India, Russia and the North Caucasus. The children's adventure will unfold around a search for a magic stone.
The film's idea is mine, and I am the general producer. The script is written by Arthur Mamedov and the film is directed by and Beslan Terekbaev. I think we will then engage an Indian director as well.
This will be the first joint project in the field of cinematography in 25 years, for sure.
At what stage are the negotiations on cinematographic co-production with India?
At the moment, we are working on a draft agreement on cultural cooperation between the ministries of Russia and India. The Indian party has made its amendments. The Russian authorities should consider them. After signing this agreement, cooperation in cinematography will have an official status. It will detail registered official projects, supervised by the state.
We would also like to sign a cooperation agreement with FICCI.
We want to achieve the official status of joint cultural cooperation, mutual exchange in the field of cinematography.
What will be the contribution made by the both in the joint project of the children's film?
Our party has already allocated funds for this project. We talked with our Indian colleagues and realized that budgets they are working with are smaller than ours. Therefore, if we basically agree on budget cuts and meet this cost, we will be able to participate on an equal footing. It is crucial to have an agreement on joint production, an agreement of intent, to see the Indian side's interest in this project, and in the box office.
Are you going to have to invite a Russian star?
We have already talked with Yelena Yakovleva, the People's Artist of Russia, who previously gave her approval to work in the film. She said she was happy to star in this wonderful project, because she wants to contribute to the revival of children's movies. On the Indian side, as soon as the agreement is signed, we will begin casting actors. It will be with CFSI - Children's Film Society of India, which deals with children's cinema in India. Taking into account their recommendations, we will work on casting, and on the locations where and how we should be shooting.
What is the timeframe that you have set for yourself?
We are already working. Now we are in the preproduction stages: pre-production, an agreement at the level of states, companies, all organizations engaged in the film industry.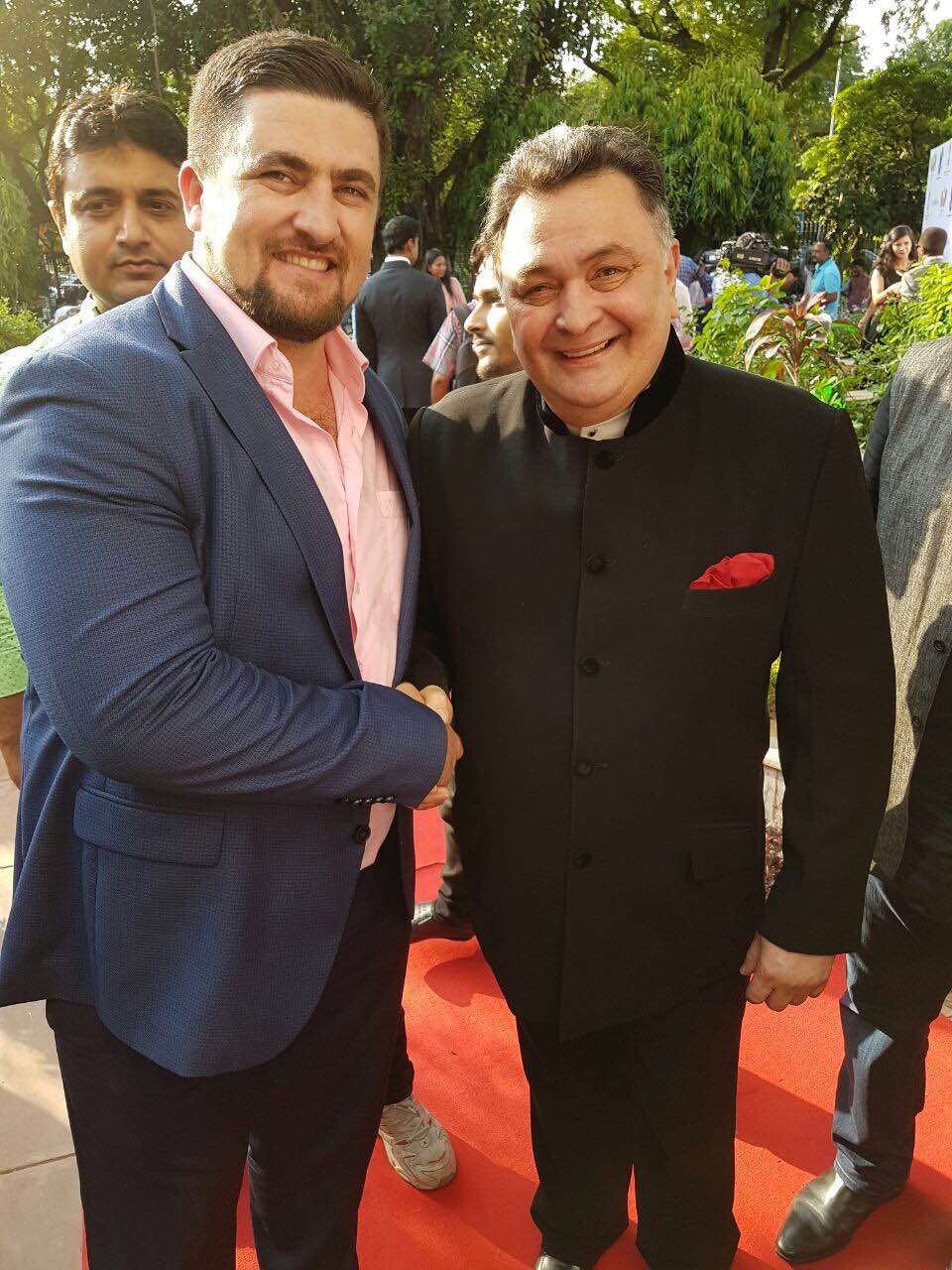 Beslan Terekbaev and Rishi Kapoor. Source: Veronika Usacheva
What else have you been able to reach an agreement on with the Indian side?
We have reached an agreement in principle to hold the Days of Indian cinema in Grozny (Chechen Republic). We decided to hold them at the end of May 2017. We negotiated with the Ministry of Information and Broadcasting, with Director of the Film Festival Directorate C.Senthil Rajan, president of the first BRICS film festival. The Indian side is interested in providing films for distribution in Russia and in Chechnya in particular. They have endorsed the idea, and will present the films. The delegation, which will comprise of Bollywood stars, and the Ministry representatives, will travel to Chechnya.
Do they like Indian cinema in Chechnya?
Oh sure. We have had this love ever since the Soviet era, and it remains. More, perhaps, than in any other region of Russia.
Currently, there are no Indian films being shown in Russia. But we're working on it, and have already scheduled for Indian movies to be released in Moscow's cinemas. Luxor Cinema chain has signed an agreement with the Indian partners. Luxor will show a weekly premiere of Indian films in Russia. The concept of this event is being developed, but an agreement on regular releases has been signed.
Commenting on Terekbaev's plans, representatives of the Indian production company, RG Studios Pvt Ltd, from Mumbai, said:
"We think that it's quite good idea for collaboration, because it targets children. All you do for children is a soft power in any country which actually gives a lot of opportunities and possibilities, said Ravi Goswami, head of the company.
"We've already read the synopsis and like it. Now we should go back to our team in Mumbai and sit and think how can we participate and help this project from the beginning from the Indian side. In terms of what the production plan will be, what is the team, what is required, what is the cast we need to hire," Goswami said.
"When I visited Russia, I've seen the love of Bollywood in Russia. Wherever I went, when people realize that I'm Indian, they start to sing "Jimmi, Jimmi" (from 'Disco Dancer'). So they still remember this song from their childhood, I think, from 1980," he said.
"Recently, I saw a Russian movie 'The Crew,' and now we are in the process of bringing it to India. We are releasing this movie in India. It will possibly be the first Russian movie which has an official release in India. The distribution will cover the whole of India. We'll translate the film in Hindi and Tamil, Telugu possibly. We hope that this film will open doors for mutual exchange of films. Russia is a very large market in terms of cinema. And Indian distributors and filmmakers are capable of competing with Hollywood," said Goswami.
"I think Russians love Indian culture, they love the emotions, drama that Bollywood movies have, and the colour, joy and celebrations," said Irfan Siddiqui from the same production company. "I am sure we will get a warm welcome in Russia and Russian movies here too. For example the movie 'The Crew' is just as good as Hollywood movies in respect of special effects, graphics and actions. So we hope, if we start producing films together, it is evident, that in India they will be well received. If our two film industries will work together it promises a great success"
All rights reserved by Rossiyskaya Gazeta.