"Film Dialogue-2016" BRICS film festival launched in New Delhi
In total, 12 films will be shown during the festival program.
The feature film festival "Film Dialogue-2016" launched in the capital of India. It will be held from 19 to 26 February in the framework of the Year of Cinema in Russia - 2016 at the Russian Center of Science and Culture (RCSC) in New Delhi.
"I saw Russian films so long ago, in 1947, and I still remember them fondly. Making movies is my passion, and I think that the BRICS countries have a great potential in this regard", - said the Bollywood producer and director Gurcharan Lal Bhardwaj, who began his career with the famous Indian actor Raj Kapoor.
The festival was organized by the Rossotrudnichestvo office in conjunction with the Film Society "Civil Film Forum" and the International BRICS Forum (India) with the support of the Russian, Brazilian, Chinese and South African embassies.
At the festival, the Russian program is presented by the film "Brest Fortress" by Alexander Kott about the defense of the Brest Fortress during the Great Patriotic War in June-July 1941, and the comedy "Kitchen in Paris" by Alexander Dyachenko. The film screening was opened by the film "Brest Fortress" on February 19.
In total, 12 films will be shown during the festival program, including the Chinese comedy "Lost in Thailand", a Brazilian comedy "Durval discos" and a South African thriller "Drum" as well as Indian films "Land of Krishna", "Feel the pain", "Puja - a wonderful child "and others.
For the first time, the BRICS Film Festival was organized on the initiative of the RCSC in New Delhi in 2012. The festival brought together young directors from Russia, India, China, Brazil and South Africa, as well as introduced elements of public diplomacy into the structure of the BRICS activity in the form of cultural and humanitarian initiatives.
First published in Russian by RIA Novosti.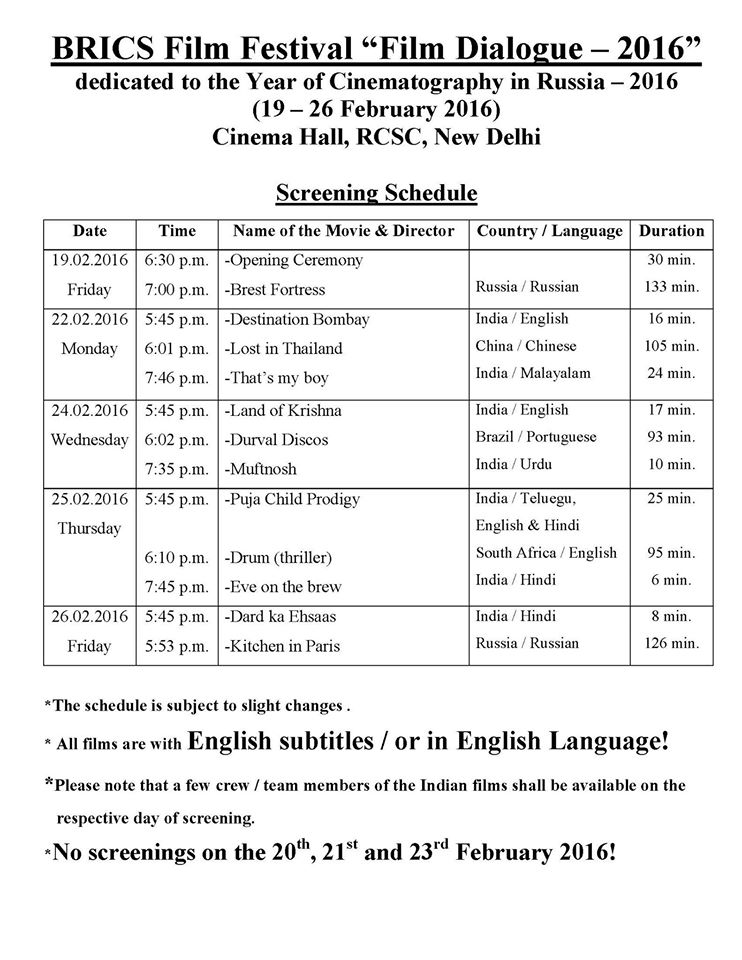 Source: RCSC
All rights reserved by Rossiyskaya Gazeta.