Russian geologists travel a lot, spending months away from home, somewhere in the Siberian mountains, living in tents and cooking over fire. They have many adventures and numerous stories to tell - some very unusual and inexplicable; and others that were just plain dangerous.
With more than 30 years experience on geological expeditions, Dr. Vladimir Vladimirov, a senior researcher at The V.S. Sobolev Institute of Geology and Mineralogy of the Russian Academy of Sciences in Novosibirsk, shared his memories from field trips.
A holy hill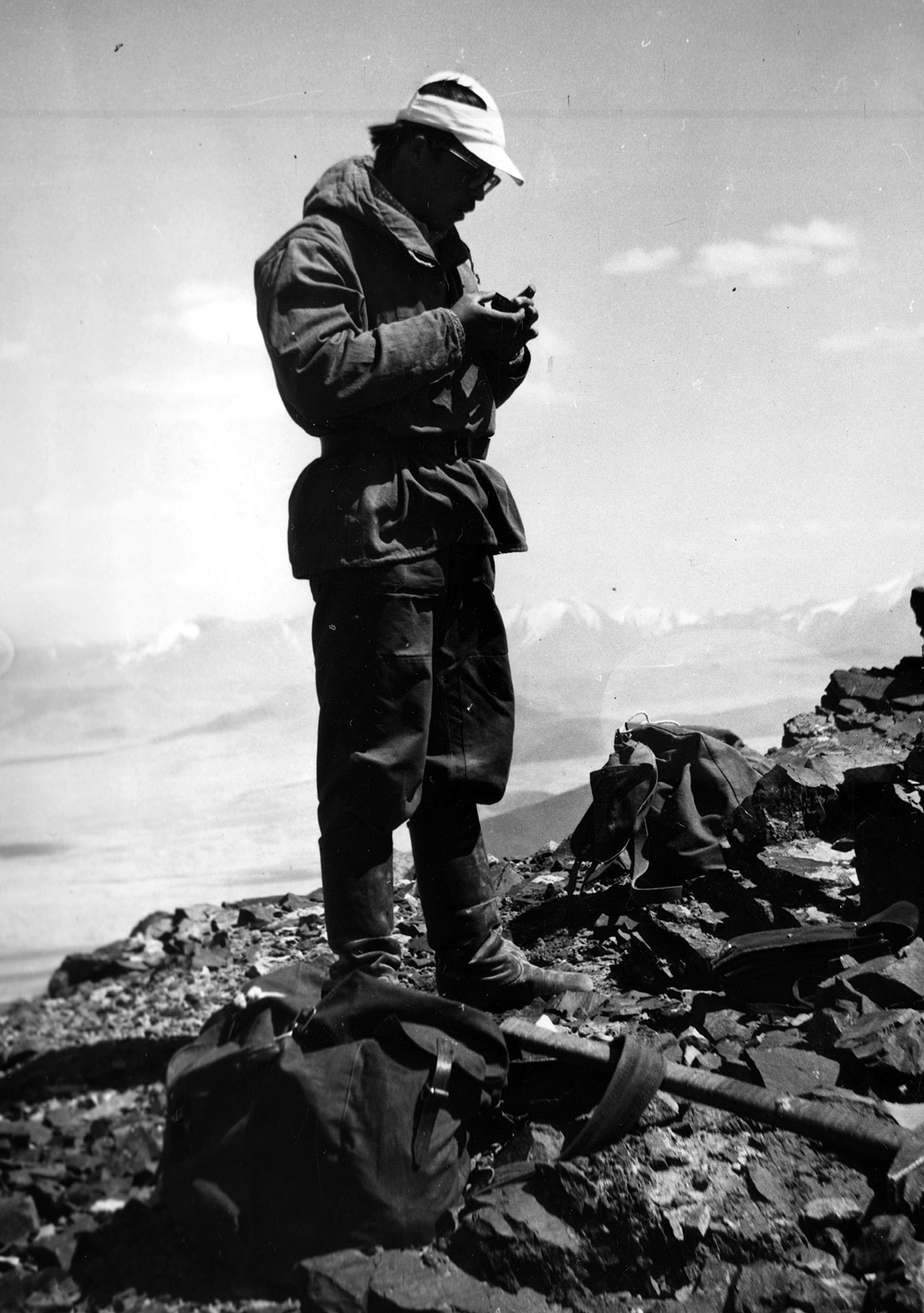 Geologist in mountains, 1982 / Personal archive of Dr. Vladimir Vladimirov
In the 1990s, Dr. Vladimirov and a group of geologists worked in the Tuva region in southern Siberia. The majority of the population is Buddhist and there was a tradition of marking holy hills with strips of fabric. During one expedition, the geologists met an old man who pointed at the hill far away and advised them not to go there. But they only laughed at him and continued their way straight to that hill.
"It was a very hot day and there were no clouds in the sky. We reached the hill and started hiking to the top, but not even halfway it suddenly started raining," recalled Vladimirov.
"We looked up at the sky and saw there was only one cloud exactly above our heads. We found it ironic and descended, and immediately the rain stopped. We became annoyed and started climbing the hill again, but once again the rain started. So we changed our route, to go around the mountain, and surprisingly there was no rain after that."
Dinner in extreme conditions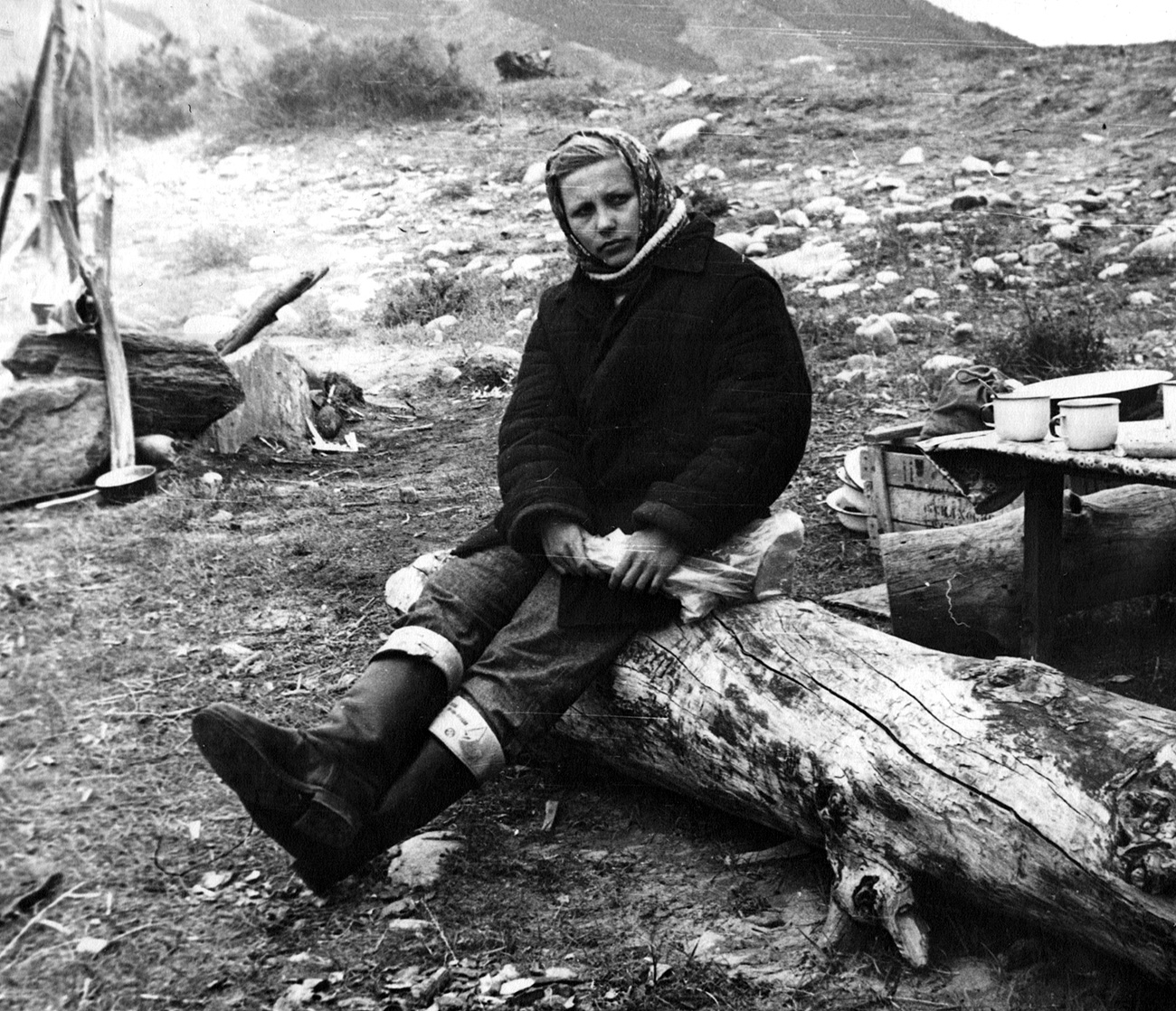 Dining table in Tuva, 1982 / Personal archive of Dr. Vladimir Vladimirov
In 1978, while still a student, Vladimirov did field work in the Eastern Sayan Mountains. One day, he and the expedition leader went off to do additional research. They left the base camp and were walking non-stop for a day and night to reach their destination.
"It was a full moon, and we found our way by using our compass," remembers Vladimirov.
Valera, the senior geologist, was walking first, holding a pistol, while Vladimirov was following. Suddenly they realized that they had a companion. A bear was behind them, in the bushes close by, going in the same direction!
In fact, they had the same destination: to reach a small hunters' hut in the forest, but where there's also a raspberry patch that bears love. This was not the last adventure they had.
When the geologists reached the small hut they decided to have dinner, but after they checked all the pockets of their backpacks, they found only five sugar cubes and one bag of dry porridge with meat.
Vladimirov thought that Valera had taken the food; while Valera thought Vladimirov did. The only way to make the porridge was by using a kettle that they found in the hut. Therefore, it is difficult to say if they ate it or drank from the nozzle of a kettle!
Another bear story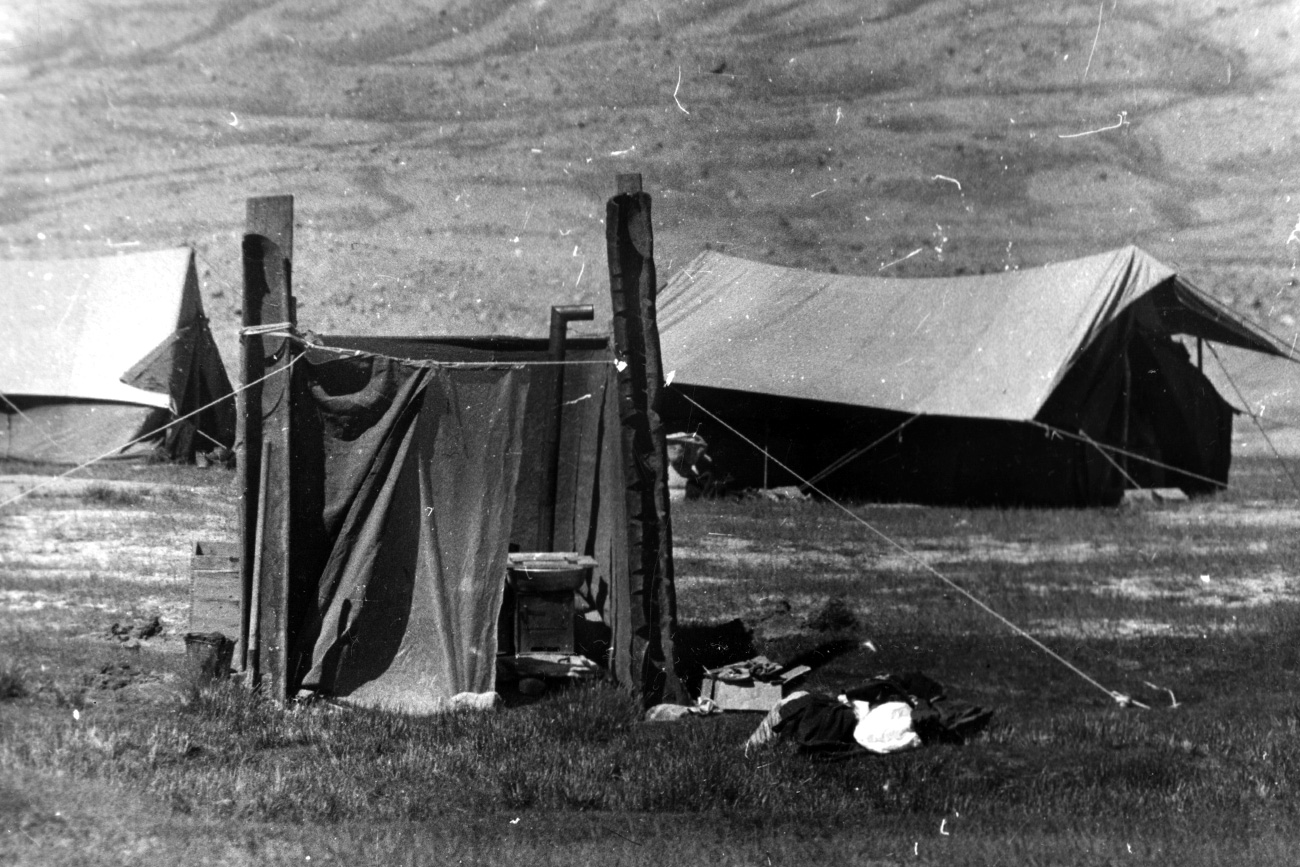 Shower in fields, 1982 / personal archive of Dr. Vladimir Vladimirov
Once they were on a field trip along the Srednyaya Kochema River in the Krasnoyarsk Region in Eastern Siberia. The forest is very dense in the taiga, and visibility was very low. The only possible way to travel was a narrow path where the trees had been cut down for a geophysical survey.
The two geologists were following this narrow path to collect soil samples. Since the forest was very dense the scientists didn't notice that they were not alone in this wilderness – just 10 meters in front was a bear!
The survival instinct kicked in, and in a panic Sasha, who was ahead, held a shovel in a horizontal position as if it were a gun, without expecting that the bear could believe it. But somehow it worked out, and the bear left.
The funny thing is that afterwards when geologists recalled the incident to their colleagues, Sasha said, "I asked Vanya to give me a gun, but then we realized we didn't have it."
Vanya, however, remembered it differently: "You didn't ask me for a gun, the only thing you said was AAAAAAAAAAAAaa!!!!"
Horror at night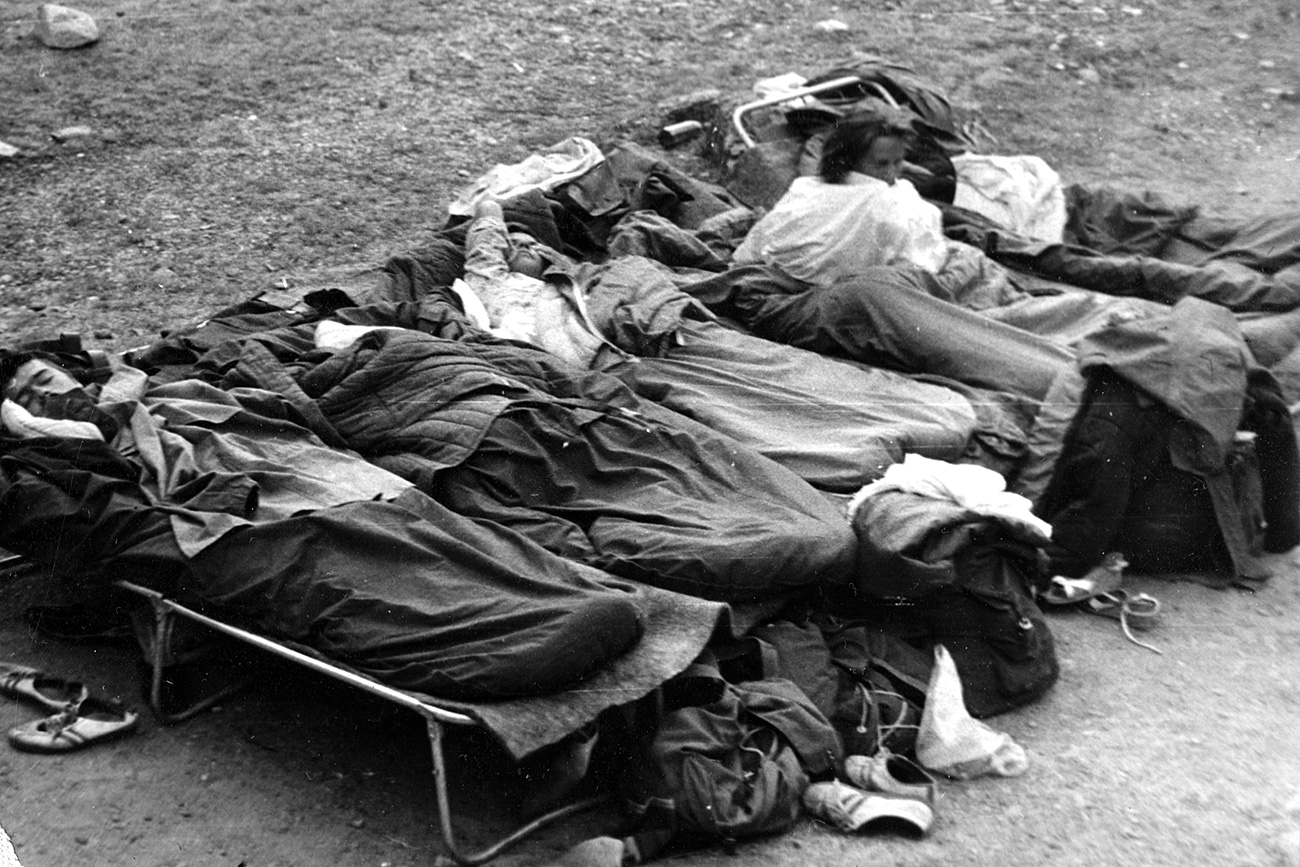 Before camping mats, geologists used camp beds / Personal archive of Dr. Vladimir Vladimirov
In 1982-1983, Vladimirov and his colleagues had a field trip close to the Erzin River in the Tuva region. At night, they met in a kitchen tent to tell mystical stories that happened during different field trips.
"There were numerous stories. It was very silent and dark. Suddenly the silence was broken by the clanking of chains very close to the tent," recalled Vladimirov.
They ran out with a lantern and saw a huge white horse held by chains.
"I've never seen such horses before or after this occasion," said Vladimirov. "That was very creepy."
The horse walked slowly around the tent and the chains rang out softly. The men took the ladies to the tent, and immediately after they returned the horse was gone and once again there was only silence.
Read more:
If using any of Russia Beyond's content, partly or in full, always provide an active hyperlink to the original material.