The best 100 works of world literature, according to Russian writer Bykov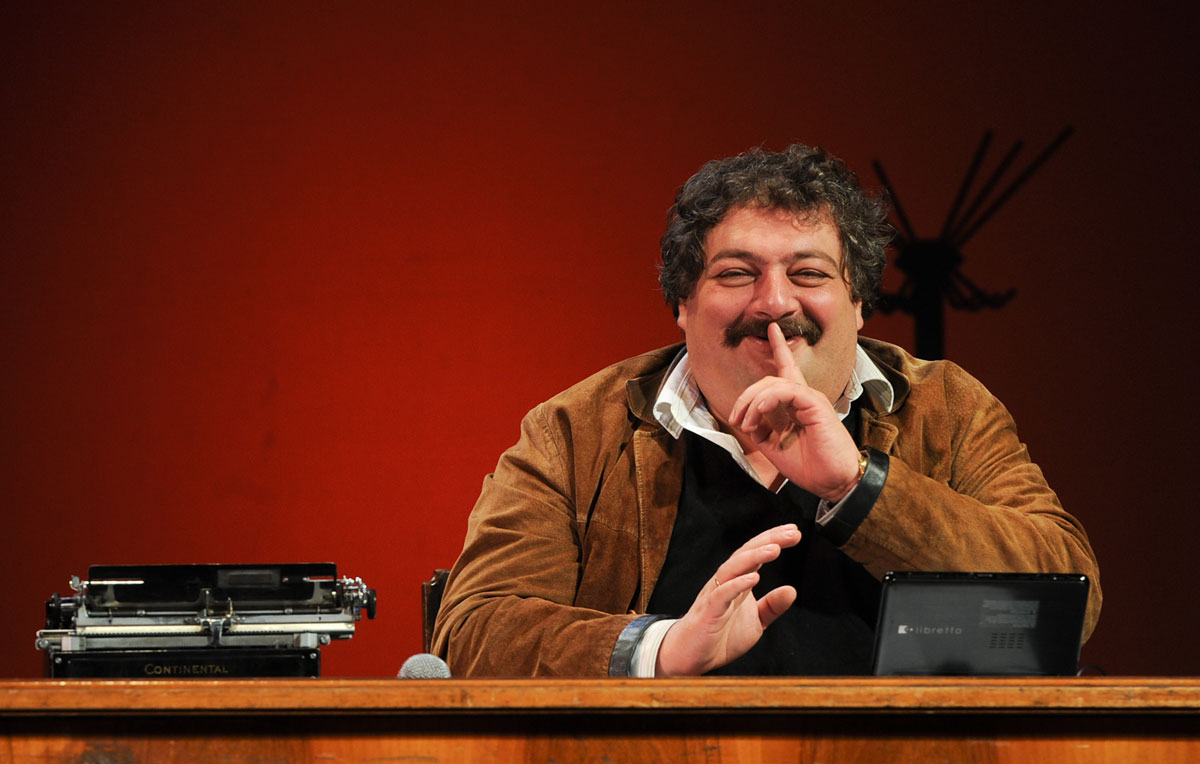 Dmitry Bykov is a fan of American literature and is a visiting professor at Princeton University.
Alexandra Mudrats / TASS
The popular Russian author has published his must-read list on Facebook
"This choice is personal, like any choice," Dmitry Bykov writes on his Facebook page. The author hasn't attempted to make a list of the best books in human history; rather, he has just chosen his favorite hundred.
Dmitry Bykov is a popular Russian writer, poet and journalist who often visits London to lecture on literature for his Direct Speech project. He is famous for his biting commentary on political and social issues in both poetry and prose.
In 2011 he launched the Grazhdanin Poet ("Citizen Poet") project with the actor Mikhail Yefremov. This was a video series narrating satirical poems on current issues in Russian politics and global affairs that was broadcast on the independent TV channel Dozhd. The videos were extremely popular on YouTube, gaining over 20 million views. Bykov and Yefremov took their poems on tour to New York, Berlin and London, as well as across Russia.
Bykov is also an award-wining fiction writer and literature professor. He is a fan of American literature and is a visiting professor at Princeton University, where he holds seminars on Russian contemporary art that cover cinema, television and performance art as well as literature.
Visit his Facebook page to see the original list in Russian.
The translated list is as follows:
Anna Akhmatova – Poem without a Hero
Vasily Aksyonov – The Burn
Leonid Andreyev – The Life of Man, The Black Masks
Pavel Antokolsky – François Villon
Augustine of Hippo – Confessions
Viktor Astafyev – The Last Respect
Isaac Babel – Red Cavalry
Honoré de Balzac – Le Père Goriot
Andrei Bely – Petersburg
Alexander Blok – Lyric Poems
Joseph Brodsky – A Part of Speech
Mikhail Bulgakov – Master and Margarita
Ivan Bunin – Dark Avenues
Vasil Bykov – The Dead Feel No Pain, To Live Till Sunrise
Truman Capote – The Grass Harp, Short Stories
Lewis Carroll – Alice's Adventures in Wonderland
Anton Chekhov – The Duel
G.K. Chesterton – The Man Who Was Thursday
Charles De Coster – The Legend of Thyl Ulenspiegel
Dante – The Divine Comedy
Daniel Defoe – Robinson Crusoe
Charles Dickens – The Mystery of Edwin Drood
Fyodor Dostoevsky – Demons
Arthur Conan Doyle – The Complete Sherlock Holmes
Alexandre Dumas – La Reine Margot
William Faulkner – The Sound and the Fury
Johann Wolfgang Goethe – Faust
Nikolai Gogol – Dead Souls
Maxim Gorky – Mother Kemsky, Notes from My Diary
Jaroslav Hašek – The Fateful Adventures of the Good Soldier Švejk
Ernest Hemingway – The Fifth Column and First Forty-Nine Stories, The Old Man and the Sea
E.T.A. Hoffmann – The Night Pieces
Homer – The Odyssey
Horace – Odes
Henrik Ibsen – Peer Gynt
Ilya Ilf, Evgeny Petrov – The Twelve Chairs, The Little Golden Calf
Tove Jansson – Comet in Moominland. The Magician's Hat. Moominpappa at Sea
James Joyce – Ulysses
Franz Kafka – The Castle
Valentin Kataev – The Grass of Oblivion
Rudyard Kipling – The Jungle Book, Poems
Alexander Kuprin – The Star of Solomon
Yury Krymov – The Tanker "Derbent"
Harper Lee – To Kill a Mockingbird
Leonid Leonov – The Thief
Mikhail Lermontov – A Hero of Our Time
Osip Mandelstam – Poems, Fourth Prose
Thomas Mann – Doctor Faustus
Gabriel García Márquez – One Hundred Years of Solitude
W. Somerset Maugham – The Moon and Sixpence
Guy de Maupassant – Novellas
Daphne du Maurier – My Cousin Rachel
Vladimir Mayakovsky – About This
Herman Melville – Moby Dick
Dmitry Merezhkovsky – Peter and Alexis
Molière – Tartuffe
Yuri Nagibin – Daphne and Chloe - Eras of the Personality Cult,Libertarianism, Stagnation
Vladimir Nabokov – Pale Fire
Nikolay Nekrasov – Women in Russian Villages
The New Testament
Flannery O'Connor – Short Stories
Bulat Okudzhava – Travels of the Dilettantes
Yury Olesha - Diaries ("Книга прощания")
Ovid – Metamorphoses
Leonid Panteleyev, Grigori Belykh – The Republic of ShKID
Boris Pasternak – Spektorsky
Victor Pelevin – The Life of Insects, Numbers
Lyudmila Petrushevskaya – The Number One
Andrei Platonov – The Epifan Locks
Edgar Allan Poe – Short Stories and Novels
Alexander Pushkin – Eugene Onegin
Erich Maria Remarque – The Night in Lisbon
Juan Rulfo – Pedro Páramo
J. D. Salinger – Raise High the Roof Beam, Carpenters
Mikhail Saltykov-Shchedrin – The History of a Town
Evgeny Schwartz – Plays
William Shakespeare – Hamlet
Alexander Sharov – Fairy Tales
Mikhail Sholokhov – And Quiet Flows the Don
Vasily Shukshin - Characters
Alexander Solzhenitsyn – Cancer Ward
Robert Louis Stevenson – The Strange Case of Dr Jekyll and Mr Hyde
Arkady and Boris Strugatsky – Far Rainbow, Snail on the Slope, Roadside Picnic
William Styron – Set This House on Fire
Jonathan Swift – Gulliver's Travels
Teffi – Short Stories, Memories
Alexei Tolstoy – The Adventures of Nevzorov, or IBIKUS
Leo Tolstoy – Anna Karenina
Yury Trifonov – Moscow Novellas
Marina Tsvetaeva – The Tale of Sonechka
Ivan Turgenev – Fathers and Sons
Aleksandr Tvardovsky – Vasili Tyorkin
Mark Twain – The Adventures of Huckleberry Finn
Yuri Tynyanov – The Death of the Vazir-Mukhtar
Mikhail Uspensky - A place where we don't find ourselves ("Там где нас нет")
Oscar Wilde – The Picture of Dorian Gray
Nikolay Zabolotsky – Columns, Poems
Émile Zola – The Fortune of the Rougons
Alexander Zhitinsky – Lost House
Mikhail Zoshchenko - Short Stories, Before Sunrise
All rights reserved by Rossiyskaya Gazeta.