The re-emergence of Indian soft power in Russia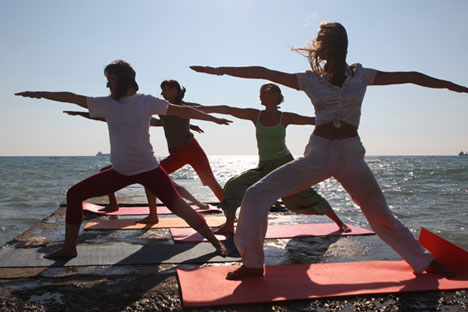 Yoga continues to grow in popularity across Russia.
RIA Novosti/Michael Mokrushin
India and its diverse culture are no longer just talking points in the living rooms of Moscow's intellectual elite. There is a growing interest for all things Indian in Russia.
Last week, on what was Moscow's last warm 'summer' day of the year, as I finished my last yoga asana on the Vorovbyovy Gory riverside promenade, a young couple approached me. They sounded a bit hesitant and then apologetically asked if they could have a word with me. The young man had developed a fascination for Indian traditions and was trying hard to remember the names of Indian castes. Just Brahmins and Kshatriyas came to his mind at that particular moment.
I happily obliged and told them the names, and then came the next question about whether the system is practiced in India. Instead of going into a long explanation, I explained that I have never asked for nor cared about the caste of any person I have ever met in the country. The couple were young and curious and students of the nearby Moscow State University.
Throughout the month of September, I noticed more signs of India just about everywhere in the Russian capital. From seeing Hindi film actor Arjun Rampal on a television advertisement to noticing that a growing number of my friends were using Himalaya product shampoos and toothpaste, it was obvious that India's profile was on the rise in the country.
Not too along ago, India as a point of conversation was restricted to the living rooms of Moscow's intellectual elite. These were the same kind of people who you would bump into at the Roerich Museum or at a program hosted by the Jawaharlal Nehru Cultural Center. This has completely changed over the last few years.
A large part of India's soft power spreading across Russia can be attributed to the popularity of yoga, Ayurveda and dare I say, Goa! Many visitors who found a perfect winter refuge in the western Indian state started venturing further south to discover the treasures of Hampi. If you believe tour operators, until the ruble fell last year, a growing number of people were planning to pair a sunbathing and swimming holiday with trips to some of southern India's famous temples.
Goa has been a great center for people-to-people contact between Russia and India, but by no means is it the only place where Russians and Indians meet. A couple of weeks ago, I saw Indian women in saris happily posing for pictures with Russian tourists at the Red Square. Many of those tourists seemed to be from smaller Russian regions and were excited about seeing women in colorful saris. The Indo-Russian selfie exchange was quite an amusing sight.
India is one of the fastest growing sources of tourists to Russia. According to official figures, India made it to the top 10 sources of foreign tourists to Russia in 2014. A significant number of these tourists are on package tours that combine Moscow and St Petersburg with Scandinavian cites. However, you also see a growing number of younger Indians from Mumbai and Bangalore with their iPhones and DSLRs in big Russian cities. It's a very positive sign to see this growth in two-way traffic, although a far greater number of Russians visit India than the other way around. Russian authorities say simplified tourist and short-term visas are on their way for Indians to Russia.
Another key factor to the ordinary Russian's rediscovery of India is the latter's growing economic clout. An increasing number of Russian businessmen are looking at how they can get a piece of the Indian economic pie and this isn't just restricted to Russian participation in the 'Make in India' initiative.
Over the last few weeks, Indian businessmen also told me about how much easier it is to do business in Russia. A lot of red tape has been cut over the last few years and the contentious issue of tough procedures to get a business visas has been sorted out. Tea, pharmaceuticals and ayurvedic products are likely to be the drivers of Indian exports to Russia, while Russian technology makes its way to India.
There is a lot of negative media coverage of late when it comes to India-Russia political and diplomatic ties. In candid conversations with diplomats from both countries, I have been told that this is pure fiction. How would the media survive in this age without sensationalism anyway?
Growing cultural and business ties, as well as people to people contact have managed to help further detach the relationship between Indians and Russians from diplomatic and geo-political equations.
As the great Nicholas Roerich illustrated in his paintings and his books, there is a strong and inexplicable spiritual connect that we seem to share and growing interaction between Russian and Indians is only going to build on this. There has hardly been a better time to be a Russian in India or an Indian in Russia. Three cheers to that!
All rights reserved by Rossiyskaya Gazeta.