A tribute to Russia's own Rishikesh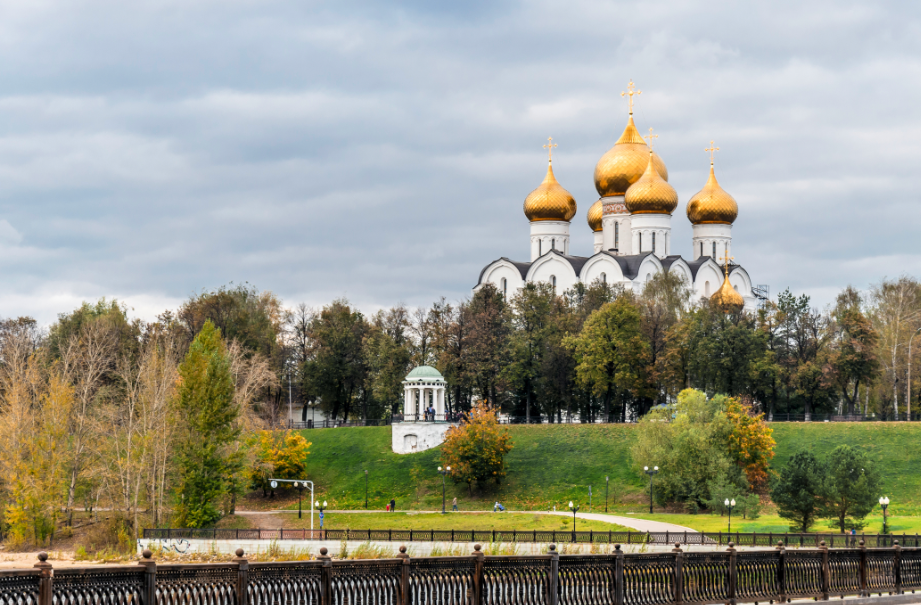 Yaroslavl in the autumn.
Alex Florstein Fedorov, Wikimedia Commons
With its riverfront and air of spirituality, Yaroslavl has a lot in common with the Indian yoga capital in the Himalayan foothills.
In some ways, the 'Mother Volga' is as revered in Russia as the 'Ganga Maa' is in India. Just like Rishikesh, by the Ganges, is a major center for yoga and Hinduism, Yaroslavl, on the banks of the Volga, is a major center for the Russian Orthodox Church with its fine collection of old churches.
As someone who visits Rishikesh to seek some peace and quiet after the hustle and bustle of Mumbai, I felt a sense of Déjà vu when I took a relatively short train ride from Moscow to Yaroslavl. Four hours away from the crowds, traffic jams, and tense people running on escalators of the metro and the busy streets of the Russian capital, the city with a population of 600,000 has the feel of a small town.
No one seems to be in a particular hurry in Yaroslavl. Hardly anyone is overdressed and there's no visible competition between women to look their absolute best at all times. A sense of calm is visible just about everywhere. You can tell that the locals have much less stress in their lives by just observing their demeanor and body language. It's also easy to get from one part of town to another, as traffic jams are virtually unheard of.
Despite the fact that it's not a major economic hub, the infrastructure in the city is as good as what one would find in a European town of its size. Like most cities in Russia, sidewalks have been repaved, old buildings restored and churches rebuilt. It's unfortunate that beautiful old churches that were the subject of many a Nicholas Roerich painting were demolished by the Soviets.
For someone used to Moscow food prices, I was shocked to see how ridiculously inexpensive it was to eat out. There's a joke in Yaroslavl that Muscovites who visit the city eat like there's no tomorrow. The city, which is used to tourists from different parts of Russia and abroad, also has a much better service culture than many parts of the country. This is understandable, given the fact that life does not seem to be as demanding in the bigger cities.
Of course, Yaroslavl is by no means some backwater stuck in another era. It has its fair share of modern cafes, pizza parlors and even an emerging hipster scene. If it's such a wonderful place, why is the city by the Volga not a magnet for migrants, my Muscovite friends ask me! Many of the factories set up outside the city have been closed and besides the service industry and tourism, and a newly emerging start-up scene, there really isn't the kind of economic opportunities that one would get in Moscow.
However, for established professionals who can work from offshore locations, few places can match the city known as the 'capital of the Golden Ring.' As a writer, I would love to spend a few months in the city and work in its peaceful environs. There's enough beautiful nature in the outskirts of the city to go with charming and traditional villages. For those looking for inspiring surroundings, the city's green-domed cathedrals, squares and riverside promenades can do the trick.
To top of it off, I found out that a local friend of mine rents a two-bedroom apartment in the city center with a view of the Volga, for a 'grand sum' of 15,000 rubles (at the current exchange rate around 15,500 rupees)! And this friend says that her landlord is grateful to get a tenant for that price! For those of us familiar with Moscow, Mumbai and Delhi prices, this would be nothing short of a great bargain.
Many tourists and visitors come and stay for extended periods of time in Rishikesh for the very same reasons. Like Yaroslavl, its Russian cousin, Rishikesh is a great place for a jaded resident of a metropolis to get back in touch with his or her inner self and work on self-development. And thankfully, the waters of the Ganges there are much cleaner than in Varanasi (another one of my favorite places).
A former colleague of mine from the Russia & India Report seems to have found peace by evenly dividing her time between Rishikesh and Yaroslavl. Having abandoned journalism and a 9 to 5 arrangement, she lives in Rishikesh from November till April. During this period, it's cold in her Russian hometown and pleasant in India's yoga capital. Like a migratory bird, she heads back to Yaroslavl for the warmer months of spring, summer and autumn. She manages to pay her bills by translating Hindu texts and speeches from Indian gurus into Russian. There seems to be a strong demand for this across the Russian-speaking world. She is also a part-time yoga teacher. "Who needs Moscow," she asks! It's next to impossible to argue with someone who has totally transformed her life and found such inner peace.
All rights reserved by Rossiyskaya Gazeta.