Thinking ahead: Snow economy in Sochi and psychology via app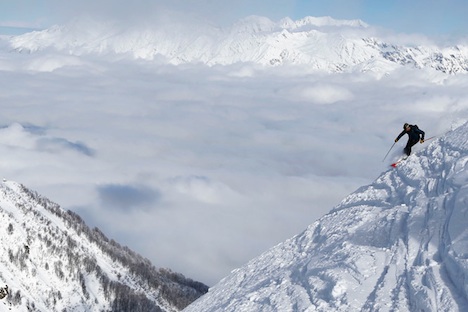 Sochi will collect a huge amount of snow ahead of the 2014 Winter Olympics. Source: Reuters
Petr Mitrichev wins the Facebook Hacker Cup, the booking service Ostrovok becomes the most well-funded Russian startup, Russia begins saving snow for the Sochi Olympics and other news from the week
Russian winter is one of the most well-known symbols of the country. And so it is for our colleague from The Huffington Post.
"When you think of Russia you think of furry hats, vodka and lots and lots of snow," says Ahmed Shihab-Eldin from Huffpost Live. On March 27, Ahmed hosted a discussion about howRussia started saving snow for Sochi Olympics 2014.
"Four hundred fifty thousand cubic meters[15.8 million cubic feet] of snow will be enough for us on all routes, even if there will be no snow at all," Alexander Belokobylsky, the executive director of the resort Roza Khutor,says. "Certainly, all reserved snow won't remain. Taking into account the coefficient of thawing, there will be at least 300,000 cubes in a year. However, it guarantees against any weather troubles."
"Those Russians..I don't get it. This is a crazy story. Is it stupid, is it genius?" wonders Ahmed.
Hm, Ahmed, we call it creativity. :)
And what do you think? Is it reasonable?
The Guardian prepares for spring with an awesome feature about spring cleaning in everyday life, in every sense. Psychotherapist Philippa Perry suggests getting out of our comfort zones with trying something different –mountain climbing, trying the zip-wire, running the Antarctic, joining a book club. And, as technology gains more importance in our everyday routines, digital self-improvement was not forgotten.
"The only thing technology can't seem to monitor these days is your bowel movements. Swimtag, a wristband that will record your performances in the pool, is the latest in a long line of tracking devices that include Jawbone, monitoring how you sleep, move and eat, and InFlow, a free app that enables you to log your moods daily. You can then analyze your behavior patterns and get advice on how to be a happier bunny. Who needs therapy?" writes Philippa Perry. And we totally agree! By the way, did you know that InFlow is a Russian app?
Earlier this year we published an exclusive interview with InFlow's founder, Bayram Annakov. ""Logging your mood should be simple, quick and easy. No diaries or pens, and no procrastination. That's how we came up with the InFlow app for the iPhone, which soon rose to second place in the Lifestyle category of the Russian AppStore," Bayram says.Check the full version on our startups page! We are waiting for your comments about the app, and maybe you have your own spring renewal secret to share?
Everything blooms in the digital world of another Russian startup –Ostrovok. On March 26, Ostrovok received a $25 million investment in Series B round from a group of investors that includes Yuri Milner.
"However, it's the signalYuri Milner's involvement indicates that is perhaps most interesting. Because many of his investments in Russia – Mail.ru among them – add up to around 70 percent of the actual page views in Russia, he is in a position to influence where that traffic is directed. Point it vaguely in the direction of a startup like Ostrovok and away, as they say, you go," Techcrunch's Mike Butcher commented in his article about this investment.
Other successes? Russian programmer Petr Mitrichev won the Facebook Hacker Cup and received a $10,000 award. Mitrichev was already a Facebook Hacker Cup winner in 2011, reports East-West Digital News. And, in 2012, it was another Russian programmer – Roman Andreev. EWDN quoted Facebook as saying: "We're always hacking to find better ways to solve problems."
"There's few things cooler than Vladmir Putin in Russia – hacking, guns, vodka – and rising street artist Nikita Nomerz," writes Geoffrey Ingersoll from Business Insider. We're not saying it's all true, but Nikita's paintings are really impressive. The young Russian artist transforms building elements into vivid personages – sometimes funny, sometimes scary. Check it out and give your old barn in the gardena new look!
Previous post: Tom Cruise on VKontakte: Hollywood meets Runet
All rights reserved by Rossiyskaya Gazeta.