How Gazprom managed to surpass ExxonMobil as the world's largest energy company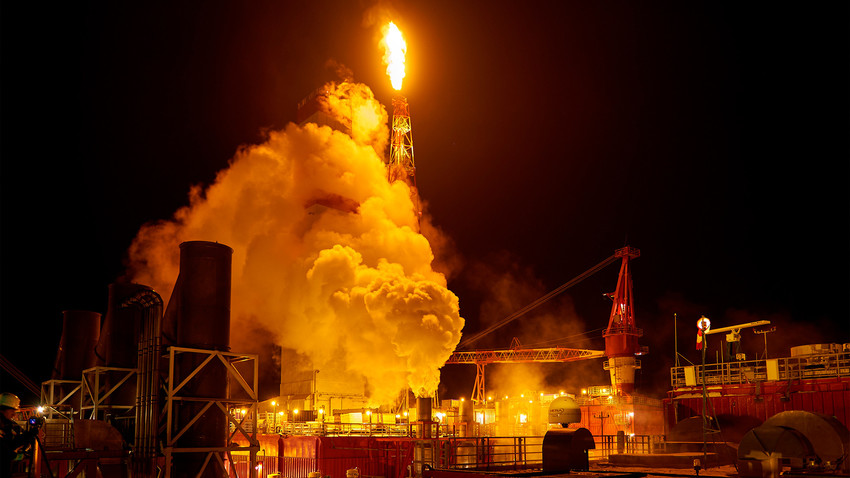 The Prirazlomnaya offshore rig, Gazprom Neft's oil production outpost on the Russian Arctic Shelf.
Alexei Danichev/RIA Novosti
The Russian energy giant nailed down top spot in one of the most important energy company rankings this year, overtaking American oil and gas corporation ExxonMobil that led the list for 12 years. How did this happen?
This week the annual S&P Global Platts ranking of world's largest energy companies welcomed a new leader. The Russian state-owned energy corporation Gazprom trumped American ExxonMobil, which had topped the bill since 2004.
The U.S. corporation has taken a serious dive, falling back to ninth position, behind German E.ON SE, Indian Reliance Industries, Korea Electric Power Corp, and Chinese CNPC, among others. The top 10 companies' combined profit reached $63.7 billion last year, which is 14 percent lower that the previous period.
How did Gazprom reach such lofty heights? Ivan Kapitonov, professor at the Higher School of Corporate Management at the Russian Presidential Academy of National Economy and Public Administration (RANEPA), thinks the main reason that ensured Gazprom's rise was ExxonMobil's slip, triggered by falling oil prices and the sanctions war with Russia. The price of crude oil in 2016 (a period considered by the ranking) was on average $46 per barrel, well below 2015's average.
"There is nothing supernatural here. If ExxonMobil hadn't suffered to such an extent, Gazprom wouldn't be able to surpass it," he told Russia Beyond.
According to Kapitonov, Gazprom is still confidently moving forward with its North Stream-2 gas pipeline project from Russia to the EU. It's due to be completed by the end of 2019. "A whole area of potential investment opportunities is emerging here, even though some are not obvious at the moment," the expert says.
Speaking of the ranking itself, which is based on the annual assessment of companies' asset worth, revenues, profits, and return on investment, Kapitonov says Gazprom's position shouldn't be taken for granted. "Falling back or climbing up by 100 positions is possible in this ranking, so gaining first place should be treated as motivation (for Gazprom) to keep going forward," he told Russia Beyond.
5 facts about Gazprom
Gazprom is the largest joint stock company in Russia, with 50.002% of its share capital owned by the Russian state.

It holds the world's largest natural gas reserves: Gazprom's share in the global and Russian gas reserves amounts to 17 and 72 percent respectively.

Apart from the North Stream-2 project, Gazprom is occupied with other ambitious projects abroad. The most important are the Power of Siberia gas pipeline to China and the Turkish Stream.

According to Platts, last year the company's assets amounted to $296.8 billion, revenues – $107.2 billion, and profits – $16.7 billion.

For three consecutive years Gazprom has topped the RBC ranking of most profitable energy companies in Russia.
If using any of Russia Beyond's content, partly or in full, always provide an active hyperlink to the original material.