Healthy fast food, a regular weekly menu, delivered meals and culinary social networks: Russian startups are undergoing a health-food craze.
Healthy fast food
The owners of the Moscow restaurant Delicatessen fleshed out their fast food ideas through the sandwich shop ButerBro (one letter away from "buterbrod" in Russian, which means "sandwich") in the capital's Hermitage Garden.
Sandwiches are made right in front of visitors here, and employees begin baking the bread early in the morning. The cafe opens at 12 p.m.—when the homemade bread is ready—and all of the sandwiches' ingredients come from nearby farms.
With such a successful restaurant behind them, there was no doubt that the founders had the necessary starting capital. They incurred the majority of their costs while searching for, repairing and equipping the store itself, which they managed to turn into a cozy cafe with fresh sandwiches and homemade bread.
The project is popular and should be self-sufficient by the fall.
ButerBro opens at 12 a.m. when the homemade bread is ready and all ingredients come from nearby farms. Source: Mark Boyarskiy
Its founders have another project—a trailer called "Gifts of Nature"—which is currently touring around Moscow. It first appeared in the city quite recently, in February 2013. Its focus was on delicious, quality, healthy street food.
The trailer itself was ordered from the American company Airstream, which produces camping cars and trailers. In Germany, the car was converted into a restaurant on wheels with a full kitchen. Where ButerBro's main focus is sandwiches, Gifts of Nature's is on grilled meats, soups, and salads.
Both businesses have the same suppliers—the famous Moscow LavkaLavka farm project and Uglich Fields— which are both private farms outside of Moscow.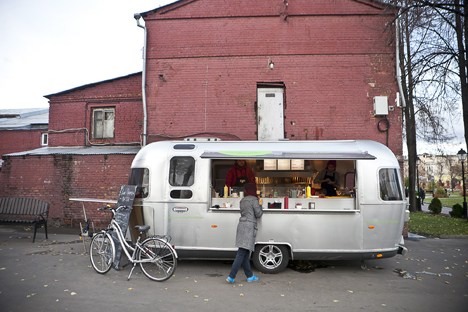 A trailer called "Gifts of Nature" is currently touring around Moscow. Source: Mark Boyarskiy

The emphasis on health
Before the summer 2012 opening of the health-food service EasyMeal, its founder, Vadim Malkin, conducted no small amount of health experiments on himself. By studying the optimal combination of diet and exercise, he managed to lose 66 pounds on his own.
In order to prevent his newly gained knowledge from vanishing, Malkin and co-founder Yuri Samokhin founded EasyMeal—a service that allows any customer to develop an individualized dietary profile according to his/her own needs. In summer 2012, EasyMeal offered its services to its first customers.
The highlight of the project was the room for personalization and the option of ordering customized products. For example, the menu included gluten-free burgers for a while, and, today, customers can purchase gluten-free pasta and mixes.
Additionally, customers can also order according to their nutritional program in any one of EasyMeal's partner restaurants, which deliver to homes and offices.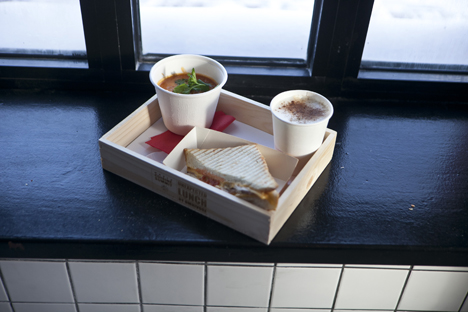 In ButerBro sandwiches are made right in front of visitors. Source: Mark Boyarskiy
Its startup capital amounted to approximately 1.5 million rubles (over $45,000) out of pocket. Today, the business is self-sufficient and plans to expand its network of partner restaurants, improve and refine its dietary profile system on the website, and create a healthy food catering service.
EasyMeal is a unique project: Its closest competitors in Moscow and Europe offer only prepared menus, which are not subject to any change, for no less than a week.
Learning to cook and talking about it
The goal of Foodclub.ru is for users to share their culinary expertise at a special venue with anyone who loves to cook. Maksim and Maria Savelyev decided to adhere to a system of healthy and delicious food immediately after their wedding.
Maria saw cooking as a bright and creative process with the opportunity for self-realization, rather than a burdensome chore. She quickly ran out of recipes in her ordinary cookbook or found them too complicated.
Maternity leave did not tone down the human whirlwind of activity. The idea of puttering together her own cookbook with detailed, colorful, step-by-step instructions was evolving into Foodclub.ru.At that time, Maxim was heading a web studio and actively helping his wife.
They began in 2008 with a LiveJournal blog; they then went on to put together a full-fledged website of their own.Their only investment was time and effort. Foodclub began bringing in revenue quickly enough; with the advent of mobile applications in 2010 (theirs immediately hit the top 10 for the iPhone and iPad), users began paying for access to Foodclub's full database of recipes.
Foodclub generates income through banner advertising and affiliate projects. The Savelyevs regularly participate in culinary events and post theme-based, sponsored recipes that involve the use of advertised kitchen appliances.
Foodclub has published over 500 recipes for 20,000 registered users. Its site accumulates approximately 50,000 views every day, with even more leading up to holidays. Users not only follow the recipes posted on the site, but they also create their own pages in which new recipes are tightly moderated so as to maintain the high quality of content. The company's LiveJournal blog remains popular to this day.
Foodclub's future plans include an online store and access for Android users.
All rights reserved by Rossiyskaya Gazeta.