Clearing the way: New generation minesweepers to protect Russian Navy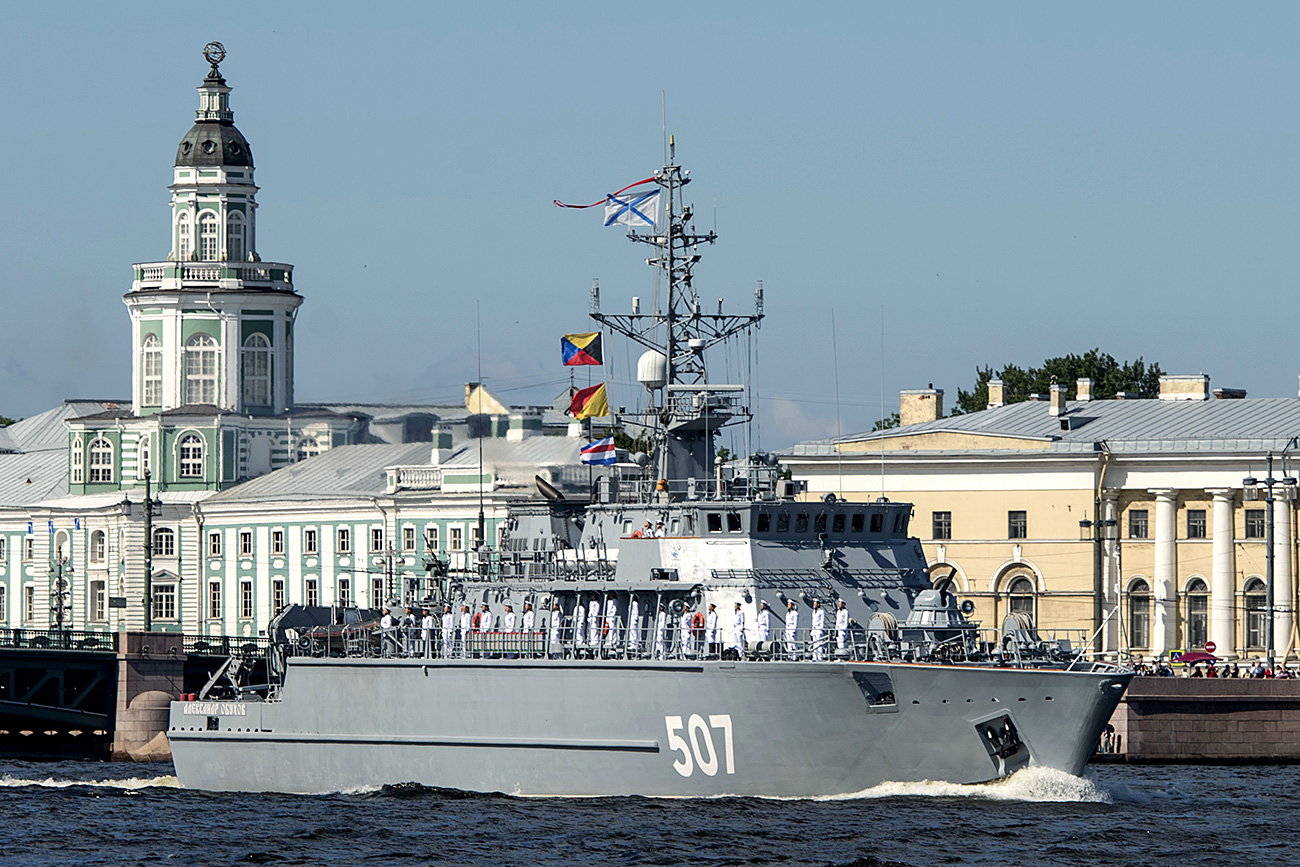 Project 12700 Alexander Obukhov. Source: Aleksandr Galperin/RIA Novosti
Russia's "obsolete" 1970s Soviet minesweepers will be scrapped in favor of ships with composite hulls and artillery systems.
Russia's Navy is set for an upgrade after it commissioned a new batch of Alexandrit-class minesweepers (Project 12700). The first new generation ship - Alexander Obukhov - was greenlighted last December, with the Ministry of Defense planning to build eight in total.
Vasily Kashin, a senior expert at the HSE Center for Comprehensive European and International Studies, told RBTH that Russia has been using obsolete Soviet minesweepers from the 1970s (Project 266 Rubin) for too long, which are ineffective at protecting Naval bases. He said the new vessels will solve this problem.
Invisible to mines
Alexander Obukhov is the first ship in the Russian Navy with a hull made out of composite materials, instead of just steel. "Warships are like huge floating magnets - they usually have a large magnetic field and can therefore be targeted by modern 'smart mines'," Dmitry Litovkin, a military analyst for the Izvestia newspaper, told RBTH. However, the composite hulls of the Alexandrit-class minesweepers limit the magnetic field and the chances of being detected by mines.
These hi-tech vessels can therefore clear the path of warships by traveling ahead and destroying or disabling sea mines in safety.
Robot boats
Minesweepers usually use mechanical or electrical devices called "sweeps" to cut the anchoring cables of moored mines, but Alexandrit-class ships will be also equipped with robotic, remotely controlled boats. It's not yet nailed down who will supply these small craft but the French EAC Group - which makes the unmanned Inspector Mk2 and anti-mine submersibles Seascan Mk2 - has been earmarked.
Inspector Mk2s can detect and terminate mines at a depth of 10 to 100 meters and can be operated up to 10 km away from the minesweeper.
Although as Izvestia reports, the Minstry of Defense might opt for a Russian company to build the boats instead.
Weapons and ammunition
Project 12700 minesweepers are not combat ships and therefore not designed to engage in combat.
Still, they will be armed with an AK-306 naval artillery system, 14.5 mm marine pedestal machine-gun mount, and 9K38 Igla SAM system for defending against small boats and low-flying military jets.
If using any of Russia Beyond's content, partly or in full, always provide an active hyperlink to the original material.