Russia rolls out the 'Night Hunter' chopper to slay ISIS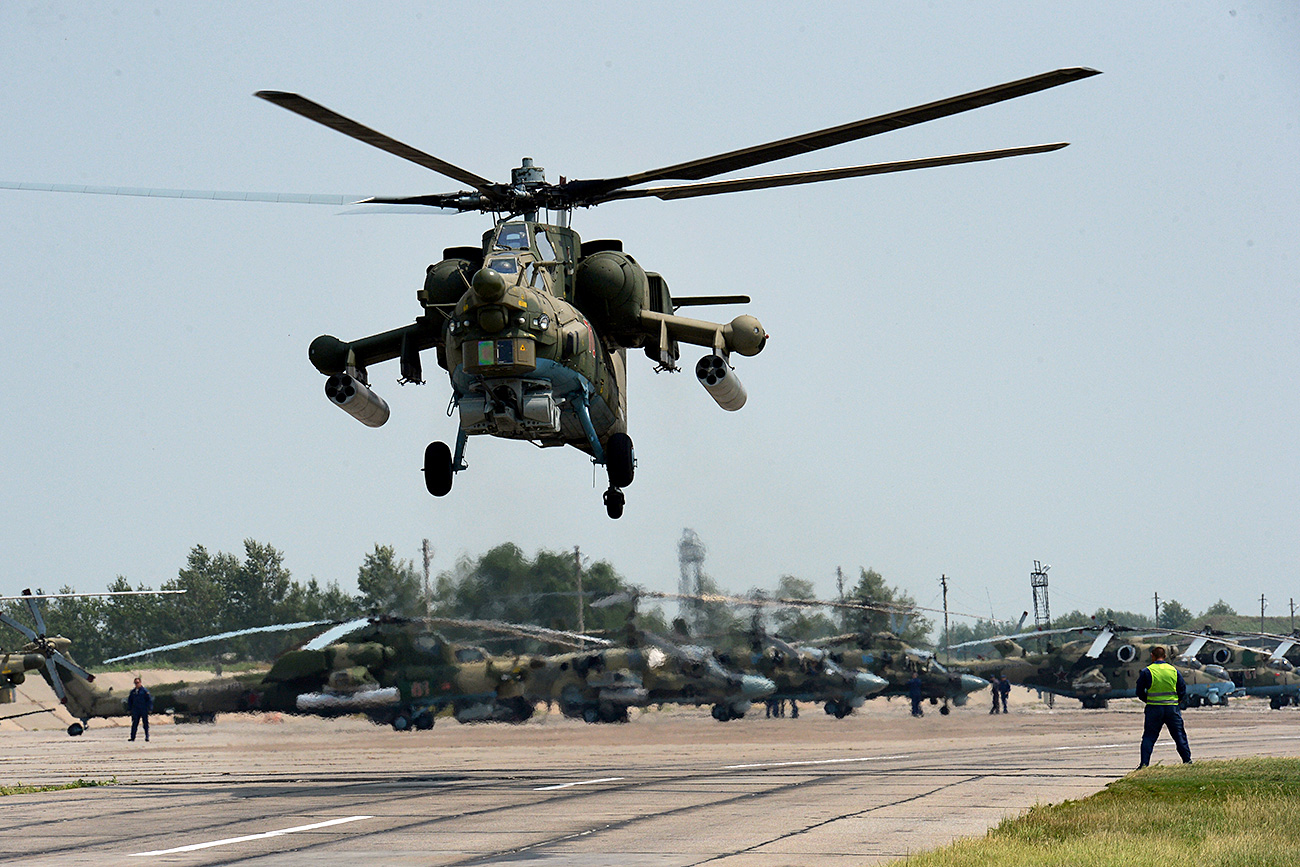 Mi-28 helicopter.
Vitaliy Ankov/RIA Novosti
The modified Mi-28 can be fully controlled by one of two pilots and will carry out search and destroy missions in the Middle East.
A new version of the Mi-28UB "Night Hunter" - a modern attack helicopter - will be transported to Russia's air base in Syria in the coming weeks.
The war machine's manufacturers are keen to test its modified armor and missiles on the front line.
A military industrial source told RBTH this: "Russian Helicopters [corporation] strengthened the helicopter's front armor and enhanced its 'brains.' "
So in the very near future, an advanced version of the "battle bird" will be carrying out search and destroy missions against ISIS in the Middle East. One of the chopper's new features gives full control of the machine to both pilots.
This means that if one pilot gets injured, the other will be able to operate the helicopter independently: That's navigation, flying, and firing systems all at the same time.
What is the 'Night Hunter' all about?
The main goal of this military flying monster is to support infantry and special forces groups fighting on the ground. It was built to destroy tanks, armored vehicles, and low-flying targets. For example, other helicopters and drones.
The Mi-28 has already been adopted by the Russian Military, but like every other piece of army hardware it had to go through strict testing before it was given the greenlight to wreak havoc on the battlefield.
As the RBTH source explained, the Mi-28 follows all international military standards: "As well as bringing hell on earth with its machine guns and missiles, it can fight alongside tanks."
The expert also said that the chopper's targets will range from enemy military personnel to artillery systems, and even anti-air defense units.
Besides that, the helicopter is among only a few capable of performing aerobatic maneuvers. As Russia's Berkuty pilot team has been showing the world for the last five years.
The Mi-28's first use in Syria
Russia's Mi-28 helicopters played an integral role in liberating the Syrian city of Palmyra from ISIS on March 27, 2016.
The video shows the destruction of an ISIS armored vehicle with the help of guided anti-tank missiles, followed by the elimination of militants hiding in a house.
This was the first recorded use of the Night Hunter against ISIS terrorists. Before, the choppers were solely used to guard the Khmeimim Air Base, where Russia's Air Force in Syria is stationed.
Read more:
If using any of Russia Beyond's content, partly or in full, always provide an active hyperlink to the original material.