Nuclear power flagship of ties with India - Russian Deputy Minister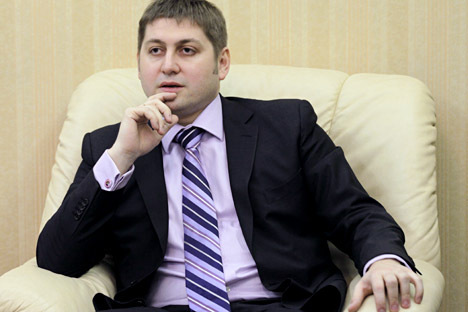 Oleg Fomichev, Russian Deputy Minister for Economic Development. Source: Vitaly Belousov/RIA Novosti
Oleg Fomichev, Russia's Deputy Minister for Economic Development, said there were extensive opportunities for Indo-Russian cooperation in the peaceful use of nuclear energy.
Cooperation in the field of nuclear power is driving Indo-Russian economic ties, Russian Deputy Minister for Economic Development Oleg Fomichev said on April 7.
"Successful collaboration in the atomic power sector is the flagship of the Indo-Russian economic cooperation," he said at Global R&D Summit 2017 in Bangalore.
He added that the nuclear power generation in India has been increased by 2000 MW with the operation of Kudankulam Nuclear Power Project (KNPP).
"In 2014 Russia and India signed the 'strategic vision for strengthening cooperation in the peaceful use of atomic energy.' It envisages the serial construction of 12 Russian-designed units in India in the coming future," Fomichev said.
He also praised the collaboration between India and Russia in science and technology and the use of nuclear fuel. "It is being developed successfully. Extensive opportunities are opened for the Indo-Russian cooperation in the peaceful use of the atomic energy," Fomichev added.
On April 5 the Nuclear Power Corporation of India (NPCIL) and Russia's Rosatom State Atomic Energy Corporation signed a joint statement on the final takeover of KNPP's first unit. The first unit of the project is now completely under Indian management.
All the warranty requirements have been fulfilled, ASE Group of Companies (a subsidiary of Rosatom) said in a press release.
"The warranty period run showed reliable and safe operation of first unit. Thus, the Indian side confirms that ASE Group of Companies, which is general contractor, has fulfilled all its tasks in full and accurately," Andrei Lebedev, Vice President of ASE for projects in South Asia, said. "Onwards, the operation of unit 1 is totally within the responsibility of the Indian side."
On March 30 the second unit of KNPP began commercial operations.
If using any of Russia Beyond's content, partly or in full, always provide an active hyperlink to the original material.