Russian Trade Mission invites guests to Russian wing at BRICS Trade Fair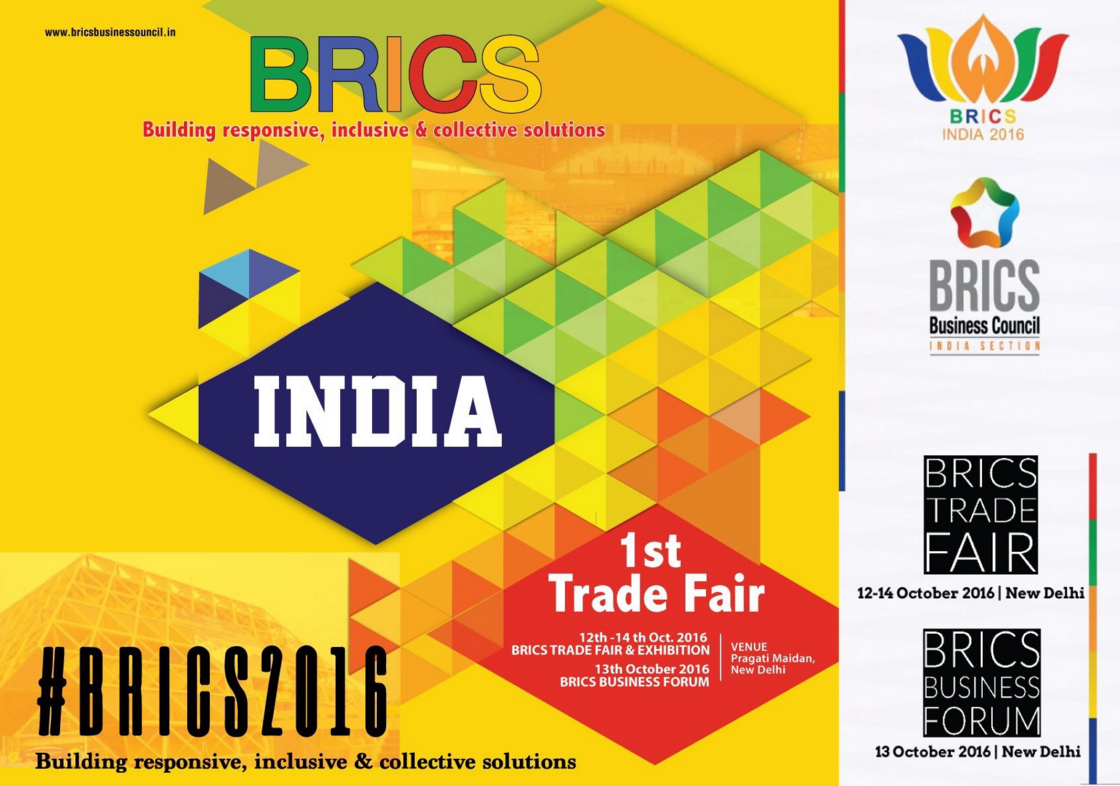 New Delhi is hosting the first ever BRICS Trade Fair from October 12 to 14.
twitter.com/BRICS_2016
On the eve of the BRICS summit in Goa, the Indian capital is hosting the first ever BRICS Trade Fair from October 12 to 14, where all five countries will be displaying their strengths. The Russian Trade Mission in India is inviting guests to view the Russian Exposition at Hall 14 of New Delhi's trade fair grounds at Pragati Maidan (Development Park).
The Russian Trade Mission in India has made detailed arrangements to ensure that a wide variety of Russian companies display their expertise at the first ever BRICS Trade Fair, being organized in New Delhi from October 12 to 14.
In a statement, the Mission outlined details of the companies to participate in the Trade Fair. They represent a very wide range of activity, from trade to Information technology to solar energy to manufacturing and fertilizers, to engineering, scientific and medical equipment manufacture, to food processing, designer cakes and waste management systems.
The Russian companies showcasing their goods are coming under the auspices of the Russian Export Centre. They will participate in the Trade Fair and carry out B2B meetings with the interested Indian companies.
Russian companies coming to the first BRICS Trade Fair include:
BAIKAL ELECTRONICS describes itself as a 'fabless semiconductor company specializing in ARM-based and MIPS-based systems on a chip (SoC)'.
VIST GROUP provides Information Systems & Technologies Implementation for various applications in mining and metallurgy, power-engineering, science and telecommunications industries (mine fleet management systems, control systems, software systems across industrial mining enterprises).
HEVEL SOLAR is an integrated company in solar energy industry, producing solar PV modules as well as providing design, integration and O&M services for PV power plants and systems.
SILA ZHIZNI is a leading Russian producer of fertilizers leonardite and other products for plants and soil. The company is a leader in the innovation, development and production of nutrients, micronutrient fertilizers, plant growth bioactivators, biological plant protection means.
INTRA SERVICES COMPANY is an engineering company which offers services in repair and maintenance of process equipment and piping industries as well as solutions for supervising construction and repair works, technical audit and design of repair shops.
ETERNIS is a leading developer and manufacturer of innovative firefighting systems including wireless detection and control systems, water mist firefighting units, powder firefighting units, explosion-proof firefighting units.
JSC "TECHNOFINANCETRADE" deals in scientific equipment of Russian and foreign origin
BEE PITRON is a leading Russian research, manufacturing and engineering company providing advanced engineering technologies in area of Mechanical Engineering, Electrical Interconnect as well as Software Development.
RICE HIGH TECHNOLOGIES LLC is an engineering company building the advanced integrated energy generation systems that utilize innovative biomass processing technologies to produce electric and thermal power. The company also processes ash into specialty silicon dioxide products. Its integrated energy generation systems run on agricultural and forestry waste.
JSC ZPP is the leading Russian IT sector company specializing in production and development of metal-ceramic packages for integrated circuits.
INGREDIENTS RAZVITIE LLC carries out production and distribution of food ingredients, including textured soy protein in the form of flakes, granules, chunks; textured concentrate in granules as well as high-protein functional blends for meat processing; flour; animal protein; edible vegetable fiber - wheat, soy, oat, bamboo, apple; wheat gluten; potato flakes; functional mixtures and complex additives for different sectors of the food industry; emulsifiers, preservatives.
CONFECTIONARY ANNA KRASOVSKAIA ENTERPRISE produces exclusive fashion cakes.
B2B-CENTER is a market platform for effective interaction of companies for purchasing and selling goods, works and services.
GLOBAL RUS TRADE is a special Portal of mutual trade of Latin American, Southeast Asian and BRICS countries.
'RADIOTHERAPY TECHNOLOGIES' LTD specializes in design, development and production of high-quality radiation therapy medical equipment and accessories for it.
SINIKON provides integrated solutions for the sewage systems (modern sewerage polypropylene pipes and fittings).
All rights reserved by Rossiyskaya Gazeta.