India Russia relations reviewed by former envoy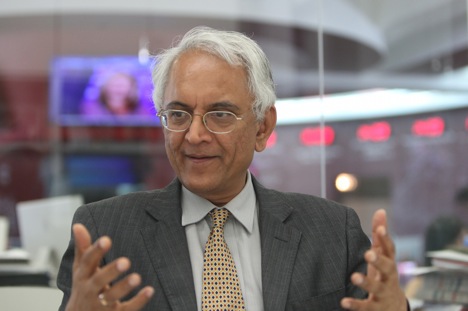 P.S. Raghavan, India's former Ambassador to Russia, is putting together a monthly review of India-Russia relations for a think tank that has primarily been viewed as US-centric. Highlighting aspects of the bilateral relationship, the first country-wise review has been launched under the aegis of the Ananta Aspen Centre in India.
The Aspen Centre in India was considered among the most United States-friendly think tanks in the country, with the elite annual Aspen Dialogue featuring the cream of India's business and strategic community.
That think tank morphed into a more Indian 'avatar' (or form) as the Ananta Aspen Centre, a Trust, in early 2006, after Tarun Das, then Director General of the Confederation of Indian Industry (CII) and long-time proponent of the establishment of an Aspen Institute India, co-signed an official Memorandum of Understanding with Walter Isaacson, President and CEO of The Aspen Institute, US in February 2004.
The first country-specific review it has launched, however, relates to Russia. P.S. Raghavan, India's former Ambassador to Russia, is in charge of compiling the Review, in the form of a newsletter, intended to foster an improved understanding of the vital India-Russia relationship.
There are region-specific review newsletters, including a bimonthly one on West Asia and an occasional one on Latin American countries. A daily 'Focus Neighbourhood' newsletter on all of India's neighbours except China, has updates from local newspapers from countries ranging from Afghanistan, Pakistan, Maldives and Sri Lanka to Bangladesh, Myanmar and Bhutan.
The inaugural issue of the Russia-India Review, on June 20, stated that "most coverage" about Russia, in recent months, had been about the Ukraine issue and related events. "This newsletter series will not cover these issues. It will focus on developments in Russia which have a connection with India," going on to add "India-Russia relations have continued to intensify in multiple areas, particularly since 2000." Both countries now share a "special and privileged strategic relationship" particularly encompassing the spheres of defence, nuclear and other energy, and economic issues.
Briefly explaining the nature of the Russian economy, the newsletter seeks to promote opportunities for increased linkages.
The July issue, sent directly to the inbox of those interested in foreign policy issues, led with how 'Brexit' appeared to have had a limited impact on Russia's economy. It also briefly outlined major issues like the European Union's extension of sanctions for six months, the thaw in Russia's relations with Turkey, the NATO summit in Warsaw and India signing the Memorandum of Obligations with the Shanghai Cooperation Organisation. India as the partner country at Innoprom was prominently featured in the newsletter Review of July 21.
In the 10 years since it was set up, the AAC has acquired a reputation as a serious think tank, with a host of former Indian diplomats and strategists in key positions within the organisation.
Kiran Pasricha, CEO of the Ananta Aspen Centre, said she was convinced of the need for such a Russia-India review newsletter, given how crucial the bilateral relationship is and how much the 'Make in India' programme is vitally dependent on bilateral ties.
According to the Ananta Aspen Centre's home page, it focuses on "leadership development and encourages frank and open dialogue on the most important issues facing Indian society, to help foster its transformation. The Centre engages civil society, business, governments and other key stakeholders on issues of importance to India's development, foreign policy, strategic affairs and national security. The Centre also convenes various programs for exchange of ideas, broadening perspectives and enhancing capacity to create sustainable solutions on a wide variety of issues."
The three core pillars of the organization are International Relations, Public Policy and Leadership development. The Centre addresses issues of significance through seminars, conferences, round tables, public sessions, young leader Fellowships and policy programs. It also brings out publications and study reports.
The Ananta Aspen Centre has also been in the forefront of conducting 'Track II' dialogues, or what a senior diplomat called "the second tier of formal diplomacy". AAC is concurrently conducting a total of nine such 'Track II Dialogues" around the world, with countries like the USA, Japan, China, Singapore, Israel, Turkey and Bhutan.
For over 60 years Aspen US has been fostering value based leadership and providing a platform for discussing and acting on critical issues.
"A need was felt to have a similar organization in India which would focus on values based leadership. Ananta Aspen Centre (earlier called the Aspen Institute India) was set up. The Centre is an independent entity with only Indians on the Board and with complete Indian funding but is a part of the international Aspen Institute Network," the home page says.
All rights reserved by Rossiyskaya Gazeta.