Syria experience helps Russia build tank for urban combat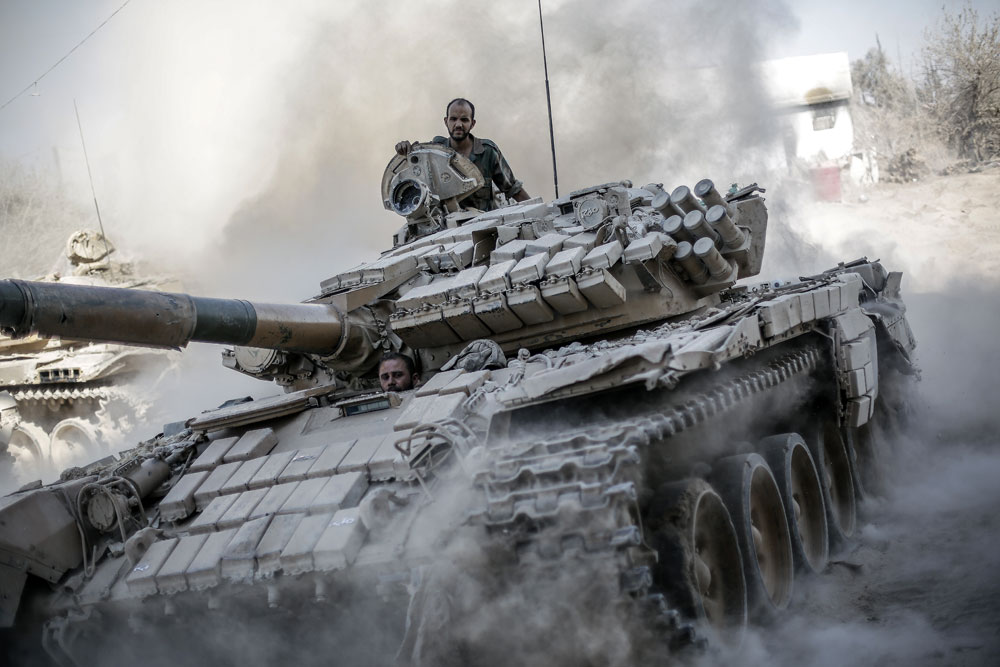 Tthe T-72 tank will be fitted with reactive armor tiles on all sides. Pictured: Syrian Army soldiers fight insurgents in Jobbar, a suburb of Damascus. Source: Andrey Stenin / RIA Novosti
Uralvagonzavod, the Russian armoured vehicle maker, has designed a tank that can effectively conduct combat operations in an urban environment, based on experiences of the war in Syria and other conflicts in West Asia. Gazeta.ru website looks at what protection systems the urban tank will be equipped with.
Countries which use Russia's most mass-produced second-generation main battle tank – the T-72 – need not worry about what to do with aging equipment and the transition of military operations from open to urban conditions. Russia's Uralvagonzavod Corporation (UVZ), manufacturers of the tank, has worked out how to modernize the T-72 for effective combat in urban environments.
Vyacheslav Khalitov, UVZ's deputy director for special equipment, told Gazeta.ru that their project is based on experiences of the war in Syria.
"If you look closely at the armed conflicts in the world, war is now fought mainly in the cities, no one fights in the open anymore, because it is, in fact, instantaneous destruction," said Khalitov. "But you can fight quite successfully in the city and in urban areas generally. Therefore, while analyzing Syria and the wars in Iraq and the Middle East, we decided to make a special set of additional protection systems, which could be installed on the vehicle at the right moment, to fight more efficiently in urban environments."
Integrated protection systems for the tank crew
To give the T-72 a new lease of life, they first propose to increase its firepower – to install a more efficient fire-control system with the Sosna multi-channel sighting system, a new electromechanical drive stabilizer, the upgraded 2A46M cannon and an autoloader modified to fire missiles.
Modernizing the T-72 for urban warfare also involves mounting a bulldozer blade, which clears all debris from collapsing buildings and other structures, and allows vehicles to pass.
A cockpit will be mounted on the T-72 to protect the tank commander, who has to look out of the hatch to fire the anti-aircraft machine gun, making him vulnerable to fire from all sides.
"We have made this cockpit with windows, so that he should have all-round visibility, but be fully enclosed himself. There is mostly anti-bullet armour protection there," said Khalitov.
The tank itself will be fitted with reactive armour tiles on all sides. They will protect the hull over track skirts, from the front, rear and sides, as well as the turret.
The tank will be equipped with electronic warfare devices
The modernized T-72 tank will be also equipped with electronic warfare devices. Khalitov said since militants now use radio-controlled missiles, it was necessary to block their signals over a wide area, a particularly important criterion in urban areas.
"We have installed equipment that suppresses radio-controlled explosive devices – these are two inconspicuous devices behind the turret that look similar to antennas; this equipment suppresses all signals sent to an explosive device," he said.
Viktor Murakhovsky, a specialist in weapons and military equipment, said the specific conditions of the city force designers to make technical improvements to the armour.
"Firstly, shelling from all directions is possible, not only from a frontal firing angle, as usually happens in the field." Murakhovsky said."Secondly, it requires large angles of gun elevation to fire at the upper floors of buildings. Third, it requires better viewing conditions for those operating the weapons – there should be better all-round and upward visibility. In Israel, for example, they have two or three extra machine guns on the roof of a tank – it is designed to hit the enemy in the upper floors of buildings."
Where to see the new tank?
The T-72 tank, upgraded for urban conditions and fitted with a fire control system and thermal imaging sight in the new configuration, will be displayed to potential customers for the first time at KADEX 2016, the Fourth International Exhibition of Arms and Military Equipment, being held in Astana, Kazakhstan from June 2 to 5.
First published in Russian in Gazeta.ru.
All rights reserved by Rossiyskaya Gazeta.