Kira Lisitskaya (Photo: Personal archive; ZUMA Press, imageBROKER.com, Sergey Voronin/Global Look Press)
"If you are ever in a crisis, like, if you're ever in Yemen and you need to let people know you are a friend of the Chechen people, simply say this word and they will know you are a brother."
As a student in Moscow, I had the opportunity to travel around Russia quite a bit and these were the final words our tour guide left my friend and I with as we bid farewell in the center of Grozny, Chechnya. To this day, I do not necessarily understand how the word he taught us would help us in Yemen, but nevertheless, I appreciated the sincerity of his words.
Our guide was a friend of a friend of a friend who had just finished showing us around the Chechen mountains for an entire day. He had taken us from the center of Grozny hours into the wilderness and showed us rivers, mountains and valleys. He had introduced us to the cuisine of the Caucasus and fed us very well. And, most surprisingly, even though he runs his own tour company, he did all of this for free.
We were in Chechnya as guests, and in the Caucasus, that seriously means something.
As an American, this type of behavior was literally unimaginable to me. But then again, pretty much everything I encountered in Russia was unimaginable to me.
My experiences in Chechnya, in addition to my experiences in many other parts of Russia are the reason I love the country so very much. From the mountains of the Caucasus to the Dostoevsky-esque alleyways of Saint Petersburg, Russia is a country filled with diversity and hidden gems waiting to be discovered.
And, of course, if you want to learn that word, you'll have to go to Chechnya for yourself!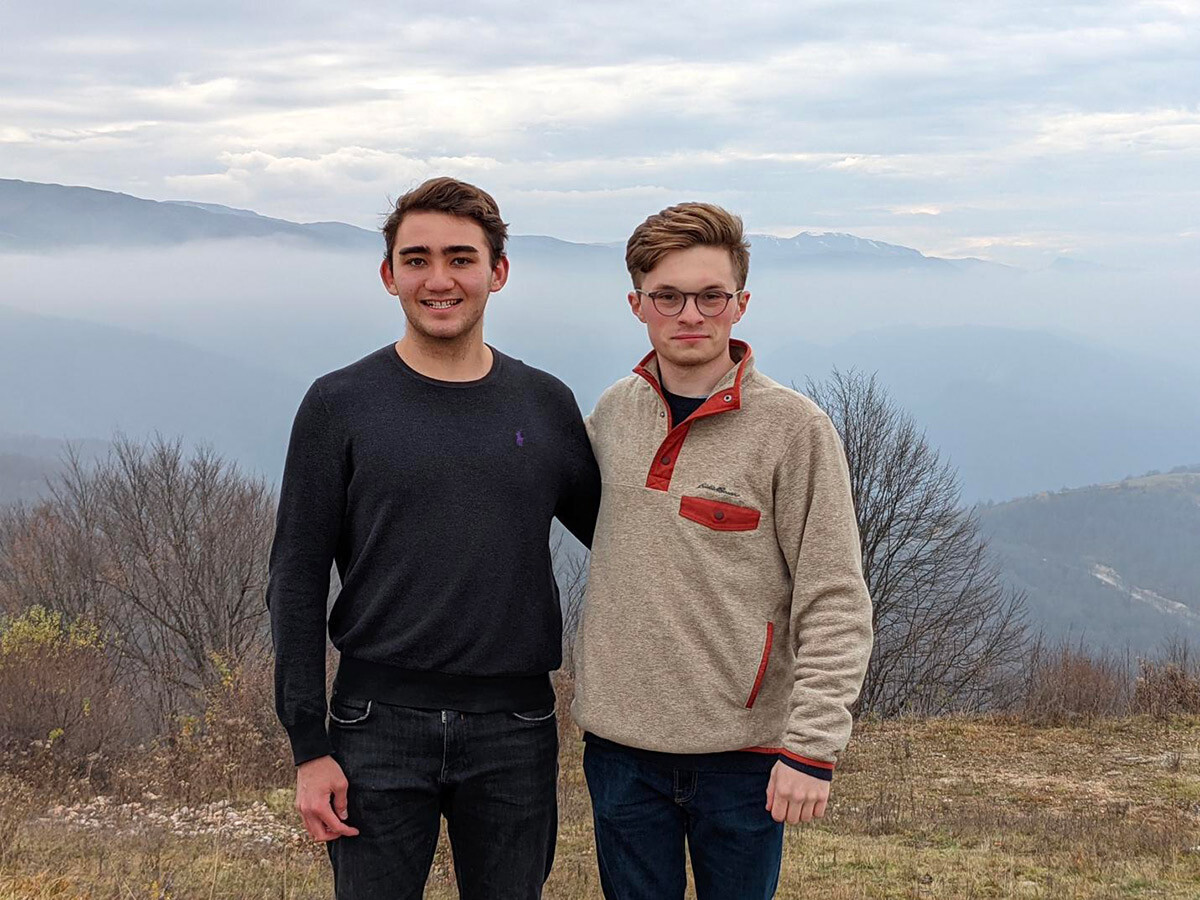 Like most American boys, I always had an interest in Russia. The fall of the Soviet Union left a lasting impact on American popular culture, a legacy that garnered my attention as a boy growing up in the U.S. during the early 2000s. Even though I was not alive while the USSR existed, the images presented in our video games, books and media made me dream about what life was like back then, populating my imagination with images of soviet men wearing fur hats on the Red Square. My interest evolved into a more concrete passion over the years, after my high school English teacher inspired me to read Russian literature and I began to read the works of Tolstoy and Dostoevsky.
In the American university system, students can sign up for any class they want, even if it does not match their field of study. So, even though I was an economics major at university, I decided to enroll in an introductory Russian language course and this is where my passion for Russia began to spiral out of control.
I distinctly remember when I walked into my first Russian class and our teacher greeted us with "ZDRAVSTvuyte" (Здравствуйте) and my face dropped, wondering what I had gotten myself into.
Having learned Swedish before, a language that is somewhat similar to English, I immediately knew learning Russian was not going to be a walk in the park. Nevertheless, I was intrigued by the challenge and became obsessed with mastering it. In fact, I was so dedicated to learning the language and had become so interested in the culture that after only one semester, I decided to study it abroad in St. Petersburg.
Studying in St.-Petersburg
Arriving in Russia for me was like going to a fictional land. Imagine Hogwarts from Harry Potter. It is a place of fiction that you can never imagine actually going to or visiting. It is a place that exists only in your head and imagination. Now imagine if you suddenly had the opportunity to actually go to Hogwarts. That's what it was like for me arriving in Russia for the first time. All of a sudden, as my flight descended into St. Petersburg, the iconic Soviet high-rises that I had only seen in pictures appeared before my eyes, I realized that I was actually in Russia.
Upon arrival, I was escorted by the university admin to the dormitory, a gray concrete complex guarded by several "babushkas" and clearly a remnant of the Soviet period. The next morning, as I strolled the snow-covered St. Petersburg streets, I was greeted by a society devoid of any smiling or openly demonstrated emotions, a culture that seemed different in every way conceivable in comparison to my native home in California.
One of the biggest cultural shocks for me was when the Erasmus Student Network for St. Petersburg State University hosted an "all you can drink" party at a dacha (country house) in the Russian wilderness. This was literally unfathomable to me, as in the U.S., alcohol would never be found at a university affiliated event.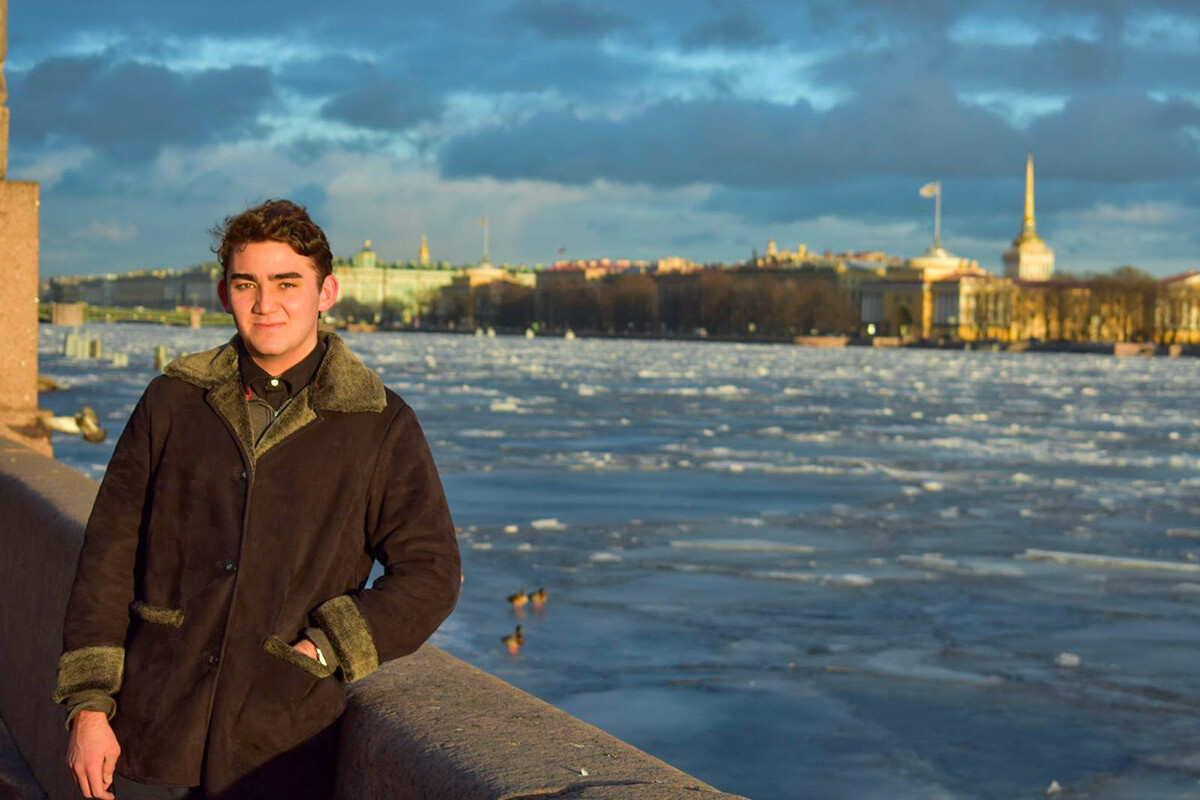 In St. Petersburg on exchange in 2020.
Personal archive
I truly had an incredible experience on my exchange program in St. Petersburg.
The Russian people I met were so "raw" and everyone seemed so real. There was no such thing as political correctness or small talk. Russians were willing to discuss anything and everything.
I have literally heard Russians ask foreigners who are more prone to small talk: "Why are you speaking without saying anything?"
There is a certain genuineness that is expressed in the Russian lifestyle that I adore, which is exemplified famously in the fact Russians do not smile unless they really mean it. If a Russian likes you, you will know, and likewise, if they do not like you, you will certainly know!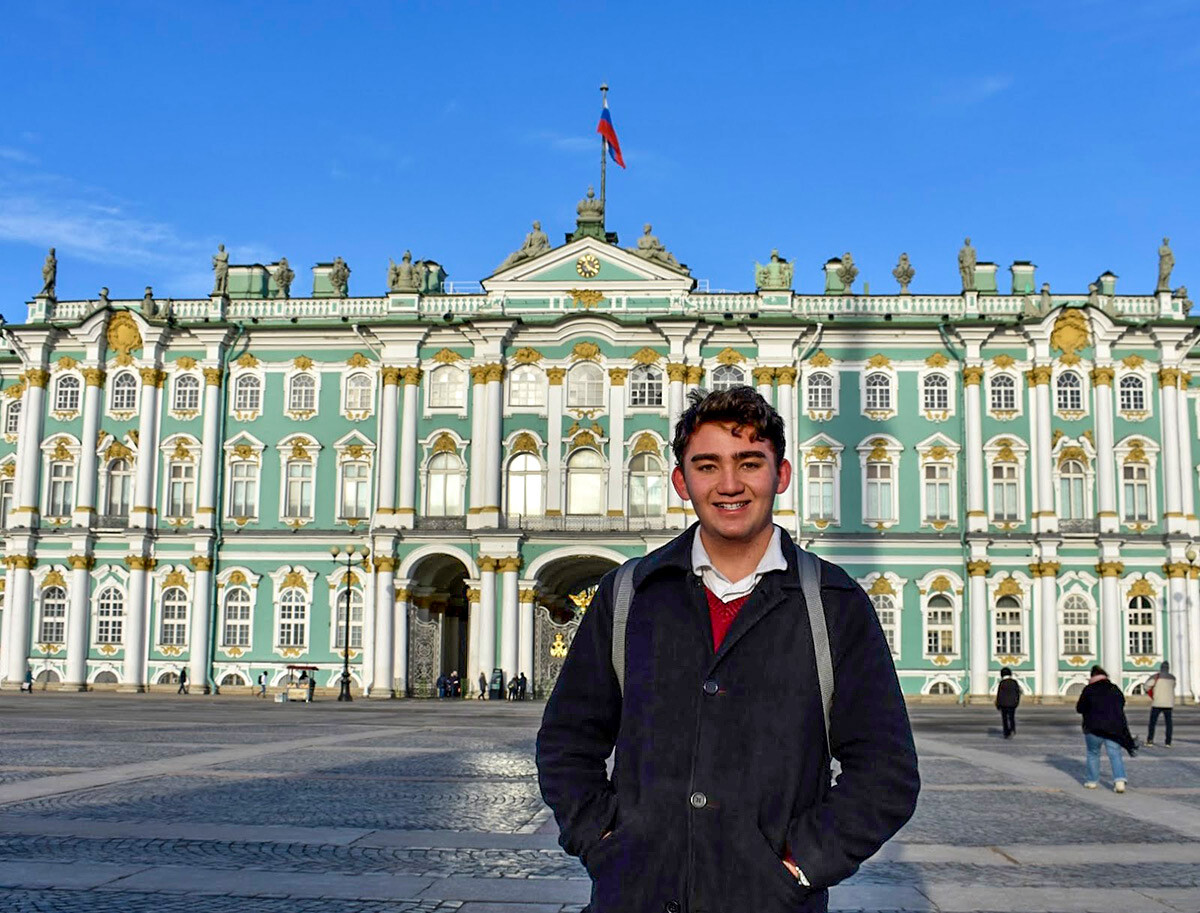 In front of the Hermitage in St-Petersburg.
Personal archive
I realized that I had discovered people that I truly love and I did not feel like I was ready to leave all of my newfound friends and linguistic abilities behind. I was not ready to move on from Russia quite yet.
"The Harvard of Russia"
After returning home, I applied for a master's degree in Russia and enrolled in the Moscow State Institute of International Relations (MGIMO), a university that American statesman Henry Kissinger claimed was the "Harvard of Russia".
While I knew that MGIMO had a great reputation in Russia, I did not fully understand what this meant.
After I landed in Moscow, on the way to the dormitory, my taxi driver, who was from Kyrgyzstan, and I started talking. He repeatedly told me, "MGIMO, well done!" over and over again, probably about twenty times. It was right then that I knew that my experience was going to be incredibly unique.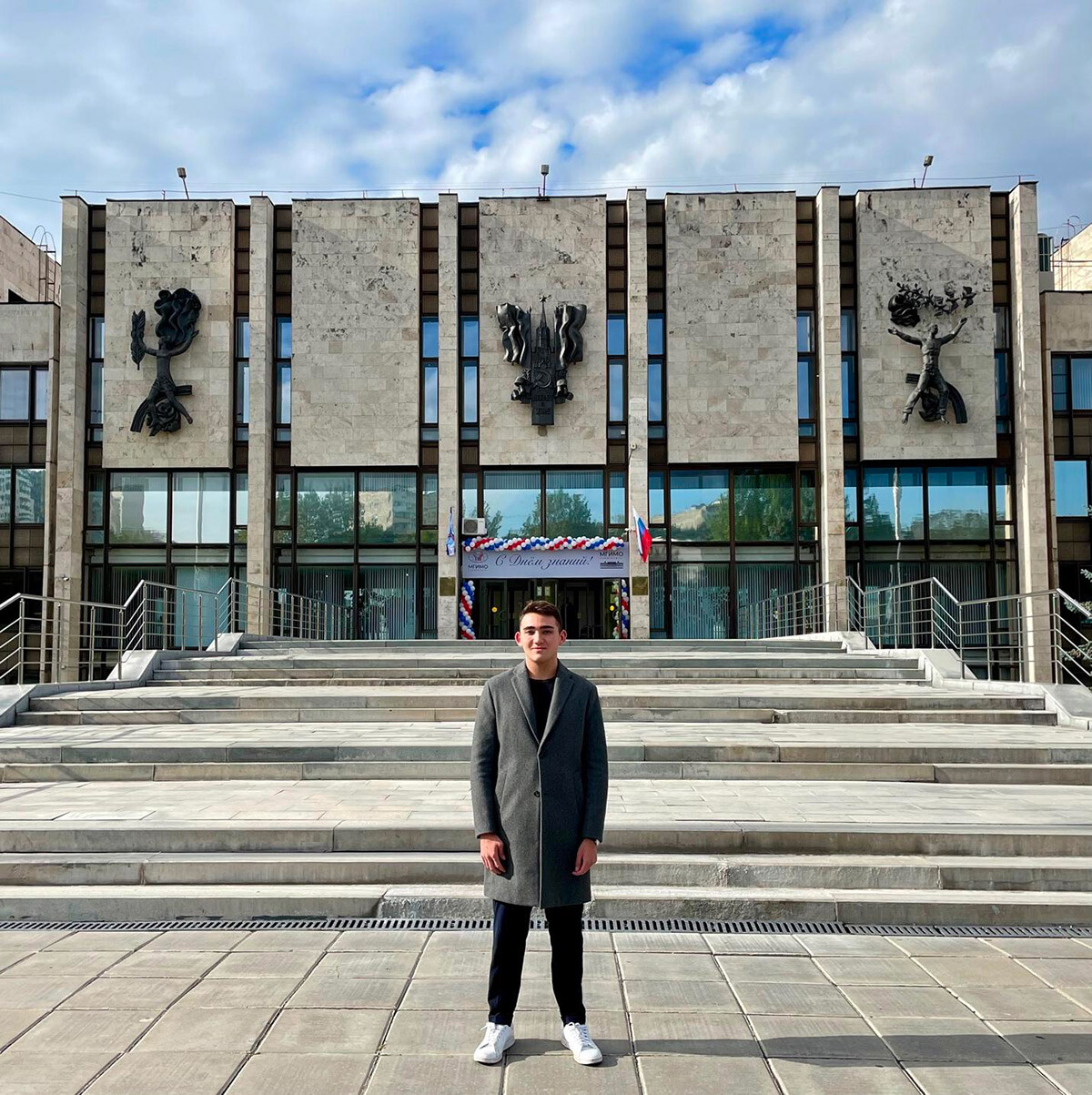 In front of the Moscow State Institute of International Relations (MGIMO).
Personal archive
After making it to MGIMO and entering the university for the first time, I was shocked to see that many of the male students were wearing a full suit and tie. This was a stark contrast to universities in the United States, where students often wear just sweatpants or even pajamas (!!) to class. I was also astonished to see diplomatic vehicles frequently pulling up to the university. Many of the students drove to the university in black Mercedes G-Wagons, like out of a James Bond movie.
Studying at MGIMO truly felt like I was plunged into a hidden world, the world of Russia's elite, a world that someone born in Los Angeles was never meant to see.
The diversity of Russia
While my experience in St. Petersburg had introduced me thoroughly to the traditional image of Russia that most Americans have, my time in Moscow was when I truly experienced the diversity of Russia and this part of the world.
At the university welcome day, I met people from dozens of places that most Americans have never heard of. As I walked around the student club booths, I was beckoned by the students to try food from the various republics of Russia, such as Chechnya and Kalmykia, in addition to other parts of the former Soviet Union.
I have to imagine that "Please, try our Ossetian pie" is a phrase that would never be uttered at any university in the West.
This diversity is not exclusive to the university, however, and applies to Moscow more generally. In Moscow, there are people and restaurants from all over the world, even from places like Turkmenistan and North Korea. My friends and I actually made a purposeful effort to try many of these diverse cuisines. When in Rome, eat like the Romans and when in Moscow, eat like a Turkmenistani.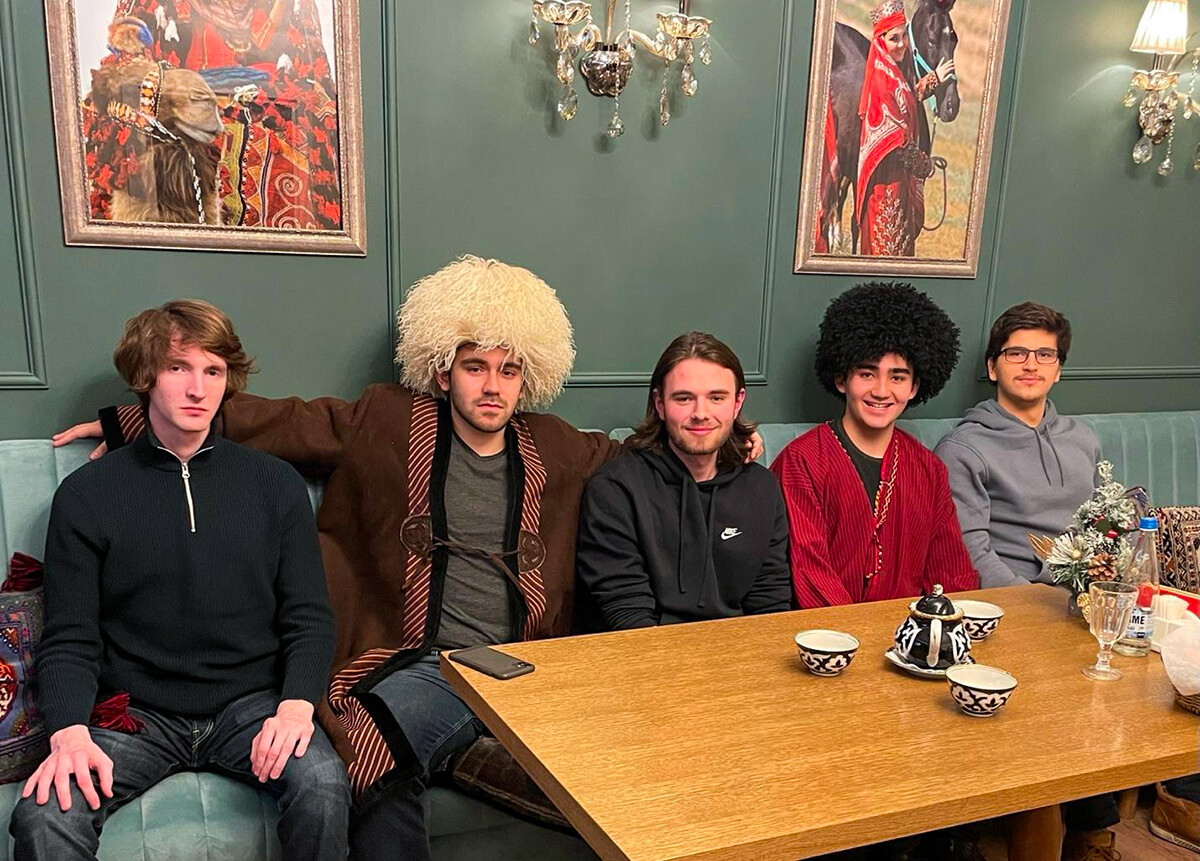 At a Turkmenistani restaurant in Moscow.
Personal archive
It was through exposure to such diversity that I developed an interest in traveling to the lesser traveled parts of Russia, such as Dagestan and Chechnya. Despite the fact that the U.S. Department of State warns American citizens not to go there and the fact that most of my friends, Russian and foreign alike, warned me that I might be killed or kidnapped in the Caucasus, I decided to embrace the spirit of adventure and go there anyway.
As my friend and I were greeted by a massive portrait of former Chechen leader Akhmad Kadyrov on the side of the Grozny airport, I knew that we were no longer in the Russia that I was used to.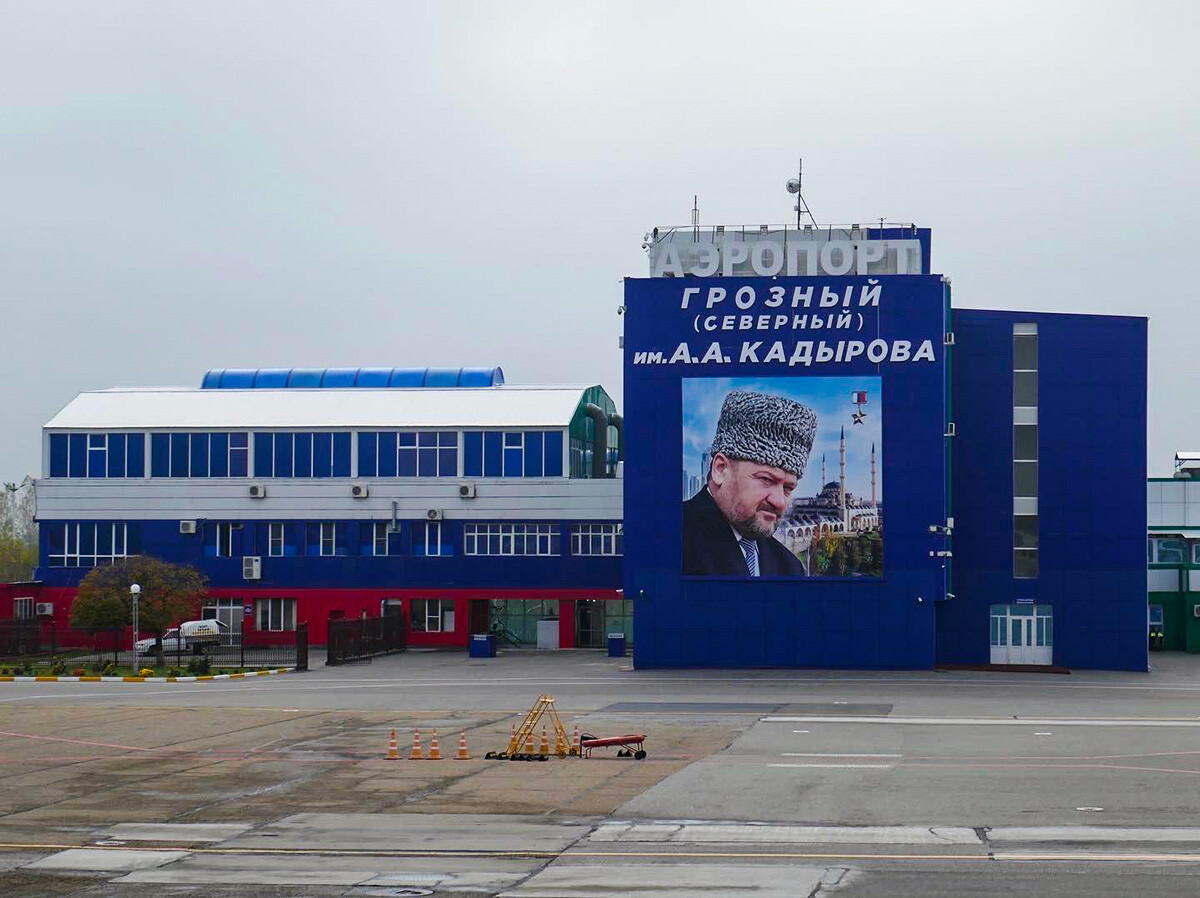 The airport in Grozny, Chechnya.
Personal archive
I love that Russia has places like Chechnya and Dagestan. I love that, within one country, so many diverse cultures and peoples can be experienced.
Russia is a well-preserved cultural gem
One of the things I love the most about Russia is how culturally preserved it is compared to the rest of Europe. Moscow, and Russia in general, is truly the center of its own regional subsystem and civilizational sphere. This sphere coexists with the West and is largely independent of the West's influence.
I think this is best exemplified by a funny moment I had with a taxi driver from Kazakhstan. In Moscow, there is a chain for Central Asian food called 'Chaihona', with many locations in Moscow.
As we were driving, he asked me, "In the United States, do you have Chaihona?"
I smiled in response and said, "Absolutely not."
Obviously, we do not have Central Asian chain restaurants in the U.S., but the fact that this Moscow resident did not know that gives one an idea of the civilizational chasm between the two worlds.
Russia truly is a preserved cultural sphere. And as a traveler constantly trying to find authenticity, I absolutely love that.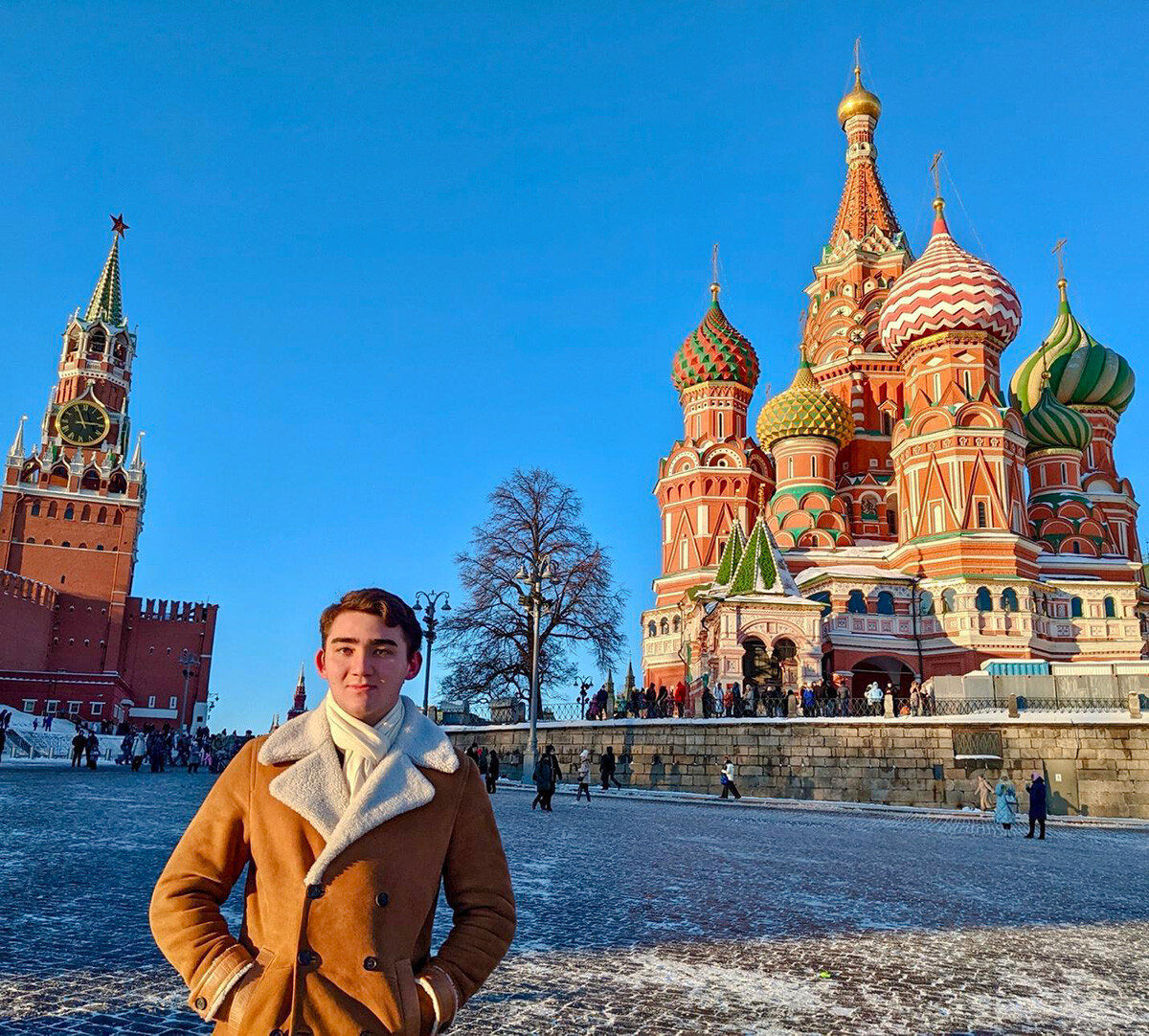 In front of Red Square in Moscow.
Personal archive
I have now spent nearly two years in Russia and other parts of Eastern Europe and it truly has been the adventure of a lifetime. I do not know if I'll ever be able to truly convince myself to leave Russia, because, every time I leave, even for a week, I want to go back immediately.
Perhaps, I'll have to resort to spending my life in Russia just to fully finish learning the particularities of Russian grammar!
Jokes aside, these last two years have been truly enlightening and I highly recommend that anyone with even an ounce of curiosity about Russia consider studying there. Doing a study period abroad is one thing, but it is another to fully enroll in a Russian university and completely integrate oneself into the educational system. It is an eye-opening experience and it gives one access to insights and cultural elements that go far beyond an Erasmus exchange.
Nevertheless, wherever my career takes me, whether it is working in Russia, with Russians, or completely unrelated to Russia, I am completely satisfied with my decision to return to Russia for my master's degree. I will always be happy that I studied at MGIMO, I am very proud of the university itself and I will always have the deepest respect and love for the Russian people.
Dear readers,
Our website and social media accounts are under threat of being restricted or banned, due to the current circumstances. So, to keep up with our latest content, simply do the following:
Subscribe to our Telegram channel
Subscribe to our weekly email newsletter
Enable push notifications on our website
Install a VPN service on your computer and/or phone to have access to our website, even if it is blocked in your country
If using any of Russia Beyond's content, partly or in full, always provide an active hyperlink to the original material.