Did a Brit really play for a Soviet football club – or are his claims foul play?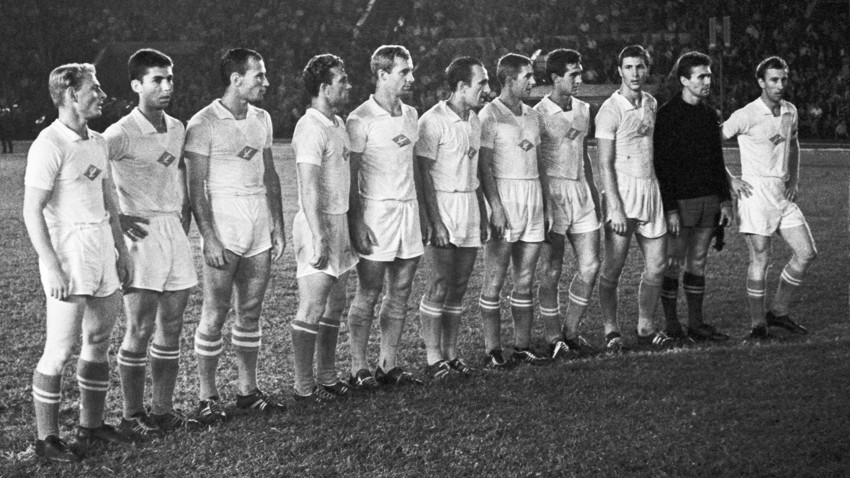 FC Spartak Moscow players before a football match, 1963
TASS
There aren't many British footballers plying their trade in the Russian league these days. During the Soviet Union it was virtually unheard of – although one Englishman claims he played for Spartak Moscow. This is his story of James Riordan, aka. Yakov Iordanov.
James Riordan was a Communist who hailed from Portsmouth. He learned Russian during National Service training in the Royal Air Force and eventually moved to Moscow in the 1960s, where he enrolled at the higher Communist School. As a sworn Stalinist, Riordan's encounters with Soviet socialism in his autobiography Comrade Jim: The Spy that Played for Spartak are sober and pragmatic, viewing the everyday lives of the Soviets through the lens of sport.
While foreigners are no longer particularly exotic in Moscow, being an outsider in the USSR in 1963 was a completely different kettle of fish. Generally, only diplomats and students were granted visas to travel from the West, and the select group who made it past the Iron Curtain were likely to cross paths with other high-ranking foreign figures from Soviet history. In his book, for example, Riordan details the friendships he garnered with Ho Chi Minh and Cambridge Five spy Guy Burgess.
While completing his PhD on Soviet sport, Riordan also came into contact with key figures at Spartak Moscow football club, including right-back Gennady Lofoget and team manager Nikita Simonyan. Having heard about Riordan's footballing ability, Simonyan watched him play a match for the diplomatic corps and was so impressed he apparently told him to "put on his boots" and fill in for an ailing Spartak center-backtruggling with "the green snake" (alcohol addiction).
To play the Englishman, or not to play the Englishman?
Starting a foreigner in a Soviet league match was risky business in 1963. Spartak owner Nikolai Starostin had already served one term in a gulag for committing "bourgeois infringement" of the sport. However, this probably had something to do with Spartak's gradual eclipsing of Dynamo Moscow, the club headed by NKVD chief Lavrentiy Beria. The guise of opposition that Spartak provided to the secret police-backed team had already solidified the club's status as the "people's club," and illegally fielding a foreigner from a capitalist country may have proved a step too far for Starostin.
Riordan's Spartak debut in November 1963 went auspiciously unnoticed, probably owing to his introduction to the crowd in his Russified moniker "Yakov Iordanov." As Riordan himself recalls, 50,000 people turned up to watch the match against Uzbek outfit Pakhator in Lenin Stadium (now Luzhniki), which ended in a 2-2 draw. Riordan had already played a Sunday League match earlier the same day and his tired legs and lack of energy were berated by the crowd. Nonetheless, Riordan did enough to be selected again for Spartak's match the following weekend, which turned out to be his last for the club.
Just a load of porkies?
Riordan's appearances for Spartak are poorly documented in the club's archives, probably to protect those involved. As a result, several sport historians have doubted the authenticity of his claims. John Turnbull, for example, dismissed the Portsmouth man's tales as "nonsense," claiming Simonyan himself rejected his stories. Riordan returned to Moscow in later life to film a documentary about his experiences for the BBC – although just one of his alleged former teammates recognized him.
Nonetheless, the ex-defender stuck to his claims, attributing this lack of recognition to a "collective amnesia" in Russia concerning all things Soviet. His account is backed, at least, by former Chelsea star Alexei Smertin, who alleges to have known people at the club who remembered Riordan well.
Riordan has described high-ranking football officials in great detail, so if he is lying he's certainly done his research. One of the characters involved was USSR captain Igor Netto, who Riordan claims to have met in his years later. The Russian apparently expressed his dismay at Riordan "not being fit" on his debut. He also insists on having met Soviet goalkeeping legend Lev Yashin, an allegation that would have been easy to disprove – sadly he is now dead.
Whether or not he broke the law through his footballing escapades, Riordan's eventual departure from the Soviet Union came two years on from his supposed Spartak spell, when he was deported on an unrelated "anti-Soviet" charge. Since the Englishman's story has been erased from all archives, it's up to us to decide whether to fill in the gaps using only his first-hand account. But as the man himself said, "this is a time when Yuri Gagarin went up in space and Stalin was removed from the mausoleum. Anything could have happened." For the sake of the story, I like to believe it's true.
If using any of Russia Beyond's content, partly or in full, always provide an active hyperlink to the original material.