5 messages from Soviet time capsules of 1967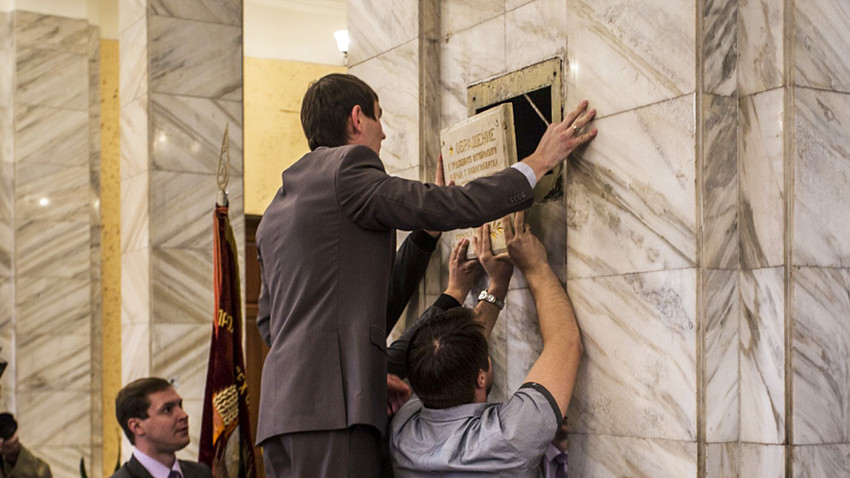 Russians from a bygone era commemorate the 100th anniversary of the Soviet Union - little did they know the Iron Curtain would be long gone.
Russians across the country are opening time capsules left to their descendants in 1967. Russia Beyond brings you some of the most striking messages.
Novosibirsk: 'We believe you have explored the Moon and Mars'
Dear descendants, today is an extraordinary day — a century of Soviet power. We warmly congratulate you on this great and glorious jubilee. We know our time is interesting, but yours is even more interesting. We are building communism, you're living under communism.
We believe that you have perfectly equipped our beautiful blue planet Earth, explored the Moon and landed on Mars, that you continue to explore space, and that your spaceships have travelled far through the galaxy. [We believe that] you negotiate scientific and cultural cooperation with representatives of alien civilizations.
Murmansk: 'You will uncover many new secrets of nature'
We have made the first step into space, but you will probably fly to other planets. You will discover many new secrets of nature that are still unknown to us, you will curb nuclear power, control the elemental forces of nature at will, alter the climate, and plant gardens in the Arctic.
Let there always burn brightly in your hearts the eternal flame of Lenin's immortal ideas, lit in 1917. Hurrah!
Ryazan: 'We are quite envious of you, comrades'
We live in very interesting times. We have good initiatives. Many of us are involved in research [at Ryazan University]. We like sport, theater, cinema. For the entire academic year we have been working hard in classrooms, laboratories, reading rooms. During the summer, we leave the collective farms and virgin lands to help to build clubs and various buildings. This is our working semester.
We are confident that in 2017, our institute will represent a bigger and better higher educational institution that will train engineers of the 21st century — the century of new scientific discoveries and achievements. So we are quite envious of you, comrades.
Arkhangelsk: 'You'll perform feats in the galaxy'
You won't have to see the wooden blocks and sidewalk in Arkhangelsk. Our generation today is transforming the city. All of Arkhangelsk is building vibrantly, and we are always on its scaffolding.
We know that you will live better than us, perform feats in the galaxy and make Earth beautiful. We are a little envious of you facing the centennial anniversary of the Soviet Motherland. But know that you will envy us, our restless young generation. We have a clear goal, a bright future, a lot of work. We know where to apply our hands, mind, heart, energy.
Maykop Region, Adygeya: 'Let the 21st century be the century of the triumph of communism throughout the planet'
From the backward outskirts of tsarist Russia, powerless Adygeya, our region became an area of advanced socialist agriculture, developed industry, universal literacy, and high culture.
Regarding the upcoming 50th anniversary, we are confident that it will bring the decisive victory of progressive mankind in its struggle against the sworn enemy of all peoples – imperialism. Armed with the Marxist-Leninist theory, with the power of scientific foresight, we know that communism will be built. Let the 21st century will be the century of the triumph of communism throughout the planet.
If using any of Russia Beyond's content, partly or in full, always provide an active hyperlink to the original material.