Russian schoolboy's speech at Bundestag raises controversy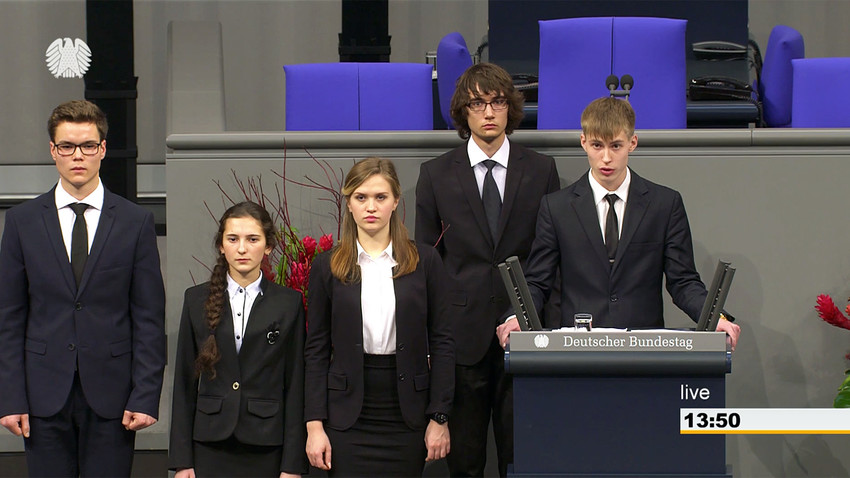 (from left to right) Raphael Weiss, Irina Kokorina, Valeriya Ageyeva, Jonas Vaupel, Nikolay Desyatnichenko at Bundestag.
Deutscher Bundestag
People on Russian social media have accused a Siberian schoolboy who spoke at the German Bundestag of justifying Nazi war crimes. Nikolay Desyatnichenko described the graves of German POWs as belonging to "innocent victims of war who didn't want to fight."
As part of a joint Russian-German history project, three school pupils from the city of Novyi Urengoi in Siberia, Nikolay Desyatnichenko, Valeriya Ageyeva, and Irina Kokorina presented reports at the German parliament, the Bundestag. They were joined by three pupils from Germany, Jonas Vaupel, Laetitia Grunewald, and Raphael Weiss. All six are part of a project organized by their schools, the Novyi Urengoy Gymnasium and the Friedrichsgymnasium in Kassel.
The project is dedicated to the German People's Day of Mourning and commemorates the lives of both German and Russian soldiers who died during World War II. Each of the children talked about a single soldier who fought in World War II, the Russian children studied the fate of German soldiers Georg Johann Rau, Julius Dietrich and Julius Fogt, and their German counterparts spoke about Russians Ivan Gusev and Nadja Truvanova.
Desyatnichenko's words about "innocent victims of war" who "didn't want to fight" outraged some Russian facebook commentators. Blogger Sergey Kolyasnikov called Desyatnichenko's speech "a repentance" and accused him of calling Nazi soldiers "victims of war." Elena Kukushkina, a member of the Communist Party of the Russian Federation and a member of Legislative Assembly of Yamalo-Nenetsk region, said she was offended by the use of the words "victims" and "fought" when talking about German soldiers. "These things should be cut short at the very root," Kukushkina said. Kolyasnikov has asked the Prosecutor's Office and the President's administration to investigate Desyatnichenko's speech to see if it is a justification of Nazi Germany's crimes, which is a criminal offense in Russia.
On the other hand, Ivan Kostogriz, the mayor of Novyi Urengoi, defended the schoolboy's speech saying it cannot be perceived as a justification of fascism, and such an interpretation of Desyatnichenko's words is "a provocation against the Russian people and our attitude toward the events in the Great Patriotic War." Nadezhda Noskova, a spokesperson for the governor of Yamalo-NenetskRegion, where Novyi Urengoi is located, said the "focus of attention shifted" during the discussion of the pupil's speech.
It is clear from the speeches of the other Russian schoolchildren the whole project is about peacemaking, not taking sides in a conflict or justifying war crimes. In her report at the Bundestag, another student from Novyi Urengoi, Valeriya Ageeva, quotes a letter from Julius Dietrich, who hoped that "all this nonsense would soon come to an end and we'll be able to return home because we've had enough." It is obvious that for Julius, the war wasn't something he chose to fight. "Soldier's graves are the greatest preachers of peace," Valeriya said when quoting German philosopher Albert Schweitzer in her report. Her colleague Irina Kokorina spoke about her great-grandfather, who with the help of a German colonel named Hans escaped captivity.
The initiative of the Novyi Urengoy Gymnasium and Friedrichsgymnasium in Kassel is not the only one aimed at commemorating the victims of war from both the Russian and German sides. On December 16th, 1992, the Russian and German governments signed an agreement to maintain the graves of German soldiers in Russia and Russian soldiers in Germany. The burial grounds which the Novyi Urengoi students visited to make their reports are maintained under that agreement.
If using any of Russia Beyond's content, partly or in full, always provide an active hyperlink to the original material.