On May 10, 1996, a fierce blizzard blasted Mt. Everest, trapping mountain climbers on their way down. Several expedition members were caught in the so-called "death zone" – an altitude of more than 8,000 meters where there's little oxygen and people can quickly perish. At that altitude the brain becomes easily confused, and even small movements become extremely hard to manage. Since all the climbers' energy had been previously focused on the ascent, quite often the descent is a far more difficult challenge.
Due to poor visibility those who returned to camp at 7,900 meters weren't ready to mount a rescue mission. Everyone was either too exhausted or simply understood that going out in a blizzard would be fatal. Despite all the odds, one man made an attempt. Anatoli Boukreev, a Russian guide for the American expedition, Mountain Madness, saved three lives that night.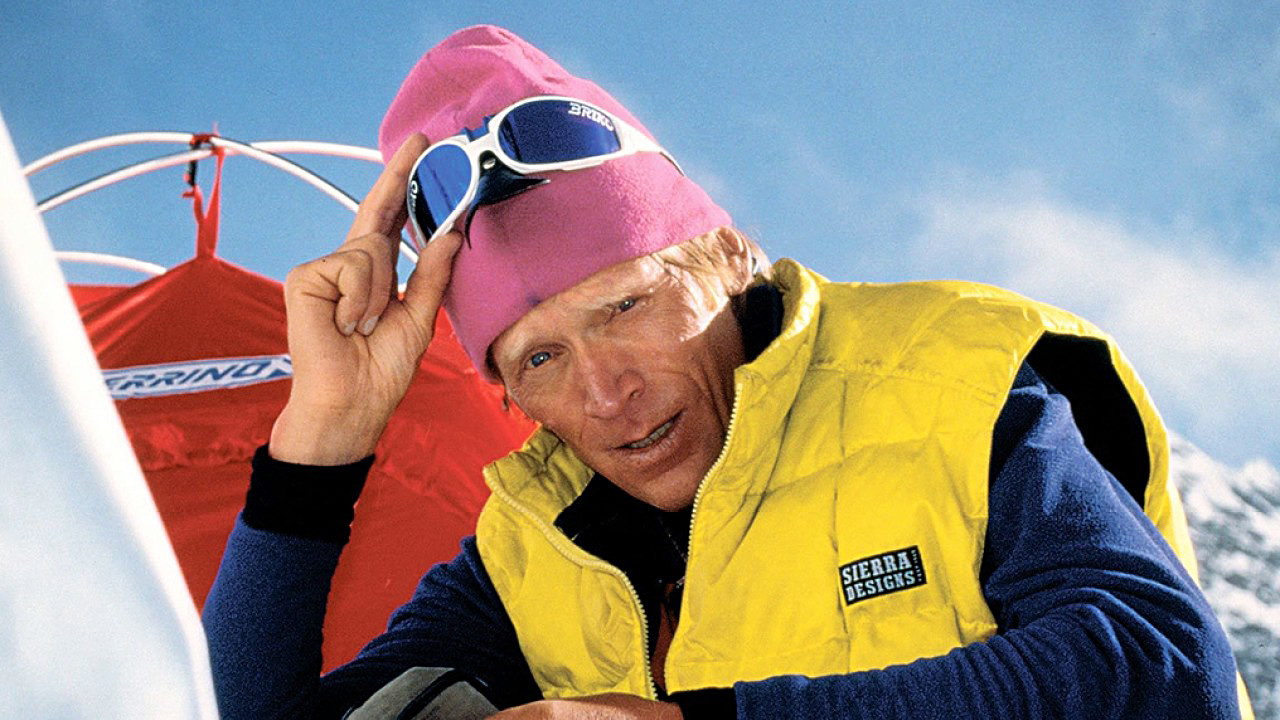 Going down
An experienced climber with Soviet-era training, Boukreev was one of two guides hired by U.S. mountaineer Scott Fischer for his first commercial expedition in 1996. "We'll have Anatoli [Boukreev] there with us – one can't wish for a more experienced and strong alpinist. Who knows what might happen?" Fischer supposedly said when Boukreev joined the team, according to a colleague. (from Boukreev's book The Climb)
That year, his team was one of several expeditions trying to reach the peak. At first, everything went well: the weather was favorable and didn't show signs of worsening. Boukreev was ahead of his team, reaching the summit at around 1 p.m., where he waited for the others. By 2.30 p.m. only two out of eight climbers had reached the peak. Concerned about the others, Boukreev went down to find out whether there were some problems.
Just below the summit Boukreev saw Rob Hall, head of an expedition from New Zealand, and then passed four of his ascending clients, as well as Scott Fischer who appeared to be fine.
"Above the Hillary Step (the famous rock barrier shortly below the summit) I saw and talked with Scott Fischer, who was tired, but he said he was just a little sick. There was no apparent sign of difficulty, although I had begun to suspect that his oxygen supply, [used to prevent or reduce the effects of severe hypoxia at high-altitude], was already depleted," Boukreev recalled.
"I said to Scott that the ascent seemed to be going slowly, and I was concerned that descending climbers could possibly run out of oxygen before their return to Camp IV (at 7,900 m). I explained that I wanted to descend as quickly as possible to Camp IV to warm myself and get a supply of hot drink and oxygen in case I might need to go back up the mountain to assist descending climbers. Scott, as had Rob Hall before him, said 'OK' to this plan."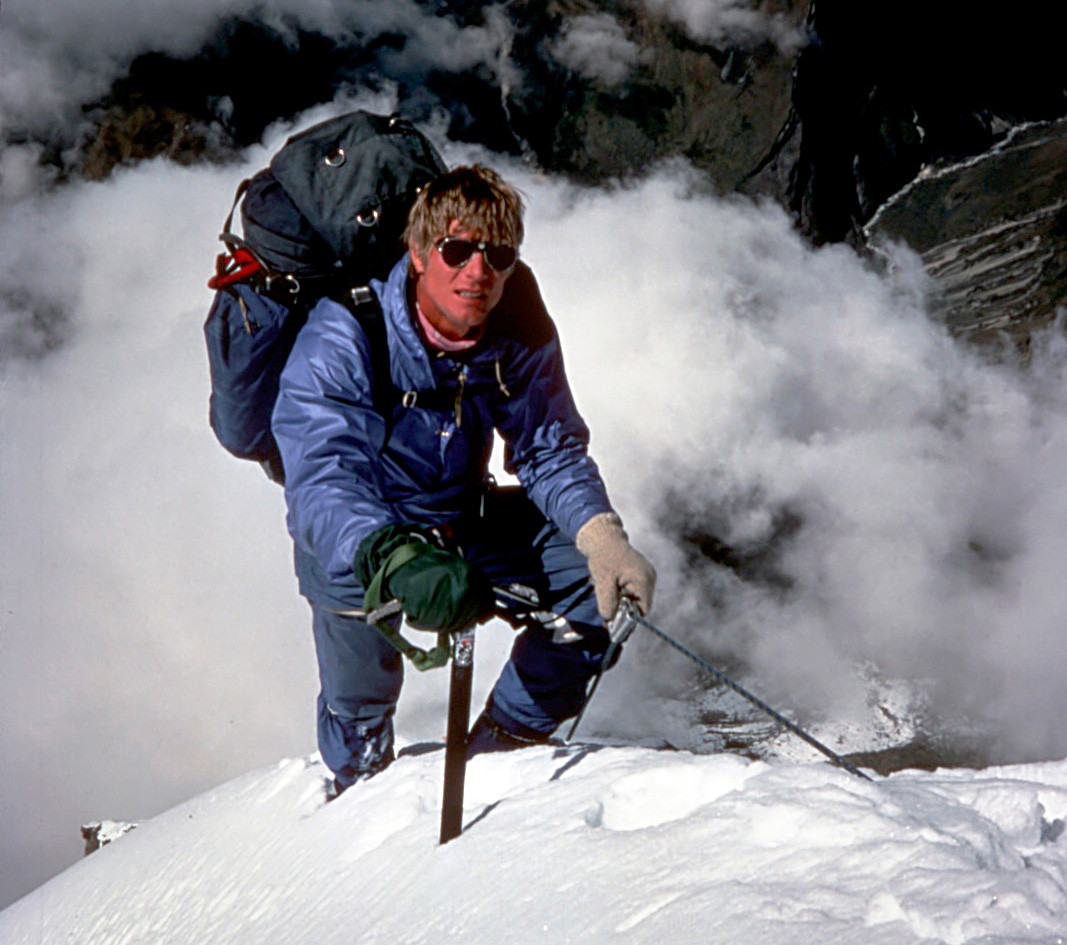 Scott Fischer on the Annapurna Fang (Varaha Shikhar) in 1984
Wes Krause
Boukreev then returned to the camp and prepared to meet the others who were returning. When no one returned by 6 p.m., he began to worry. Having no radio link, he gathered supplies and oxygen, and tried to locate the climbers. Yet the advancing storm didn't make it easy – due to low visibility, and having no idea where they might be, Boukreev returned to Camp IV.
Around 9 p.m. climber Martin Adams returned but he was too weak to speak. Later, three other team members returned – guide Neal Beidleman, and climbers Lene Gammelgaard and Klev Schoening. They told him about five climbers stranded not far from the camp – three were from Mountain Madness (Charlotte Fox, Tim Madsen and Sandy Pittman), and two from New Zealand's team (Yasuko Namba and Beck Weaters). Lopsang Jangbu Sherpa, the leading local guide, appeared and told Boukreev that Fischer was stuck at 8,500 meters.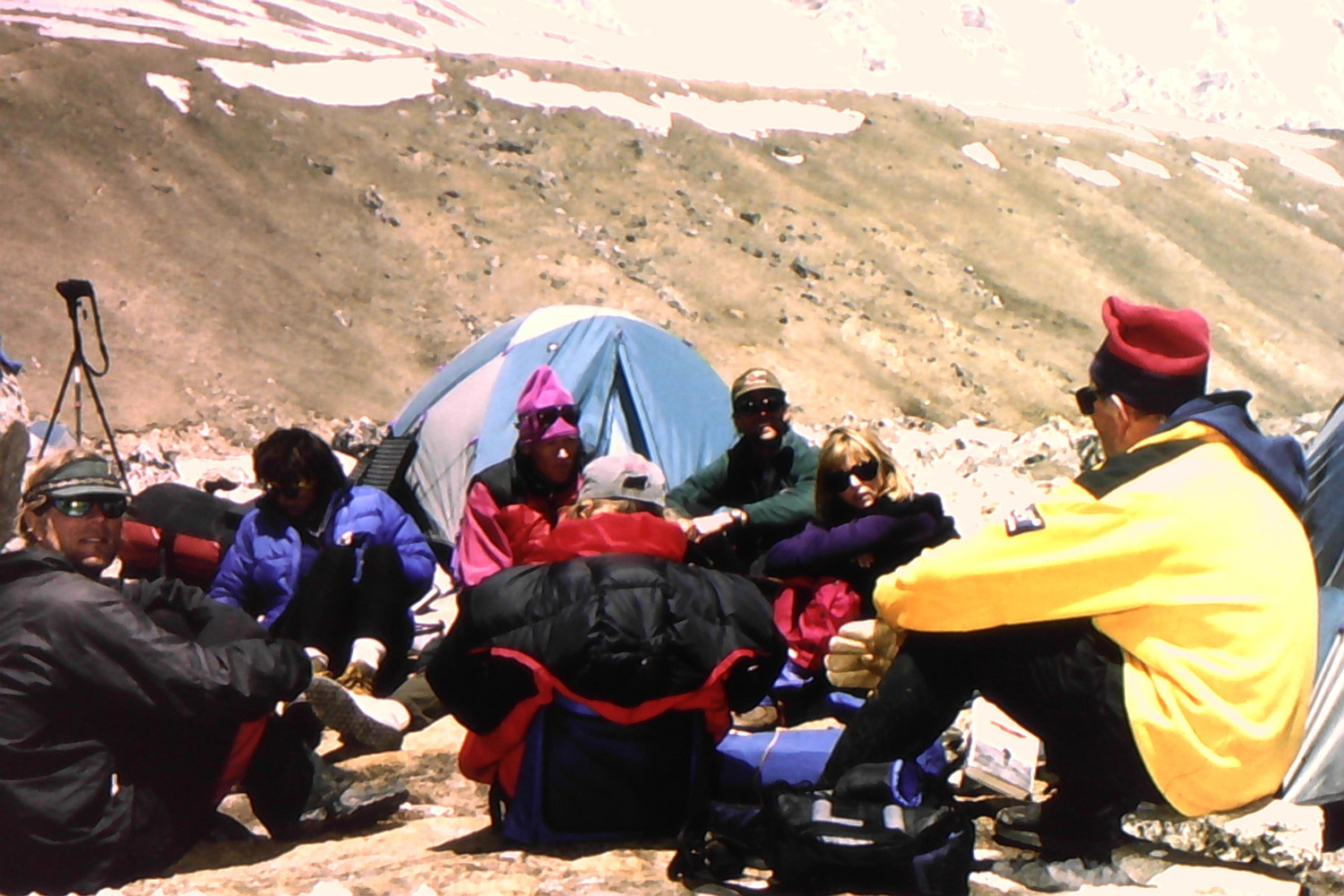 Six people needed help and only Boukreev was willing to go out. With tea and oxygen he went out three times in the storm and brought back first Sandy Pittman, and then Charlotte Fox and Tim Madsen. He repeatedly asked Sherpas and members of other expeditions to help save Yasuko Namba (Weaters wasn't there at that point), but no one would.
Gammelgaard remembers seeing Boukreev after he returned with Fox and Madsen: "I woke up at around 5 a.m. and saw Anatoli [Boukreev]. He had returned. It was already light, and he sat without saying a word. He was completely exhausted. There was no energy left in him. And then I clearly understood that he brought back Tim, Charlotte and Sandy, but couldn't do anything for Yasuko Namba and another alpinist (Beck Weaters) who remained there on the saddle." (from Boukreev's book The Climb)
He also couldn't do anything for Fischer. On the next day, Sherpas went to find him, but it was already too late. Boukreev couldn't believe it and went to see for himself. On his way up he saw that Beck Weaters had somehow managed to find the camp – truly a miracle.
At 7:05 p.m. he reached Fischer, who couldn't be saved. "My last hopes were broken. I could do absolutely nothing to help him," Boukreev recalled.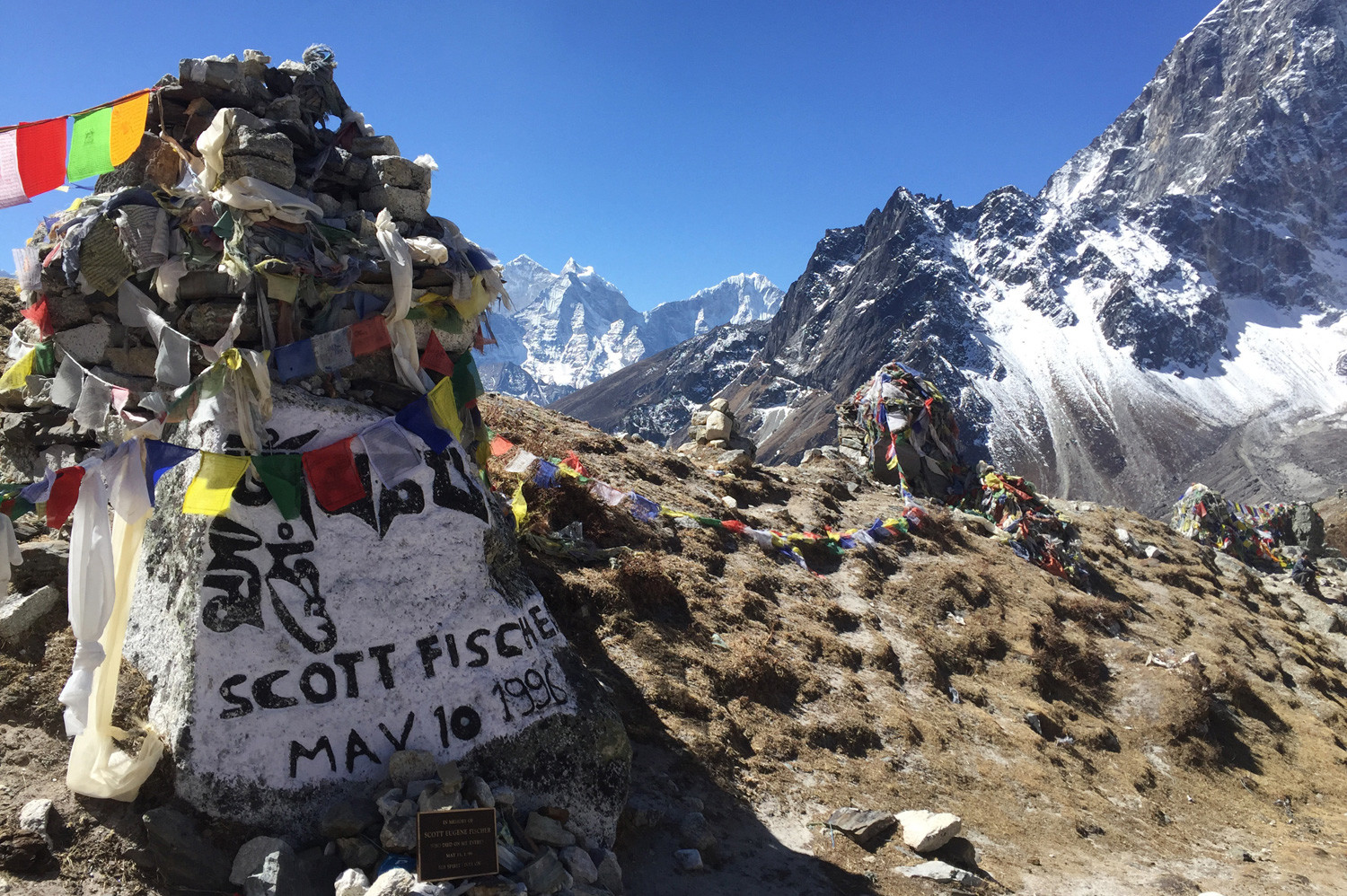 Memorial stupa for Scott Fischer, on the outskirts of the village of Dughla, on the path to Everest Base Camp, Nepal. Boukreev considered Fischer "America's best altitude climber."
AP
Criticism
If you've seen the movie Everest (2015), you might recall a tough Russian guide who drinks and plays the accordion – this is how filmmakers saw Boukreev. This offensive and unfortunately bigoted portrayal of Russians at least didn't stop the filmmakers from showing Boukreev's heroism in saving lives.
However, Jon Krakauer, an American journalist and member of Rob Hall's expedition, did much to undermine Boukreev. In his book, Into Thin Air, and other publications, he argued that Boukreev was irresponsible for leaving his clients behind and not using oxygen that many used to avoid the dangerous effects of hypoxia at high altitude.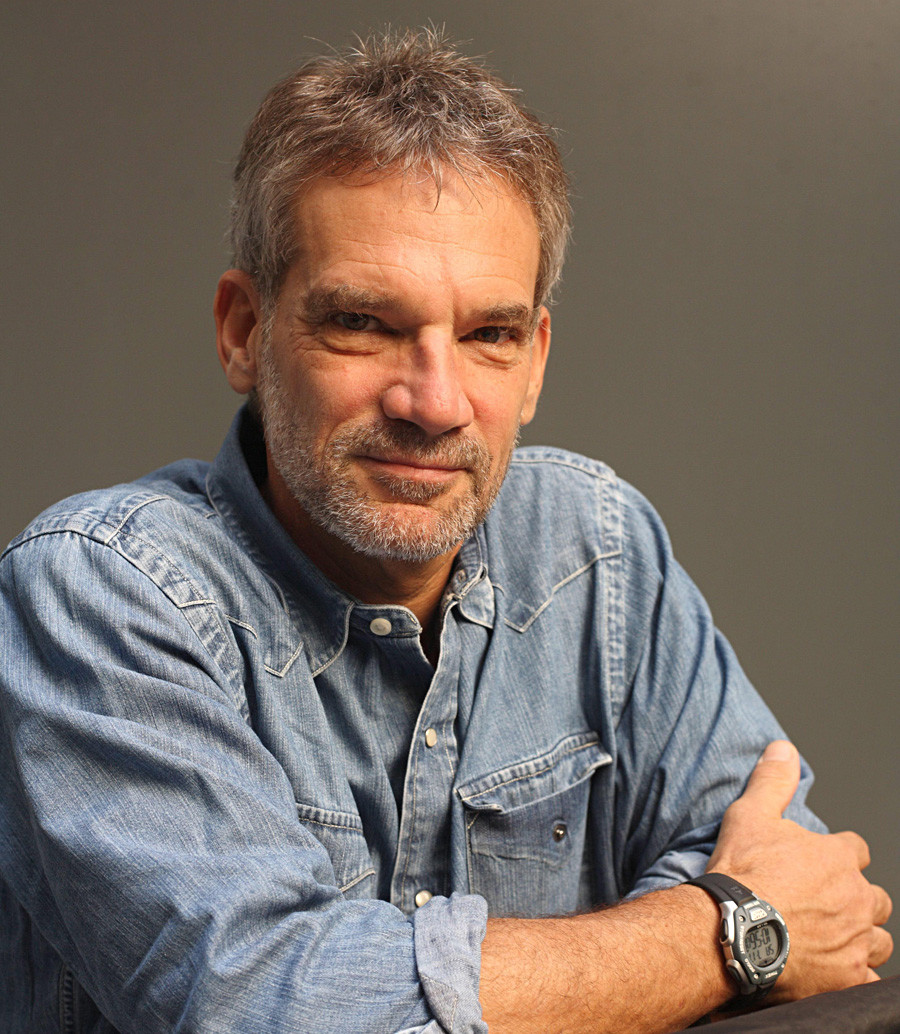 Jon Krakauer
Legion Media
"Even though Scott Fischer gave him permission to do so, does Anatoli [Boukreev] really think that it was in his clients' best interest for him to climb without using supplemental oxygen? Anatoli is a remarkably strong climber at altitude, but he was paid $25,000 to perform as a guide, and oxygen would have certainly allowed him to think more clearly and assist clients much more readily. Or does Anatoli somehow believe that he is stronger without oxygen than with it?" Krakauer wrote.
Boukreev preferred to climb without oxygen because he believed it was safer; it would help him avoid the sudden loss of acclimatization that happens when supplementary oxygen supplies are depleted. "I have been climbing for more than 25 years and used supplemental oxygen only once climbing an eight-thousander [mountain]; I never had difficulties because of a lack of supplemental oxygen," Boukreev noted in his book.
Despite Krakauer's persistent attacks, Boukreev's courage was still recognized by many fellow alpinists. Galen Rowell, an American mountaineer and photojournalist, later wrote in the Wall Street Journal: "While Mr. Krakauer slept and no other guide, client or Sherpa could muster the strength and courage to leave camp, Mr. Boukreev made several solo forays into a blizzard in the dark at 26,000 feet to rescue three climbers near death … Although Mr. Krakauer grants Mr. Boukreev certain strengths, he never paints the big picture of one of the most amazing rescues in mountaineering history performed single-handedly a few hours after climbing Everest without oxygen by a man some describe as the Tiger Woods of Himalayan climbing. Mr. Boukreev has topped many of the world's highest peaks solo, in less than one day, in winter, and always without oxygen (because of his personal ethic). Having already done Everest twice, he foresaw problems with clients nearing camp, noted five other guides on the peak and positioned himself to be rested and hydrated enough to respond to an emergency. His heroism was not a fluke."
The American Alpine Club awarded the Russian climber the David Sowles Award, the highest award for courage, for his efforts to bring Sandy Hill Pittman, Charlotte Fox and Tim Madsen back to Camp IV alive. Later, many recognized that had he not gone down to Camp IV before the weather worsened, he simply wouldn't have been able to help, and would probably have died. Tired and without oxygen, he would have been of no help to the others who suffered.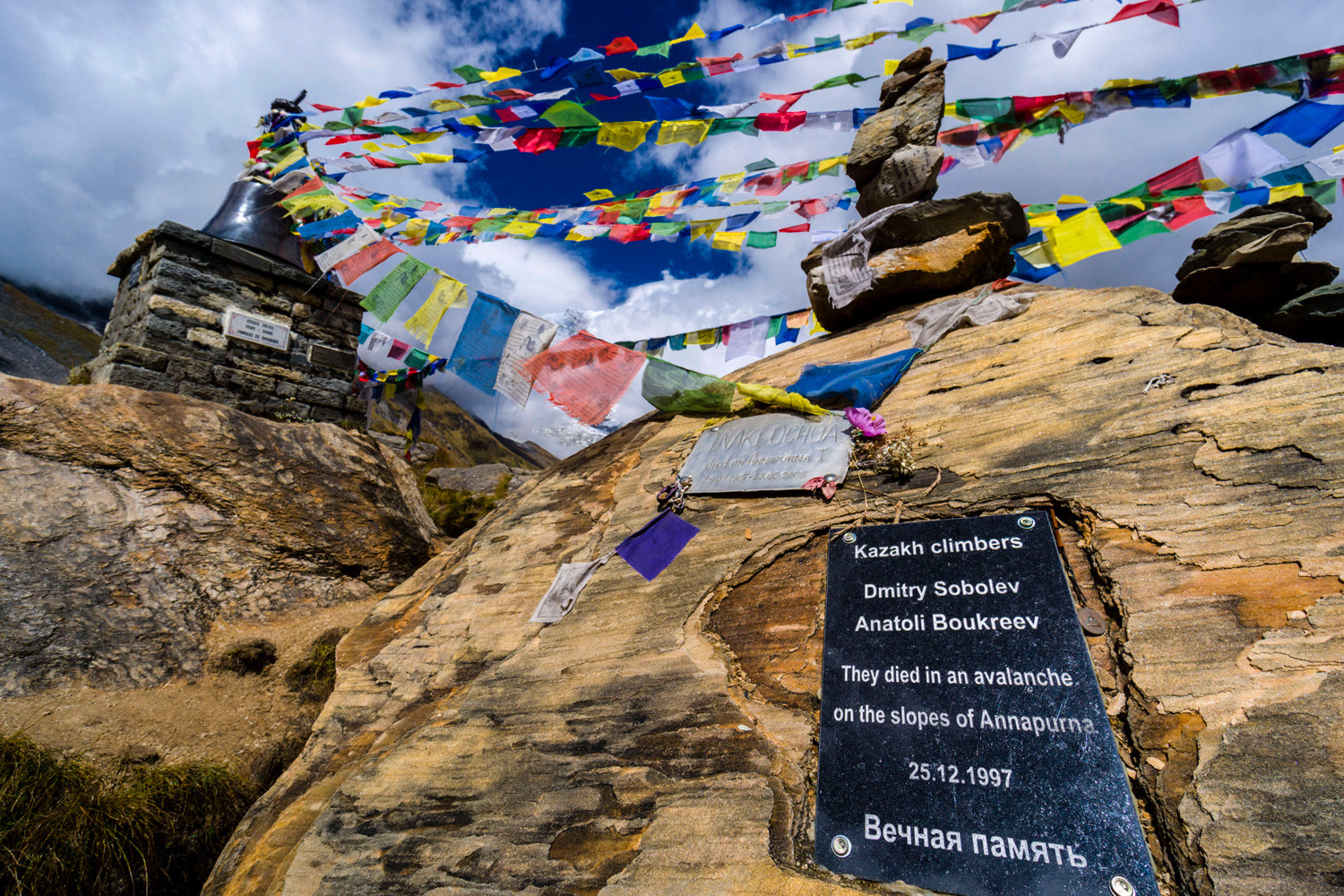 Anatoli Boukreev passed away at the age of 39. In December 1997 he and his friend Dimitri Sobolev were killed in an avalanche on the south side of Annapurna mountain in Nepal. Their bodies were never found.
Getty Images
Much can be said about Boukreev's life - his numerous climbing records and passion towards mountaineering - but the following quote is probably enough to describe why he actually did it: "To be honest, I don't remember that I ever was frightened in the mountains. On the contrary, I feel myself like a bird that spreads its wings before flight. I fully feel the freedom that height gives to people. As soon as I go down below, to the life on the plain, I feel the weight of the world falling on my shoulders."
Do you share Boukreev's passion for alpinism? Then consider climbing Europe's highest mountain - Elbrus in south Russia.
If using any of Russia Beyond's content, partly or in full, always provide an active hyperlink to the original material.