How the Soviets ruined the life of a German soldier who warned them about the Nazi invasion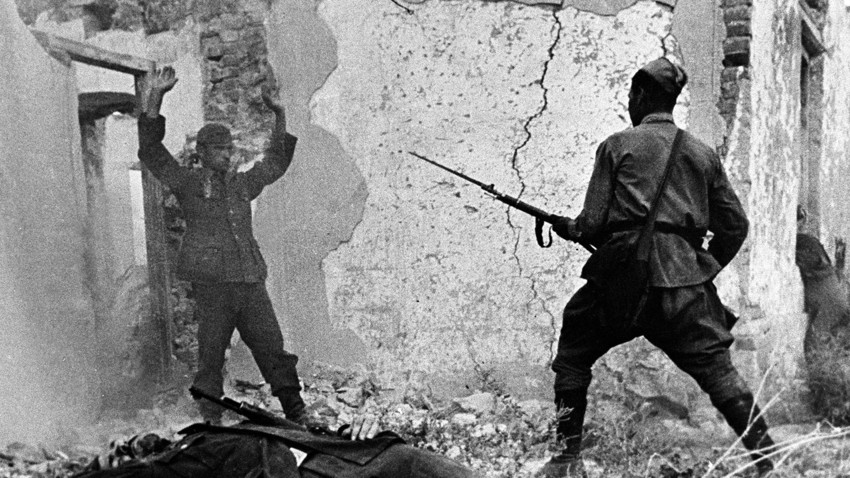 A Soviet gunman takes prisoner a Nazi soldier near Mozdok, North Ossetia, in September 1942.
TASS
German soldier Alfred Liskow, who defected to the Soviets shortly before the launch of Operation Barbarossa, was warmly welcomed. However, his unexpected conflict with the Soviet leadership cost him his life.
On June 21, 1941, at 9 pm, German soldier Alfred Liskow swam across the Bug River, the natural border between the Soviet Union and the Third Reich. He informed the Soviet Border Guards that the next day, June 22, at 4 am, German armies would attack Soviet territory. Liskow was unaware that this act would soon cost him his life.
Liskow's information and personality was carefully scrutinized by the local NKVD state police units. When the information reached the General Staff and Stalin, it was too late – German artillery had already begun firing.
Why did he do it?
It turned out that in defecting to the Soviet Union, Alfred Liskow left behind a wife, child, father and mother.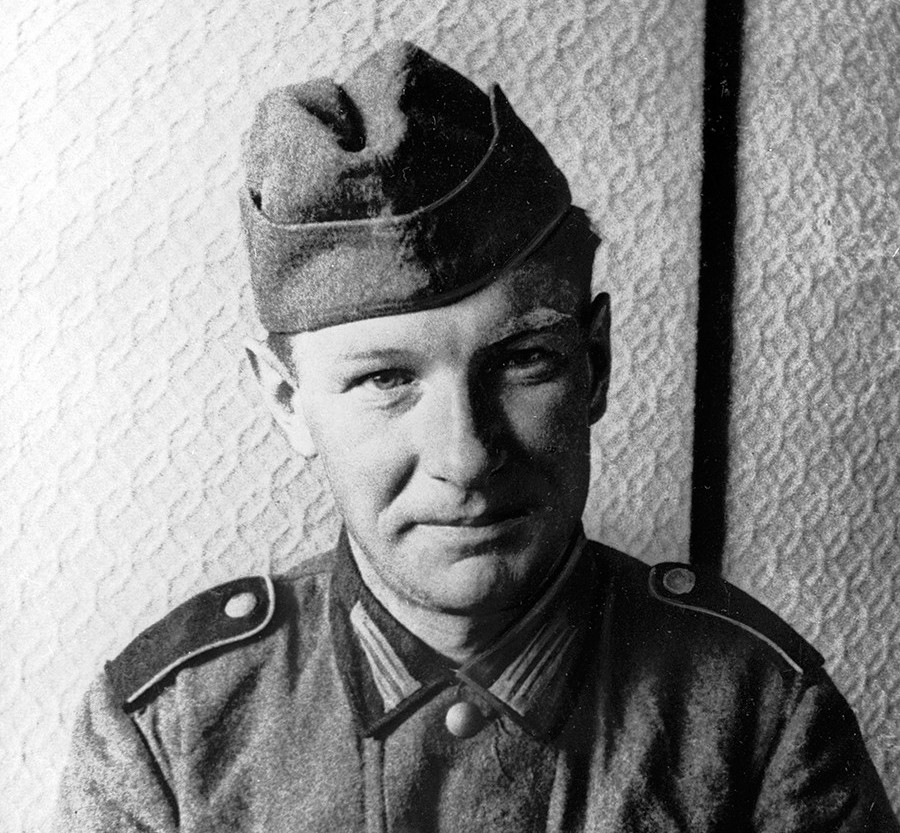 Liskow explained his act by the fact that this was his duty as a devoted communist, stating that it was his own personal initiative. He had previously been a member of the Alliance of Red Front-Fighters, a semi-legal German communist organization. Even within this radical organization, Liskow was considered too extreme.
"I am from a family of workers, from Kolberg. My parents and I hate Hitler and his regime. For us, the USSR is a friendly country, and we don't want to fight with the Soviet people. There are many such families in Germany. They don't want a war with you," he said (link in Russian).
Soldier of propaganda
The outbreak of war confirmed that Alfred Liskow had been right. His further activity was tied with Soviet propaganda. Together with anti-fascists, he agitated nationwide, telling people that the German soldiers had no appetite for the war.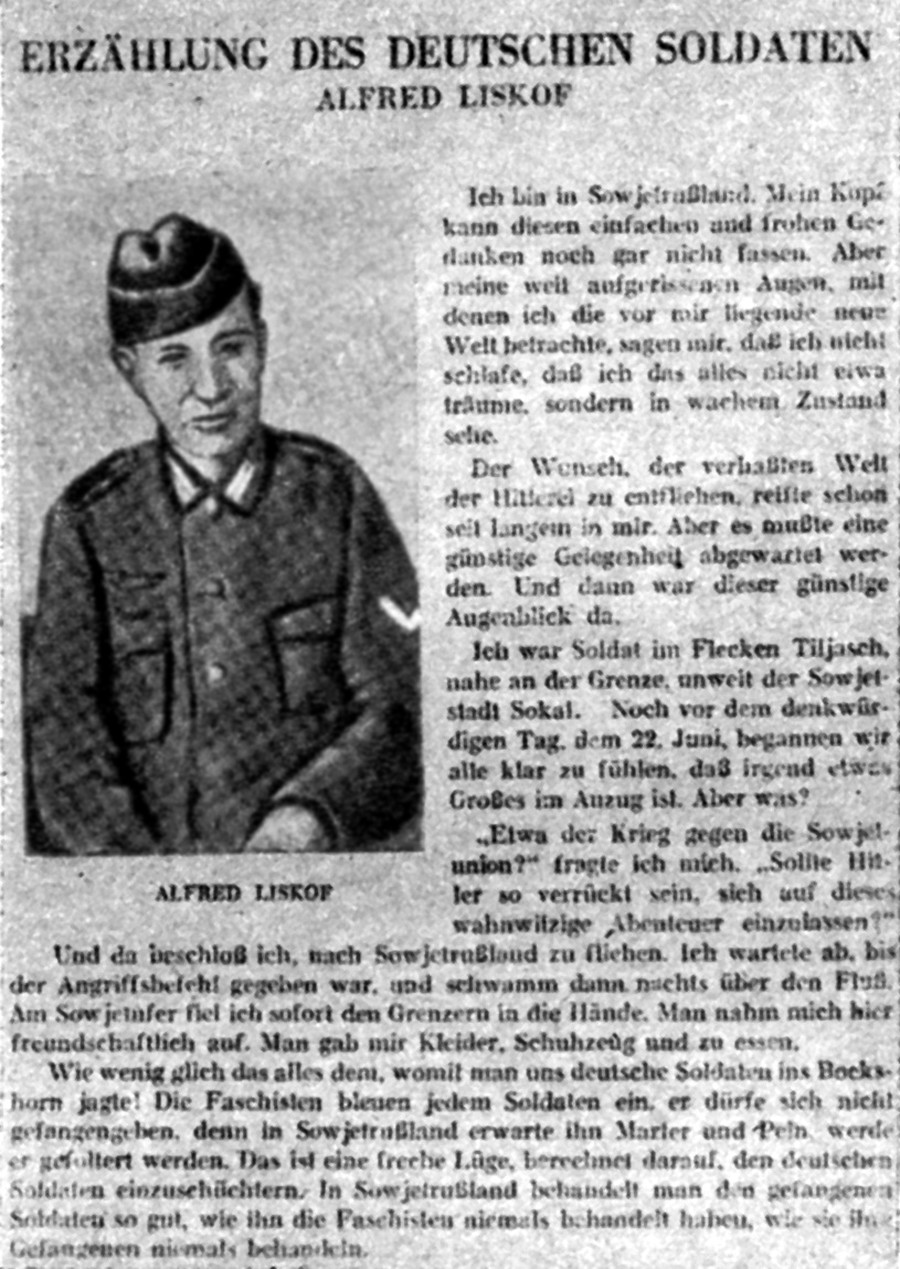 Archive photo
The Soviet propaganda machine actively used Liskow's image. His photo was published in newspapers and propaganda materials with lines such as: "This German soldier, who didn't want to fight against the Soviet people, defected to us."
Until they saw one of these propaganda pieces, the Germans had supposed that Liskow died on June 22. After the truth came out, Liskow's family was summoned to the Gestapo for interrogation, and Liskow was condemned in absentia to execution for treachery.
Fatal conflict with the Comintern
Not much is known about the last period of Alfred Liskow's life. Shortly after he joined the Comintern, Liskow came into conflict with its leaders – Palmiro Togliatti, Dmitry Manuilsky and Georgi Dimitrov, whom he accused of betraying the true Communism ideals and "working for the Nazis." The real communists he encountered were not as he had imagined them to be.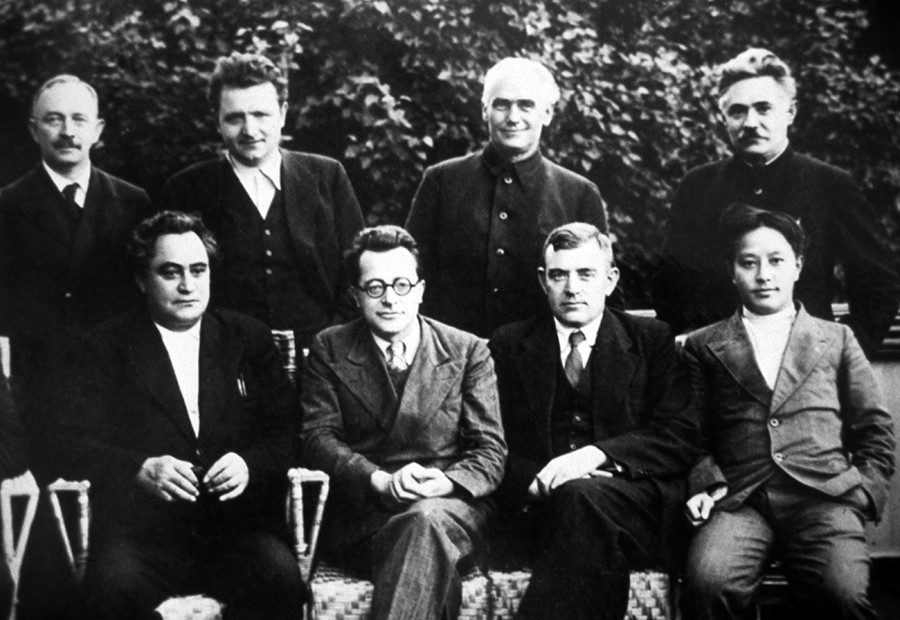 Executive Committee of Communist International (Comintern) in 1935: Otto Wille Kuusinen, Klement Gottwald, Wilhelm Pieck, Dmitry Manuilsky (L-R, sitting), Georgi Dimitrov, Palmiro Togliatti, Wilhelm Florin, Wang Ming (L-R, standing).
TASS
Stalin's protégés were, however, out of his league and the conflict with the Comintern did not end in Liskow's favor. He was himself charged by Dimitrov with Fascism and anti-Semitism.
On January 22, 1942, Alfred Liskow was arrested by the NKVD. In captivity, he showed signs of mental illness. It is unclear whether this was real or simulated. In July, Liskow was released and sent to Siberia, where all trace of him was lost. It is believed that Liskow died in suspicious circumstances near Novosibirsk in late 1943.
One thing is certain – Liskow outlived the Comintern (dissolved May 1943), which he utterly despised.
Here you can read about a German soldier who became a Hero of the Soviet Union.
If using any of Russia Beyond's content, partly or in full, always provide an active hyperlink to the original material.