How did apartment blocks change under Stalin, Khrushchev & Brezhnev?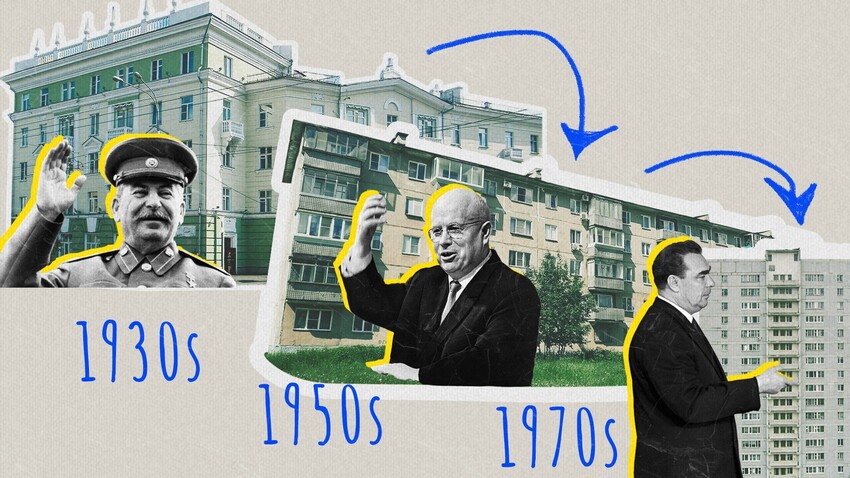 Kira Lisitskaya (Photo: Boris Mavlyutov, Artyom Vasilyev, Fr0nt (CC BY 3.0); Sputnik)
From 'stalinka' and 'khrushchyovka' to the "improved designs" of Brezhnev's times: How did the construction of the country change depending on who was in charge.
'Stalinka'
Ceiling height: 3-4 meters
Apartment area: from 32 square meters (one-room apartment) to 110 square meters (four-room apartment)
Kitchen area: from 7 square meters
Number of stories: from 2 to 30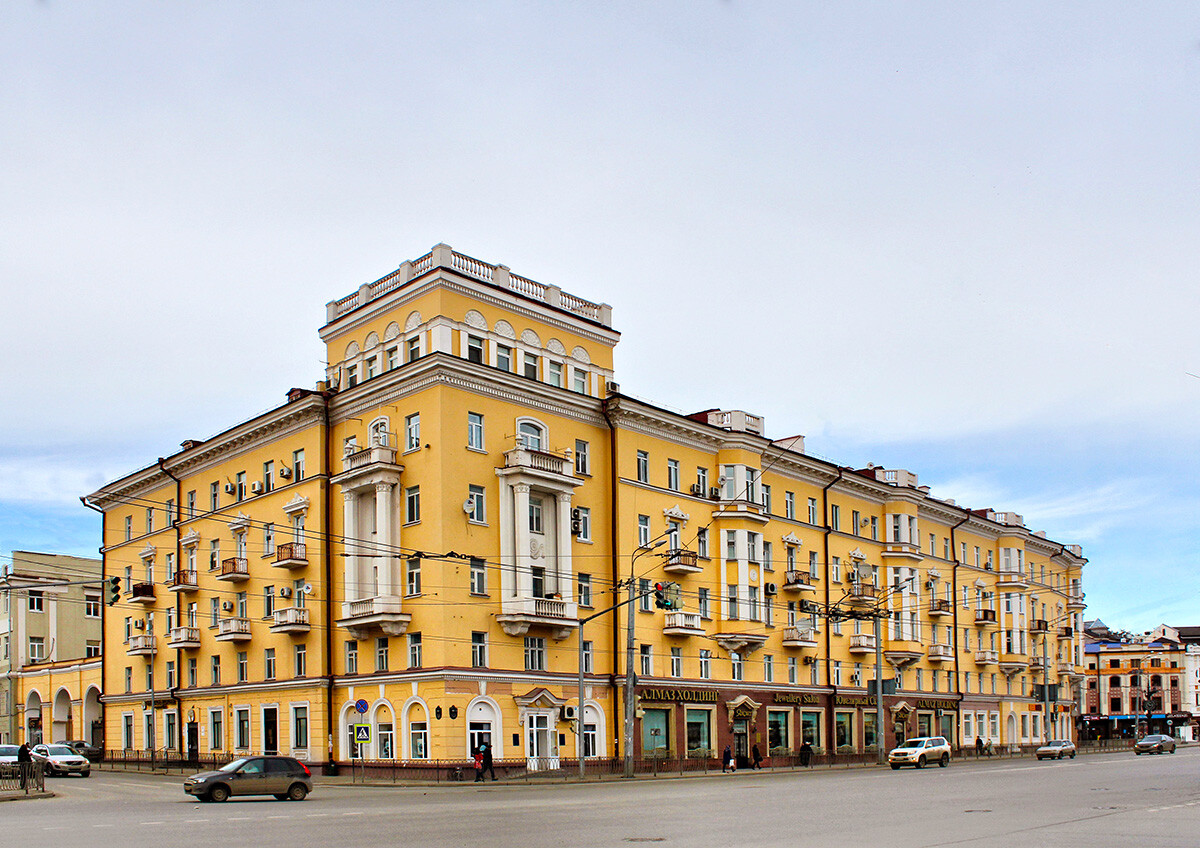 During the 1930s, an accelerated industrialization of the country began under Stalin. A previously mainly agrarian country was not ready to accept such a large wave of workers in the cities. Everyone had to be supplied with housing. So, the second 'five-year plan' for the development of the national economy of the USSR established the necessity of "the decisive improvement of the entire housing and utility matters in the USSR".
In many cities, mass construction of houses with two floors and above (up to 30 or more, as, for example, in Stalin's high-rise buildings in Moscow) began.. Buildings that had five stories or more had an elevator. Inside such buildings, there were spacious entrances and halls; apartments had large kitchens, high ceilings and long corridors. Many 'stalinkas' were also adapted as communal apartment blocks – a whole family lived in each separate room, while toilets and bathrooms were shared.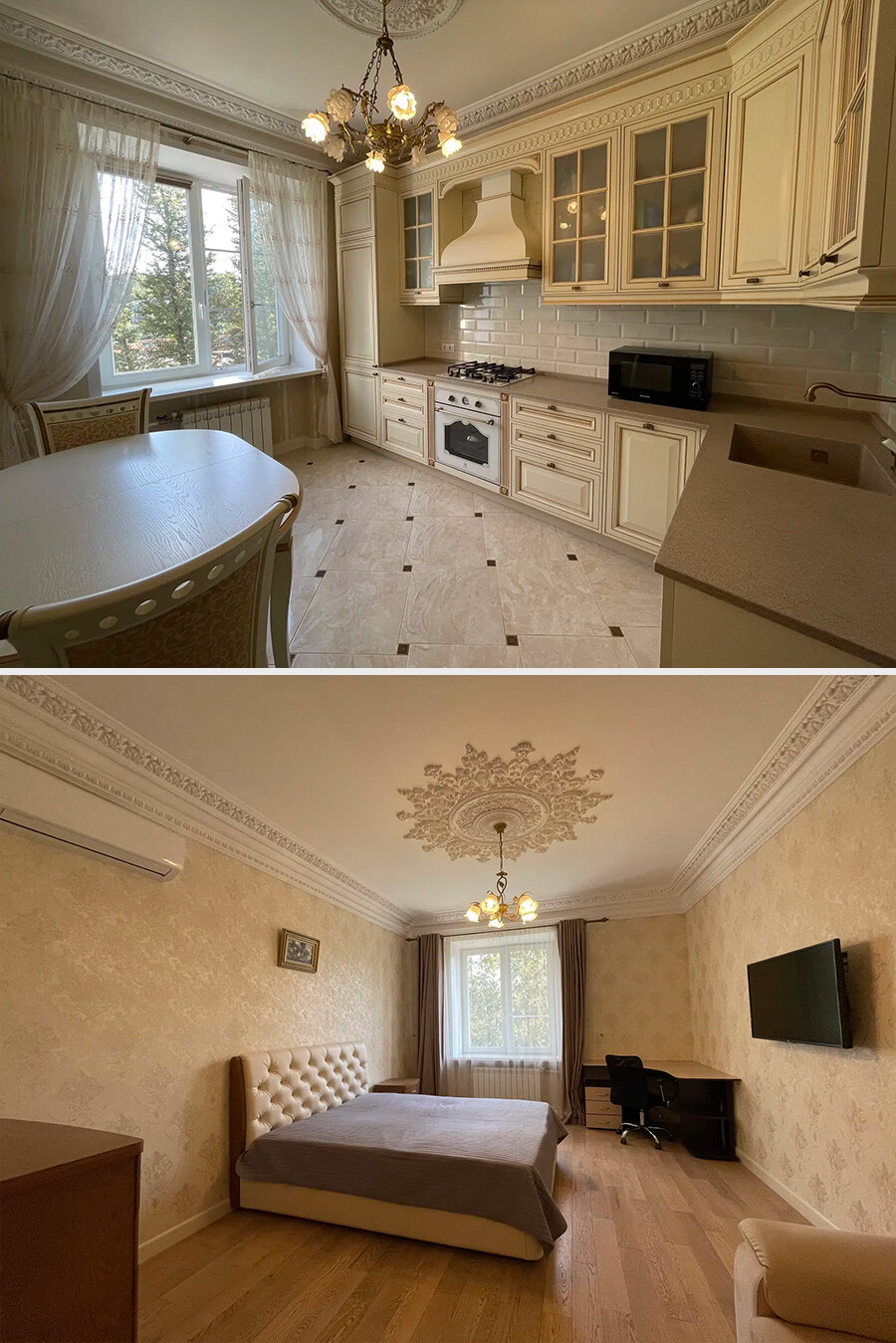 Stalinkas have big kitchens and rooms and high ceilings
Domclick
'Stalinkas' are still considered elite housing. They were often built along large streets and 'prospekts' ('avenues') and were designed in the Neoclassical style – their facades featured decorations that included columns, stucco, bas-reliefs and statues. First of all, high-ranked government officials, military people and party nomenclature resided in these blocks.
'Khrushchyovka'
Ceiling height: 2.5 meters
Apartment area: from 28 square meters (one-room apartment) to 68 square meters (four-room apartment, but those were rare)
Kitchen area: 4.5-6 square meters
Number of stories: up to 5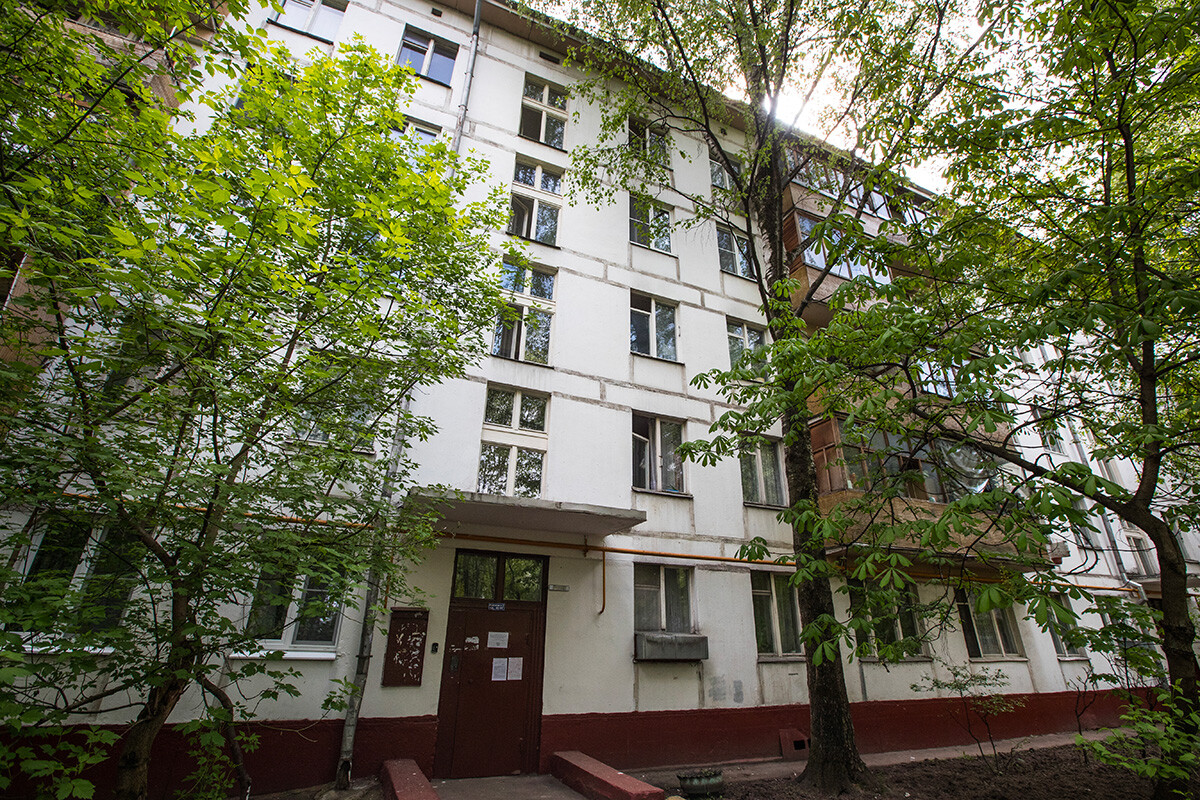 Khrushchyovka in Moscow
Stanislav Krasilnikov/TASS
The construction of 'stalinkas' was stopped in 1955 after Khrushchev's decree "on removing excesses from design and construction". The new Secretary General criticized architects for squandering. Decorations were completely removed, with the new style being characterized as "functionalism".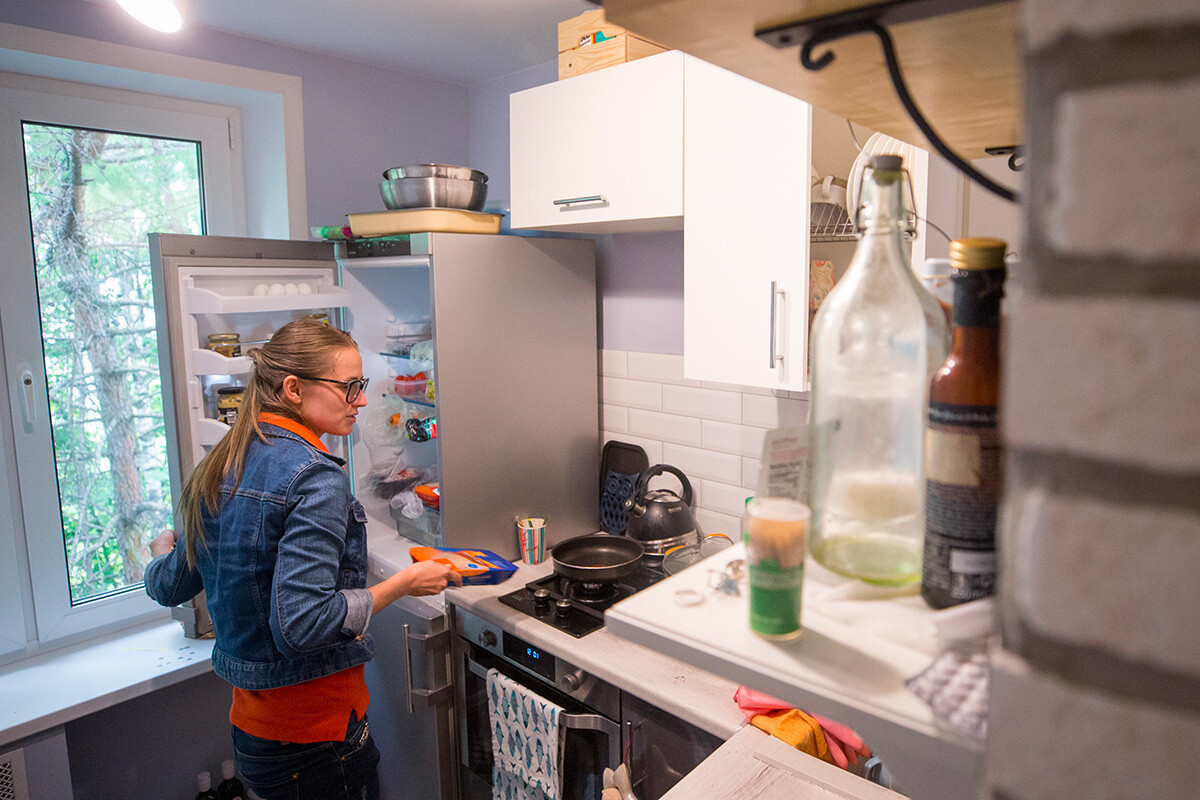 Tiny kitchens in khrushchyovksas were advertised as an advantage (you can reach everything with your hand, and you don't have to walk far)
Stanislav Krasilnikov/TASS
'Khrushchevkas' became mass standardized apartment buildings. Instead of brick complexes, mainly cheaper block- or panel buildings were now built. The area size of the rooms and the ceiling height were decreased dramatically; such blocks almost never had elevators. It was important to supply as many citizens as possible with housing – preferably, every family should have had their own separate apartment.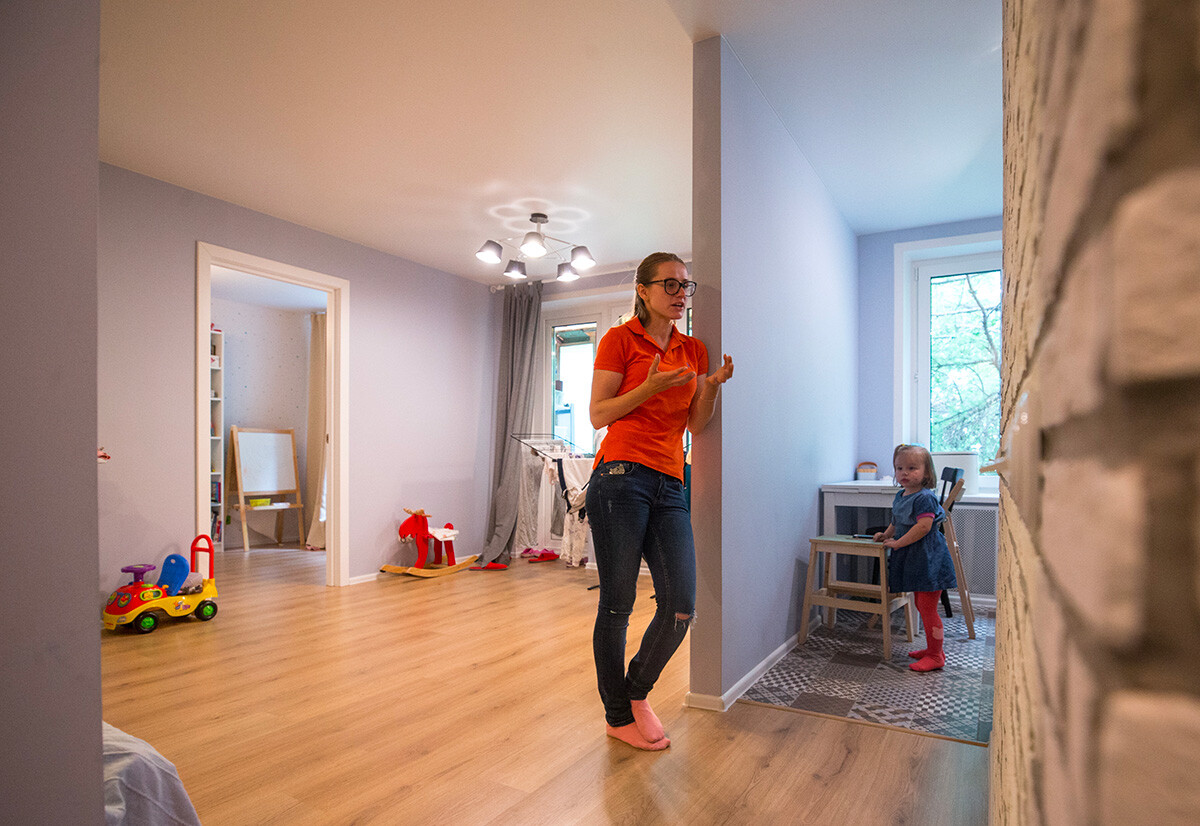 Modern-day khrushchyovka after the renovation (people tend to remove walls and make kitchen and hall into one bigger place)
Stanislav Krasilnikov/TASS
The construction of 'khrushchyovkas' continued from 1956 right until the end of the 1960s and it was truly able to overcome the housing crisis. The construction of whole residential neighborhoods was now exercised. Despite the fact that the apartments were very small, many families were happy to live privately (and to have their own bathroom) and not in communal apartments.
Read more about the construction of 'khrushchyovkas' here.
'Brezhnevka'
Ceiling height: 2.7 meters
Apartment area: from 33 square meters (one-room apartment) to 76 square meters (four-room apartment)
Kitchen area: 6.8–7.4 square meters
Number of stories: from 8 to 17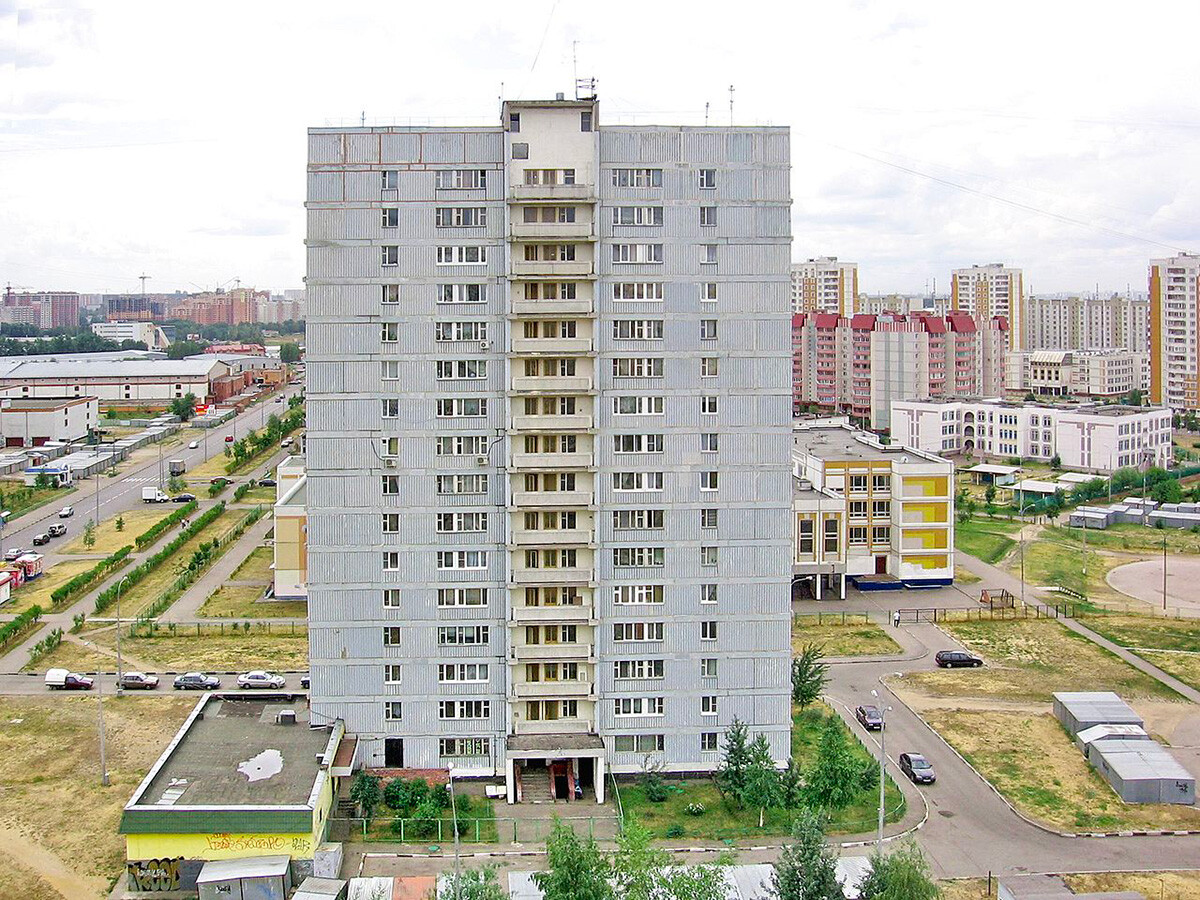 Typical brezhnevka (with series number II-68)
Fr0nt (CC BY 3.0)
At the end of the 1960s, when Leonid Brezhnev came to power, it was clear that the city population was continuing to grow and the construction of apartment buildings had to be continued at an accelerated pace. On top of that, the population complained about khrushchyovkas, the quality of which was very low (small areas, thin walls, no elevators).
That's how Brezhnev's buildings with the "improved design" apartments appeared. And they were constructed right until the end of the 1990s. They had elevators; buildings 14 stories high and more even had cargo elevators. Their stairwells often had garbage chutes. The kitchen size in apartments increased; the apartments now had a corridor. Usually all the rooms in 'khrushchyovkas' were passage rooms, but these apartments now had isolated rooms.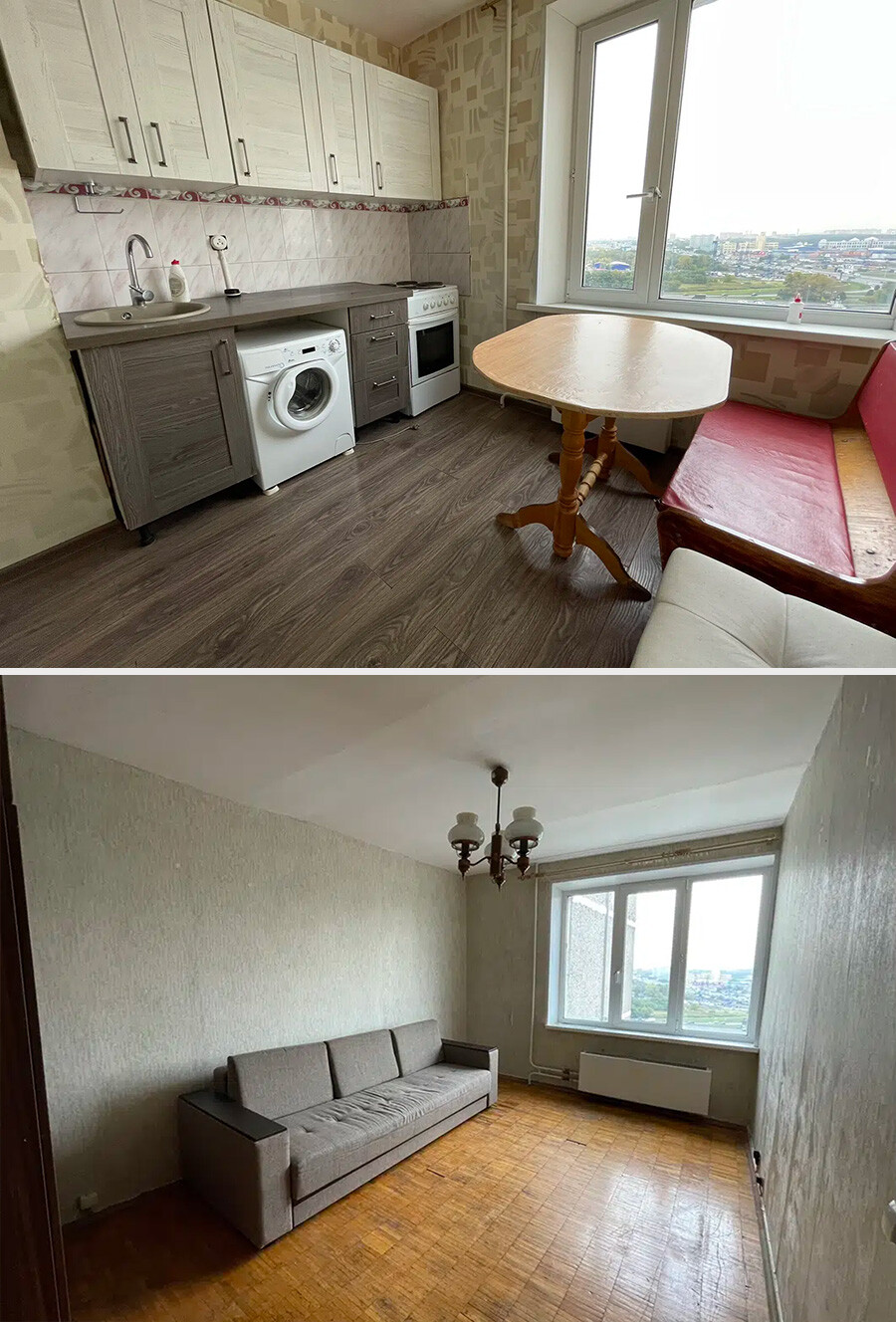 Kitchen and rooms in brezhnevkas were bigger than in khrushchyovkas
Domclick
Today, 'brezhnevkas' comprise the bulk of secondary housing available for purchase. They are located both on the outskirts and in central city districts. There were a dozen standardized types of 'brezhnevkas'. They were built both as 'tower blocks'(12-16 stories with one entrance) or, for example, multi-sectioned homes with up to 13 entrances. The construction materials used were blocks, bricks or panels; and 'brezhnevkas' also came in a variety of different colors.
Dear readers,
Our website and social media accounts are under threat of being restricted or banned, due to the current circumstances. So, to keep up with our latest content, simply do the following:
Subscribe to our Telegram channel
Subscribe to our weekly email newsletter
Enable push notifications on our website
Install a VPN service on your computer and/or phone to have access to our website, even if it is blocked in your country
If using any of Russia Beyond's content, partly or in full, always provide an active hyperlink to the original material.