Iran's accession to the SCO would benefit Russia and China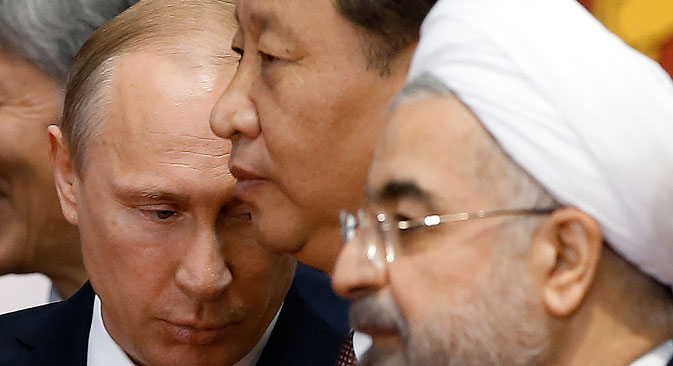 Russia's President Vladimir Putin (L-R), China's President Xi Jinping and Iran's President Hassan Rouhani are pictured before the opening ceremony of the fourth Conference on Interaction and Confidence Building Measures in Asia (CICA) summit in Shanghai May 21, 2014
Reuters
With the lifting of international sanctions against Iran, there are no legal barriers to the country joining the Shanghai Cooperation Organization (SCO). Russian experts believe that Tehran's accession to the grouping would provide additional security guarantees for Iran and existing SCO members.
During his visit to Iran in January, Chinese President Xi Jinping, in addition to signing 17 trade agreements worth more than $600 billion with President Hassan Rouhani, said "China supports Iran's application for full membership of the SCO."
Russia had already expressed support for the initiative. "Russia has consistently supported Iran's full-scale engagement in cooperation with the SCO members and directly with the organization," Foreign Ministry spokesperson Maria Zakharova said in January.
As for Iran itself, its Foreign Ministry has also confirmed that the country is interested in joining the SCO.
A predictable Iran
Now that the international sanctions against Iran have been lifted, there are no legal barriers to the country joining the SCO. Pyotr Topychkanov, an expert from the Carnegie Moscow Center's Nonproliferation Program, believes that no SCO member will say no to Iran's application.
"For the countries in the SCO, primarily Russia and China, Iran's succession would be beneficial, as it would make it possible to fit its foreign policy into the pattern of development of the Eurasian space," Topychkanov told RBTH. "The SCO has common obligations, 'red lines' common to all its members, which cannot be crossed. Taking on these obligations will make Iran a more predictable player."
By joining the SCO, the formerly isolated Tehran would become part of its security structure. "For Iran, it is important that, for example, flare-ups that might occur in the Persian Gulf (such as Iran's current conflict with Saudi Arabia) would concern not just it, but other countries in the SCO as well," Topychkanov added. "This would reduce the risk of such flare-ups."
Professor Nina Mamedova, Head of the Iran Department at the Institute of Oriental Studies in Moscow, also noted the importance of the Afghan problem for both Tehran and the SCO. "Iran is more interested than anyone in ensuring security in Afghanistan," she said. "Its Afghan border is one of its most problematic regions."
Logistics and Chinese money
According to Mamedova, Iran's accession to the SCO would allow the organization to "unfreeze" major logistics projects blocked in the mid-2000s because of Tehran's isolation from the global economy, particularly the International North-South Transportation Corridor, a trade route between India and Scandinavia via Iran and Russia.
China is particularly interested in working with Iran, as Tehran is a crucial link in the "New Silk Road" project. "The south-east of Iran – a coastal area on the border with Pakistan – and the port of Chabahar in particular, is an important area for maritime trade," Mamedova added. "China is planning to develop a transportation corridor to these regions through Pakistan and Afghanistan, and there are railroads to there from countries in Central Asia."
Pyotr Topychkanov, meanwhile, noted that it would be better for Iran to work with China through the SCO rather than on a bilateral basis. "Clearly, the area brought together by the SCO is currently dominated by Chinese money, but for the member countries it is more convenient to develop projects as part of the regional organization, where there are common agreements and conditions – otherwise they will be too dependent on China," he said.
All rights reserved by Rossiyskaya Gazeta.