17 cartoons satirizing the everyday life and habits of Soviet people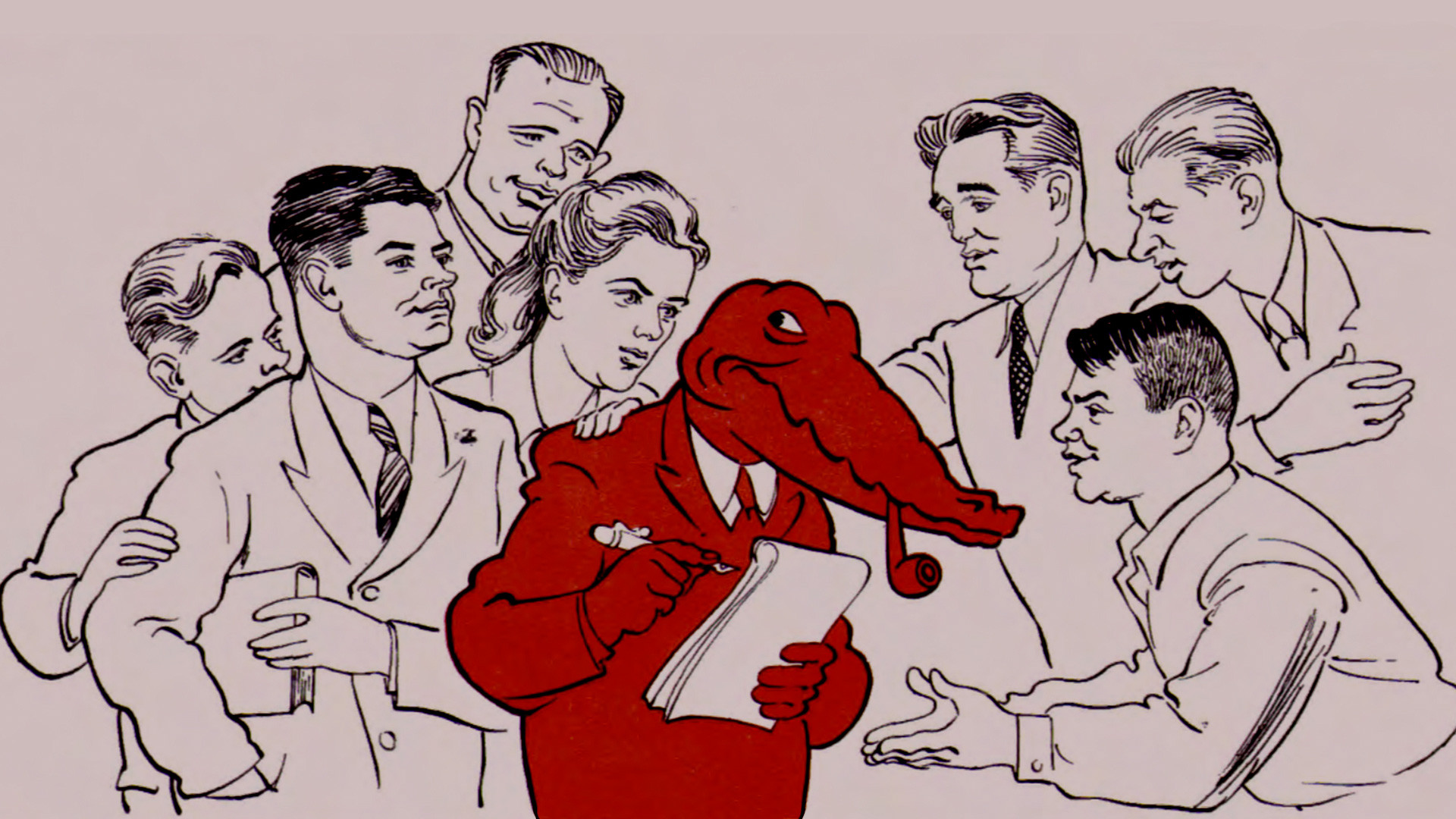 The 'Crocodile' magazine quipped about bad habits, total bureaucracy, and empty shelves in shops, and most of these jokes are still funny today.
1. In love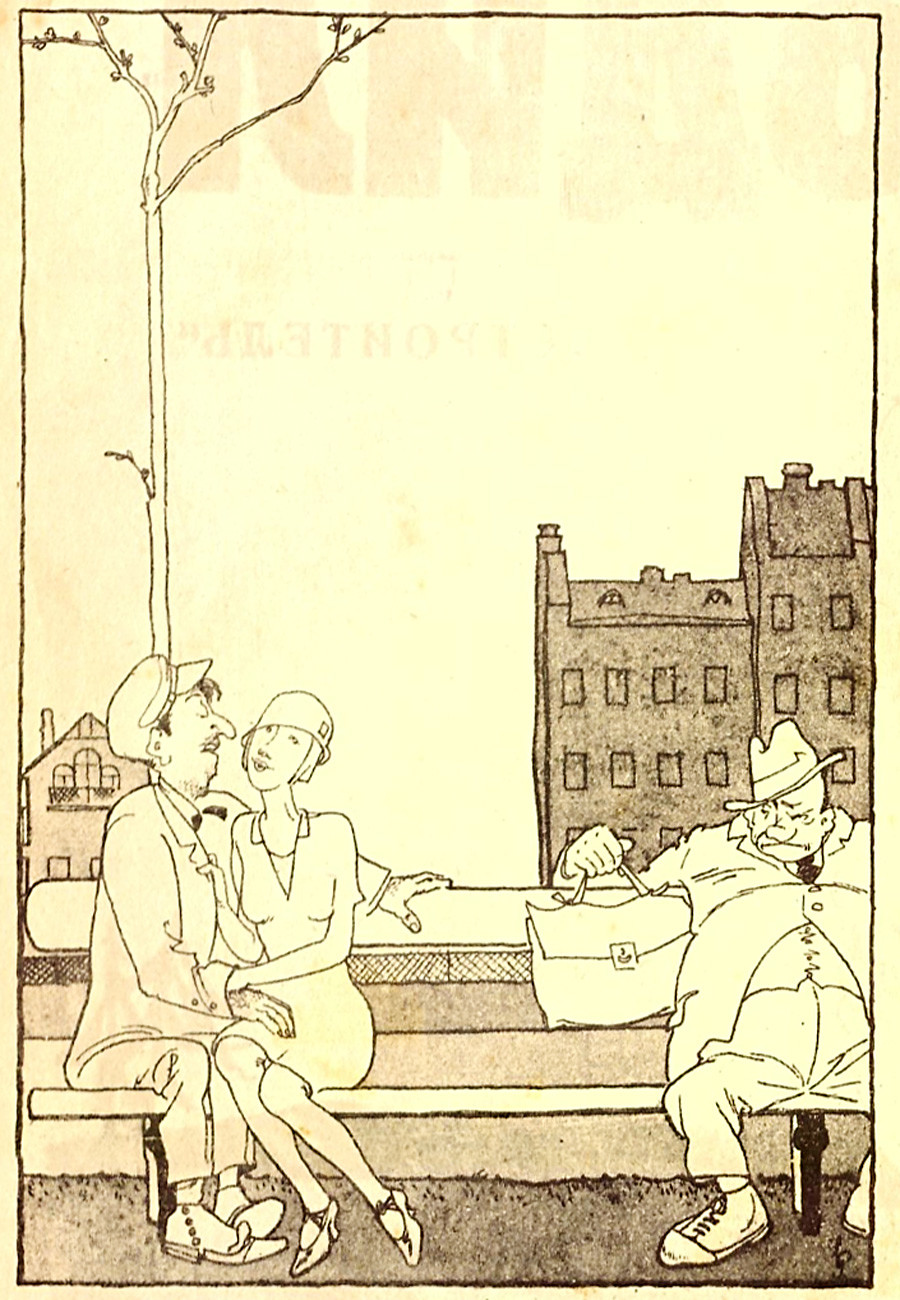 "Honey! I see the whole world in your eyes!" "Tell me, young man, don't you see our inspection commission? I just wonder what it is doing!"
2. Neighbors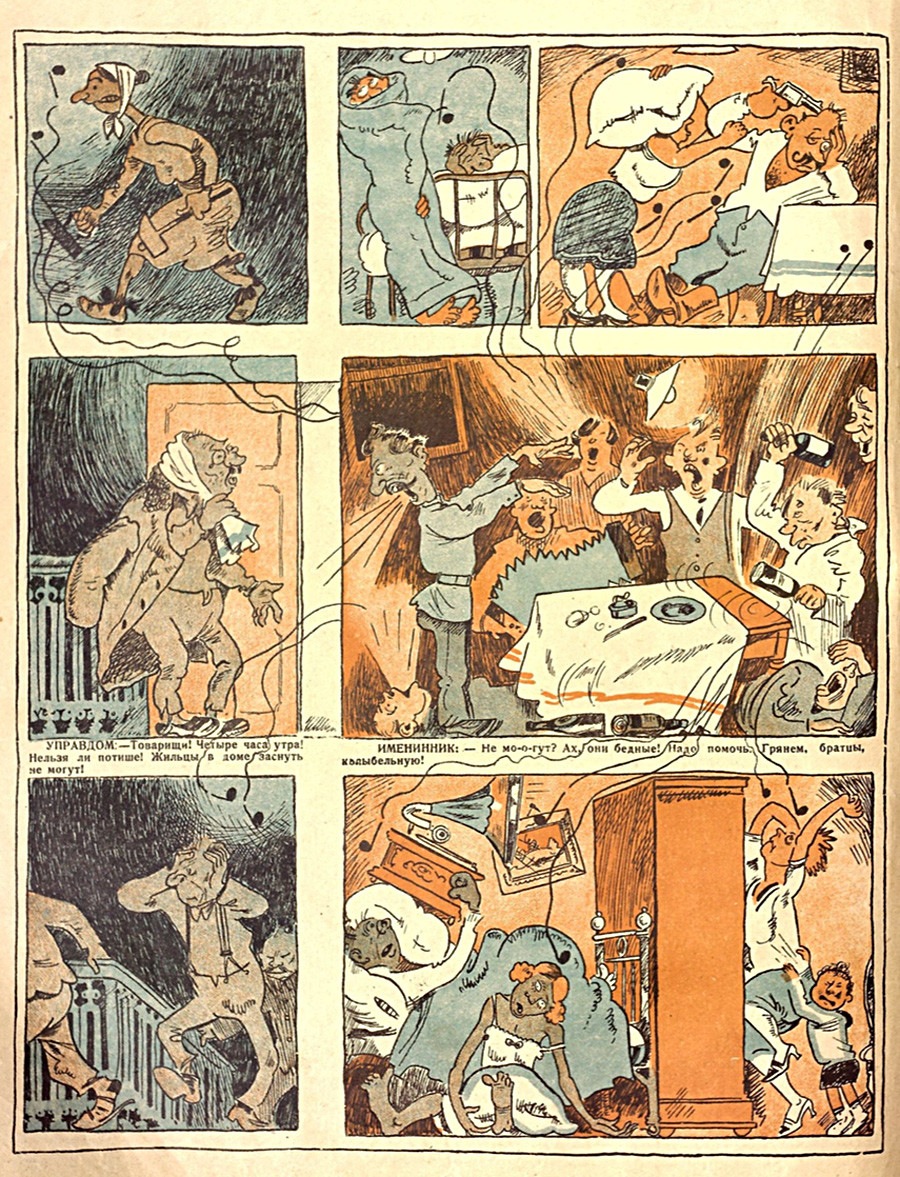 Crocodile, 1927, №09
"Comrades! It's 4 am! Could you be more quiet? Other people in the house can't sleep!" "Can't? Poor they. We need to help them! Guys, let's sing a lullaby!"
3. Municipal improvement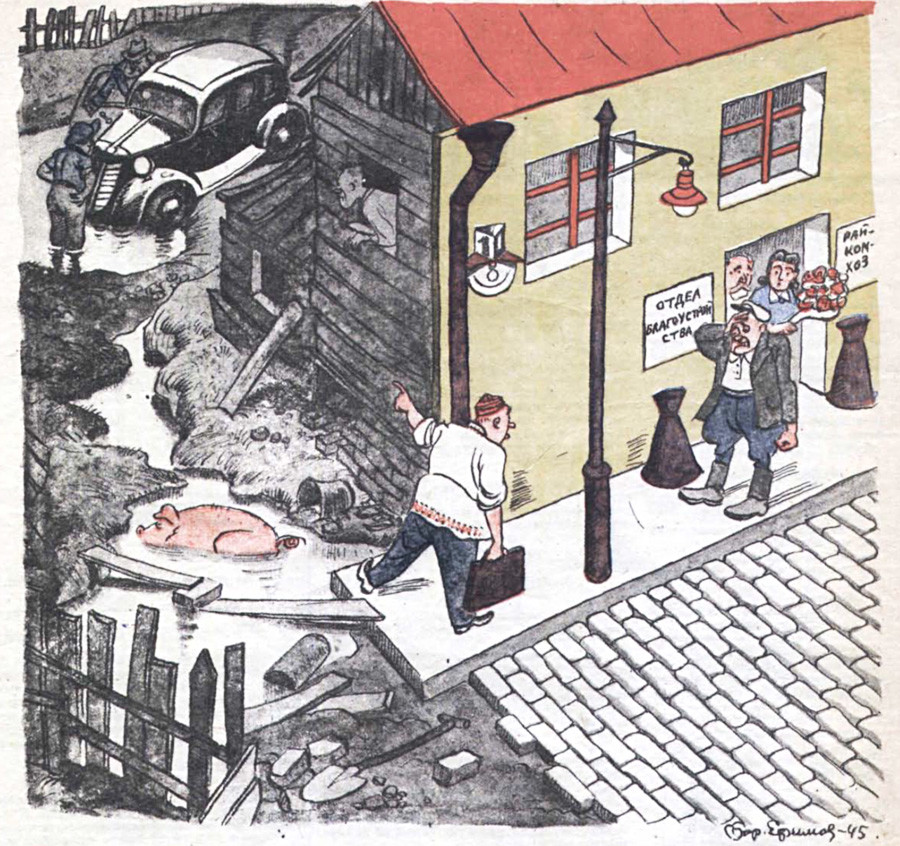 Crocodile, 1945, №25
"Thus Andrey Petrovich will again blame us for bad improvement. But he's guilty. Who told him to go to that street while we paved this one specially for him?"
4. Sensitivity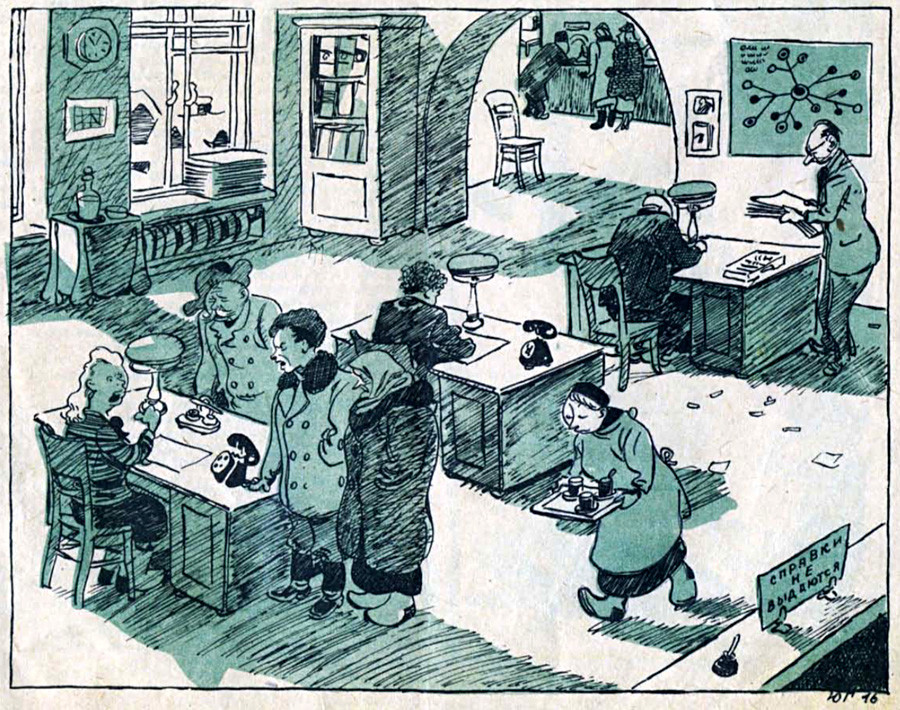 Crocodile, 1946, №02
"I require a sensitive approach!" "On the sensitivity issue you need room number 6, visits on even dates from 3pm to 5pm."
5. Lunch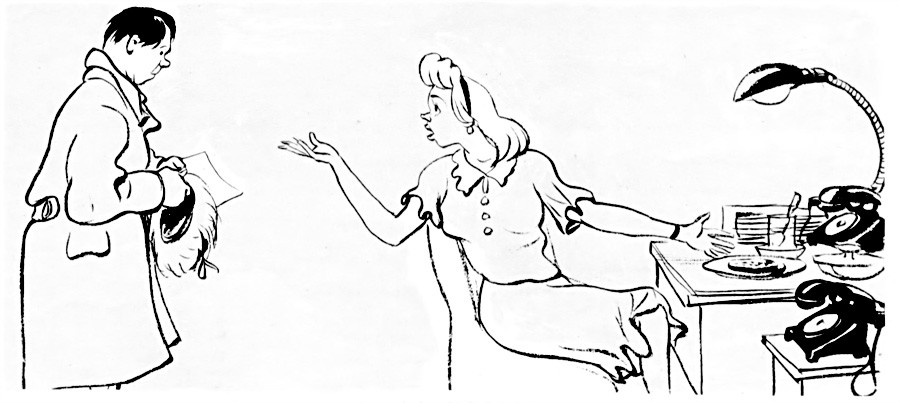 Crocodile, 1949, №04
"Why are you so rude with customers? You need to be polite at work." "I am having a lunch break now."
6. A seeing eye instruction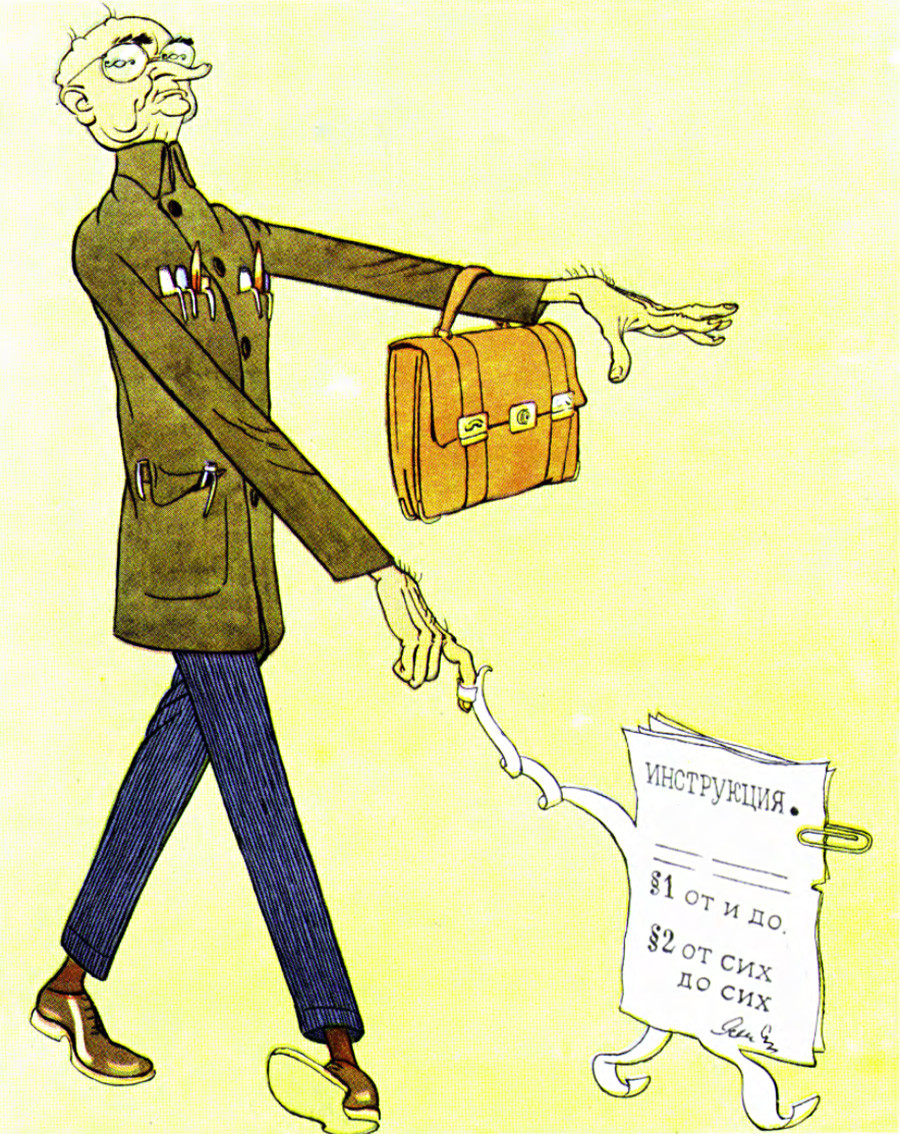 Crocodile, 1956, №04
"He cannot even take one step without me!"
7. The way to hospital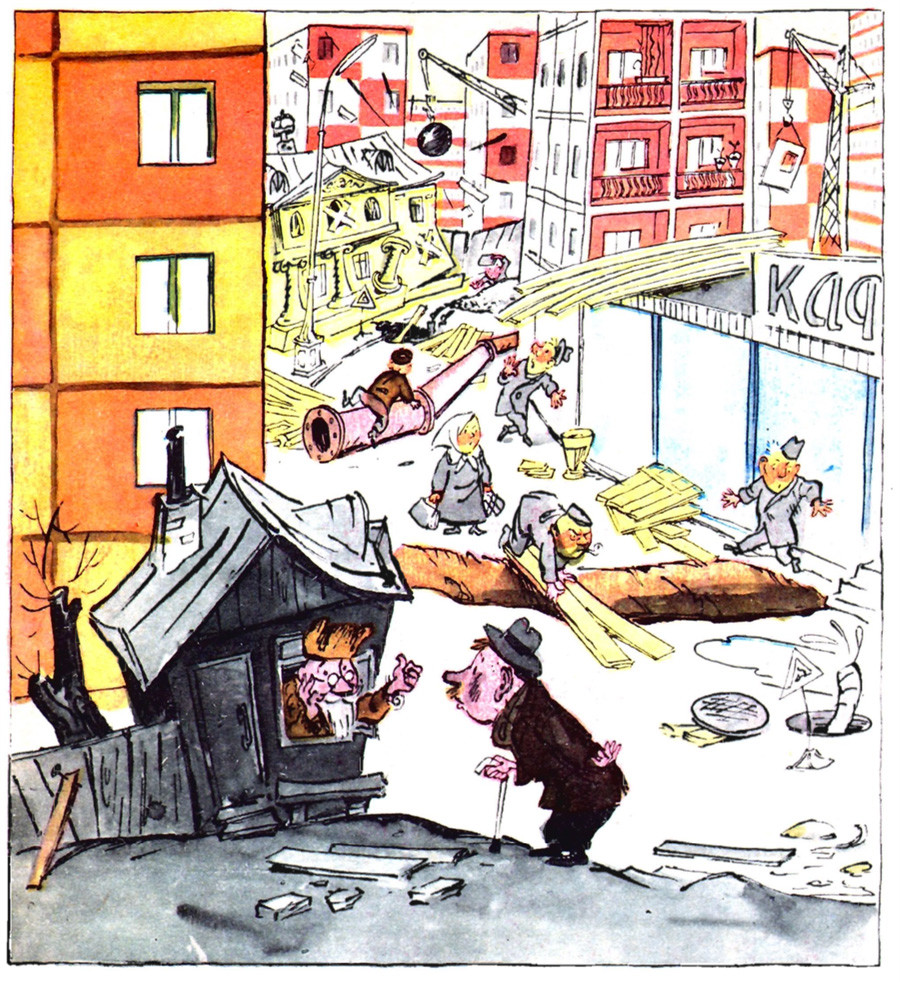 Crocodile, 1969, №01
"Tell me please, how to get to the hospital?" "Go down this street and you will get there."
8. Degrees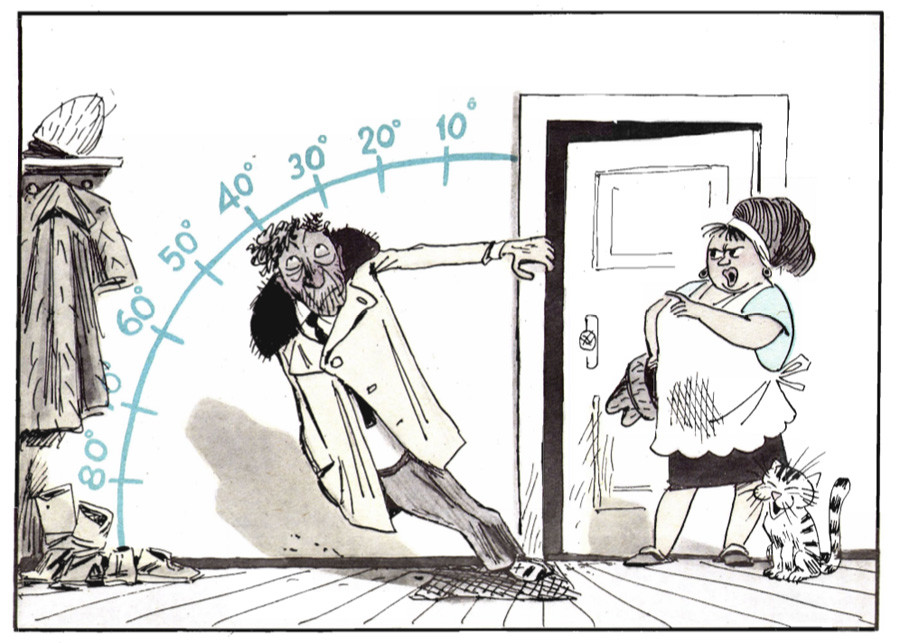 Crocodile, 1969, №05
"A test for degrees."
9. Spectators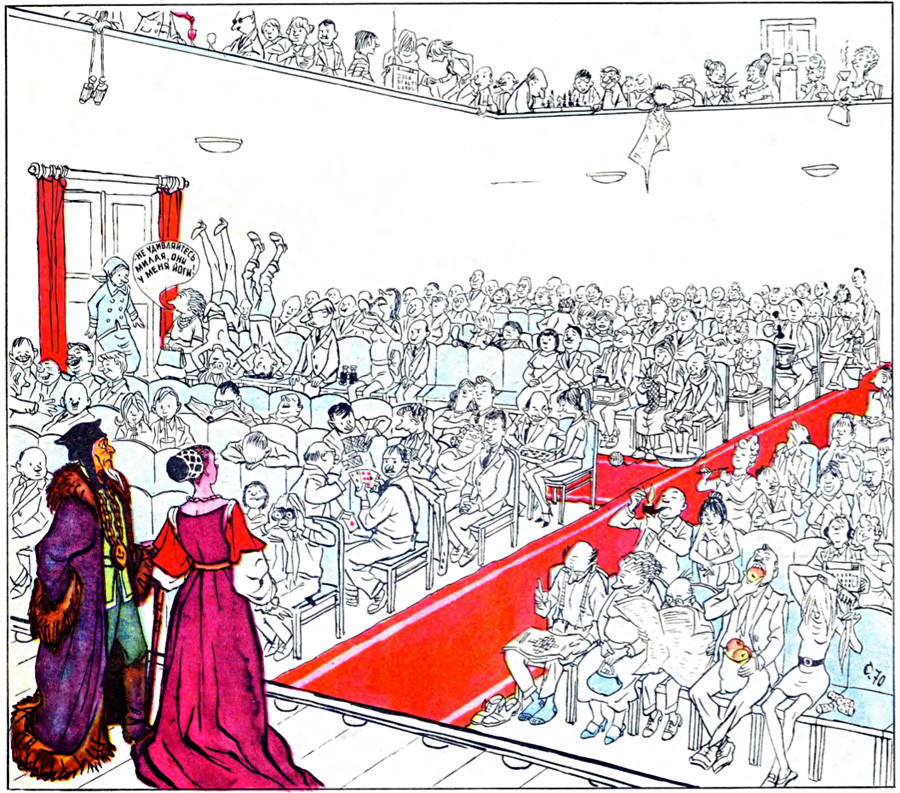 Crocodile, 1971, №01
"I really don't get it, Polony, why the spectators behave so weirdly." "What can we do? They get used to watching performances on TV…"
10. True friends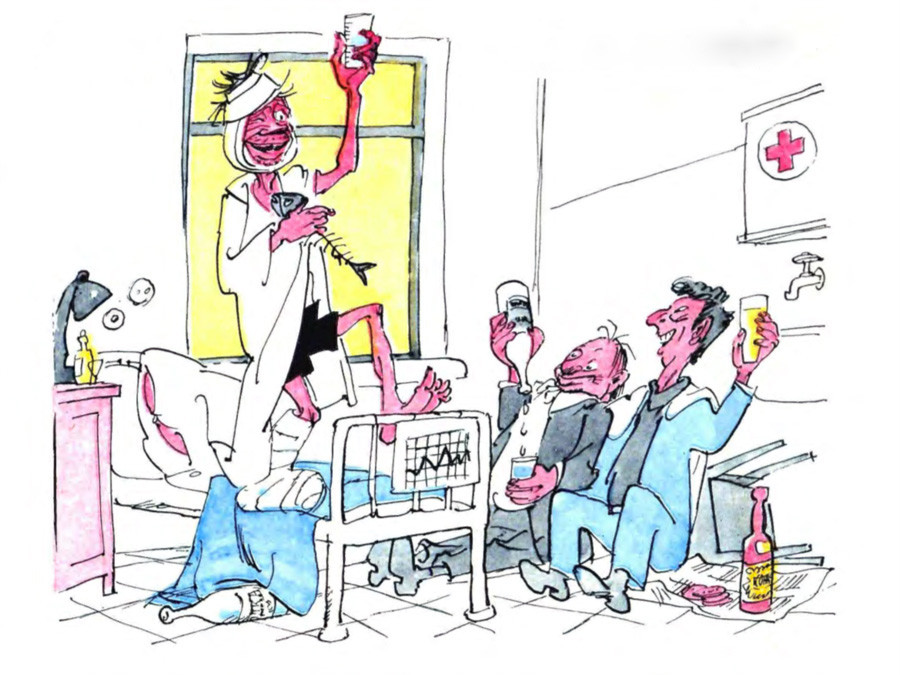 Crocodile, 1975, №23
"You are true friends; you could raise a sick person out of bed."
11. Little Red Riding Hood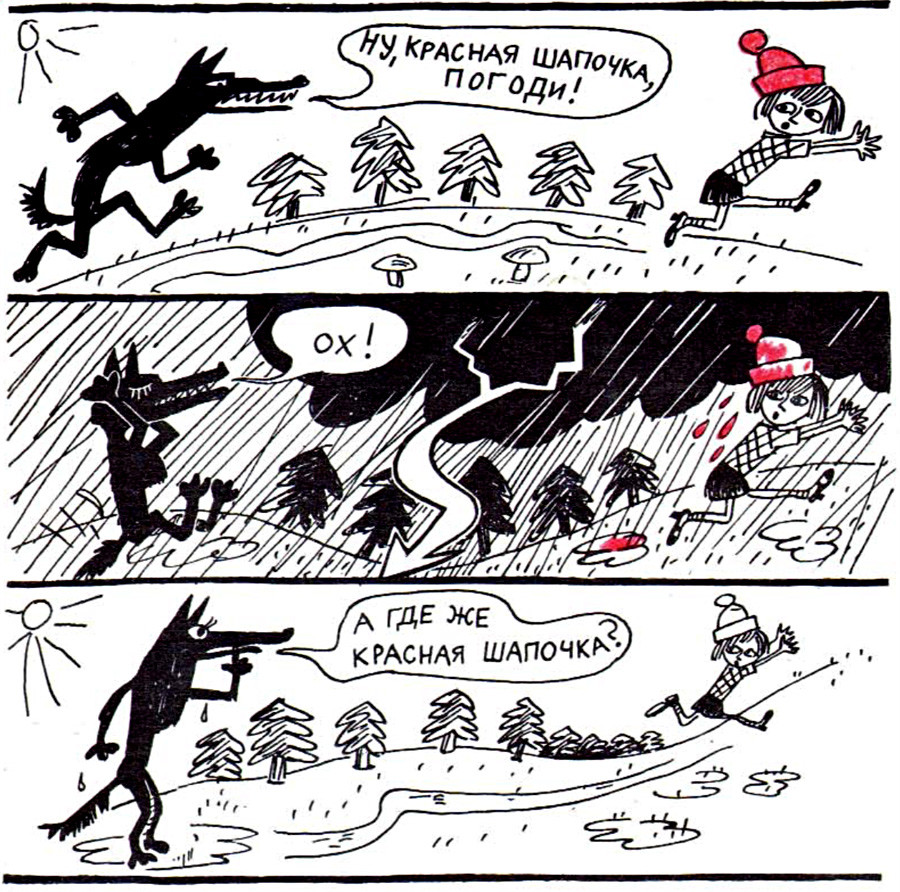 Crocodile, 1976, №26
"Well, just you wait Little Red Riding Hood. Oh, where is Little Red Riding Hood?"
12. The fall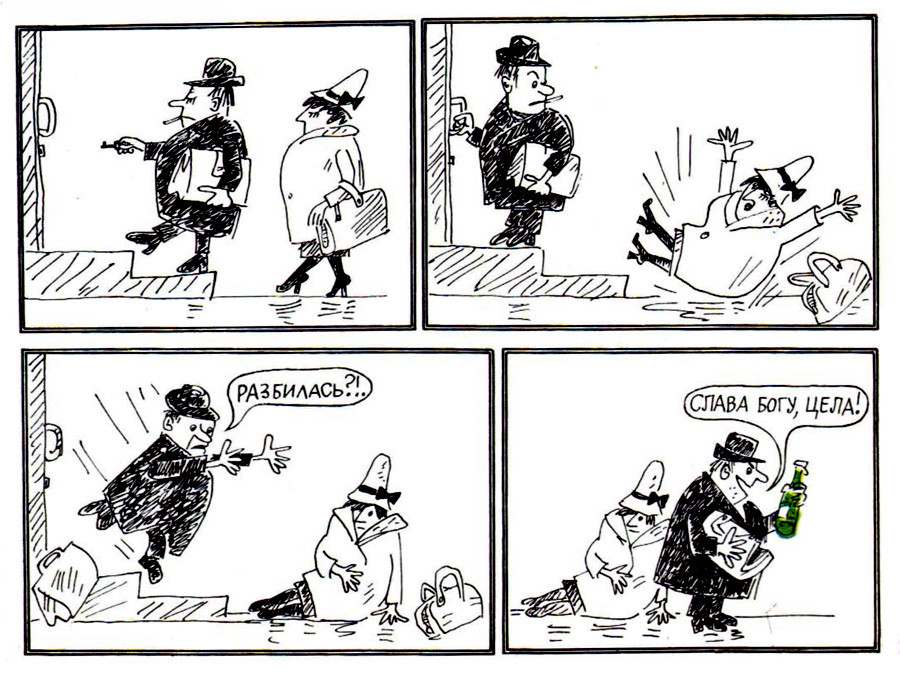 Crocodile, 1976, №35
"Broken? Thank God, it's saved."
13. Promise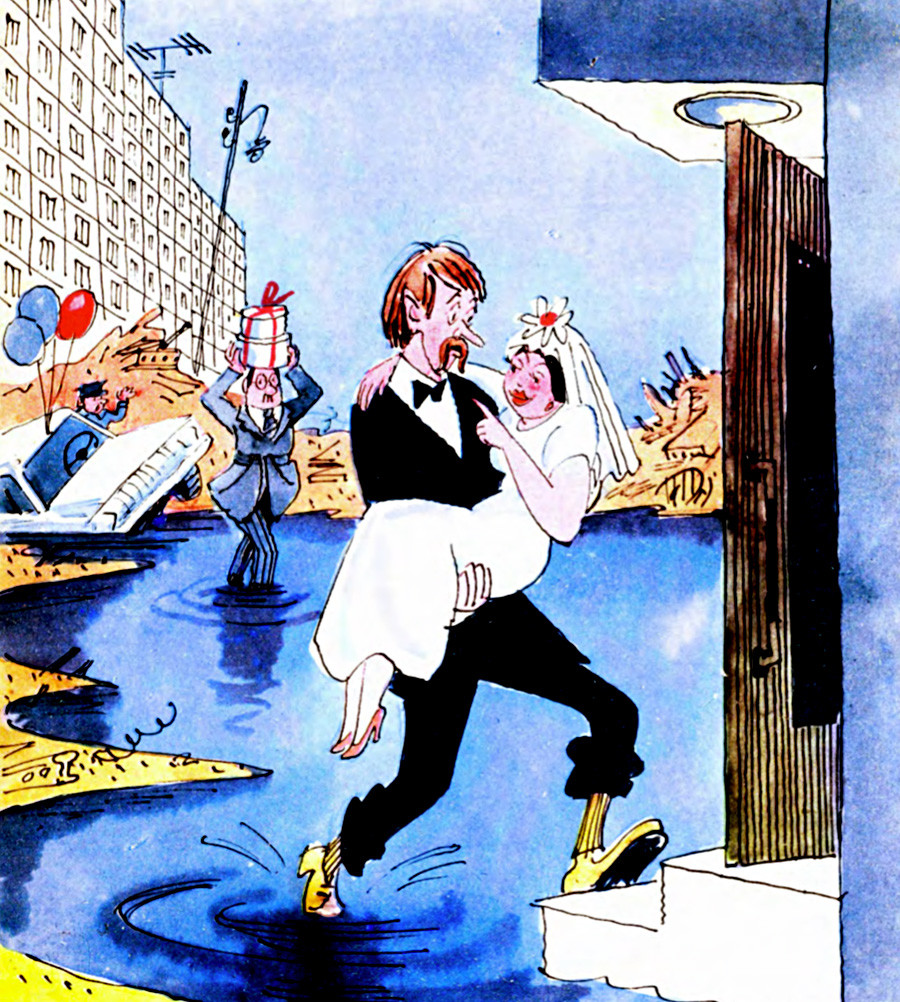 Crocodile, 1979, №07
"Promise me, honey, that you will carry me in your arms after the improvement of the district, too."
14. School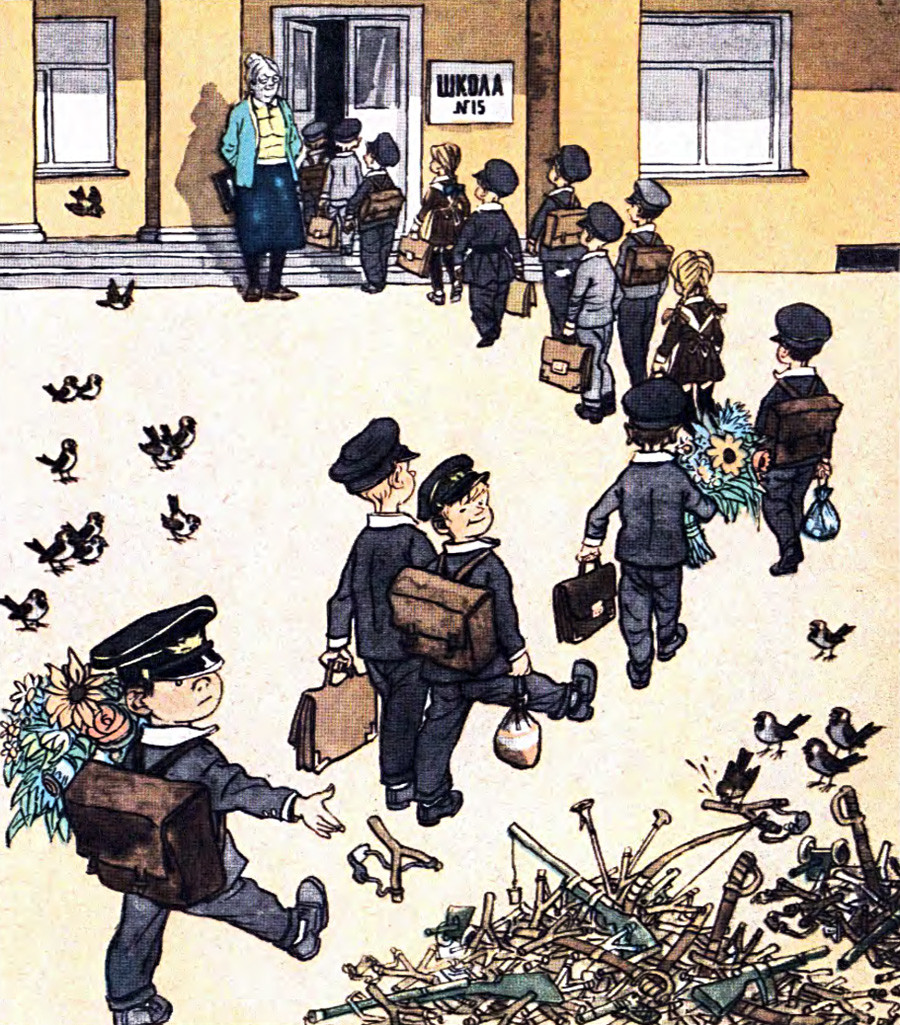 Crocodile, 1982, №16
"A Farewell to Arms."
15. God of trade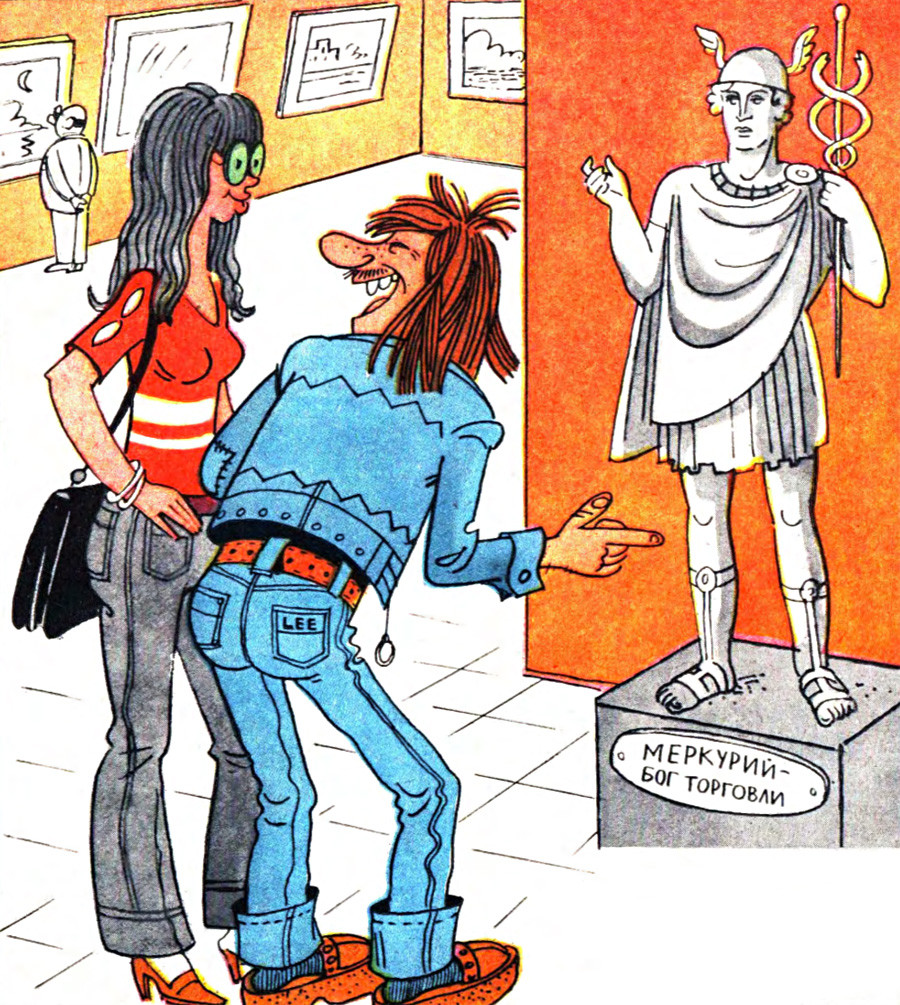 Crocodile, 1982, №36
"Mercury is the god of trade." "What god is he if he couldn't buy jeans!" (in the Soviet Union jeans like many other things were in short supply. Read more about jeans here.)
16. Sausage train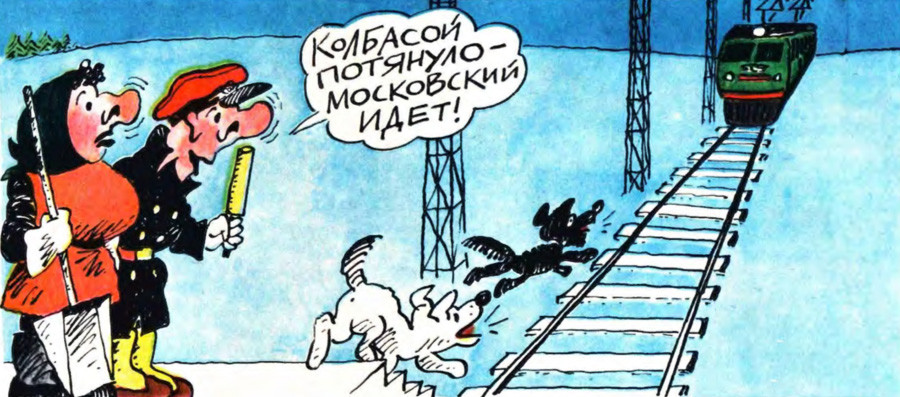 Crocodile, 1988, №01
"It smells like sausages!" "This is the train from Moscow!" (in Soviet times people from regions often went to the big cities on shopping trips to buy things like sausage, sugar, etc., which were rarely on sale in regions.)
17. Bureaucrat in the desert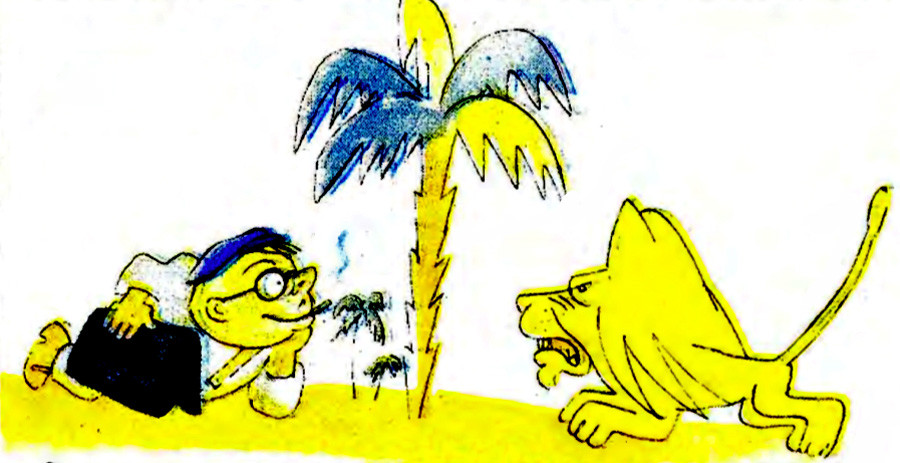 Crocodile, 1991, №03
"Roar or no roar, but until you provide the document proving that you are a lion, I will not believe you."
If using any of Russia Beyond's content, partly or in full, always provide an active hyperlink to the original material.