Russia officially prohibits (link in Russian) women from working in 456 roles, considering them too difficult, dangerous or hazardous, but the restriction doesn't always work in reality. Some employers hire women when they can guarantee safe working conditions, but sometimes the women candidates simply make incredible efforts to get the job.
These three extraordinary women don't see a difference between 'male' and 'female' professions, and instead, they have followed their passion, whether on land or at sea.
1. Yulia Lazareva, 30, truck driver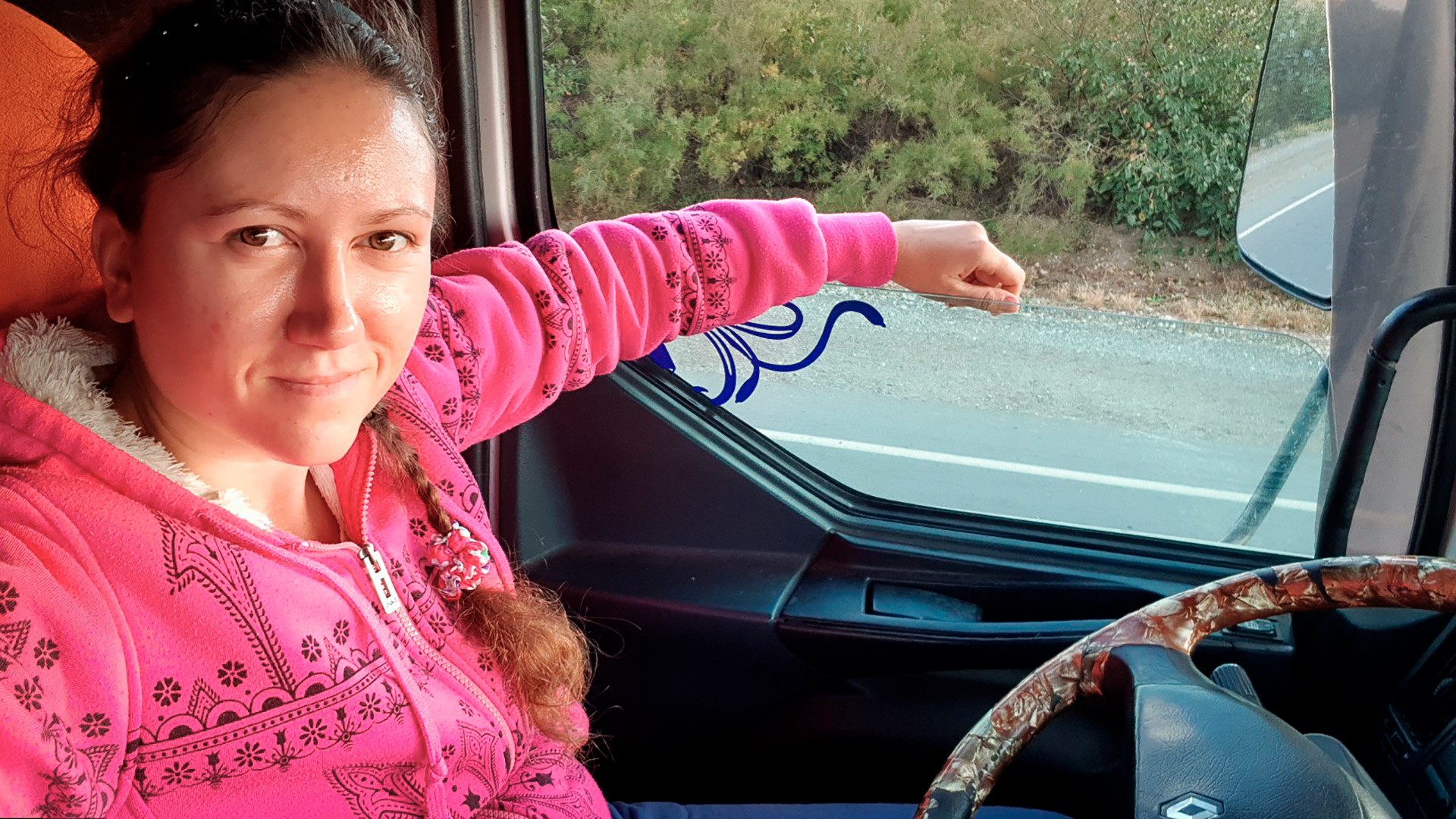 Born in the Crimean city of Yevpatoria, Yulia studied law and dreamed about having her own horseback riding club, and now she has one. Starting with a first horse that was a gift from her stepfather, today her club has 20 horses. When this dream came true Yulia set about to realize another – to drive a truck.
"I started by driving my horses," said Yulia. "My friends and family considered it peculiar at first."
Yet, in 2013, she started driving trucks professionally, and now her most frequent route is from Moscow to Crimea and back. In 2014, she even set up her own Youtube channel, "Truck driving with Yulia Lazareva" which now has more than 160,000 subscribers. One of her videos, where she backs up her Scania truck into a ferry, has more than 1.8 million views.
"Year after year, for five years now, I don't really work. I rest [while driving], I can think and listen to music," she said. "I'm like in a sort of capsule. When you drive for a long time, you get the feeling that life is going past you. You simply drive a wheel, rarely get out of the truck, then talk to someone for three minutes, and then go back, behind the wheel."
She claims not having to face serious challenges, but some of her male colleagues are surprised to see her driving a multi-ton truck. Still, the poor conditions on highways are what annoy her most. She never had legal problems and considers official restrictions on women truck drivers as a sort of sick joke.
"I don't want to hear anything of it," she says, noting that she's not alone in her profession and that she knows five other female truck drivers, each with their own story to tell.
Still, Yulia doesn't plan to spend her entire life driving. "Steering a wheel is not a serious occupation; it's like spending all your life as a yard cleaner. One can do it temporarily, but not permanently," she says. "I plan to quit, but don't yet know when and what to do next. "
2. Yulia Kurakina (Yurova), 30, assistant train engineer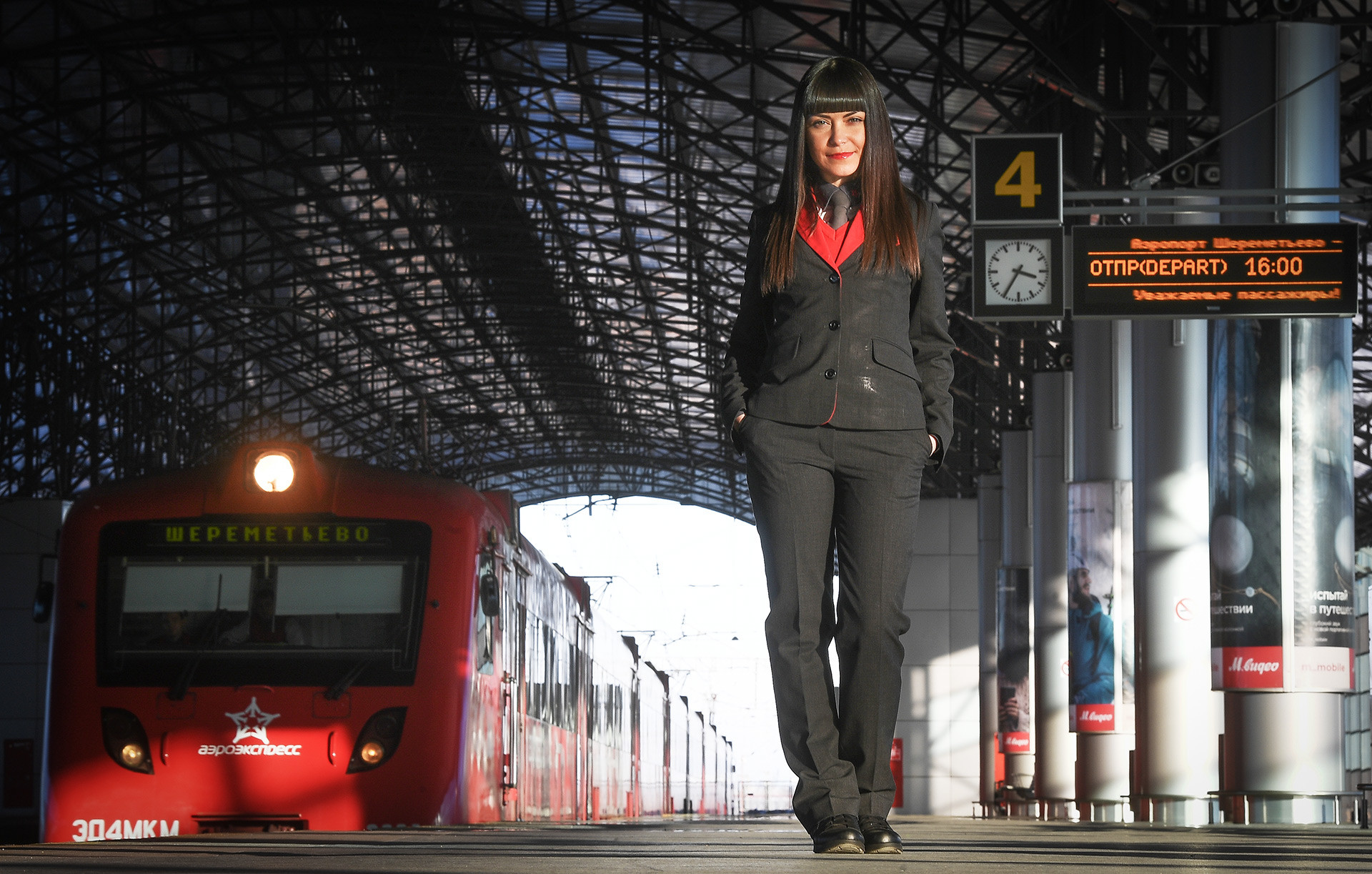 Yulia Kurakina
Vladimir Astapkovich/Sputnik
For the past eight years, Yulia Kurakina is Russia's only female assistant train engineer. She dreamed about driving a train since the age of 15, and worked hard to get the proper education.
"I've never doubted that I chose the right profession," she said. "I feel happy when I understand that my colleague and I are the ones who make this massive vehicle move."
Yulia works on the Aeroexpress line that runs from Moscow's Kievskaya Station to Vnukovo Airport, with 12-hour shifts and occasional night shifts. Her work is stressful; for example, she needs to keep an eye on the track, watching the signals, as well as for people who might wander onto the tracks.
A full understanding of how difficult the job can be only came when Yulia started working. "I've never been a carefree girl, but when I became an assistant train engineer I understood how serious this job really is, and how important it is to perform well; now I am responsible not only for my life, but for the lives and well-being of the passengers that trust us," she says.
Since the start, Yulia has done everything herself, never asking for any help. Also, she never heard her colleagues say that she's not worthy of the job. Yulia's male colleagues remark that she fits well into the team and that she works on the same level as they, without any special conditions.
"At first, I simply wanted to do what I wanted to do, and when I did, I started to hear from other women who also want to work on trains," Yulia said, noting that she never encourages them to do it but doesn't advise against it as well.
"I must explain to them that it's really not that easy. If they say they're ready then I'm eager to help … I know five women who want to become assistant train engineers, and of course I'd want it to be easier for them."
Officially, women are not allowed to work as train engineers because of electromagnetic emissions, but as Yulia says, modern trains have higher safety standards.
Her main career goal is to be a full-fledged train engineer, but for that she needs to take a six-month training course and pass both theory and practice exams. Competition is fierce to be accepted at the so-called "school of train drivers."
"I don't have specific plans for my future, but I feel obliged to those who have been supporting me to upgrade my seat to the main train driver; so, we'll see what happens next," said Yulia.
3. Evgeniya Korneva, 25, 3rd watch officer on board the Sibur Tobol gas carrier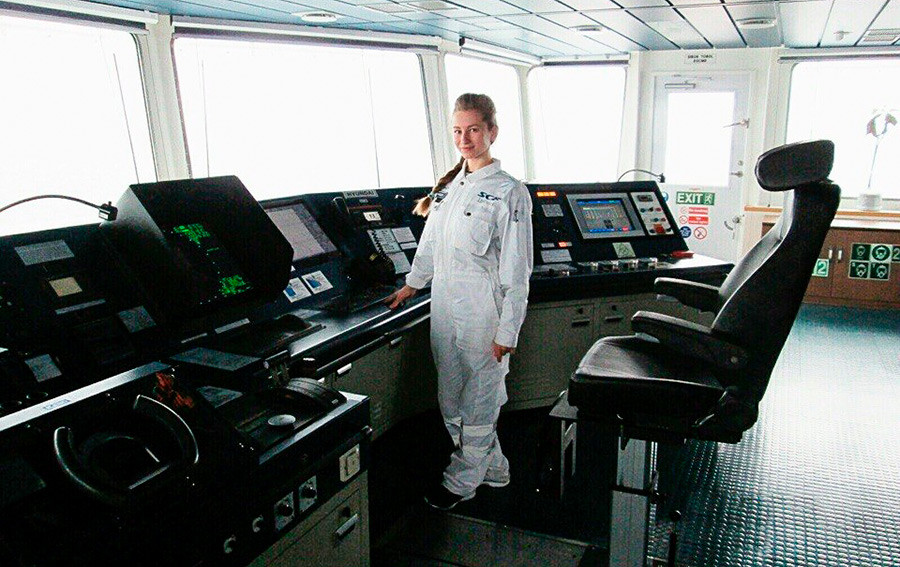 Evgeniya Korneva
Evgeniya studied at the Admiral Makarov State Maritime Academy in St. Petersburg and was one of three girls who graduated in her year. She loved the discipline and thought about working for the Ministry of Emergency Situations, but she really wanted be a sailor. For over a year, she's been working on the Sibur Tobol gas carrier, moving up from 4th to 3rd watch officer.
"Over the course of my work I understood that I've chosen the right path, that I want to grow in my profession," said Evgeniya. "My family and friends support me, and help psychologically because they see that I enjoy what I do."
While a woman serving on a ship is still unusual in Russia and is officially forbidden, Evgeniya hopes this will soon change. "In European companies no one faces such a problem – there, whole families work together on the ship," she says. "I rarely see fellow female colleagues, but every year their number grows."
There are no advantages for a woman on a ship, she argues. Since the start of her career Evgeniya has had to find work and prove that despite her gender she's also a professional who has the necessary leadership qualities, able to manage the ship and crew.
"I have a good relationship with my colleagues, both on board the ship and on land. They respect me as I respect them," she says. "I love what I'm doing, and until I get married I'm ready to continue sailing the seas and oceans."
Want to know more about women in traditionally male-dominated professions? Check out these stories of a pilot, mine sapper and a diplomat – all women, of course.
If using any of Russia Beyond's content, partly or in full, always provide an active hyperlink to the original material.