This middle-aged man from Dagestan walked 6 miles from one town to another on his hands (VIDEO)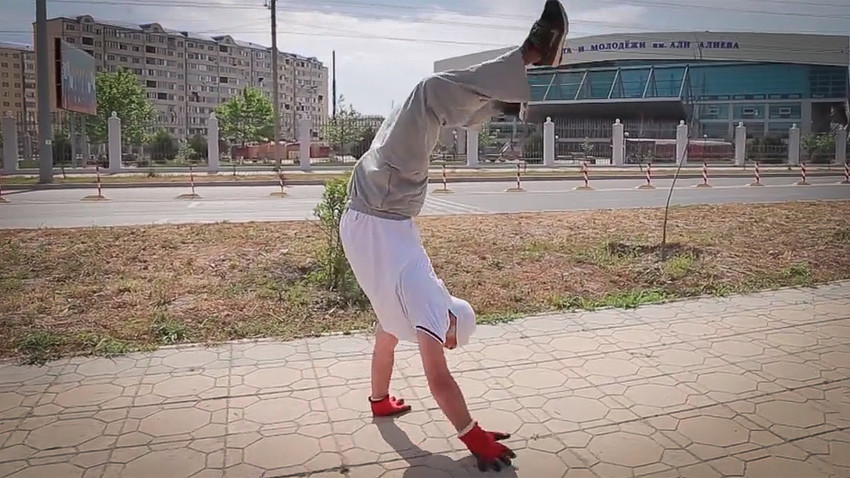 Do you have an apparently unusual but useless talent good only for amusing your friends? Be inspired by 55 year-old Suleiman Magomedov whose passion is learning "useless" things. And thanks to them, he has become famous.
Five years ago, Suleiman Magomedov, a native of Kaspiysk, a small town in southern Russia (1,200 miles from Moscow, in the Republic of Dagestan) decided to become a human legend. All the 55 year-old had in his arsenal was 25 years of freestyle wrestling (only the lazy don't do combat sports in Dagestan), a sudden burst of interest in massage and a recent enthusiasm for yoga. That was enough for him to embark on an experiment: To walk from Kaspiysk to the republic's capital Makhachkala six miles away on his hands.
The experiment failed. "I was inexperienced and the weather was bad, so I miscalculated. To be honest, I simply got very cold," Magomedov says. At the time, in 2013, he managed to cover "only" about a mile on his hands.
Beating Bruce Lee
A lot has changed since then. First of all, Magomedov has decided that merely walking on his hands is not enough. He has learnt several other "tricks", including the most complicated yoga poses which, despite his age, he can adopt at the drop of a hat: push-ups using one finger and standing on nails for hours on end. But perhaps the most impressive of his tricks is that he has learned to swallow daggers with 45 cm blades.
"It is very difficult, utterly unpleasant and extremely dangerous. But nothing demonstrates the amazing abilities of the human body like [blade swallowing]. So I decided to try it - at first I spent a long time practicing on a hose and then using short daggers," Magomedov says.
Secondly, Magomedov has never given up on his idea of walking between the two towns on his hands and over the years it has become his mission. At least, this is how he explains it to himself: "I want everyone to know that a person can walk 10 km (six miles) using only his hands! And, while Bruce Lee could do push-ups on two fingers, a Dagestani man can do them using one! I want to become an example for Dagestan and the whole of Russia, and to demonstrate what miracles our people are capable of".
This May he did manage to walk the six miles from Kaspiysk to Makhachkala, which took him 12 hours. And if you think that is too much, wait till you find out the world record. In 1900, one Johann Hurlinger walked the 850 miles from Vienna to Paris on his hands. He did 10 hours a day for 55 days. Suleiman Magomedov's dream is to beat Hurlinger's record.
If using any of Russia Beyond's content, partly or in full, always provide an active hyperlink to the original material.