Why is the McGregor-Nurmagomedov fight causing such a stir in Russia?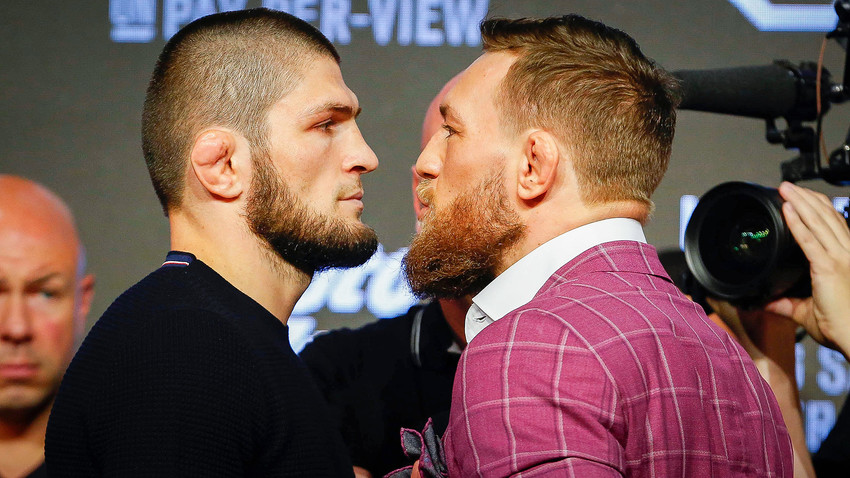 The Irishman's words that Russian viewers will in fact be rooting for him might be more than trash talk.
Khabib Nurmagomedov is a fighter from Russia. He is ranked eighth in the UFC pound-for-pound rating, meaning that this native of Dagestan in southern Russia is one of the best mixed martial artists in the world.
But not all Russians support Nurmagomedov. For some, he is a figure every bit as controversial as his notorious opponent Conor McGregor. Here are some of the scandals that precede the fight of the century (or at least of this weekend):
1. Two photos with Putin
When France played Croatia in the final of the 2018 FIFA World Cup, Conor McGregor was in Russia to watch the game at the personal invitation of Vladimir Putin.
"Today I was invited to the World Cup final as a guest of Russian President Vladimir Putin. This man is one of the greatest leaders of our time and I was honored to attend such a landmark event alongside him. Go Russia!" wrote the Irish fighter on Instagram.
Soon afterwards, Nurmagomedov responded with a photo of his own, which showed him posing with a Putin lookalike in central Moscow. "I gave 500 rubles for this photo," wrote Nurmagomedov.
Not all saw it as a cheap shot directed solely at McGregor—especially when he again commented on the photo of Conor during a crazy (even by McGregor's standards) press conference: "I don't need a photo with Putin. And I don't get why everyone's talking about it."
Given popularity of Putin in Russia, the Irishman's words that Russian viewers will in fact be rooting for him don't seem like trash talk.
2. Nurmagomedov vs Timati, refereed by Ramzan Kadyrov
Another scandal involving a president (not Putin this time) caused a ruckus between Nurmagomedov in one corner, and the Russian music label Black Star and its founder Timati in the other.
It all started when Black Star was forced to cancel the concerts of two performers in Dagestan (Nurmagomedov's birthplace) due to threats allegedly made by Dagestan residents. The performers were threatened with murder if the concerts went ahead.
When the label canceled the concerts, Nurmagomedov, a deeply religious Muslim, wrote on his Instagram "Not a huge loss."
Very soon he received a polite, but firm response from Timati.
It wasn't long before Nurmagomedov switched to open insults. "I make a separate appeal to the men of Dagestan: a lot has been let slip, a lot has gone for good, but we and only we are responsible for the future of our republic, and not all these f*gs who are only out for themselves," wrote Nurmagomedov.
The unlikely peacemaker was Chechen President Ramzan Kadyrov, who recorded a video message calling on the parties to kiss and make up (not literally).
3. Buzova for McGregor?
Unexpectedly (including for herself), Olga Buzova, a popular Russian singer, TV presenter and international Instagram sensation, got caught up in a spat with Nurmagomedov fans (yes they exist: despite the controversy, many in Russia still support their compatriot).
The singer was photographed wearing a jersey of the Traktor hockey team, sponsored by the KONAR plant, which produces pipeline components.
Unfortunately for Buzova, the name of the plant reminded many of Conor McGregor. Nurmagomedov fans immediately hurled abuse at the singer in the comments for allegedly supporting "this a**hole."
The difference in spelling they either didn't spot or chose to ignore.
The fight between Conor McGregor and Khabib Nurmagomedov takes place on Oct. 6, 2018, at the T-Mobile Arena in the modestly named town of Paradise, Nevada.
Amateur fighters from all over Russia come to this notorious fightclub for blood and brutal KOs. Read a dispatch from inside the amatuer MMA fightclub here.
If using any of Russia Beyond's content, partly or in full, always provide an active hyperlink to the original material.