5 new world records set by Russian figure skaters (VIDEO)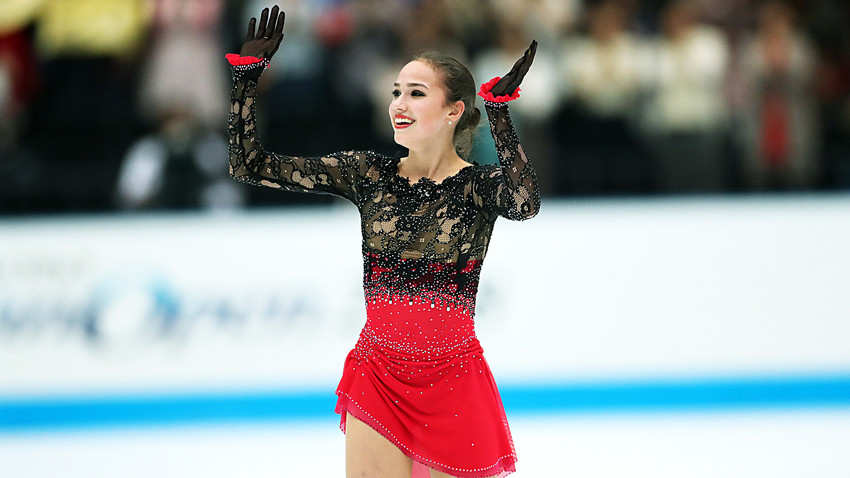 Alina Zagitova, Japan Open 2018 at Saitama Super Arena.
AFLO/Global Look Press
Russian athletes are taking the new ISU scoring system by storm.
The International Skating Union completely revised its scoring system in August, introducing a new way of judging. This means that all previous records held by Russian skaters Alina Zagitova and Yevgeniya Medvedeva are now considered "historical." However, Russian skaters have wasted no time in setting new world records concurrent with the new system.
1. Alina Zagitova, Ladies Short Program
In late September, Olympic champion Zagitova set a new world record in the Short Program at the 2018 Nebelhorn Trophy in Germany. The 16-year-old athlete scored 79.93 points, beating the previous record by Alexandra Trusova (74.74 points), which she set just a couple of weeks earlier. Zagitova performed a multiple triple lutz and triple loop jumps, double axel jumps, and triple flip jumps. She was also awarded a high score for her technique. By the way, Zagitova is also a historical world record holder in the Short Program after triumphing at the 2018 Winter Olympics.
2. Alina Zagitova, Ladies Free Program
The same championship in Germany saw Zagitova win even more. She set another two world records: for free skating (158.50 points) and for her combined total score (238.43). Nevertheless, in early October she went one better and beat her own record, scoring 159.18 points at the 2018 Japan Open. In her Free Skating Program, Zagitova performs as "Carmen." She often jumps with her hands held aloft, which is incredibly difficult (try to do it on dry ground, yet alone ice!).
3. Alexandra Trusova, Ladies Free Program
Fourteen-year-old Alexandra Trusova is the rising star in figure skating. She's the first female skater to land a quadruple lutz jump and quadruple toe loop jump. She first nailed these moves at the ISU championship in Bulgaria in March. Then she repeated them at the ISU Grand Prix in Yerevan in October (winning the competition in the process).
4. Mikhail Kolyada, Men's Free Skating
Figure skating isn't only for girls. Boys also set world records. Take a look at this 23-years-old athlete. During the 2018 CS Ondrej Nepela Trophy in Slovakia, Mikhail Kolyada set a new world record in men's Free Program with 274.37 points. He danced/skated to the Toreador Song from the Carmen opera. Mikhail strength lies in his classy technique. The Russian skater also won silver at the 2018 Winter Olympics.
5. Alexandra Stepanova and Ivan Bukin, Dance on Ice
This pair dance on ice with such elegance. At the recent 2018 Finlandia Trophy championship in October, the young Russian couple not only scooped all the prizes, but also set new world records: for rhythm-dance, free skating, and the combined total. The judges praised their tango on ice for the pair's expression and good technique. The skaters have performed together since childhood, that's 10 years already. Although they regularly collect prizes in different competitions, they've only just set a world record. What's next?
If using any of Russia Beyond's content, partly or in full, always provide an active hyperlink to the original material.