Russian writing goes down a storm in London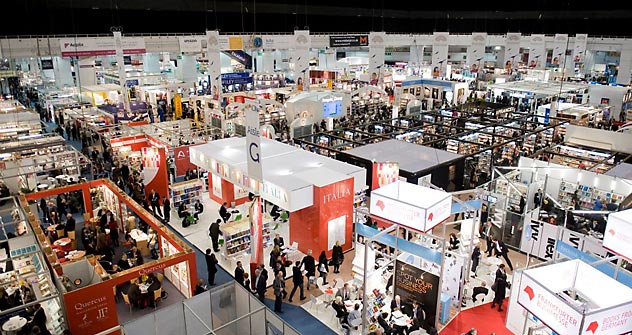 The London Book Fair 2012. Source: Press Photo
The London Book Fair 2012 has revealed how western perceptions of Russian literature are being transformed with the exciting range of new contemporary works that are now reaching international audiences.
The Russian literary events surrounding the annual London Book Fair (LBF) have become highlights of the capital's Russophile calendar. There was a particular focus on Russia at last year's fair, attracting hundreds of readers, writers, bloggers and publishers, and interest is still strong this year. Academia Rossica, which promotes Russian cultural events in the UK, organized a week of films, awards, signings and discussions, billing itself as the Slovo Festival (or the Word Festival).
James Rann, Academia Rossica's Literary Projects' Coordinator said this year's book fair had seen "a marked rise" in the number of people visiting the Read Russia stand. These included several smaller publishers eager to promote their books: new presses like Glagoslav, who have just published a translation of Zakhar Prilepin's novel Sin, and last year's winner of the Super National Bestseller Award.
According to Rann, contemporary writing is changing western people's perceptions of Russian literature, which he says is "coming out of the shade of the birch trees". He went on: "Big novels, grimness, the iron hand of power clamping down on people. These traditions are still there. But good publishers are also producing books that are slim, readable and funny". Rann is currently working on a translation of Anna Starobinets' fabulous new novel, The Living One which will be published by Hesperus Press in the autumn. He describes Starobinets as part of a new generation of writers who live "in a more globalized culture and take influences from all over the world".
Writer of internationally best-selling historical thrillers, Boris Akunin, kicked off events this year with a discussion about "a country riven by contrasts and paradoxes." He also introduced the premiere of the film Spy which is based on one of his novel The Spy Thriller. The next day Akunin gave a talk on "The power of mysteries and the mysteries of power" discussing a character from his books – the world-famous detective Erast Fandorin. He also spoke about his own involvement as an opposition leader in Russia's protests earlier this year.
Zakhar Prilepin, bad-boy of contemporary letters, stepped in to give a quick-fire speech to a mostly Russian audience when journalist Alex Dubas was delayed and, later in the week, he discussed Russian youth movements with James Jones, maker of a recent documentary Putin's Army. There was also a growing emphasis on writing by women; Natasha Perova, founder of GLAS, which has been translating and publishing Russian books for many years, says there is an increased demand for works by female authors. Perova is producing a collection of stories by young women writers to coincide with the American BookExpo in June.
Translation is obviously vital if more books are to reach an international audience and Rossica rightly focuses on this area. The third day of the book fair was designated as "translators day" (Monday and Tuesday having been dedicated to publishers and writers respectively). The official shortlists for the Rossica Prize and the Young Translators' Award were announced. The prizes will be awarded on May 15 at a special ceremony in the new Russian bookshop in Waterstones on Piccadilly. Professor Pamela Davidson, one of the troika of judges wading through the unprecedented number of entries for the Rossica Prize, was impressed by the "sense of passion and involvement among translators", and "the desire to broaden the readership". She was particularly encouraged by the fact that so many of the books on the long list were 21st century works, citing this as evidence of "tremendous interest" in contemporary writing.
Journalist and author, Alexander Kabakov, who was discussing politics and literature at a public event in Waterstones bookshop, is more pessimistic. He told me: "I think Russia is not interesting to people any more. Things are interesting when there is a scandal, war or revolution. Since 1993 there is nothing. For a lot of people in my circle it is bad to have no scandal to write about, but I prefer no interest. I think that life is more important than literature." But Kabakov was cheerful about being in London again and at LBF for the first time; the arrangements were "home-like" and he the atmosphere was "very good".
All rights reserved by Rossiyskaya Gazeta.