From unloved German Princess to sexy Russian Empress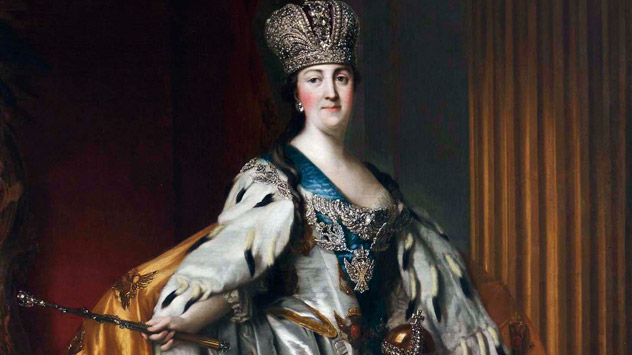 Coronation portrait of Catherine the Great. Source: courtesy of the State Hermitage Museum.
A new book about Catherine the Great offers insight into the life and loves of an extraordinary woman.
Two hundred and fifty years ago, Catherine the Great became empress of Russia. During her 34-year reign, she extended Russia's boundaries, presided over an age of cultural enlightenment and founded the collection, which became the Hermitage Museum.
"She sat on the throne of Peter the Great and ruled an empire, the largest on earth." This is how the American writer, Robert K. Massie, opens the chapter on her coronation in his new book "Catherine the Great: Portrait of a Woman" (Head of Zeus, 2012). The book, which received rave reviews and the new Carnegie non-fiction award in the United States, was published in the United Kingdom last month. The first half of Massie's book covers Catherine's loveless childhood and marriage, as well as all the adventures that lay between the "modest grey stone house on a cobbled street" in windswept Stettin and her coronation in Moscow's gold-domed Assumption Cathedral. As the subtitle suggests, this earlier part of her life is at least as important to the Pulitzer-winning author as her subsequent achievements. His epigraph quotes the Earl of Buckinghamshire, who was British ambassador to Russia when Catherine was crowned: "Perhaps the best description of her is that she is a woman as well as an empress."
Massie, now in his eighties (he describes himself charmingly as a "Methuselah figure"), has four daughters, (aged from 12 to 53) by two marriages. A lot of his research for this book involved "trying to learn about women." In some ways it is a feminist book, he said in an interview with RBTH, about a strong woman trying to survive in an age when women were generally powerless. "My daughters are growing up in a world which is a little bit fairer, but … men still get a free ride."
One symptom of the surviving inequalities is the smirking mythology that has grown up around Catherine the Great's love life. Massie points out that the empress's dozen lovers would barely invite comment had she been a man. He avoids any mention of the infamous horse-related legends; the closest the narrative gets is an intriguing image, from Catherine's memoirs, of the sleepless, young princess galloping on a hard pillow she imagined was a horse "until I was quite worn out."
Her varied adult intimacies are likewise shown as a natural part of life, openly acknowledged and often kept separate from politics. From her physical passion for the young, handsome Gregory Orlov to her lasting partnership with Gregory Potemkin, Catherine's romantic history is sympathetically portrayed. Her letter to Potemkin in February 1774 detailing her previous lovers is "unique in the annals of written royal confessions," not least for what it tells us about the empress as a person. "The trouble is that my heart is loath to be without love even for a single hour…" she writes.
Massie's generous use of Catherine's letters and vivid memoirs is one of the elements that bring this historical tome to life. We see the world through her eyes and, as Massie said, "she tells a lot of the story." The empathy this engenders for the little girl whose mother wanted a boy and whose husband drank and played soldiers with his servants, is set against the dubious circumstances of that husband's death and the seizing of power. Massie also allows Catherine to write her own epitaph. Her modest list of accomplishments, composed after Potemkin's death, states that "she wished to do what was good for her country and tried to bring happiness, liberty and prosperity to her subjects."
Catherine's dedication to Russia and its people is clear. The image of the princess catching pneumonia as she paced the stone floors of a Moscow palace in winter, while learning Russian by candlelight, was a powerful force in the early Catherinian myth. Her mastery of the language and conversion to orthodoxy, exchanging her original name, Sophia, for her new identity as Catherine, were signs of commitment. At the same time, like Peter the Great to whom Massie often compares her, she introduced European ideas into Russia in the fields of "moral, political and judicial philosophy, literature, art, architecture, sculpture, medicine and education." She built hospitals, schools and orphanages and had herself inoculated against smallpox as an example to her people.
All rights reserved by Rossiyskaya Gazeta.