Flowers and Stalin: H.G. Wells in Russia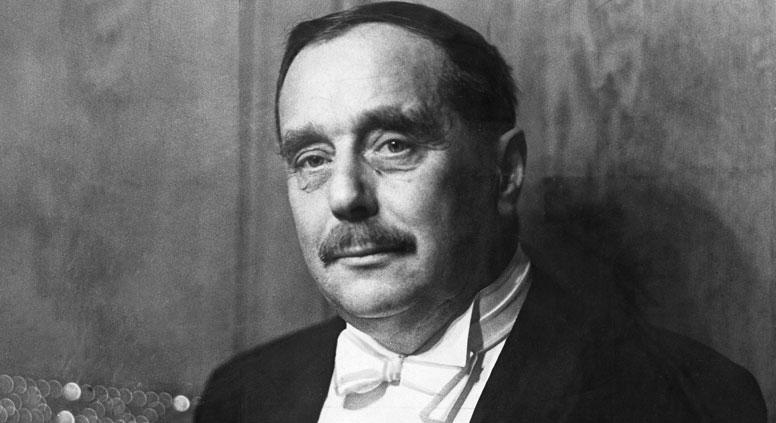 H.G. Wells met Lenin, Stalin and had a love affair with Maxim Gorky's former mistress. Source: Ullstein bild /Vostock-Photo
The novelist H.G. Wells visited Russia three times and described his trips in memoirs and newspaper articles – including his impression of Lenin as "an amazing little man" after they met in 1920.
When H.G. Wells travelled to the newly formed Soviet Union for his second visit in 1920, he was shocked by the differences from his earlier visit six years before. "Our dominant impression of things Russian is an impression of a vast irreparable breakdown," he wrote in his memoir Russia in the Shadows, showing his sympathy with a country that had been "smashed utterly" by six years of constant war.
Flower shops in a starving city
Wells was very observant during his 1920 trip, and his memoir marvels at how people continued to live, despite the strain and difficulties of post-war Soviet life. In St. Petersburg he was amazed to find flower shops still thriving: "It is a wonderful fact, I think, that in this city, in which most of the population is already nearly starving, and hardly any one possesses a second suit of clothes… flowers can be and are still bought and sold."
Wells admired the resilience of the Russians he met, from a conductor who had fashioned a dinner jacket for performances, to scientists who were determined to keep researching despite a lack of resources. He pledged to aid these scientists and helped raise funds and support after he returned to London.
However the trip also sometimes provoked Wells's hostility at times. He describes being irritated by the number of statues and portraits of Karl Marx, whose "vast solemn woolly uneventful beard" constantly annoyed him: "A gnawing desire grew upon me to see Karl Marx shaved. Some day, if I am spared, I will take up shears and a razor against Das Kapital; I will write The Shaving of Karl Marx."
Fortunately Wells managed to restrain this urge long enough to arrange a meeting with Lenin, who he considered intelligent and charming. Although Trotsky later claimed that Lenin found Wells a dull "petit-bourgeois", the British novelist's account is more positive. "I was disposed to be hostile to him," Wells wrote, but he "at least has a vision of a world changed over and planned and built afresh."
Romance and confrontation
The 1920 trip was a chance to see old friends – and also to meet new people. Wells stayed with Maxim Gorky in St. Petersburg, where the two friends found they shared more than their love of literature. Wells began a romance with Gorky's former mistress, Baroness Moura Budberg, who became his official guide and translator. Many years later, Wells's son Anthony West described his father's intense adoration for Moura: "My father could not reason himself out of his intoxication with her, and however little future his passion might seem to have, he went home with it burning in him."
Moura did eventually move to London in 1929 and became Wells's companion. This was a complicated but lasting romance; the writer John Gray suggests that "Wells was involved with many remarkable women, but he was drawn to none of them as he was to Moura Budberg."
When Wells returned to the Soviet Union for his final trip in 1934, he asked Moura to accompany him. She refused, claiming it would be too dangerous, and he was devastated when he discovered she had secretly visited Gorky a few months previously. He describes their confrontation in his Postscript to an Experiment in Autobiography,and many have speculated whether Moura admitted to spying on Wells during and after his visit.
During his final trip, Wells interviewed Joseph Stalin. He challenged the leader, informing him that many people "regard your simple class-war antagonism as nonsense." But after being so shocked by the state of St. Petersburg and Moscow in 1920, Wells also admitted grudging respect for the improvement in living conditions he found under Stalin's rule.
"I have already seen the happy faces of healthy men and women," he told the leader, "and I know that something very considerable is being done here." Nevertheless, he went on to write Babes in the Darkling Wood (1940), in which two young Stalinists become bitterly disillusioned.
The author David Lodge explains that "the first area in which Wells claimed specialist knowledge was the future." Yet his observations of the past and present in Russia also claim an insight into a country in transition, leading him to speculate on all the ways a country might deal with adversity.
Dr. Dorothy Butchard is an academic researcher specializing in the study of literature and technology. She currently teaches 19th and 20th century literary culture, and her latest project traces connections between American, British and Russian literature.
All rights reserved by Rossiyskaya Gazeta.