1. Maxim Gorky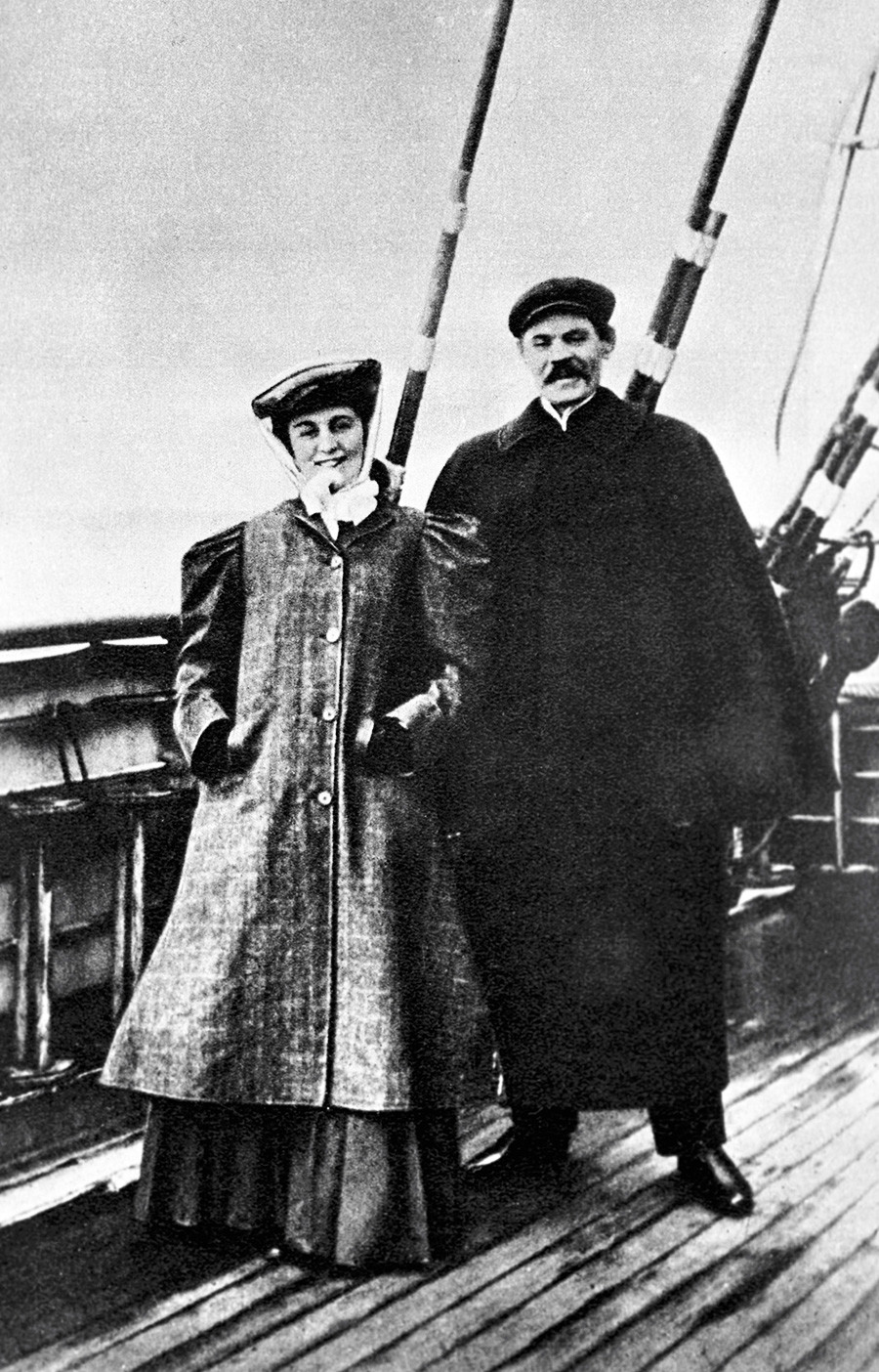 The famous writer Maxim Gorky visited America in 1906 at the personal request of revolutionary leader Vladimir Lenin. Gorky hoped to tell Americans about the recent revolution in Russia, and to gather money for its needs.
Gorky and his fellow traveler, Maria Andreeva, stayed in the Hotel Belleclair, on the corner of Broadway and 77th Street, which still stands today. Everything went fine until the newspapers discovered that Andreeva wasn't Gorky's lawful wife and that he hadn't divorced his previous wife. This led to a major scandal, and Gorky was shunned for his immorality. Citing existing American law, the Belleclair and all other Manhattan hotels refused to host Gorky and Andreeva.
Though Gorky insisted that Andreeva was his lawful wife, a local newspaper, The Evening World, published a story about this scandal on page one, quoting the writer: "I think this disagreeable act against me could not have come from the American people. My respect for them does not allow me to suspect that they lack so much courtesy in their treatment of women. I think that this dirt has been conspired by friends of the Russian Government."
Gorky left his impressions of everyday American life in a collection of essays called, In America. He described giant ships like ancient beasts, angry whistles, "the anchors' chains rattling," and "ocean waves that roar."
"This is the city, this is New York. Twenty-floor buildings, speechless and dark 'scrapers of the sky' stand on the shore. Square, lacking a wish to look beautiful, doomed, heavy buildings rise into the sky sullen and bored. <...> From afar the city looks like a huge jaw with uneven, black teeth. It breathes deep into the sky with clouds of smoke and sniffs like a glutton who suffers from obesity."
2. Sergei Yesenin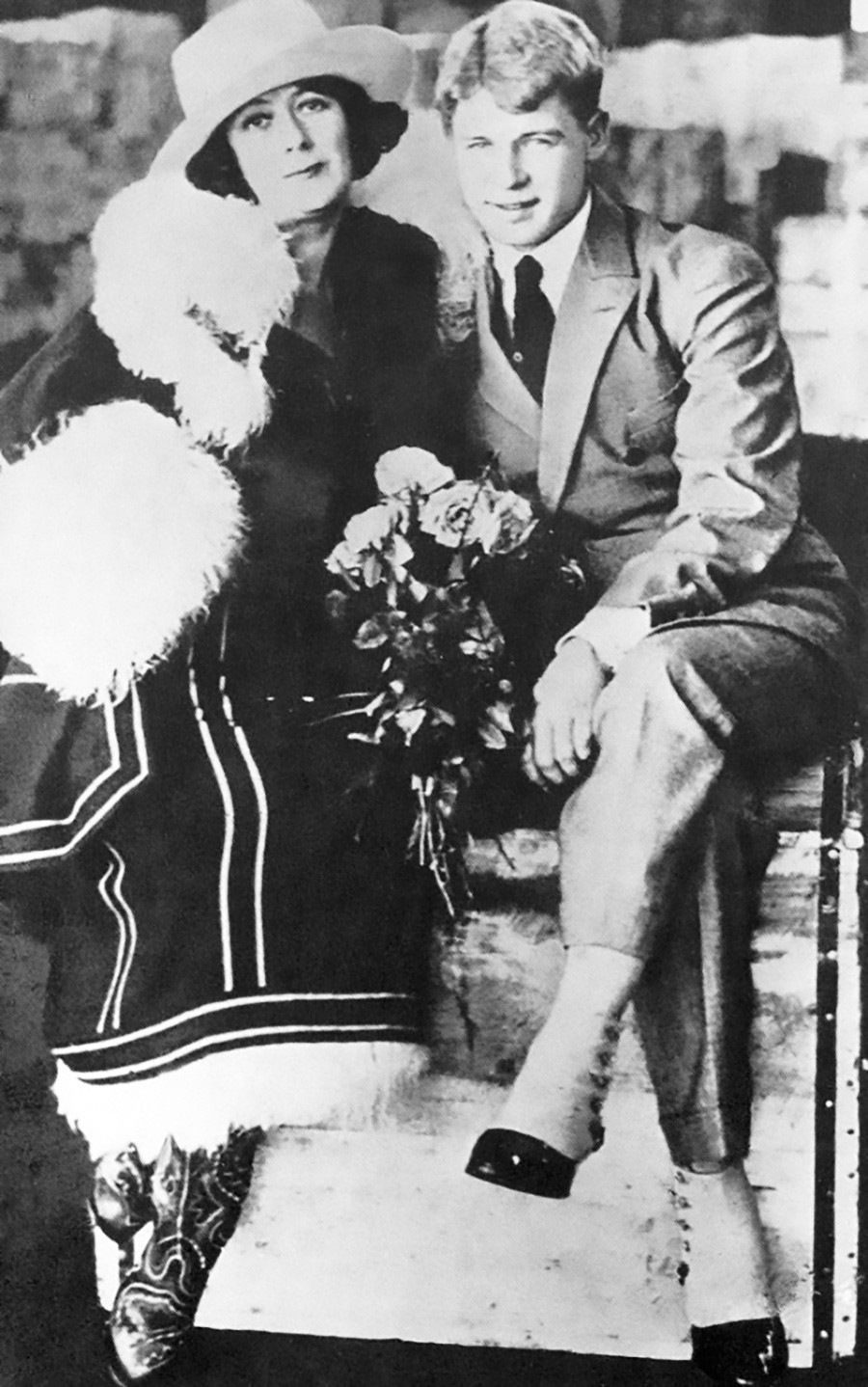 Sergei Yesenin and Isadora Dunkan in the U.S.
Archive Photo
Russian 'peasant' poet Yesenin received permission to accompany his wife, American dancer Isadora Duncan, on her performing tour of the States in 1922. America impressed Yesenin much more than Europe. The things that terrified Gorky instead amazed Yesenin - technical progress, skyscrapers, massive cranes, airplanes, and battleships with "huge levers like the arms of giants."
After his American trip Yesenin wrote the essay, Iron Mirgorod, as an allusion to writer Nikolai Gogol's collection of mystic stories, Mirgorod. One of the most powerful impressions was Broadway, whose electric lights were absolutely foreign for a Russian, who was "used to life under the moonlight and candle light in front of icons."
But after spending time in the States, Yesenin wrote a letter to his friend, Alexander Sakharov, saying: "What can I tell you about this awful kingdom of bourgeoisie that borders on idiocy? There is nothing here, except the foxtrot. Gobbling, drinking and again foxtrotting. I haven't yet met a real human here and don't know where to search for him. Mister dollar is terribly fashionable, and they don't give a damn about art - the most sophisticated thing for them is the music hall."
In Mirgorod, Yesenin was not so harsh with his critique, and he noted that the rest of America doesn't look like New York. "Deeper in the land towards California, the impression of bulkiness fades away: you can see plains with scarce forests (they are sadly and terribly similar to Russia!), and small wooden settlements of Negros."
3. Vladimir Mayakovsky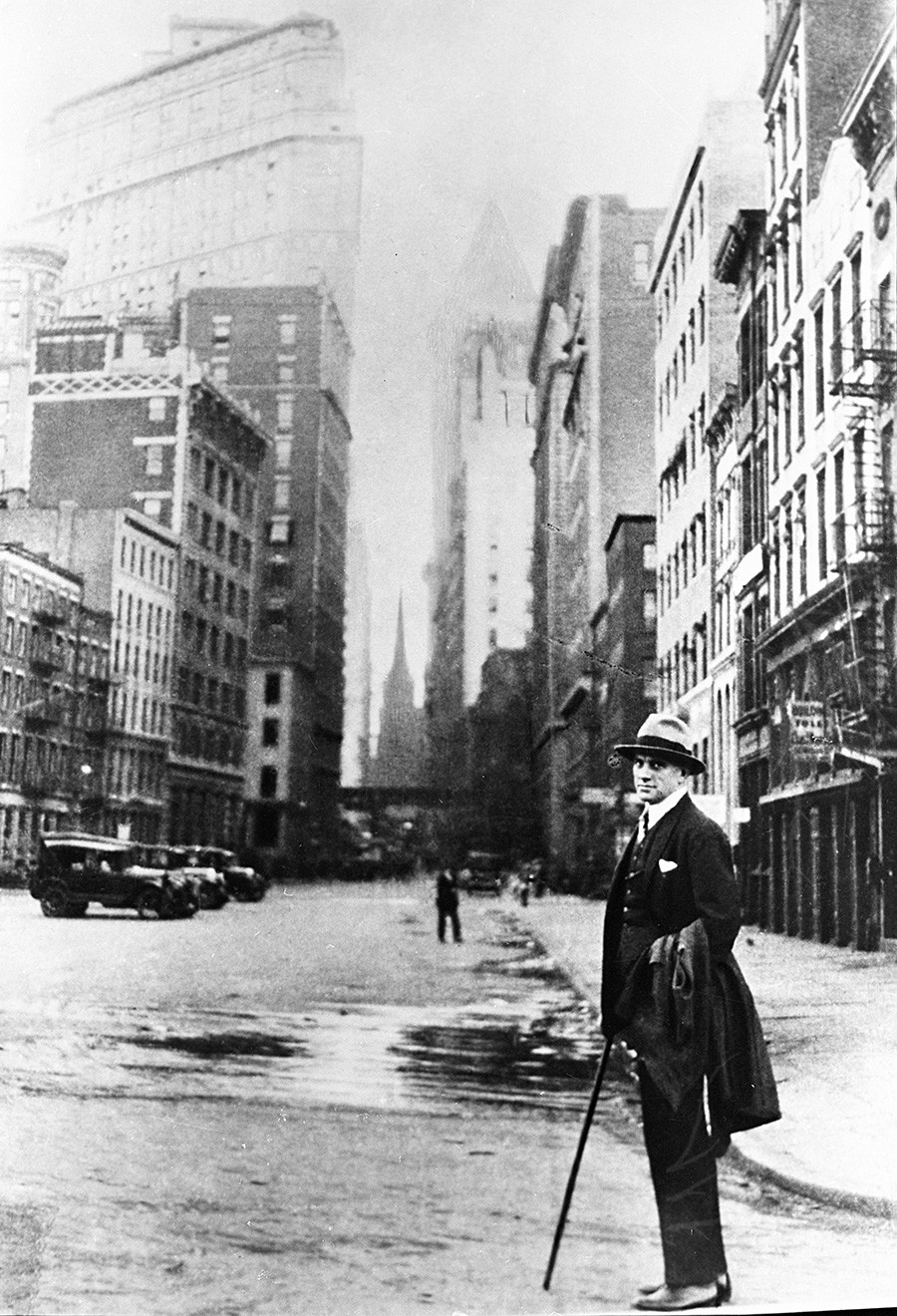 Vladimir Mayakovsky in New York. 1925. Reproduction of the photograph
RIA Novosti
Soviet poet Vladimir Mayakovsky was denied a U.S. visa twice before he received permission to enter Mexico in 1925. After three weeks learning Mexican culture and traditions, Mayakovsky set off to the U.S. without knowledge of English.
In his book, My Discovery of America, he depicted the country with its diverse weather, streets and people. Here is his first impression written down when arriving in New York on the train: "More than the twisted nature of Mexico astonishing us with its plants and people, New York, popping up from the ocean, shocked us with its large number of construction sites and machinery."
Mayakovsky visited Chicago, Philadelphia, Detroit, Pittsburgh and other cities. As a citizen of a socialist country he was shocked by the extent of capitalism.
"There is a certain poetry in the way an American treats the dollar. He knows that a dollar is the only power in this hundred millions bourgeois country (as well as in others), and I am sure that in addition to the money's features, an American aesthetically enjoys the dollar's green color, identifying it with the spring, and a bull in ellipse, which seems to him like a portrait of a robust fellow, a symbol of his affluence."
After leaving the States, Mayakovsky tried to summarize his emotions about the country. One of his main points was that there were too many cars. "It was time to think how to make them not to stink in the streets," wrote the poet.
Another point was that America "was growing fat." "People with only two million dollars are not considered rich young men in the very beginning of their career."
4. Ilya Ilf and Yevgeny Petrov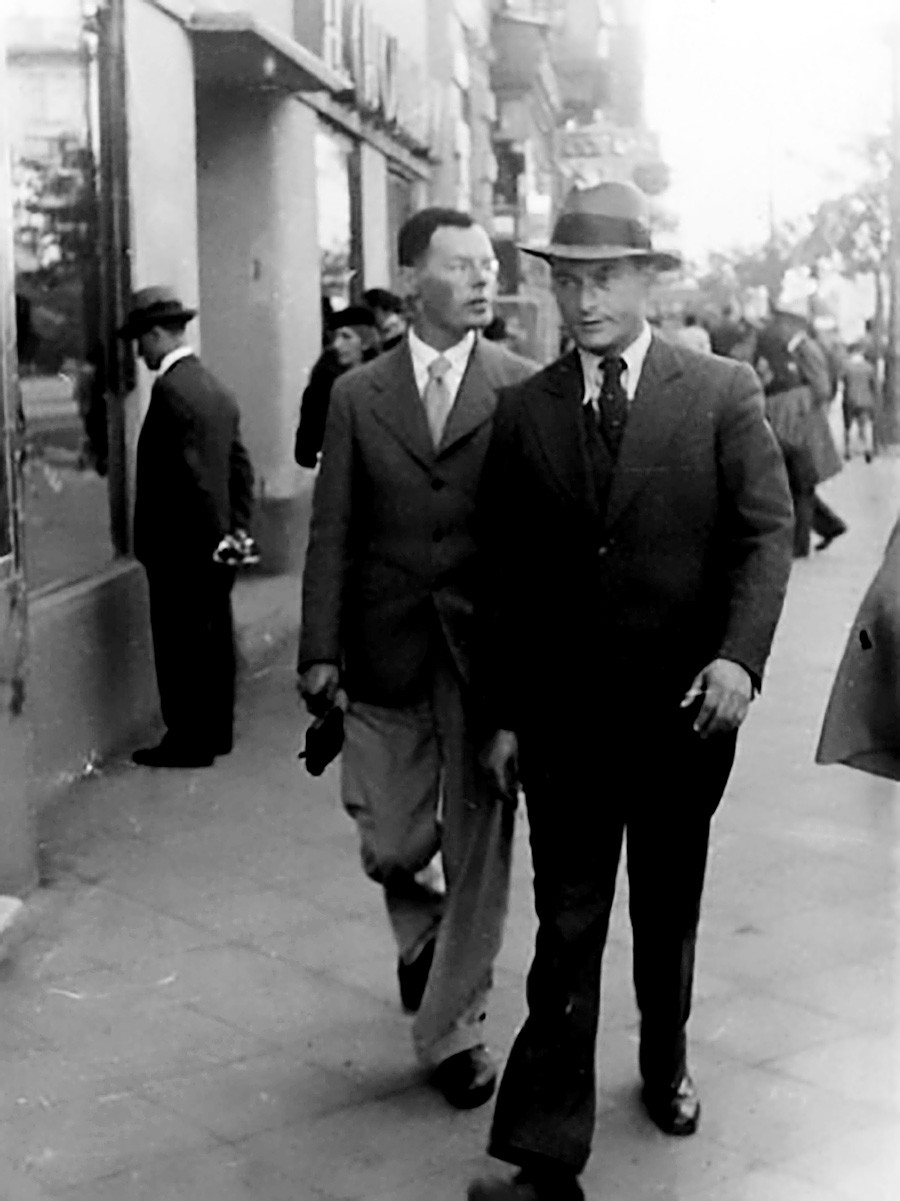 Ilf and Petrov in New York
Archive Photo
"Ah, America – a country, where people feast and drink without chasers," one character created by these coauthors said in the novel, The Golden Calf.
These writers saw a large part of America, driving across the country from East to West in 1935, and then writing the book, American Road Trip. They were also impressed by New York City, but in an absolutely good way: for example they were childishly surprised with the automatically turning lights in the hotel.
"New York is not one of those cities where people move slowly. People who passed us did not walk, they ran. And so we, too, ran. We spent a whole month in New York, and during that time we were constantly racing somewhere at top speed."
Walter White would be surprised to learn that these writers also reached his native city, on their way to Las Vegas. "Passing through the desert we stopped in a score of cities and, not counting Santa Fe and perhaps also Albuquerque, they were all like Gallup [New Mexico]. It is scarcely possible to find anything more paradoxical in the world: standardized cities in a varied desert."
Ilf and Petrov even managed to see the construction of the Golden Gate Bridge, labeling San Francisco the most beautiful city in America. The other pearl of the West Coast didn't impress them:
"Los Angeles is a ponderous city with large buildings, dirty and populous streets, iron fire escapes that stick out of the facades of buildings. This is Californian Chicago - brick, slums, the truest kind of poverty and the most revolting wealth."
Find out more about their journey here>>>
If using any of Russia Beyond's content, partly or in full, always provide an active hyperlink to the original material.