Oleg Tolstoy: A photographic ode to a creative dynasty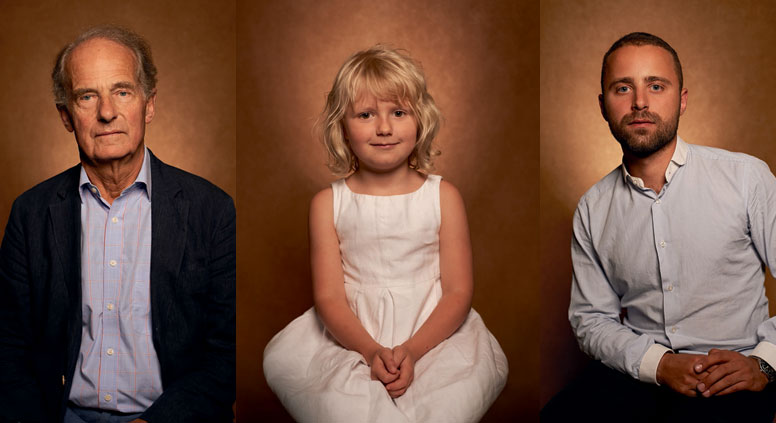 Oleg Tolstoy, a UK-based photographer and relative of great Russian writer Leo Tolstoy, has released a photographic book dedicated to his famous family. RBTH investigates the story behind this project, "The Tolstoys in the 21st Century".
When RBTH recently published an article on Leo Tolstoy's famous great-grandchildren, we received an email from a certain Oleg Tolstoy, a British photographer with a portfolio of celebrity work including Elton John, Victoria Beckham and Mick Jones. Tolstoy alerted us to the recent publication of his photographic book featuring 82 descendants and relatives of the famous patriarch, which is a fascinating look at this celebrated creative dynasty.


Privileged access for a fellow Tolstoy



Oleg Tolstoy was born and raised in England, but he has always taken a great interest in Russia – and especially in Leo Tolstoy's family. "I have had people asking about my name all my life," Oleg explains. "They want to know if I'm related to the author or if I changed my name because I'm such a big fan of Tolstoy and so on."


Every two years the Tolstoy family holds a "reunion" at the Yasnaya Polyana estate in Russia's Tula Region, where Tolstoy spent almost his entire life. "I saw this as my chance to meet relations from all over the world that carry the same name and make a photographic study of the Tolstoys today," says Oleg. 


So, in the summer of 2012 Oleg headed to Yasnaya Polyana with his father, brother and a great deal of photographic equipment. Photographing inside Leo Tolstoy's house is usually forbidden, but an exception was made for Oleg, who turned a room into a temporary photography studio, where he took 82 portraits of relatives over four days.
"During the course of the photo sessions, it became clear to me that it was important to each sitter that their portrait was taken inside Tolstoy's home," he says. It was, by his own admission, the most unique studio he will ever work in. 


An unparalleled creative lineage

The book contains three expert introductions that add background information to the photographs. The first comes from Ekaterina Tolstaya, the current director of the Yasnaya Polyana estate, who explains the estate's function as a museum and discusses the Tolstoy family reunions, which have taken place every two years since 2000.
The British writer, art critic and curator Edward Lucie-Smith writes the second introduction, in which he suggests that Leo Tolstoy's legacy is unique among writers. According to Lucie-Smith's research, it seems that no other great writer has ever left so many creatively talented descendants that have preserved their ancestor's legacy as the Tolstoys continue to do.
"When we meet one of the descendants of a genius, we somehow feel that we have been in touch with the genius him — or herself," Lucie-Smith writes. He also explores the fate of Leo's children, a subject that the Russian writer and Tolstoy expert Pavel Basinsky has also recently examined in his book "Leo in the Shadow of Leo", which has not yet been translated into English.


In another introductory article, the Tolstoy biographer and translator Rosamund Bartlett discusses the importance of family to Leo Tolstoy and tells the dynasty's story from its origins in the 14th century, its increasing closeness to the ruling Romanovs, into the early 19th century and the story of Leo Tolstoy's father.


"I think Oleg's splendid portraits provide abundant proof of the strong vein of creativity being passed down from one generation of the Tolstoy family to the next," Bartlett told RBTH.
"The acute and sympathetic understanding of human psychology Oleg demonstrates in his photographs of his relatives shows him to be an eminently worthy representative of the great writer's legacy."
All rights reserved by Rossiyskaya Gazeta.