Melancholic Songwriters? Balalike it!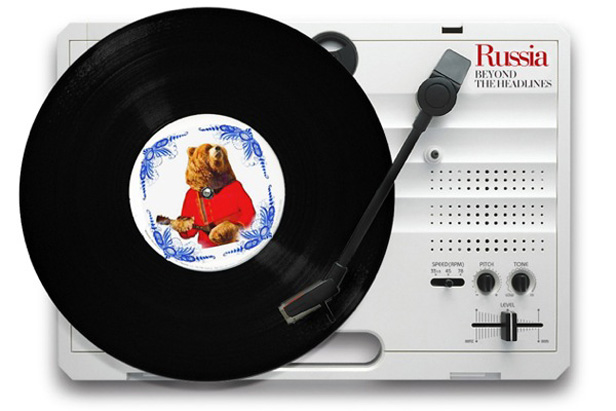 For those who don't think that Russian music ends with the last accord of balalaika we would like to present our new audio-podcast devoted to the contemporary Russian music. The aim is to show the great diversity of Russian musicians, performing in various genres from jazz to experimental trip-hop. Some of the artists are much influenced by western culture, others try to develop and promote authentic Russian sound and mainly Russian lyrics.
We invite you to a promising journey beyond the headlines and prejudices. And it's up to you to decide whether you like it or even... balalike it.
Russian winter seems to be endless: for five months it is cold and snowy, and the sky is grey and unpromising. So, the coziest solution is to stay at home, read books and listen to the music of Russian songwriters, whose voices will drown you in warmth.
Russian songwriting comes directly from Russian rock. Authentic Russian rock, however, has nothing in common with the brutal sounds of hard rock. The most prominent symbols of Russian rock — Viktor Tsoi, Leonid Fedorov, or Boris Grebenschikov — were known for their philosophical lyrics.
These songwriters were popular among late-Soviet intellectuals, and they are still adored today — and not only in terms of nostalgia. Even modern hipsters hipsters (visitors of the most Western-oriented music festival, Afisha Picnic) are proud to say that among all MTV stuff they have the whole discography of Kino (the well-known band of Viktor Tsoi) on their iPods.
Today Oleg Legkiy is a star of Russian Internet
Influenced by Russian rock from early childhood (their parents listened to it), and surrounded by the naïve tendencies of contemporary art — and contemporary music in particular — modern youngsters took up guitars and started to write their own songs. Well-crafted lyrics and unassuming melodies soon circulated around the Internet.
Here is one of the recent success stories: in early November, Khabarovsk resident Sergei Podledenev (a.k.a. Oleg Legkiy) uploaded 8 short tracks recorded at home to the Russian social network, Vkontakte.ru. These songs were about different kinds of fish: one track was devoted to a crucian carp; another described the severities of a goldfish's life. In a few days, Oleg Legkiy received 47,877 likes and 18,522 reposts. Immediately after that came the interviews and concerts.
Today, Oleg is a real star on the Russian Internet. This is not Gangnam Style or the Harlem Shake: there is no visual accompaniment, and it is not a kind of viral video that everyone can copy and post to YouTube in response. It is inspiring proof that something ingenuous (or even odd) can gain huge popularity. All of this leads to an increasing interest in home-grown, unpretentious songwriting.
TRACKLIST:
1) Synecdoche Montauk - Moskovskoe vremya (Moscow time)
2) Synecdoche Montauk - Nikitsky boulevard
3) 19:84 - Zima (Winter)
4) SBPCH - Snezhniy Chelovek (Snowman)
5) Kekster Dynamics - Kapitan Ptits (Captain of the birds)
6) Monty Mechanic - Letchik (Aviator)
7) Monty Mechanic - Anya
All rights reserved by Rossiyskaya Gazeta.