Oldschool soup with Druzhba cheese
Russians have one association with the phrase "cheese soup": 'Druzhba' cheese, which literally means 'Friendship'. Find out how to make soup from it in our podcast.
One of the most popular first courses of Soviet public dining was a soup with potatoes, vermicelli, and not-quite-so-melted Druzba cheese floating in the broth. This was a clumsy local version of common dishes in European cuisine that included refined cheeses, cream, wine, and nutmeg. The best dishes of this tradition are made in Britain, the home of cheddar cheese.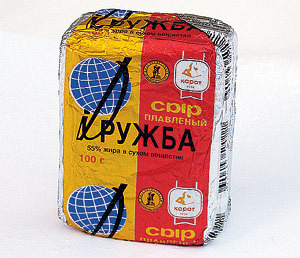 Druzhba Cheese
It's now possible to find many different brands of cheese spreads in Russia, both local and imported. But this was not an easy task in Soviet times. There was only one option available: cheese made at the KARAT Factory. In the 1960s, this factory developed recipes for and the technology to create well-known cheese spreads: Druzhba, Yantar, Volna, Gorodskoy, Shokoladny, and Kislomolchny, among others.

It's interesting to note that even to this day, KARAT is the permanent supplier of food products for government institutions like the Russian Army, the FSB (the former KGB), EMERCOM, and the Ministry of Internal Affairs. Its cheeses also make up part of cosmonauts' nutrition, as the company regularly ships its products to the International Space Station.
Cheese - 3 pcs
Potatoes - 3 pcs
Carrot - 1 pc
Onion - 1 pc
Mushrooms - 300 g
Toast bread
This is how we make it:
1) Cut the cheese into cubes so we can melt it in water later on.
2) Cut the potato into small cubes. Grate the carrot. Dice the onion.
3) Put the potato in hot water that has not yet come to a boil. In the meantime, we're going to braise the onion and carrots on a heated pan.
4) As soon as the water with the potato comes to a boil, it's time to throw in the cheese and try to get it to melt in the water. Add the braised carrots and onions next.
5) Now that the pan is freed up, toss the mushrooms onto it. Fry them up nicely. The mushrooms should be added to the soup at the very end.
6) Now we have to wait until the potato is boiled all the way through to know that the soup is ready.
To add a little variation to the soup, we made some toast strips from white bread. For seasoning, you can add a little thyme, red pepper, and toast strips. And there you have it!
Learn more about Russian cuisine from our video-podcast!
All rights reserved by Rossiyskaya Gazeta.