New defense minister at the mercy of conservative generals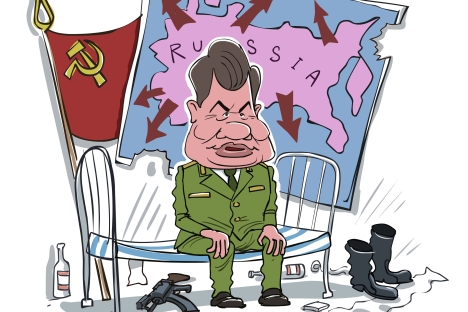 The Russian army may see some of the major reforms launched by former Defense Minister Anatoly Serdyukov scrapped, as his recently appointed successor, Sergei Shoigu, continues to give in to generals on lesser issues that still have an impact on the big picture.
Drawing by Sergei Yolkin. Click to enlarge the image.
When Sergey Shoigu was appointed new defense minister more than two months ago, the general atmosphere among the military elites was one of hope – hope that he would immediately reverse the decisions of his predecessor.
Serdyukov's reforms came under heavy criticism within the military, resulting as they did in the dismissal of tens of thousands of officers, the liquidation of hundreds of army units, and the closure of dozens of military training centers. The abolition of the mass mobilization concept, which was at the base of all these painful decisions, marked a break with 300 years of Russian military culture.
The situation did not improve, even when military pay was doubled (and in some cases tripled), or when tens of thousands of officers' families moved into new homes. Thus, in his first few months in office, Shoigu found himself under tremendous pressure from the so-called military community, which demanded that the new minister break away from the legacy of his predecessor.
However, when relieving Serdyukov of his duties, both President Putin and Prime Minister Medvedev commended him for the four years he had spent working to reform the armed forces. Their appreciation of Serdyukov's work made it clear to Shoigu that no drastic changes were expected from him. The situation proved to be anything but simple for the newly appointed minister.
So far, it looks as though Shoigu has managed to avoid making serious decisions, despite serious pressure from the "army community." Instead, he has turned to introducing marginal measures. One such example is allowing Suvorov School cadets to take part in Red Square military displays. He also ordered the restoration of old military schools and academies, as well as the establishment of new ones.
Shoigu's aides may be feeding him these acts in a bid to painlessly ease anxiety and build up authority, while keeping the main results of the military reform unchanged.
If the new minister has bought into such logic, then he is making a big mistake. These decisions only seem unimportant. Some of them, however, will necessitate new arrangements that will eventually result in a revision of some of the crucial elements of Serdyukov's reforms – just the way military conservatives want it.
Take, for example, the creation of new military schools. By establishing schools and academies for separate arms and services, the minister is essentially restoring the old three-tier military training system: to achieve a top military position, an officer is supposed to take four years of training in a military school, then spend three more years in a branch academy, and, finally, receive an additional two or three years' worth of training in the General Staff Academy.
The reformers deemed it irrational that senior officers spent almost half of their military careers isolated from the troops they are supposed to command. Accordingly, they shut down dozens of military schools and academies, suggesting instead that they be replaced by 10 training centers. Each school closure or merger was met with protests involving high-profile graduates of the schools in question.
Nevertheless, the reform was put in place. Now, Shoigu's efforts to establish new schools and academies undermine the original concepts of unified training centers, along with the concept of continuous military education. Once the new administration cancels Serdyukov's reforms outright, it will practically restore the Soviet military training system with excessive numbers of graduate officers.
This surplus amount can only be attributed to the possibility of mass mobilization.
The counter-reform that is currently underway is an inevitable result of the decision that the president made when he appointed Shoigu – the decision to once again make the minister of defense an army general. When commenting on this decision, analysts close to the Kremlin insisted that the president was trying to help newly appointed Shoigu build up his authority – something that the fiercely denounced civilian Serdyukov lacked.
However, Russian generals are skillful manipulators. They can easily make any new commander believe that he is a part of the army machine, and each new head of the Ministry of Defense inevitably feels like part of the military corporation.
Serdyukov attempted to split the Ministry of Defense into two tracks: the civil track, responsible for finance and supplies, and the military track. It just so happened that Serdyukov's colleagues from the tax service were appointed heads of the civil segment. It was precisely this "battalion in skirts" that rubbed senior officers the wrong way.
Civil officers will be replaced by generals, and, instead of making important political decisions, the minister will be doomed to deal with purely technical issues. It looks as though Shoigu has been taken hostage by the generals who have prepared these decisions.
Alexander Golts is a military columnist for Ezhenedelny Zhurnal (Weekly Magazine).
All rights reserved by Rossiyskaya Gazeta.