9 lingering myths about Russia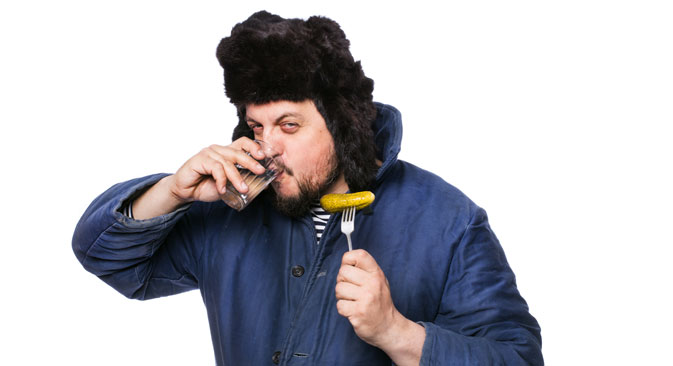 Russia has a reputation as the nation that drinks the most. Do you really believe it?
Shutterstock / Legion-Media
We are often held prisoner by imposed stereotypes and opinions about countries, people and events. RBTH has collected nine myths about Russia that are far from accurate.
1. The death rate in Russia is higher than its birth rate
There is a widespread belief that the death rate in Russia is higher than its birth rate. This fallacy used to have some truth to it: in the 1990s the population decreased significantly, a natural decline occurred in Russia over the next decade and census results promised gloomy demographic forecasts for the country. However, with complete objectivity we can state that today Russians are working much harder to produce children – the rate of natural increase in 2014 was 0.20 percent countrywide. Parenthood has been supported by state programs that pay subsidies upon the birth of a second child, which encourages larger families.
2. Russians drink more than anybody else in the world
Russia has a reputation as the nation that drinks the most. However, despite this commonly held stereotype, statistics attest that there is more than one alcohol consumption leader in the world. Every year a new country pushes towards the top of the list, while Russia is often surpassed by numerous other nations. Countries including – but not limited to – Lithuania, Estonia, France and the Czech Republic usually come in ahead of Russia.
3. In Russia you are allowed to smoke anywhere you like
Dear smokers, do not delude yourselves with imaginary permissiveness and be ready to smoke outside no matter how low the temperatures go during your stay in Russia. On June 1, 2013 an anti-tobacco law came into force, which forbids smoking in public places including bars, restaurants, hotels and trains.
4. Russia has the cheapest gasoline
Do not expect free gas, despite the country's natural resource output. The top positions on the list of countries with the cheapest gasoline are taken by Venezuela, Libya and Saudi Arabia. Russia comes in ninth place.
5. In Russia you cannot attend a protest or anti-government rally
You can, as freedom of speech is guaranteed by the country's constitution. Go into the street and shout as much as you like. But there is one important condition that must be observed: if you want to hold a demonstration with more than one person, you must provide the authorities with advance notification to hold a public event in writing. Then, as long as things remain peaceful and orderly, you can say whatever you want. True, it may not be as easy to hold a demonstration as it is in other countries, but it is far from illegal.
6. Russian lawyers planned a lawsuit against the producers of Harry Potter since Dobby the elf looks like President Vladimir Putin
The joke, which appeared suddenly and rapidly spread on the internet, did not receive an official confirmation. Millions of people waited for a follow-up to this story in great anticipation, but were disappointed to learn it was a hoax.
7. According to Russian laws beer is a non-alcoholic drink
Nothing of the sort. Beer in Russia is an alcoholic drink so you should express your sympathy with Russian drivers: they cannot drink even one can of beer, which is quite permissible in a number of other countries. In Russia the legal limit of blood-alcohol content is 0.3 per mille. However, fans of mildly alcoholic Russian kvas should not get too excited: Russian legislation does not distinguish between kinds of alcohol and prohibits drivers from taking any substances that causes intoxication. This includes cold medicine as well.
8. Russian economy is completely dependent on oil
This is a clear stereotype that does not take into account the many other important sectors of the country's economy. In terms of generating GDP oil is a big help, but there are some other crucial parts of the economy that we should keep in mind as well: commerce (18.4 percent), financing and services (17.5 percent), the manufacturing industry (15.6 percent), public administration, education, public health service and military security (13.6 percent). The data used here is from 2014, so pretty up-to-date.
9. Russians are the only natives of Russia
The Russian Federation – as the country is formally called – is a multinational state and more than 190 distinct peoples inhabit its territory. These peoples represent independent ethnic communities and carefully preserve their identities and traditions. Perhaps, your next journey should be connected with destroying this myth? Have you heard anything about nomadic schools? Would you like to stay overnight in a chum tent in Siberia or take part in venison pickling? Even Russians often admit that there are far more unusual and exotic places to go to around their country than abroad.
All rights reserved by Rossiyskaya Gazeta.