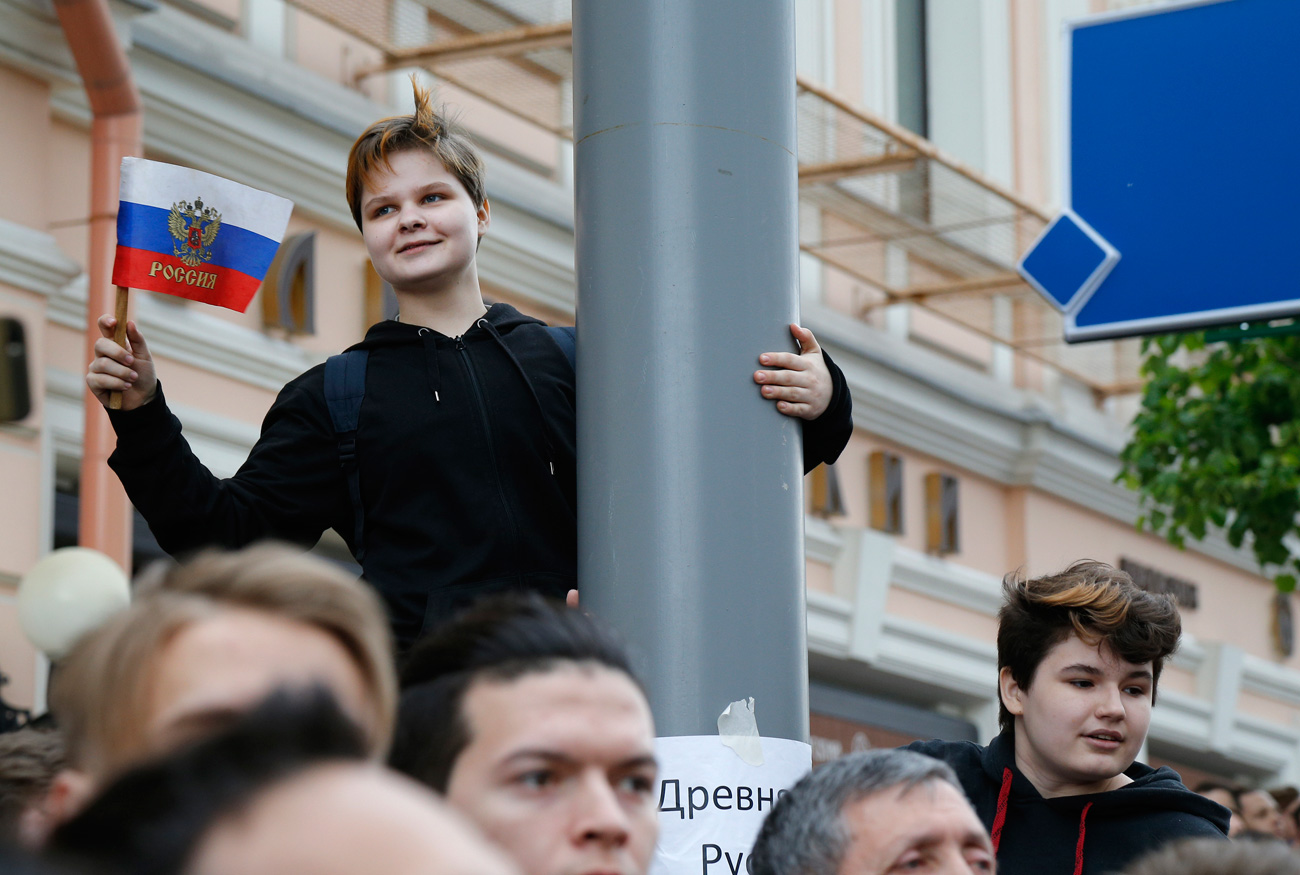 A young protestor holds up a Russian flag during a demonstration in downtown Moscow, June 12, 2017. / AP
Protests against corruption that were organized by opposition activist Alexei Navalny and his supporters took place in many Russian cities on June 12. These are the second major anti-corruption protests nationwide this year organized by the opposition leader. The first took place in about a hundred Russian cities on March 26 and was the country's largest political protest since 2011.
In Moscow, a protest on Sakharov Avenue was approved by the authorities, but 17 hours before it was due to start Navalny posted a statement on YouTube with an "emergency" appeal to his supporters to come to the city center, on Tverskaya Street, blaming authorities' refusal to provide a stage and sound at the official venue.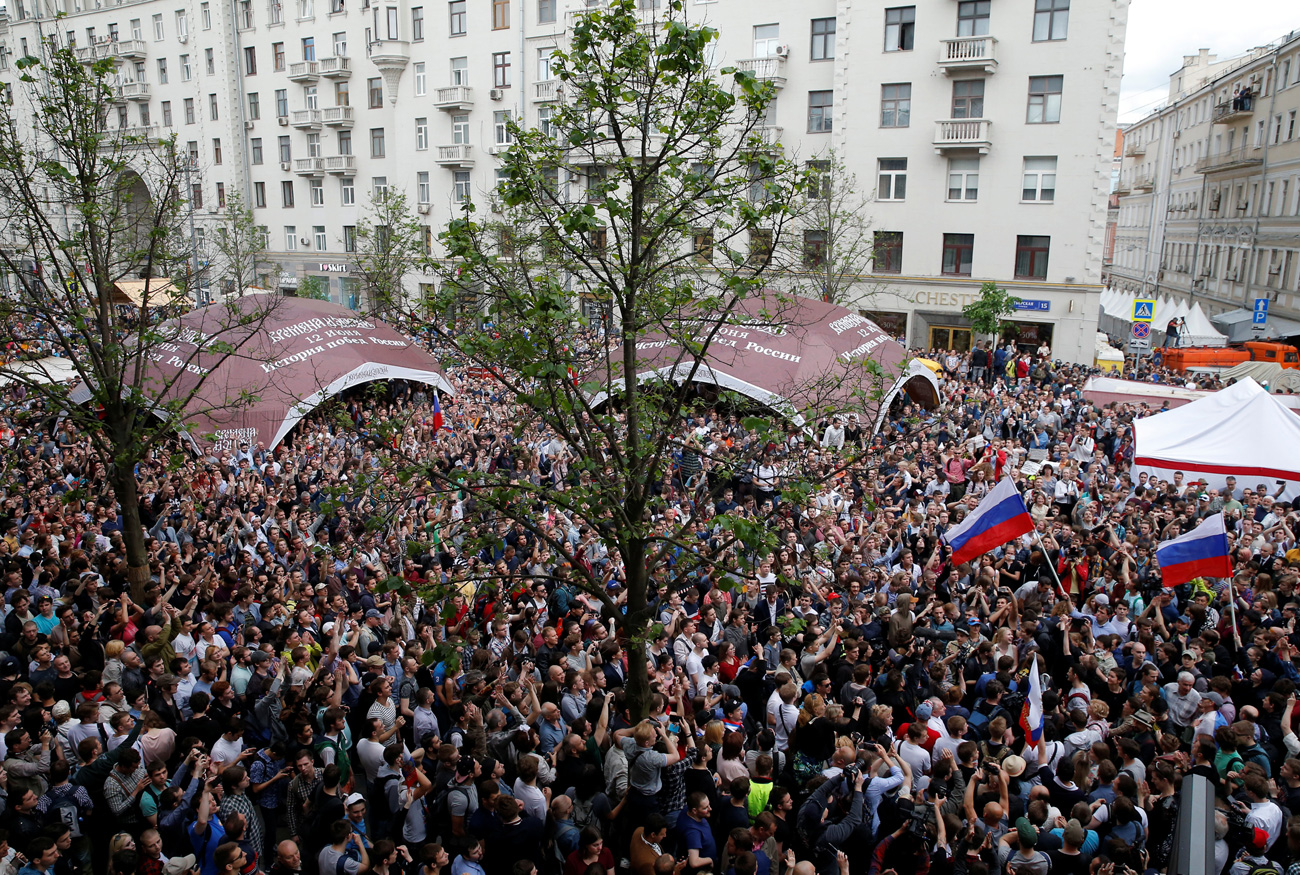 Demonstrators take part in an anti-corruption protest organised by opposition leader Alexei Navalny, on Tverskaya Street in central Moscow, June 12, 2017. / Reuters
After midnight, a warning was issued on the website of the Office of the Prosecutor General saying that any attempt to stage a protest on Tverskaya Street would be unlawful and that "law-enforcement agencies would be forced to take all necessary actions to cut short any provocations."
Several hours prior to the beginning of the rally, which was scheduled for 2:00 p.m. local time, police vans and OMON anti-riot forces took up position along the perimeter of Tverskaya Street and adjoining streets. Despite this, many ordinary citizens gathered there.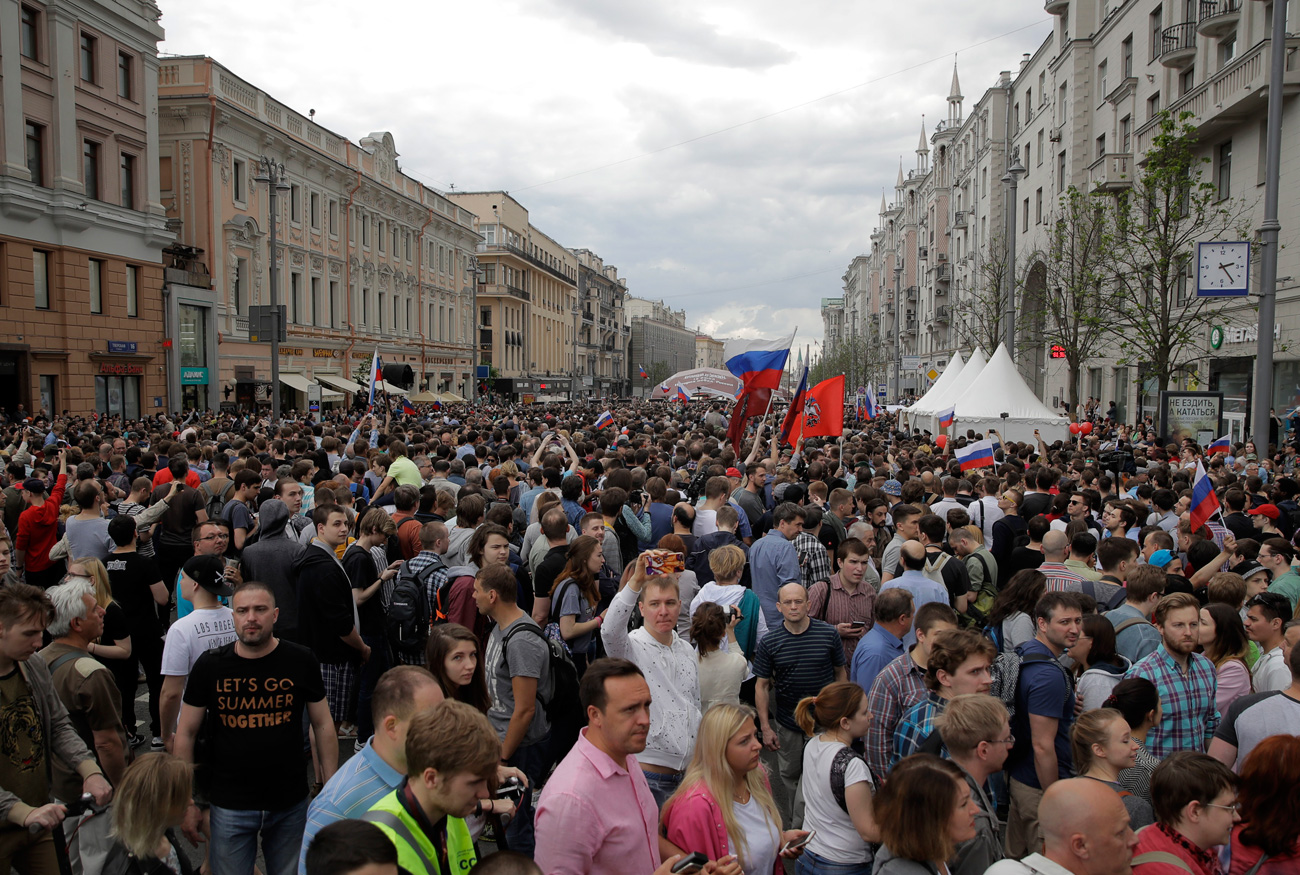 Protesters attend a demonstration in downtown Moscow, June 12, 2017. / AP
Today's protest coincided with the annual official June 12 holiday, Russia Day, for which Moscow authorities had organized a festival of re-enactments of different historical periods. Vikings, Cossacks, World War II soldiers with rifles on their shoulders, people in uniforms of the Napoleonic War of 1812, medieval torture equipment, and sandbagged barricades greeted protesters on Tverskaya Street.
What happened on Tverskaya?
At the appointed time, young people started gathering on the sidewalk along the street, predominantly students and school pupils who clearly hadn't come to see the historical re-enactments. There was already a crowd outside the cordoned-off area separated by metal detector gates.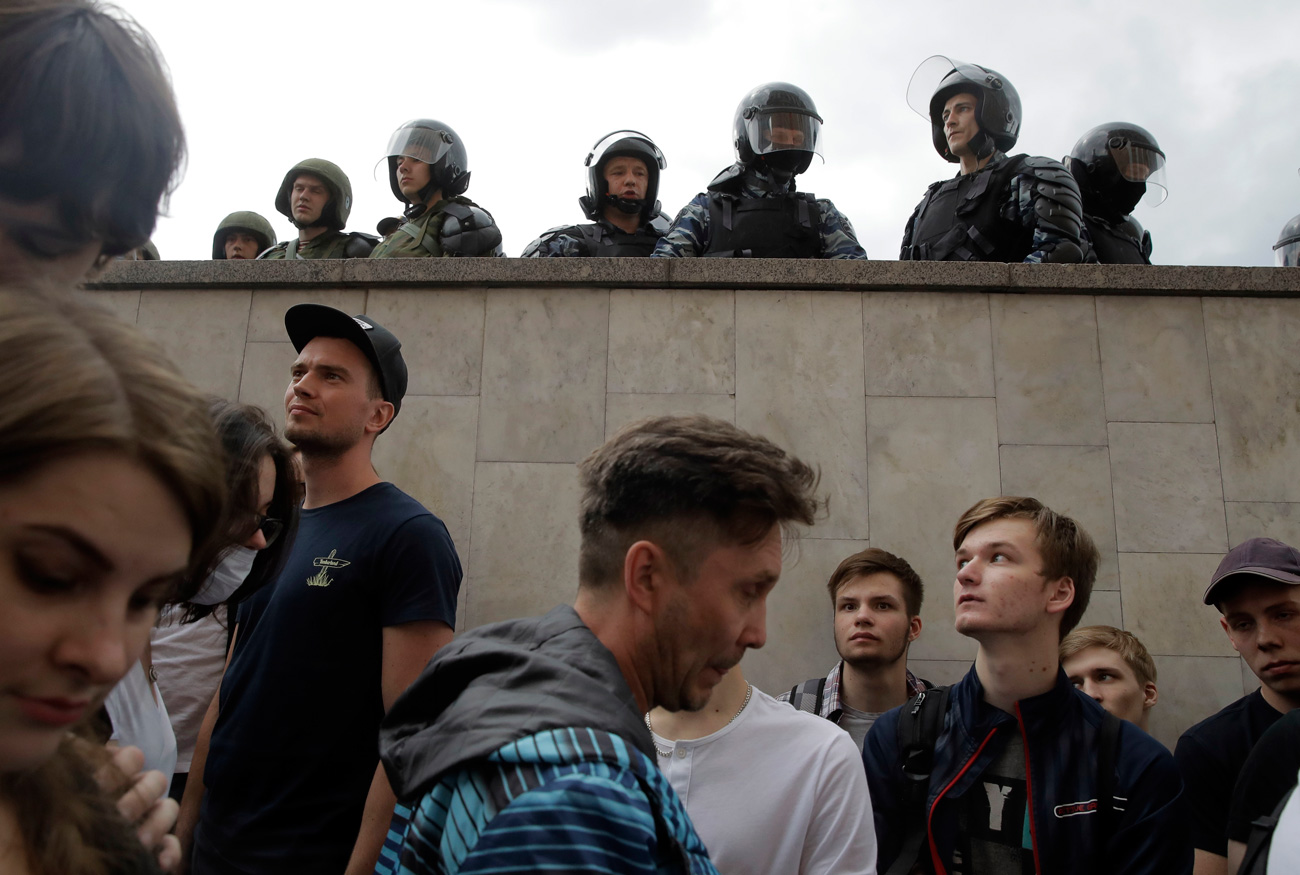 Police watch over a demonstration in downtown Moscow, June 12, 2017. / AP
Many people came with Russian flags and with homemade posters calling for corruption to be punished. Those who just wanted to stroll and look at instruments of torture and the tanks in the street reluctantly engaged in debate with protesters. The latter apparently were preventing them from getting into the holiday celebration area.
"Why protest? Nobody likes it. I can assure you that this is not about Navalny. They just lie to us, and it drives us mad," argued a young woman holding a folded poster.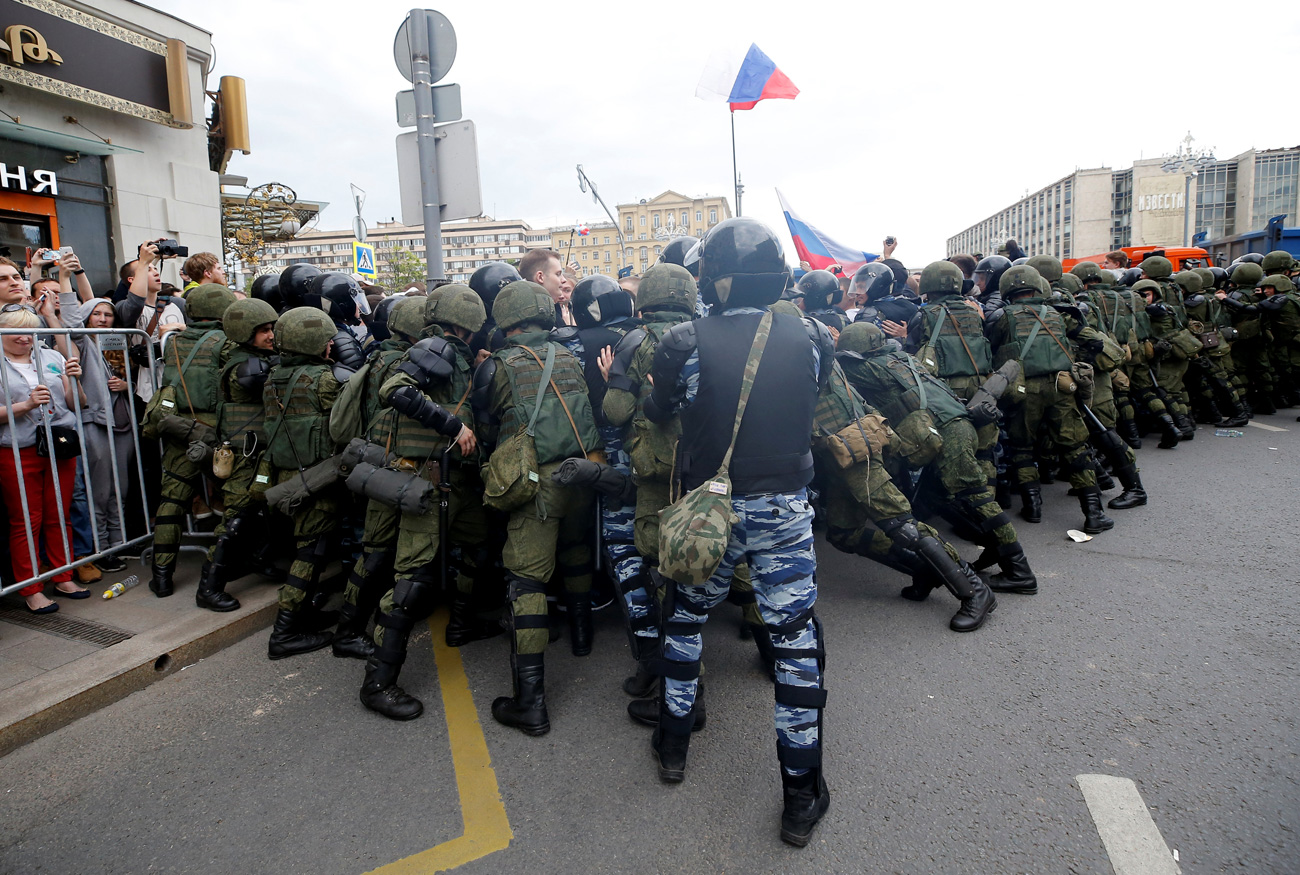 Servicemen of the Russian National Guard push people back onto sidewalks during an anti-corruption protest in central Moscow, June 12, 2017. / Reuters
The protesters tried not to unfold their posters before they passed control at the metal detector gates and the police cordon, trying to first see what was happening in other areas because the barriers, police vans and rows of OMON forces were obstructing their view.
Information appeared on the Internet that unknown persons were collecting personal data - personal pension account numbers - from those who went to Sakharov Avenue, (they were in a minority).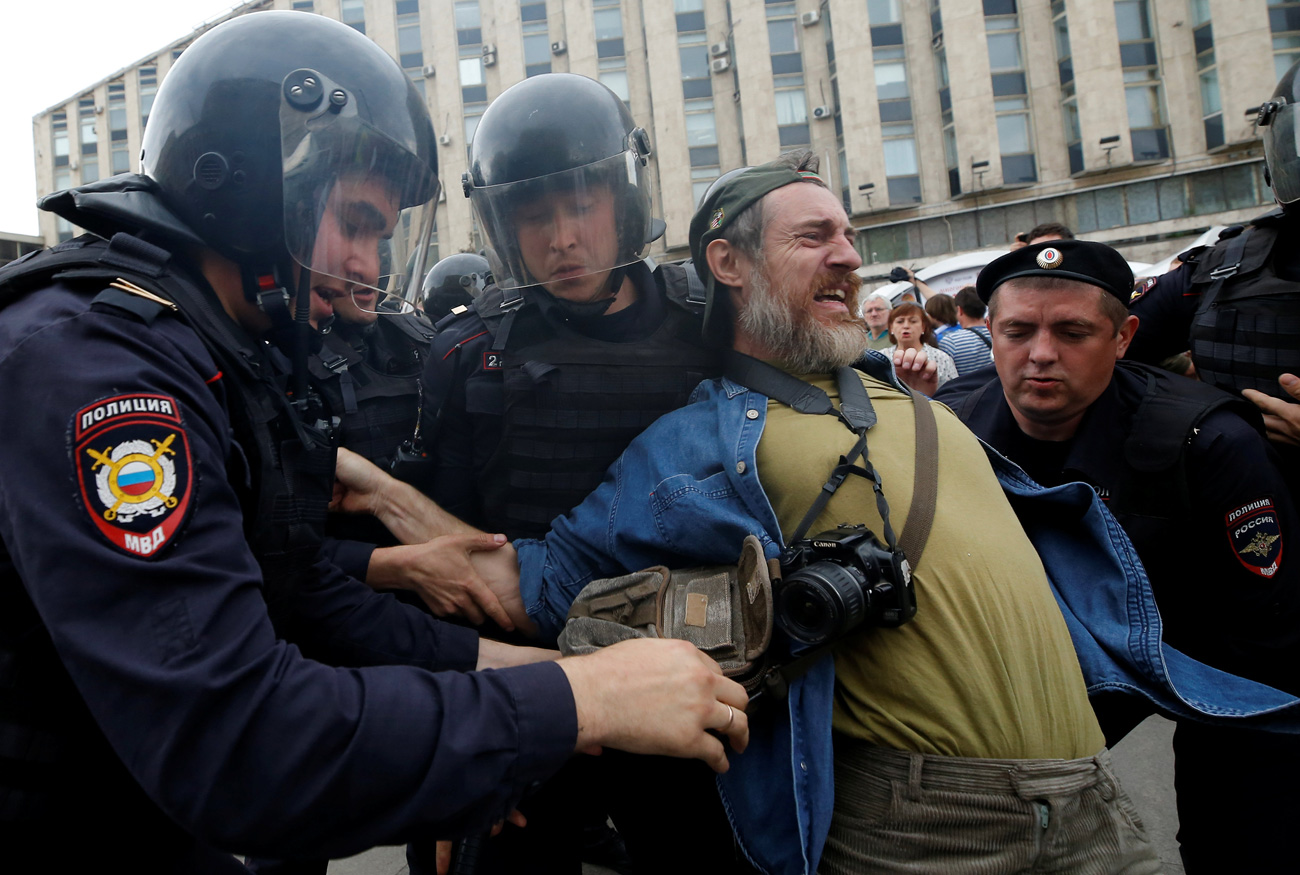 Riot police detain a man during an anti-corruption protest on Tverskaya Street, June 12, 2017. / Reuters
The mood changed dramatically at 2:05 p.m. when police moved towards the protesters, who were standing with unfolded posters loudly singing the Russian national anthem.
"Well, now we will definitely be kicked off our course," a young man, obviously a student, said to another young man. Still, they pushed their way to the barriers, carrying placards that were removed from the crowd by police one by one.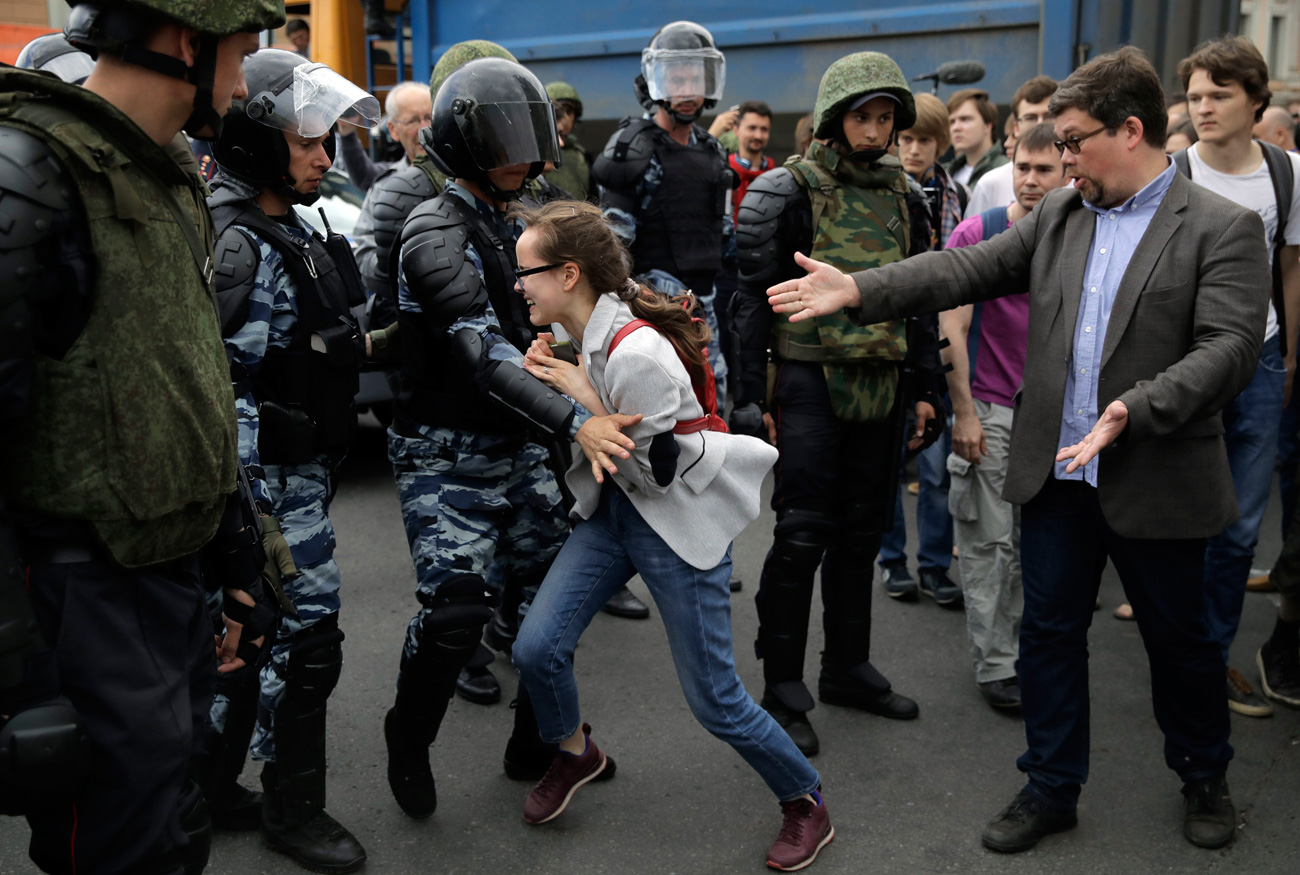 A young girl reacts after her friend was detained by police during a demonstration in downtown Moscow, June 12, 2017. / AP
A few steps away, in the Multiethnic Russia tent, a presentation was under way about the popular folk band comprising eight elderly women, the Buranovo Babushkas.
Twenty minutes later people were dragged along the ground or carried through the air, as the police snatched them out of the crowd even though people tightly surrounded those whom the police were trying to detain. The crowd chanted "Russia Day!" and "Shame on you" every time someone disappeared behind the doors of police vans.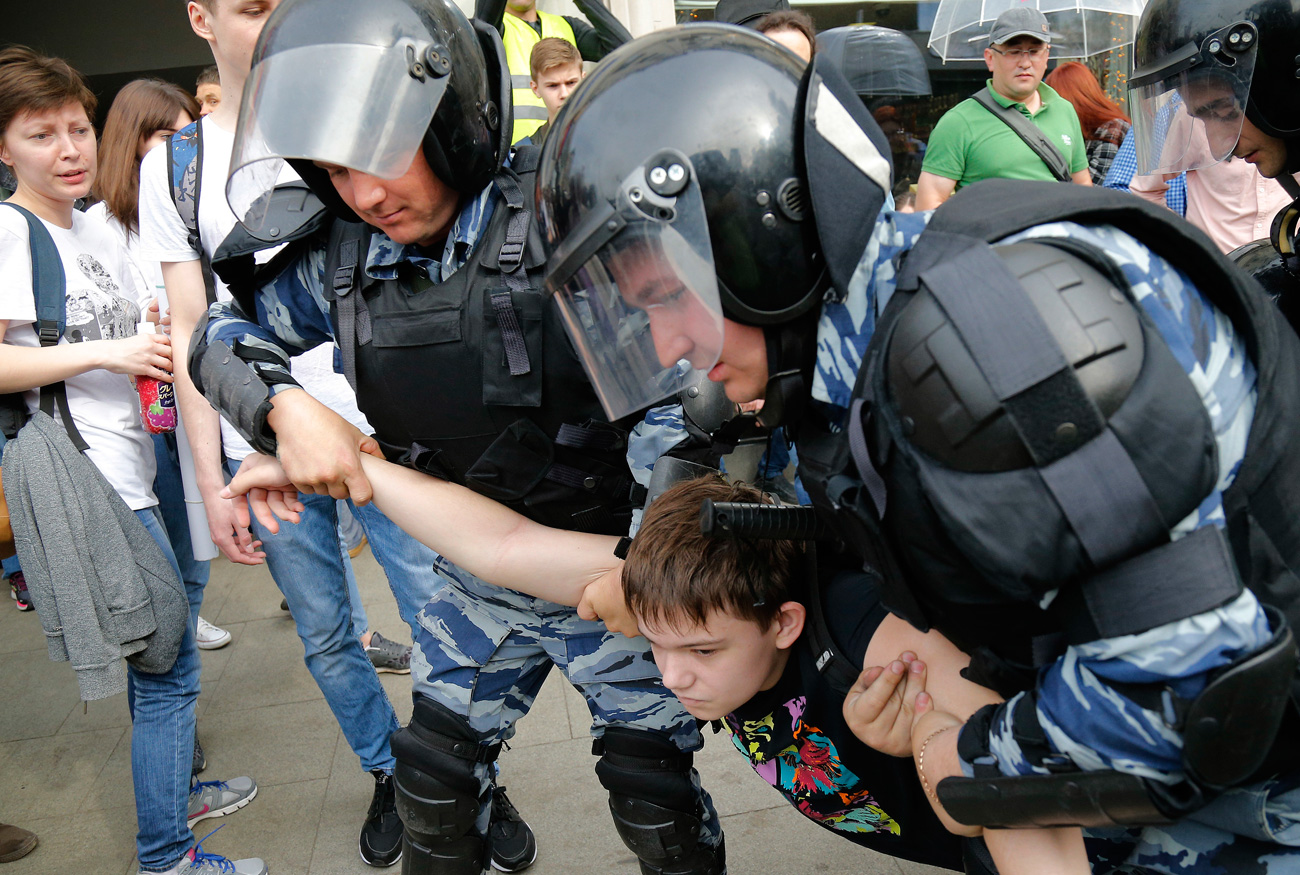 A young demonstrator is apprehended by riot police during a demonstration in downtown Moscow, June 12, 2017. / AP
Some young people were trying to snatch police batons, but journalists asked them not to indulge in provocations: "Don't you realize that you may be arrested? Do you want a new Bolotnaya [a mass protest on Bolotnaya Square in 2012 that resulted in numerous detentions]?"
"And what are they doing? Isn't it a provocation? We are standing here peacefully, why are they doing this?" replied a young man, who looked about 23.
'Retarded people'
The chief organizers didn't reach the venue, however. Navalny's wife wrote on her husband's Twitter account that he had been detained at the entrance to his apartment building when he was on his way to the rally, (at the March protest he managed to remain free for only five minutes).
Police explained that the detention had to do with Navalny's calls for people to come to an unauthorized rally. Another organizer, Ilya Yashin, was snatched from the street three minutes after he emerged from the Tverskaya metro station.
In St. Petersburg, police acted in a similar manner. On the Field of Mars, after a polite warning to disperse, OMON forces surrounded people chanting, "Russia will be free," and led them to police vans.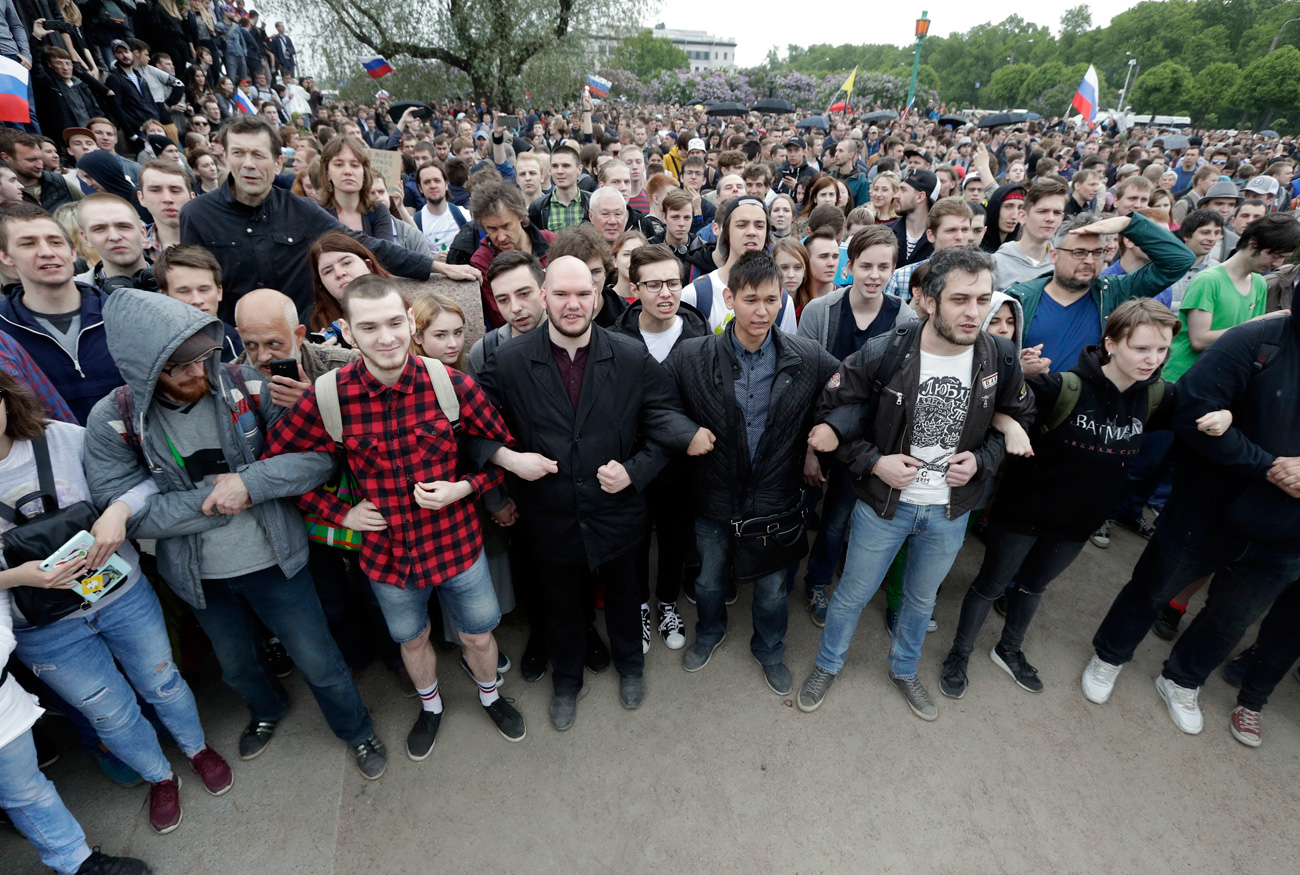 Demonstrators form a human chain during anti corruption rally in St. Petersburg, June 12, 2017. / AP
In Vladivostok, a rally went ahead with authorities' permission, but organizers also decided to change the venue, and without permission went to the square in front of the railway station where a festival of Cossack culture was under way. Twenty-two people were detained, including three believed to be minors.
In Novosibirsk, about 5,000 people gathered, demanding a clampdown on corrupt officials. The event ended without incident. Two people were detained for using a quadrocopter drone without first informing police. In Ufa, Barnaul, Irkutsk and many other cities rallies against corruption passed without incident or provocations.
In Moscow, however, authorities said that what happened today was "a 100-percent provocation by retarded people," who tried to spoil the holiday mood.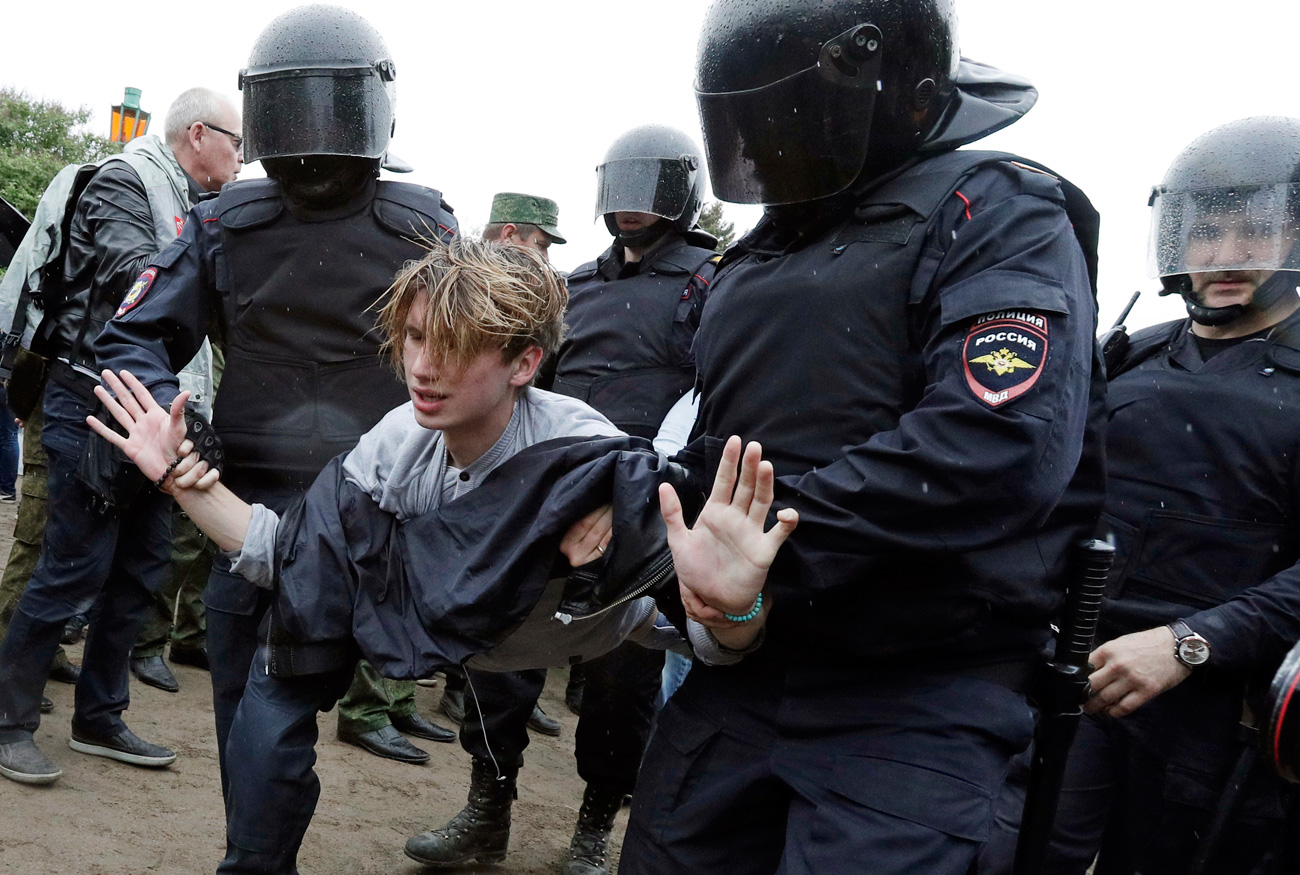 Police detain a protester during anti corruption rally in St.Petersburg, June 12, 2017. / AP
"Police actions are calibrated like a clock. There is no intention to mop up everyone, but targeted professional work is under way in relation to those who are continuing to provoke the situation," commented the Moscow security department. According to opposition headquarters, over 200 people were detained in the capital.
If using any of Russia Beyond's content, partly or in full, always provide an active hyperlink to the original material.