Fine dining: 5 exquisite new Moscow restaurants near the Kremlin's walls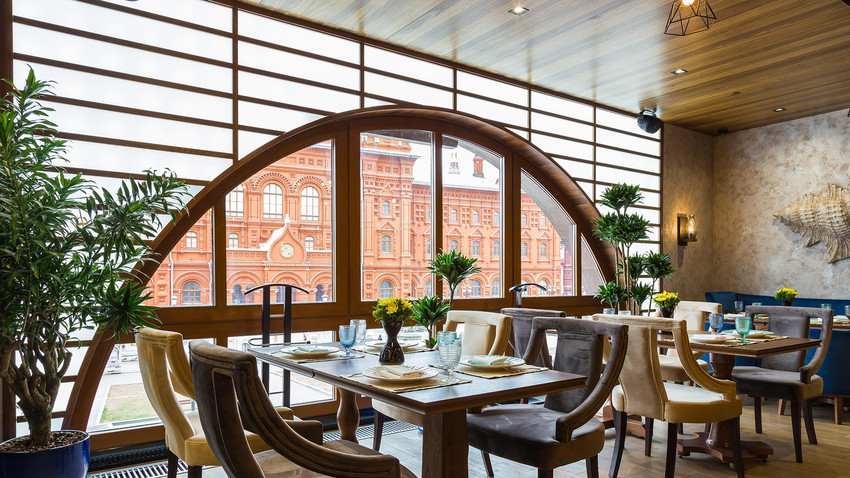 These places offer an exquisite meal with a view!
Courtesy of Peshi restaurant
Whether you're visiting the Russian capital or live here as an expat, you will always find yourself close to Moscow's iconic Kremlin. In addition to history and culture, a visit to the Kremlin can now be combined with enjoying an excellent meal. Below, we share our thoughts on some of the newest and most interesting additions to the capital's community of restaurants.
Voskhod
Varvarka Street 6, Zaryadye Park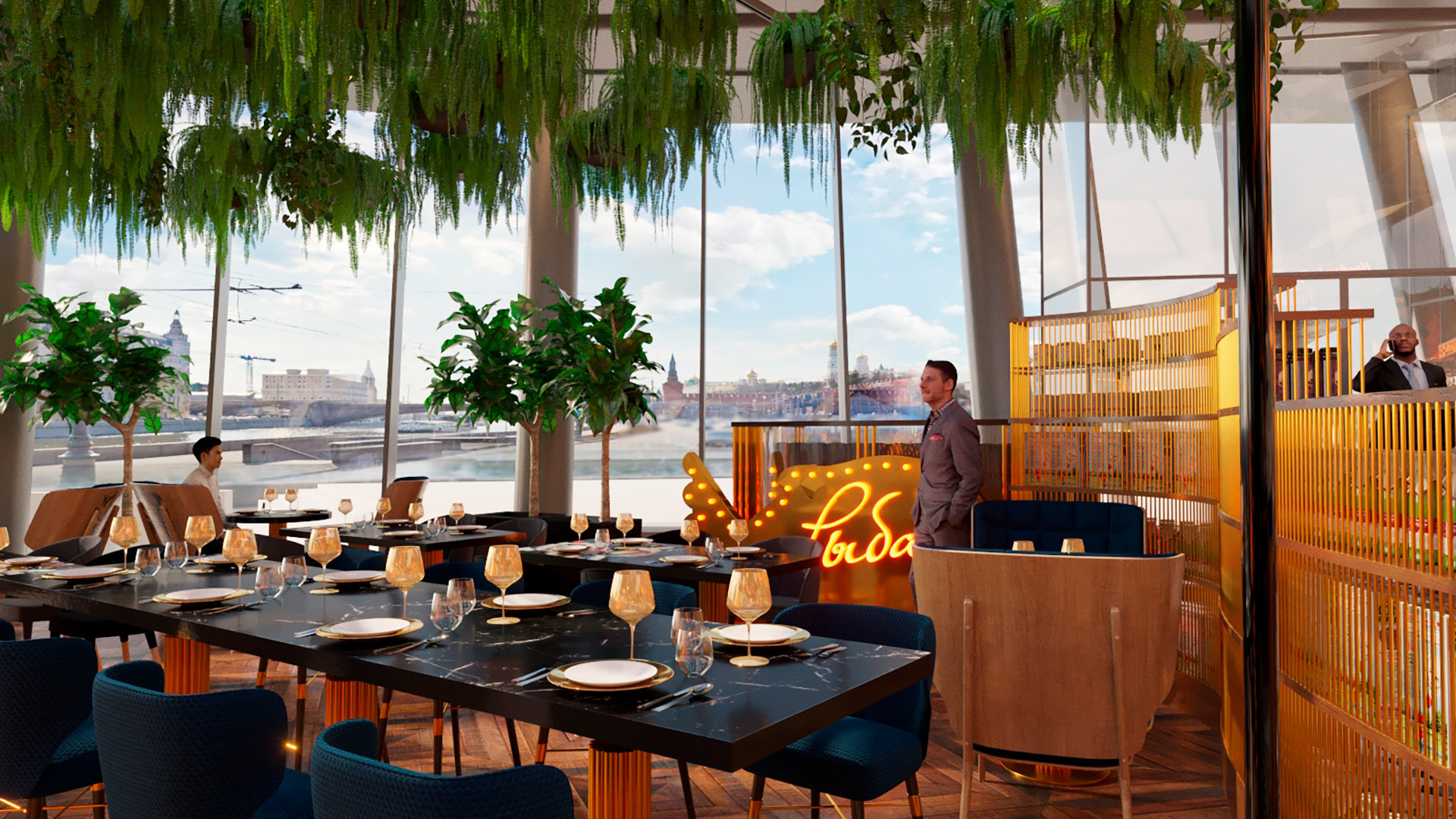 The newly opened Zaryadye Park has quickly become one of Moscow's top sights. In accordance with the ancient 'bread and circuses' principle, this exorbitant $245 million park offers some mouthwatering dining options, such as at the newly opened Voskhod restaurant. The name itself implies the idea of space exploration, which is incarnated in the interior design. Voskhod's cuisine extols the common cultural space of the former Soviet republics, and geopolitics takes a back seat to cultural and historical ties. Nearly every dish will be familiar to those who know historical Russian cuisine. Thus, manty are supported by sprats, and borscht goes well with draniki. The recipes, however, are reinterpreted in a modern way - are you intrigued yet? Even more, Voskhod offers the unique opportunity to have a meal with a brilliant Kremlin view - but in a natural environment. The restaurant is located just near the softwood forest zone, and the poignant pine scent helps you to relax and forget your worries.
Saratov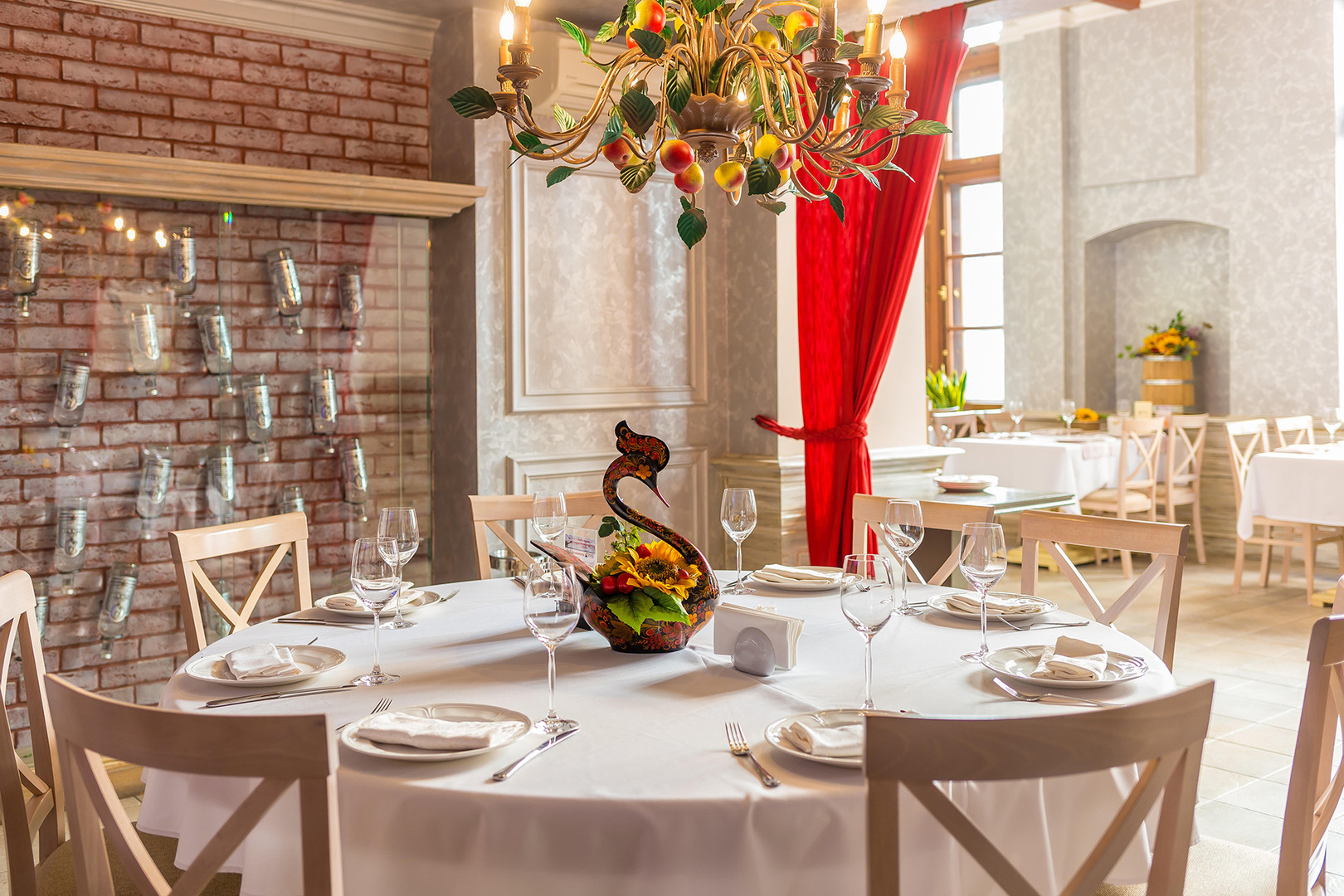 Courtesy of Saratov restaurant
Located on the way from the Kremlin to the Zaryadye Park, next to the historical Gostiny Dvor (a 19th century shopping center), Saratov is a restaurant that might become your guide to the world of traditional Russian cuisine. The real Saratov is an old Volga River city famous for its merchant history. Thus, the menu has a wide range of traditional dishes cooked according to old recipes.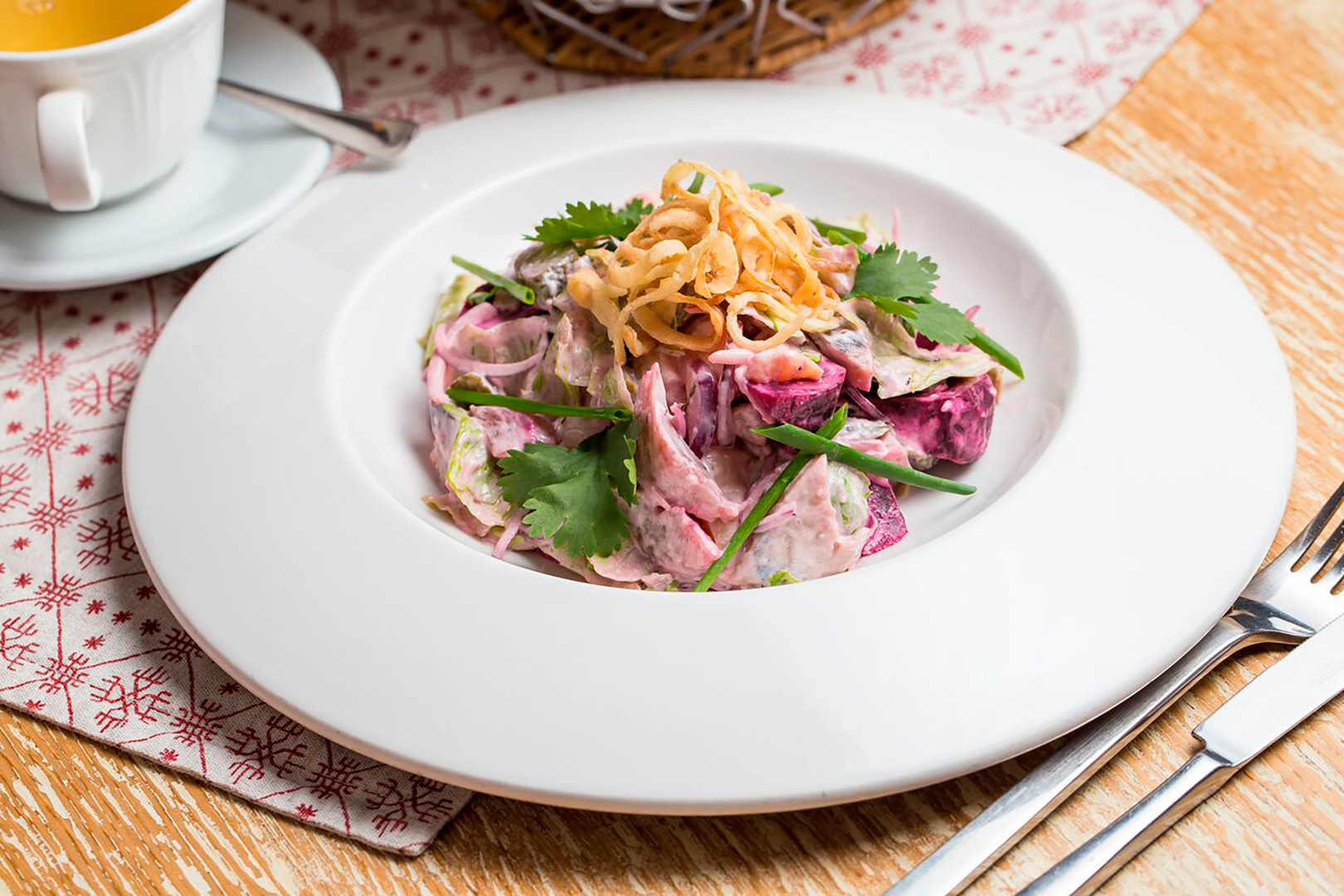 Courtesy of Saratov restaurant
You can try classic Russian borscht, (because a real Russian dinner without soup is impossible). "Among hot dishes, mutton with pearl barley is worth trying and will please even those who have negative childhood associations with porridge," said restaurateur Elena Shevtsova. Among salads, we recommend "herring under a fur coat" – this salad is often cooked for New Year's, but there is no need to wait until then to try this famous purple colored dish. The average cost per person is $13-$25 (700-1,500 rubles).
Wine & Crab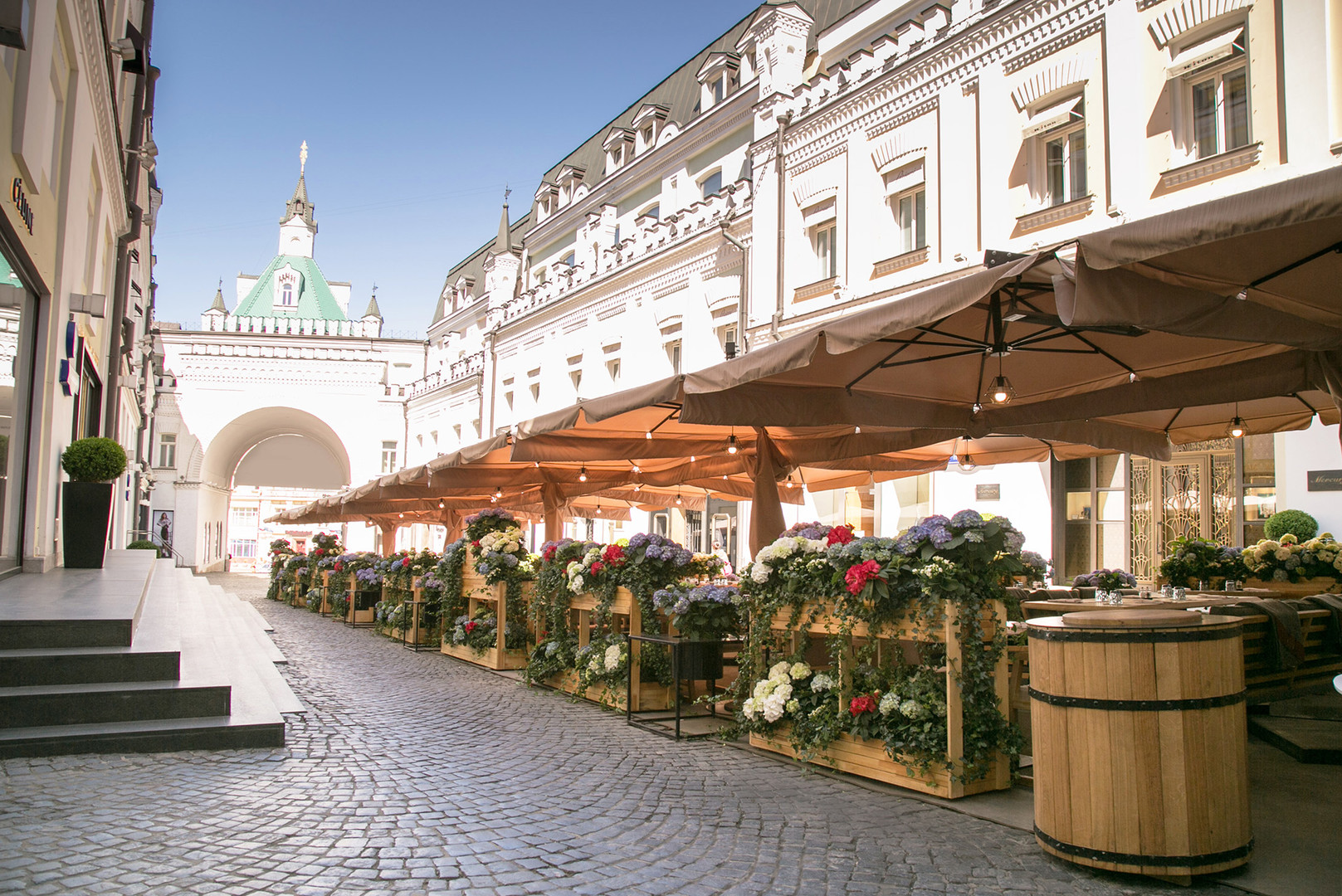 Courtesy of Wine&Crab restaurant
Wine & Crab - the brainchild of the famous twin brother restaurateurs, Ivan and Sergey Berezutsky – offers nine varieties of crab (all from Russian waters) that have never yet been seen in the capital. As the brothers told Russia Beyond, they travelled far and wide around the Russian Far East to be the first to bring novel kinds of crab to the Moscow restaurant scene.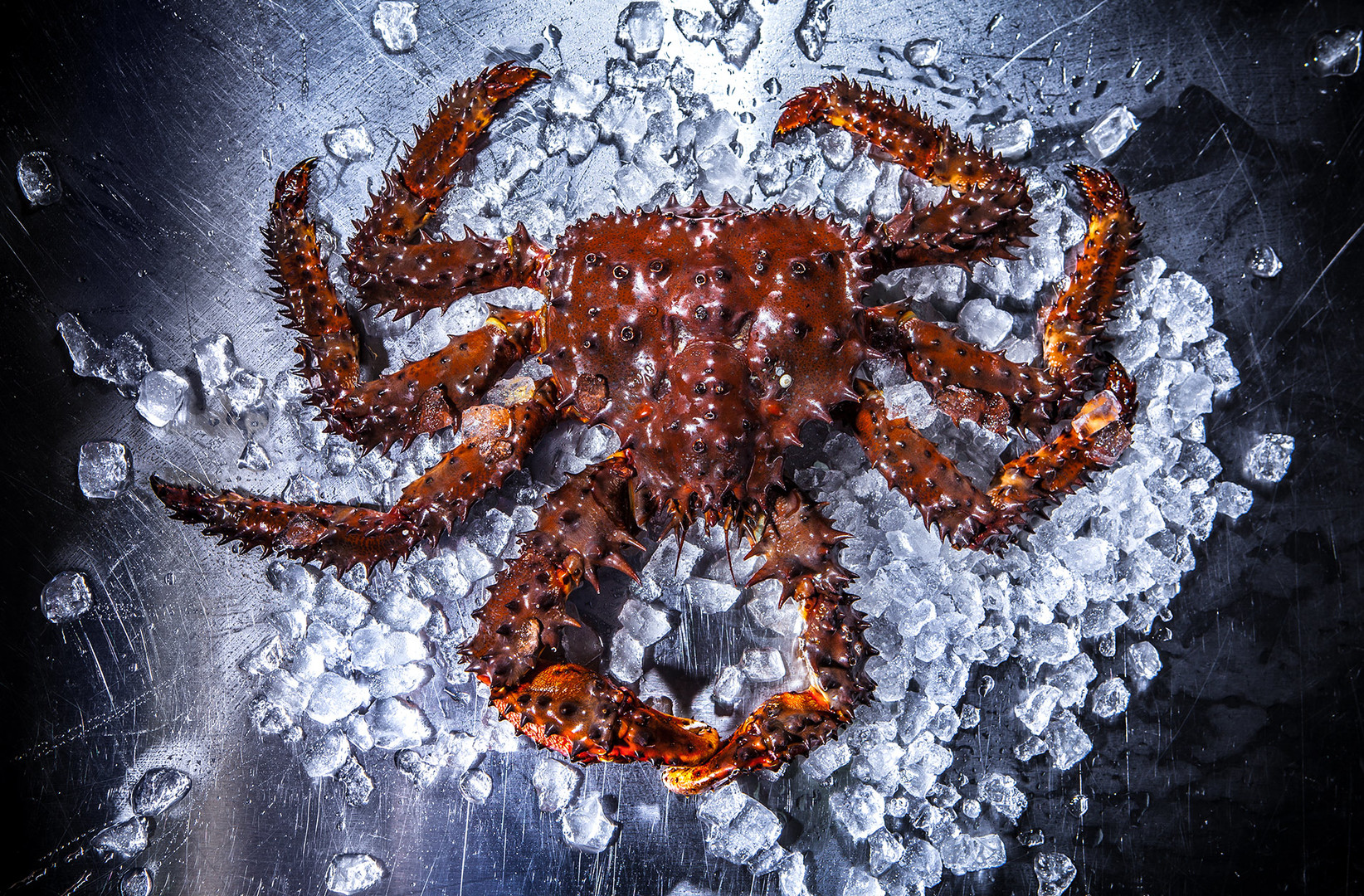 Courtesy of Wine&Crab restaurant
Apart from the beloved and familiar Kamchatka king crab, and the snow crab (opilio), here you can taste the blue king crab, spiny crab and even the peculiarly named "hairy crab." On Mondays, gather your friends and enjoy the party set that includes 1.5 kilos of crab (opilio, horsehair and King crab) and a bottle of Sensation Prosecco – all for 6,150 rubles. Pick one of the more than 900 varieties of wine from the iPad wine list divided into countries of origin and types. All of this is just a few steps from the Kremlin, on the corner of Nikolskaya Street and Teatralny Lane. The average bill is $13-$25 (700-1,500 rubles) per person, which is very reasonable for the quality of food and drink.
Peshi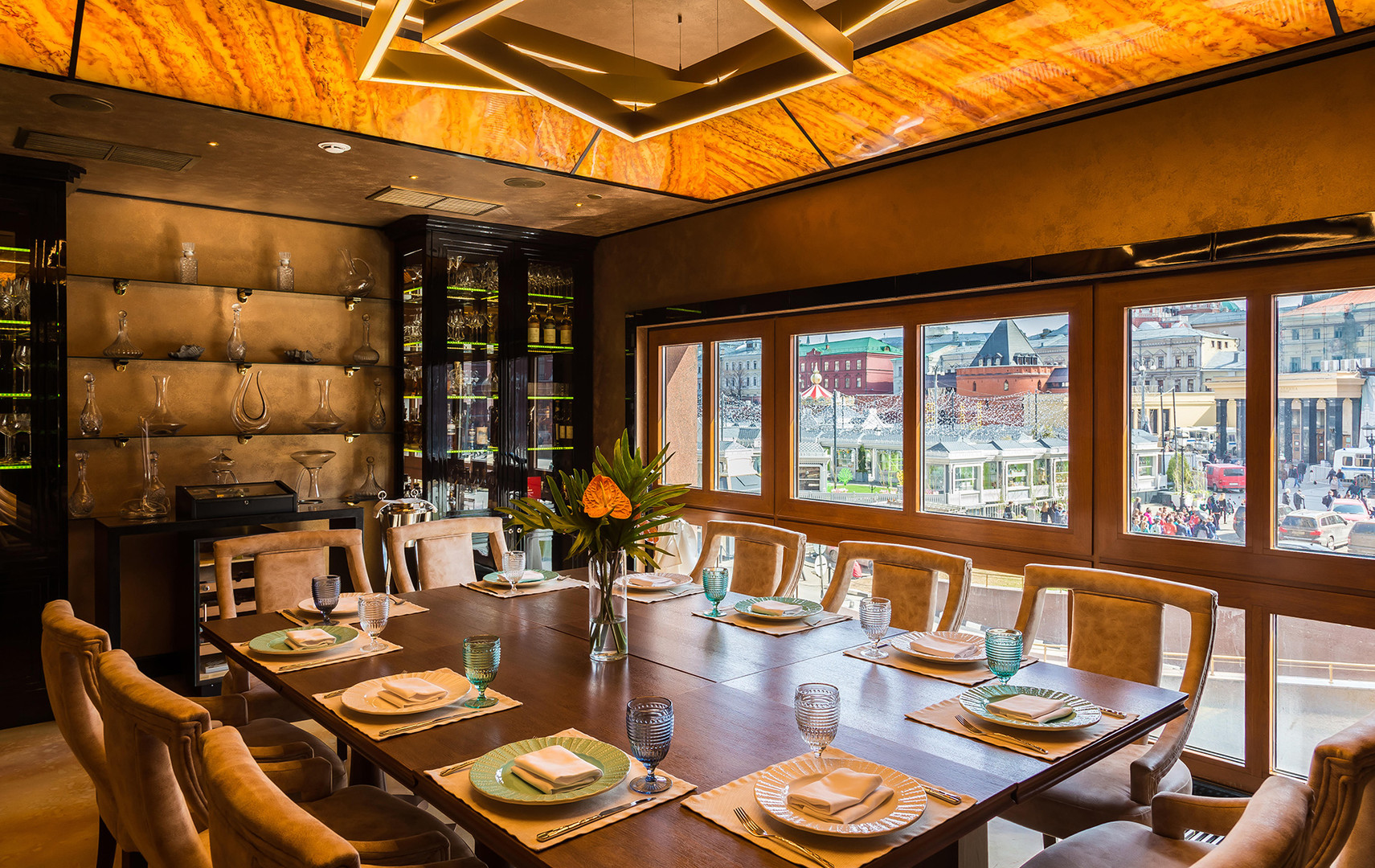 Courtesy of Peshi restaurant
Peshi is another way to spend a lavish evening in Moscow with a high-class combination of fresh fish dishes and a panoramic view of the Historical Museum on Red Square. Wild fish, oysters, sea urchins and crabs come from all over the world, not to mention Russia's famous shores of Crimea and Far East. The restaurant is known for its liberal approach toward cooking: you may pick any fish on the menu and ask to have it cooked according to your own recipe, or just ask to make ceviche, for which Peshi is best known.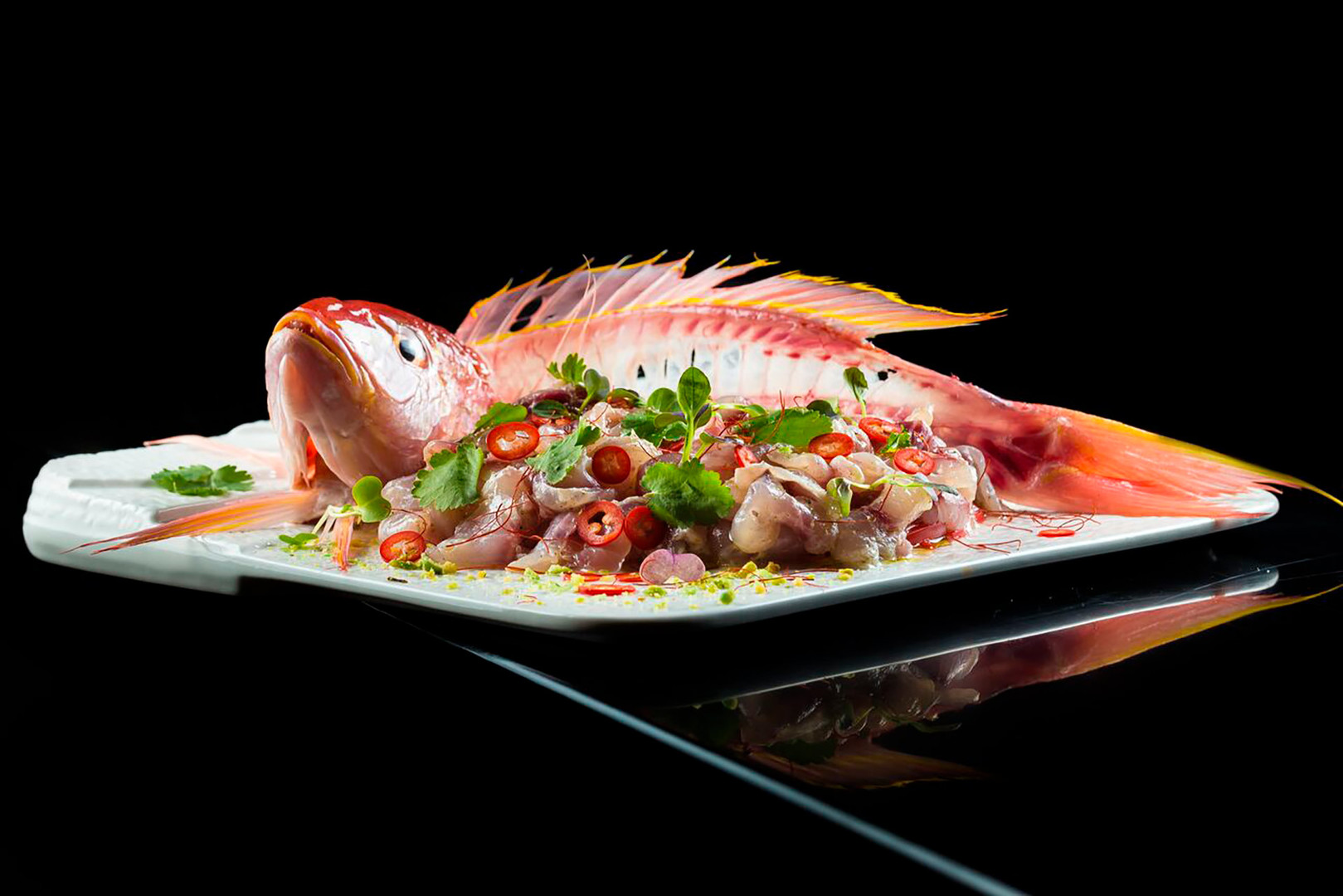 Courtesy of Peshi restaurant
"We cook ceviche in three ways: with sweet tomatoes and Peshi's special sauce; the second is considered to be more feminine - ceviche with mango and chili pepper, and the third one with guacamole," said restaurateur Elena Shevtsova. Salad roll with king crab and passion fruit sauce, and Truffle Napoleon (milfei) with Gruyère cheese and creamy black truffle sauce are also highly recommended. The average bill of $60-$85 (3,500 – 5,000 rubles) per person is reasonable considering the quality of food and the luxurious location – the second floor of the building on Manezh Square is shared by Four Seasons Hotel and Modny Sezon trade center.
Beluga
Mokhovaya Street 15/1, building 1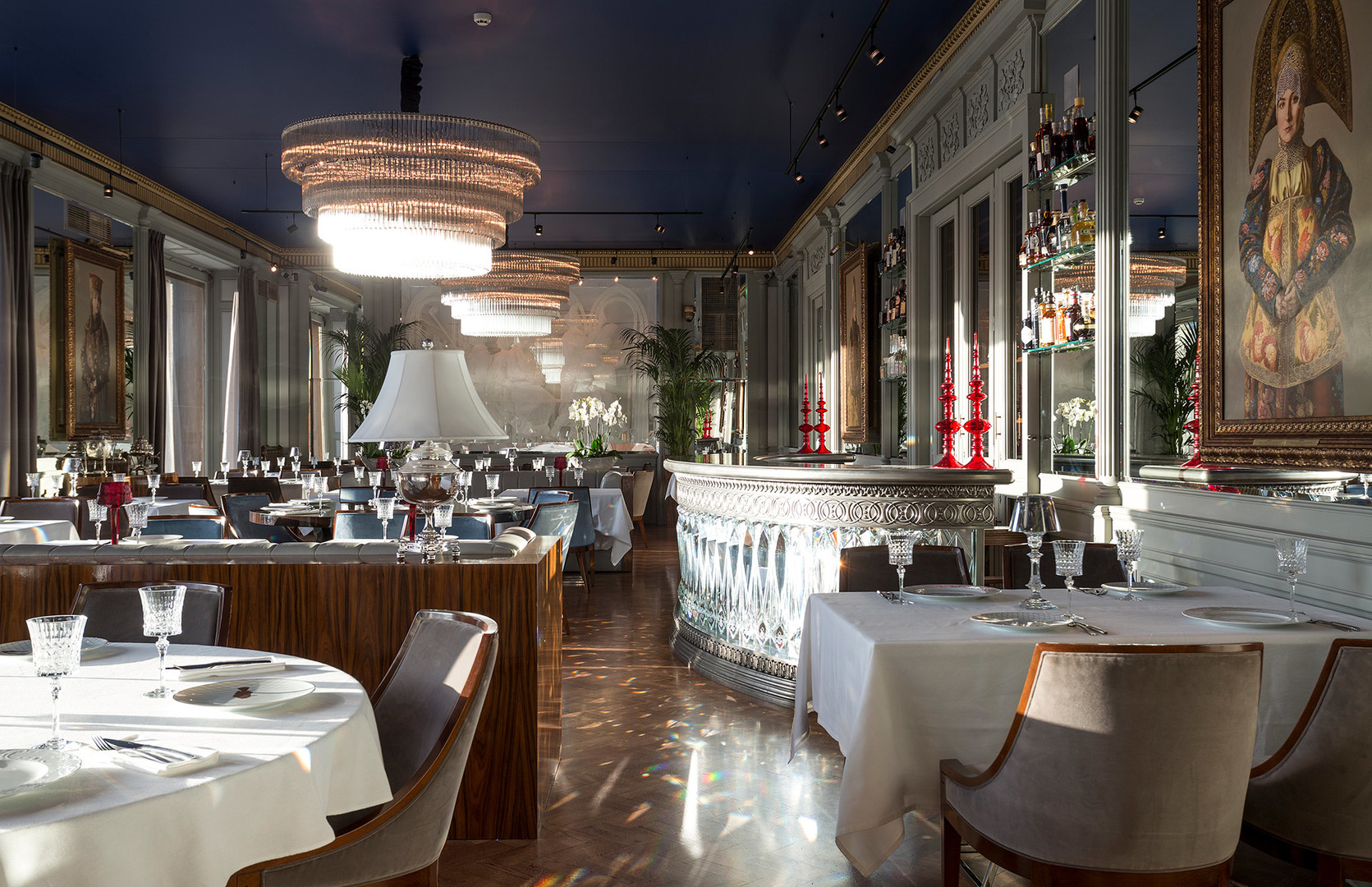 Courtesy of Beluga restaurant
Last, but not least, Beluga was named Russia's best restaurant in 2017 by GQ magazine. Opened in January on the second floor of the luxurious National Hotel, this offspring of the Alexander Rappoport restaurant chain bears the name of the renowned beluga fish, the largest and most valuable sturgeon. And that concept is clear straight away: it has everything about sturgeon and caviar that Russia is proud of; not to mention vodka - one of the most expensive Russian vodka brands is called Beluga. Frankly speaking, it seems that all types of caviar can be found here, and there are more than 20 on the menu, with tasting sets available.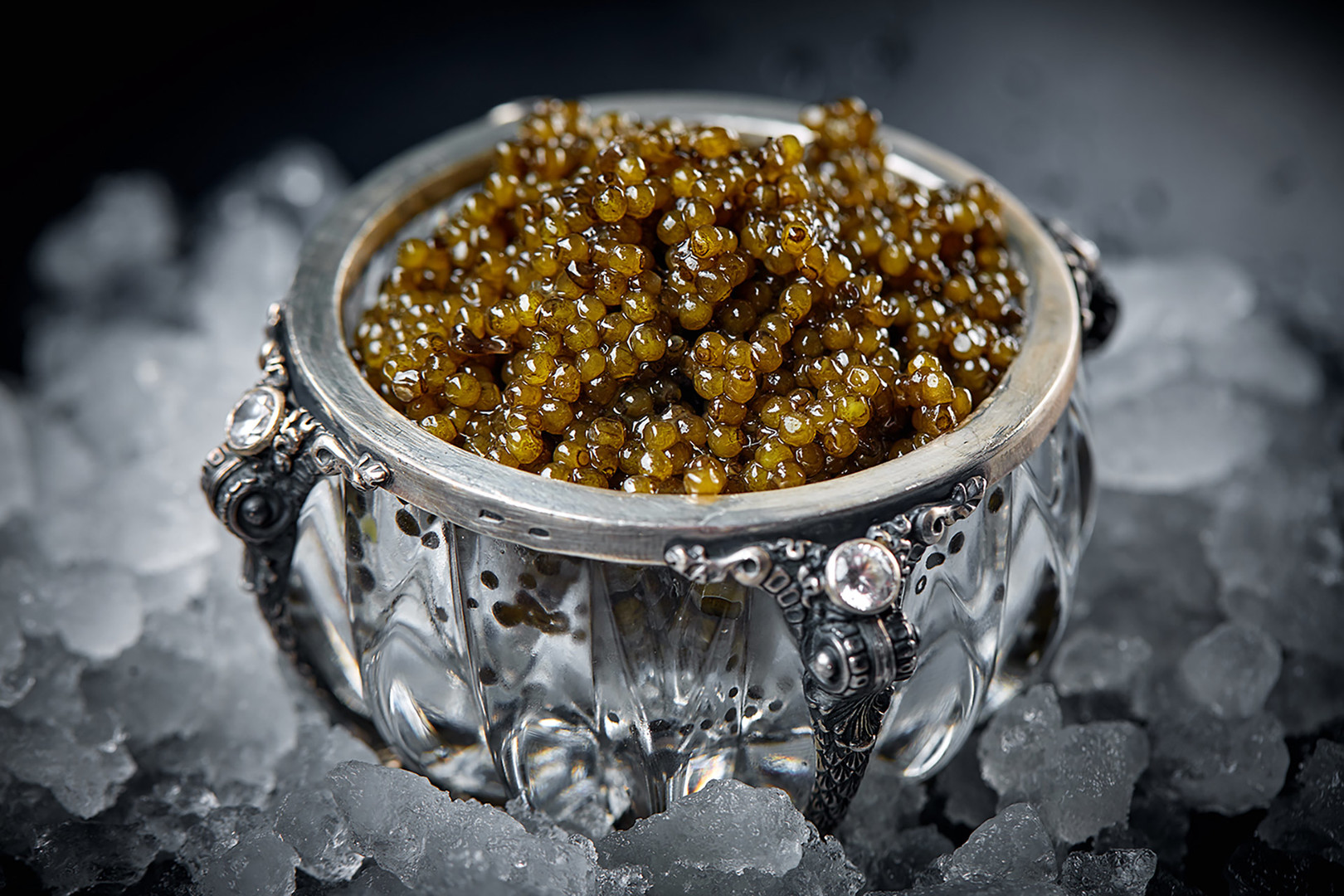 Courtesy of Beluga restaurant
Apart from these delicacies, we recommend trying lard made from the Arkhangelsk toothfish, poached egg with black caviar and crawfish bisque and duck blanquette with morels. The extensive champagne list will certainly meet the tastes of even the most fickle connoisseur. Beluga also offers the largest vodka list in the whole world, and a fantastic view on Red Square. The average bill is $43-$60 (2,500 – 3,500 rubles) per person, which is definitely worth the price in order to feel a member of the aristocracy.
If using any of Russia Beyond's content, partly or in full, always provide an active hyperlink to the original material.