3 BBQ dacha dishes to make sure your grill is truly Russian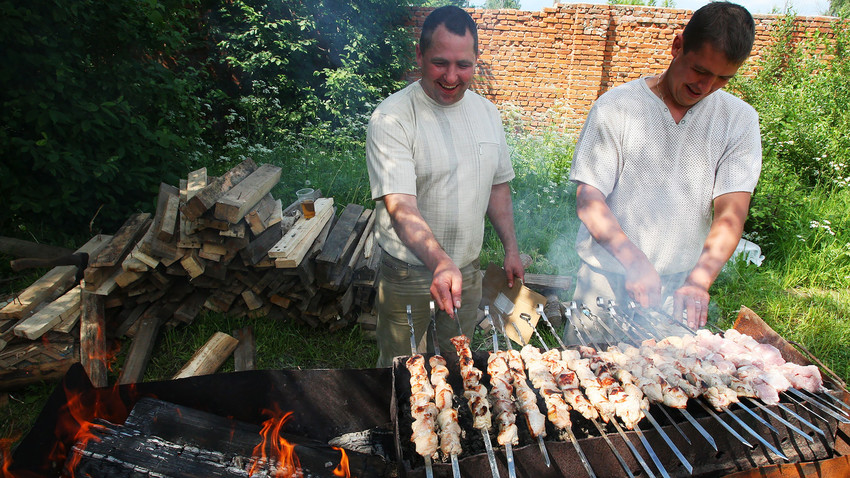 Escape the city, fire up the coals, and dine like a king.
The dacha is a sacred place for Russians: There's nothing better than escaping the city for a weekend and heading to a country cottage. Fresh air, gardening, and grilled food are three essentials for any Russian countryside weekend. There are some classic recipes that every dacha barbeque cannot be without and that you can repeat on your own barbeque to feel the authentic spirit of Russian dacha cuisine.
1. Grilled chicken wings in sweet beer sauce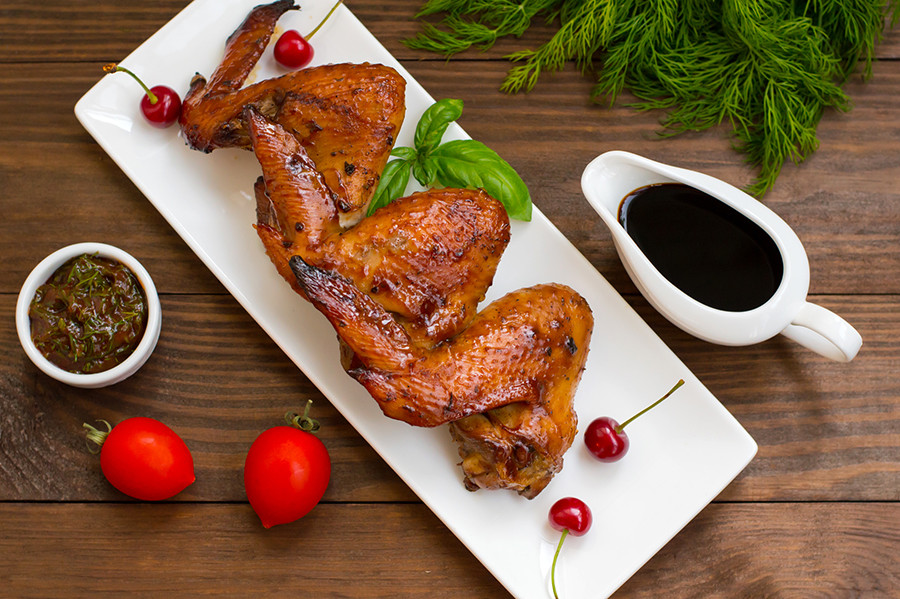 If you think chicken wings are too banal for an outdoor meal try to cook them with a special beer sauce – it makes a world of difference. This type of grilled wings is the most beloved dacha dish in my family: We make them every single time we head to the sticks. The key is in the sauce: Just two ingredients take basic wings to the next level.
Ingredients:
1kg chicken wings
2 tablespoons soy sauce
2 tablespoons sunflower oil
Seasoning for chicken
3/4 glass beer
3 heaped tablespoons sugar or honey
Cooking:
Firstly mix the chicken wings with some oil, soy sauce, and spices of your choice such as curry, paprika, etc. Leave the wings to marinate for about an hour. Meanwhile, prepare the sauce: Just mix the beer with sugar until it fully dissolves. The more sugar the more caramelized your wings will be. You can actually use honey instead of sugar or mix them both to get a richer taste. Spread the marinated wings on the grill and cook for about 20 minutes, constantly turning until they are lightly golden and cooked through. When the wings are almost ready cover them with the beer sauce on both sides using a tablespoon. Cook for a couple minutes more until the wings are sticky and slightly caramelized.
2. Pomegranate shashlik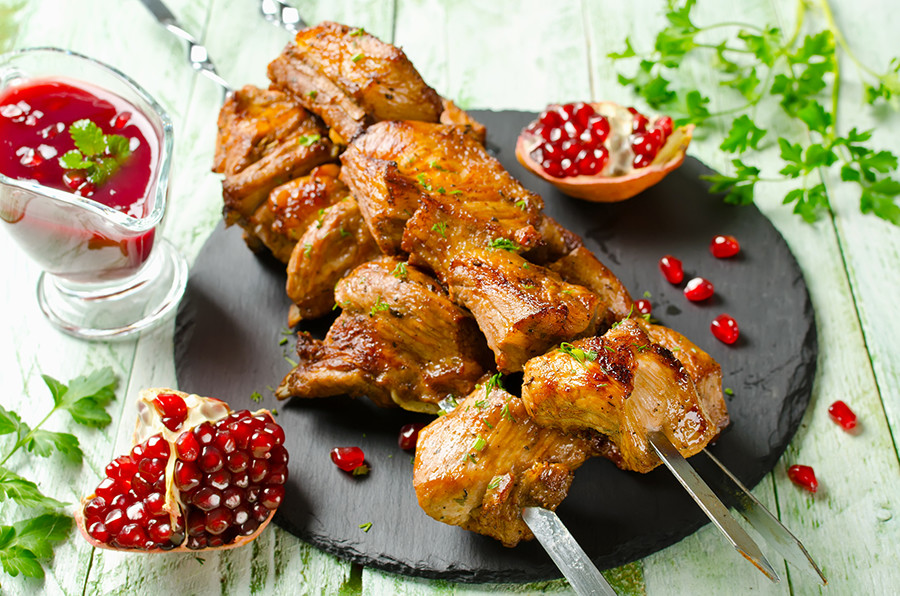 Legion Media
Shashlik is essential for any Russian dacha barbeque. Every family has its own signature shashlik marinade and the classic one with vinegar and onion is the most popular. But if you want to break traditional I suggest going for the pomegranate version. Our family friend from Dagestan once shared this scrumptious shashlik recipe with pomegranate juice instead of vinegar. The natural juice works as the acidic agent and it is just as good as vinegar, but also adds a unique sweet and sour flavor and makes the meat softer and juicier.
Ingredients:
1 kg pork neck
150 ml pomegranate juice
2 onions
2 tablespoons sunflower oil
1/2 teaspoon coriander seeds
Seasoning for pork
Cooking:
To make the marinade, mix the pomegranate juice, onion rings, sunflower oil, and any seasoning such as paprika, chili pepper, salt, thyme, oregano. The only essential seasoning is coriander: It enriches the meat with a special shashlik flavor. Cut the pork into medium size cubes, mix with the marinade, and leave for 3-6 hours. The best and most authentic way to cook shashlik is using metal skewers so when the meet is properly marinated put the cubes on skewers and grill until the meat is cooked through.
3. Stuffed BBQ mushrooms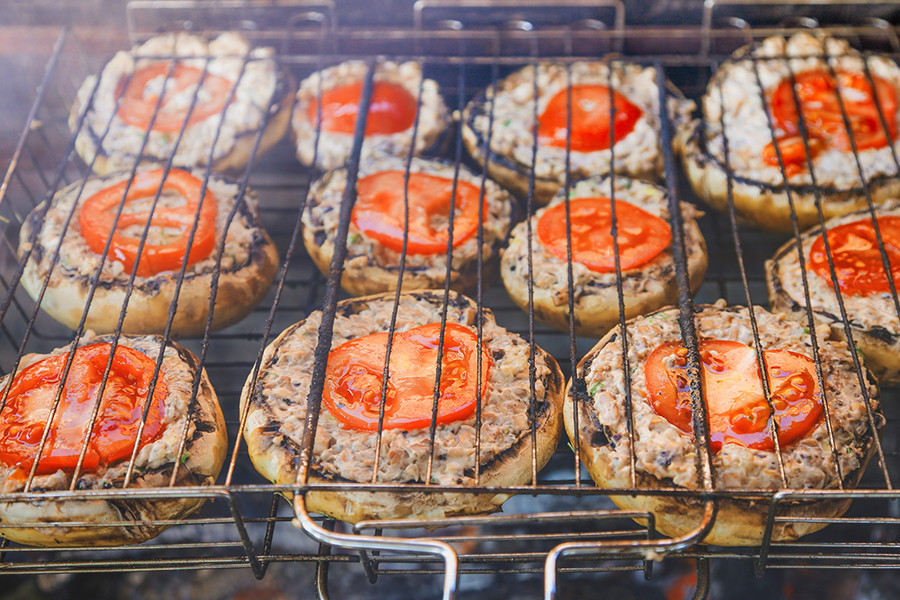 Legion Media
Russians are all about stuffed food: Eggs, cabbage, meat, fish, peppers – basically everything can be stuffed with anything, and mushrooms are not an exception. It's an original side veggie dish for your BBQ meal that goes perfectly with any meat. Of course, you can easily make these kind of mushrooms in the oven, but cooking them on the grill gives it a unique smoky flavor.
Ingredients:
500 g mushrooms
100 g hard cheese
50 g butter
2-3 cloves of garlic
A handful of fresh cilantro or parsley
A pinch of salt and pepper
Cooking:
Properly wash the mushrooms and separate stems from the caps. Set the caps aside and chop the stems. To prepare the filling mix any grated cheese, chopped garlic, the stems, soft butter, greens, and spices in a bowl. Make sure there is enough space inside the caps for the filling. Then just stuff the caps with the cheesy mixture and spread them on the grill grate. Cook your mushrooms on one side until the cheese is melted all the way through. That's basically it: Sprinkle with some fresh herbs and serve warm.
If you're an inexperienced "mushroomer" check out our list of craziest mushrooms Russians love to eat.
If using any of Russia Beyond's content, partly or in full, always provide an active hyperlink to the original material.