Here's a finger-licking apricot cake from the Soviet era (RECIPE)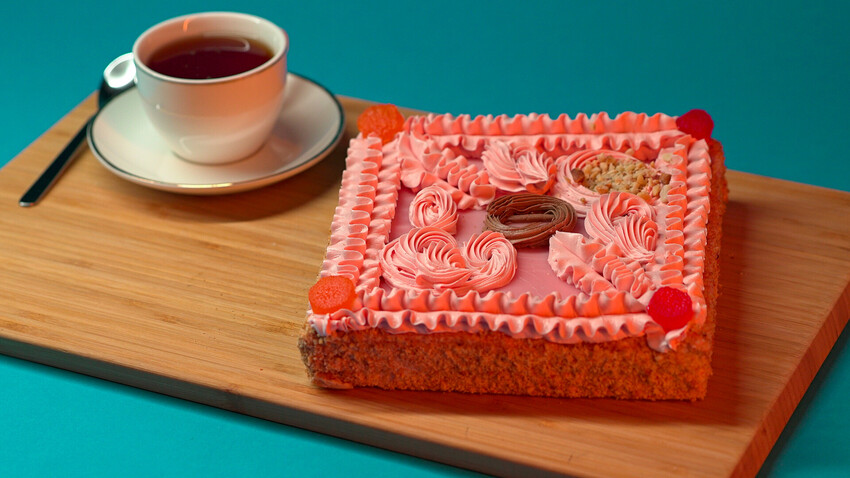 This multi-layered Soviet cake made with apricot liqueur is difficult to bake, but you'll never forget the taste.
Petr Pestryaev
In the 1950s, delicious fancy cakes and pastries appeared on the shelves of Soviet supermarkets. Abricotine was one of them, and it became an indispensable item on the holiday table.
Abricotine is a five-layer, shortbread pastry cake with cream that's mixed with apricot liqueur. The top is glazed with pink icing and decorated with a chocolate net and nuts. The sides are sprinkled with biscuit crumbs.
Amazingly, this delicious cake was rarely on sale in Soviet Russia and even more, it was rarely cooked at home. After all, many homemade cakes were just as good as those prepared in central food processing factories.
A cake such as Abricotine requires not only considerable skill and mastery of technique, but also precise weighing scales to get the right proportions. All Soviet cakes sold in the store had a recipe that had to be approved according to state cooking standards (called GOST). And so, it was difficult to bake Abricotine at home due to the widespread deficit of the needed ingredients. Anyway, some home recipes, slightly different from those at factories, were passed among housewives.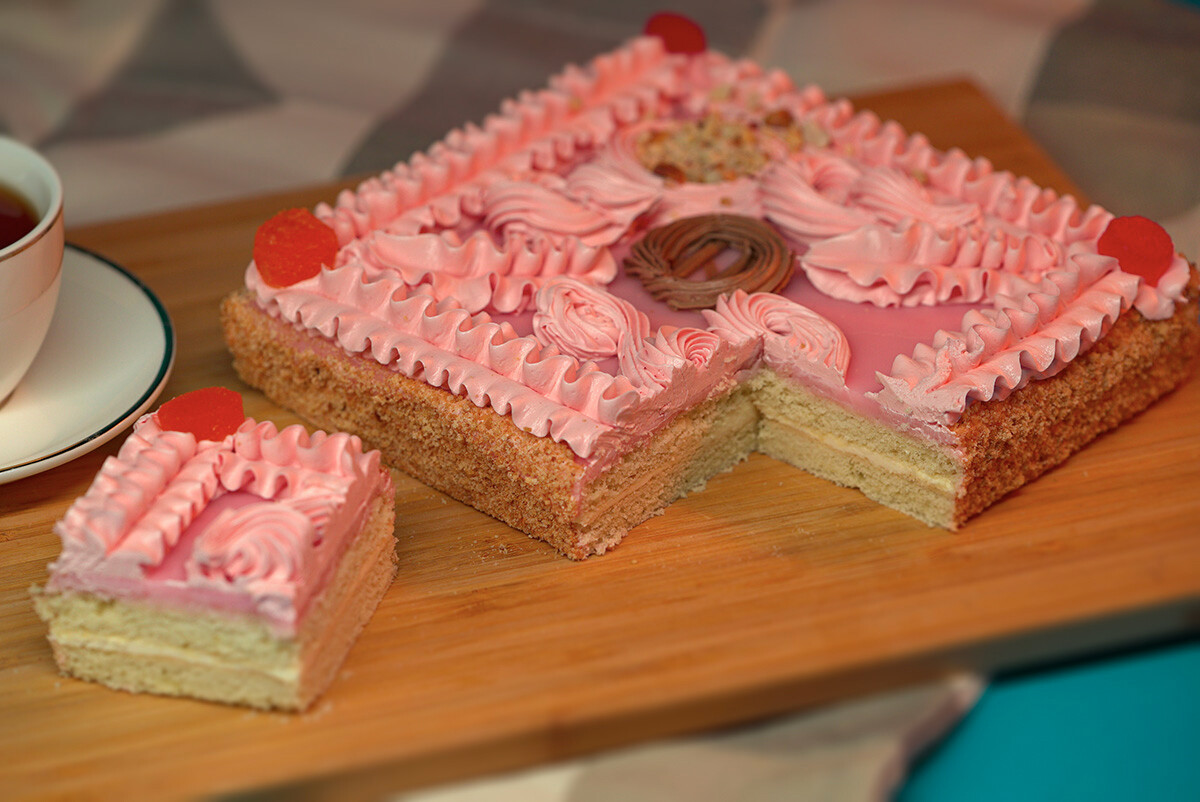 In our family, Abricotine is a special cake that was baked at my grandmother's wedding many years ago. My own recent wedding was also adorned with this cake.
In general, there's nothing complicated in making Abricotine - shortbread dough, Charlotte cream, nuts, and icing. But there are some culinary tips worth paying attention to. First of all, the cakes are rolled out very thinly and then cut evenly.
Secondly, it's difficult to cook the glaze at home - you need to have a thermometer for the sugar, or be able to determine the temperature of the syrup just with a sharp eye. Therefore, I replaced the glaze with colored icing. The taste is the same, but it turns out to be a little more liquidy. The stripes are made with melted chocolate.
The Abricotine that was made in state food processing centers during the Soviet era had a square shape, but homemade versions were usually round, since it's much easier to bake round cakes at home. As for the name, since it's called Abricotine, of course we should add apricot liqueur. If you can't find it in stores, then take any fruit liqueur to your taste.
Ingredients for 8 portions: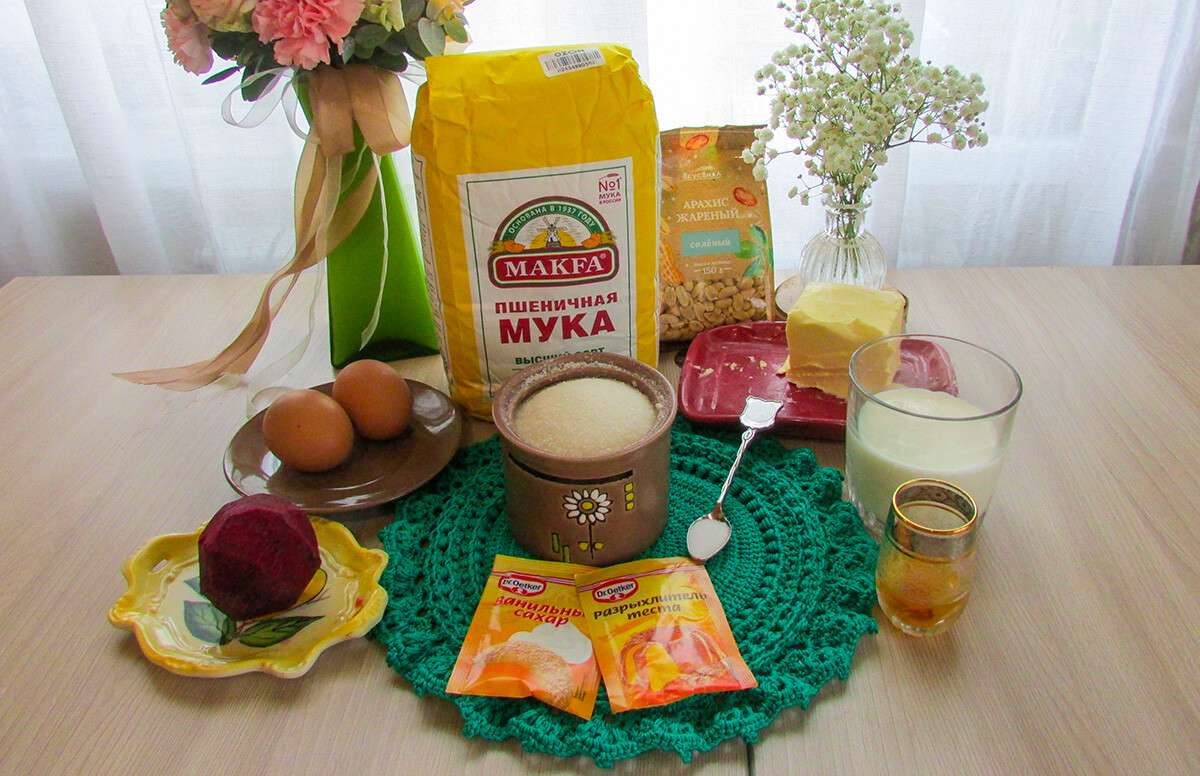 Olga Brovkina
For the dough:
Flour - 360 g
Butter - room temperature - 200 g
Sugar - 150 g
Egg - 1 pc (big)
Baking powder - 1 tsp
A pinch of salt
For the Charlotte cream:
Butter - 160 g
Egg yolks - 2
Sugar - 150 grams
Milk - 110 ml
Vanilla sugar - 10 g
Apricot liqueur - 2 tbsps
For the glaze:
Powdered sugar - 100 g
Beet juice - 1 tsp
Apricot liqueur (or water) - 2 tbsp
In addition:
Preparation:
1. Take 1 big egg and 120 g of sugar and a pinch of salt, and mix thoroughly until smooth.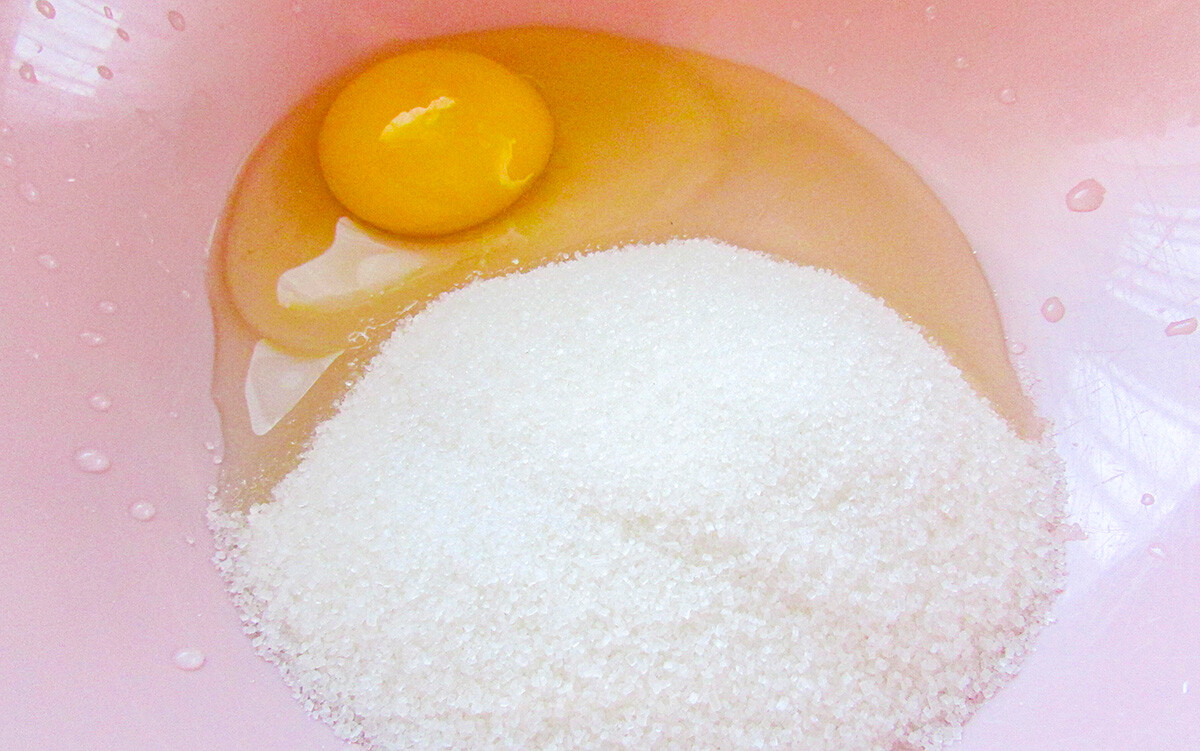 Olga Brovkina
2. Pour 300 g of flour sifted with a teaspoon and add baking powder as well and 200 g of softened butter.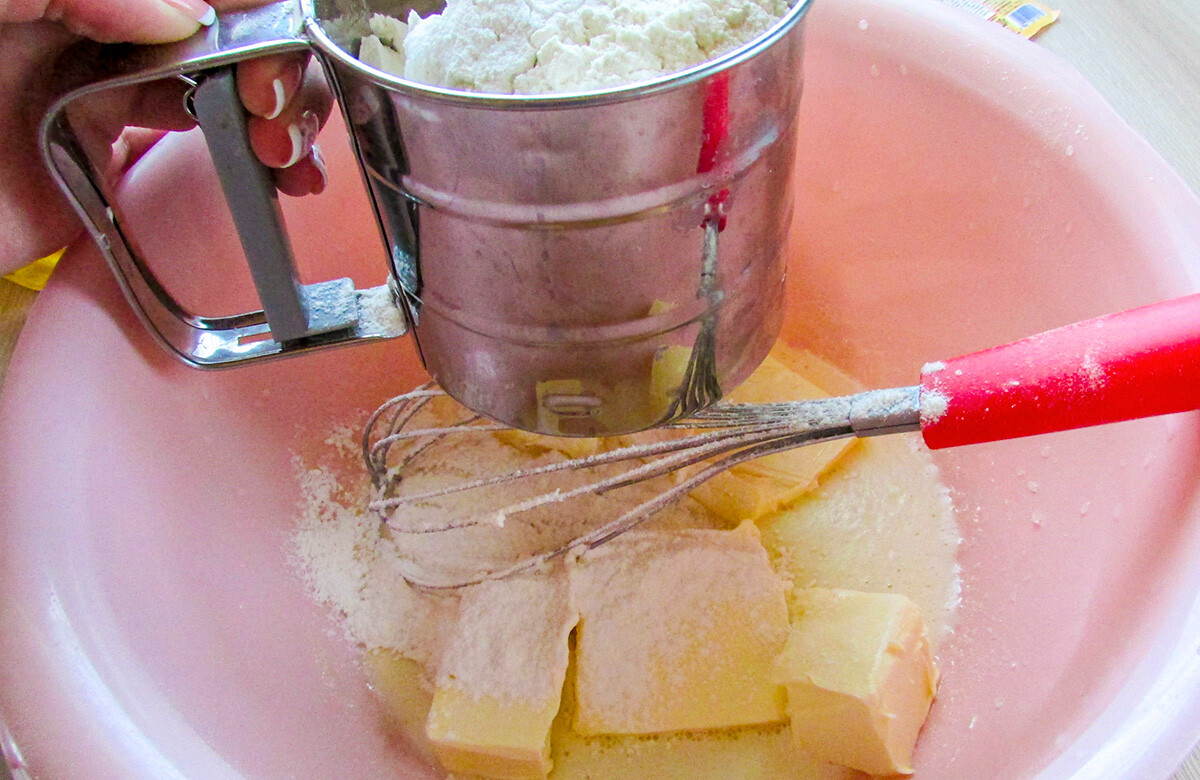 Olga Brovkina
3. Knead the dough.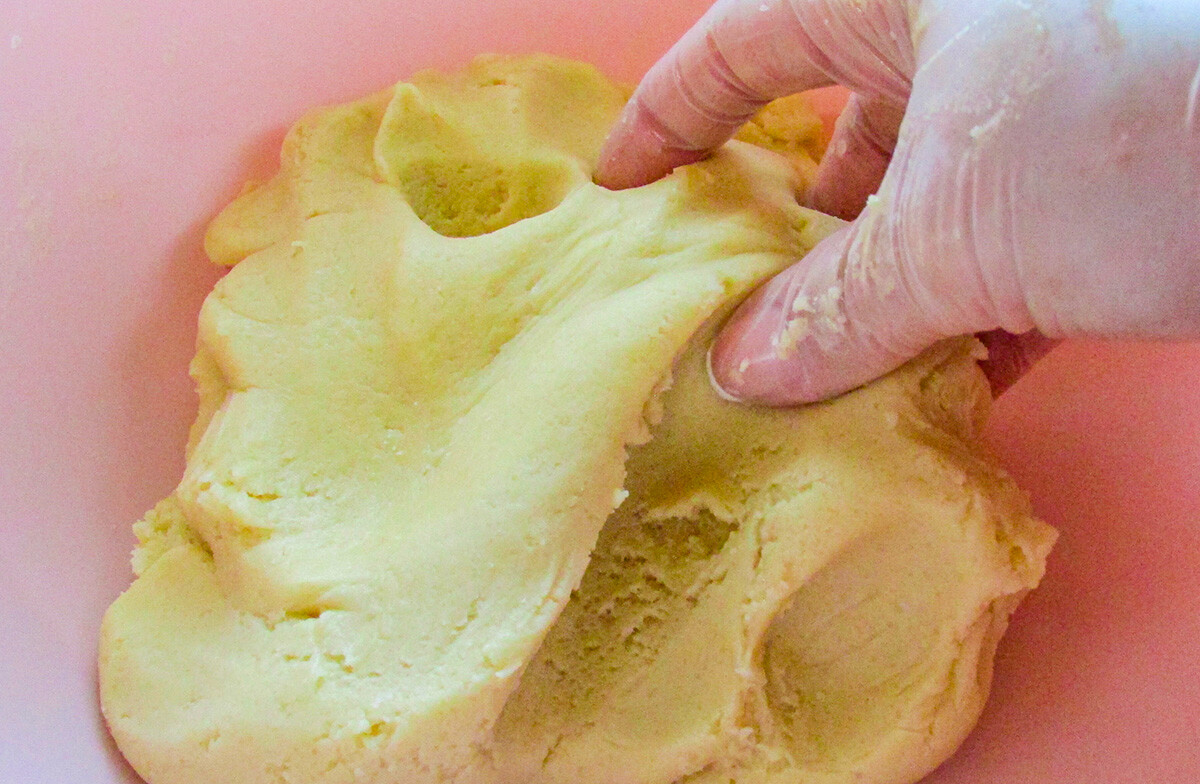 Olga Brovkina
4. Divide the dough into 5 equal parts and one smaller one (you'll need it for crumbs); wrap in a film and put it in the refrigerator for 20 minutes.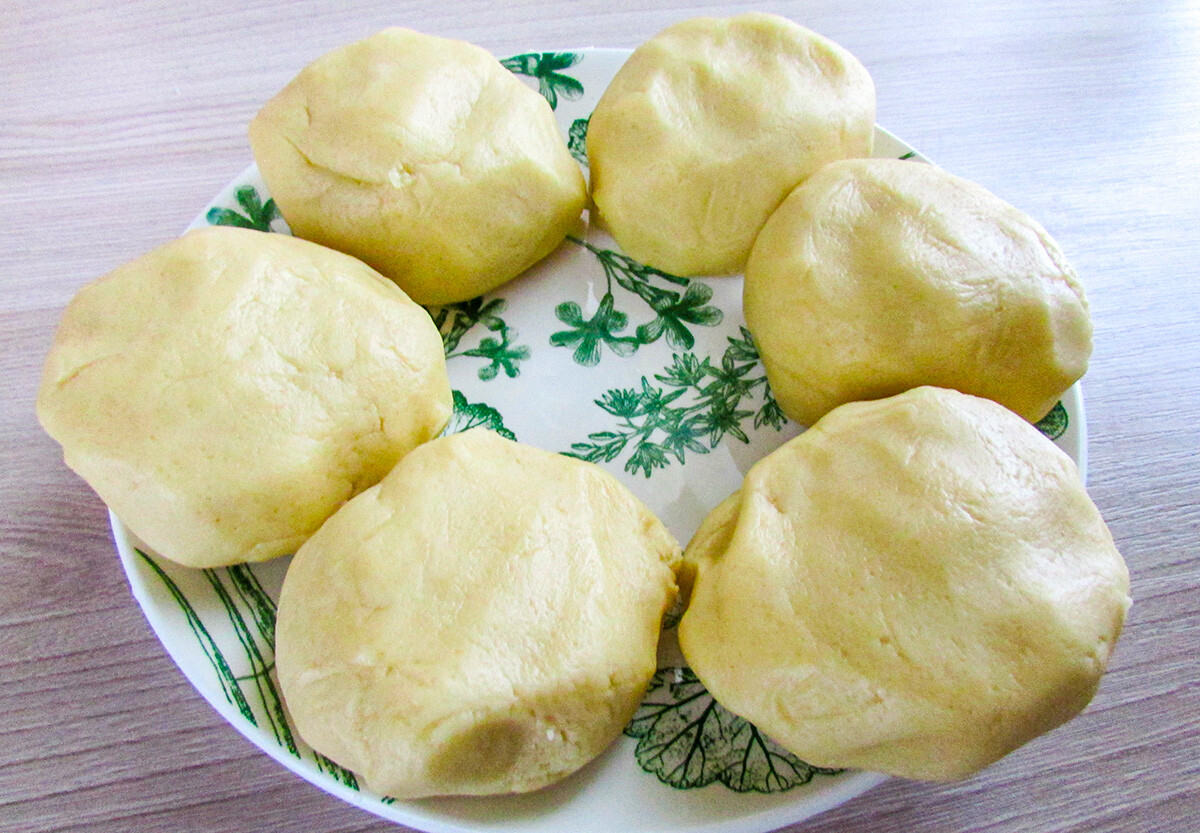 Olga Brovkina
5. After cooling, roll each part and cut out a circle with a diameter of 20 cm. Put each piece in the freezer. Bake the cakes, one by one, in the oven at 200°C for about 15 minutes. You'll need to grate your biscuit to make the crumbs, and bake it in the oven for 30 minutes more until the crumbs become brown.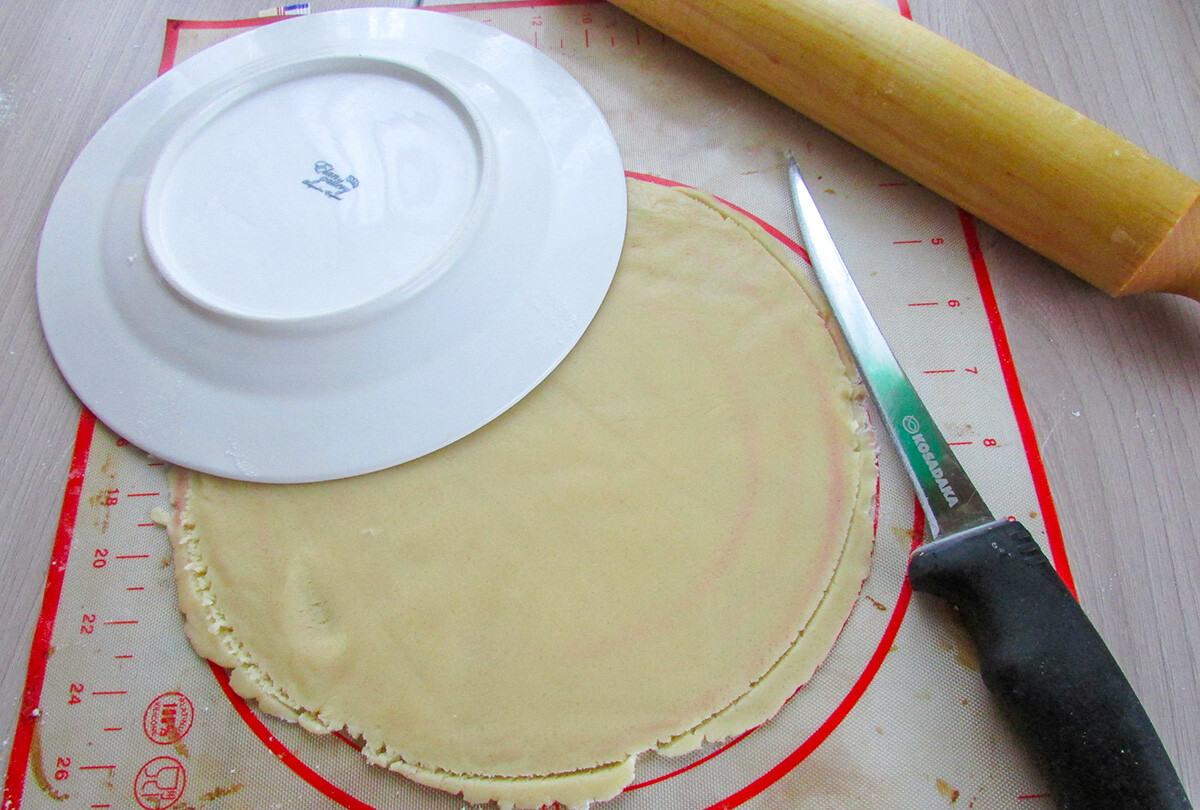 Olga Brovkina
6. Let's prepare the Charlotte cream. Mix the yolk with milk, add sugar and vanilla sugar. Bring to a boil on low heat and cook until it's thickened for 4 minutes. Cook the cream over low heat so that the yolks don't curdle. Let it cool.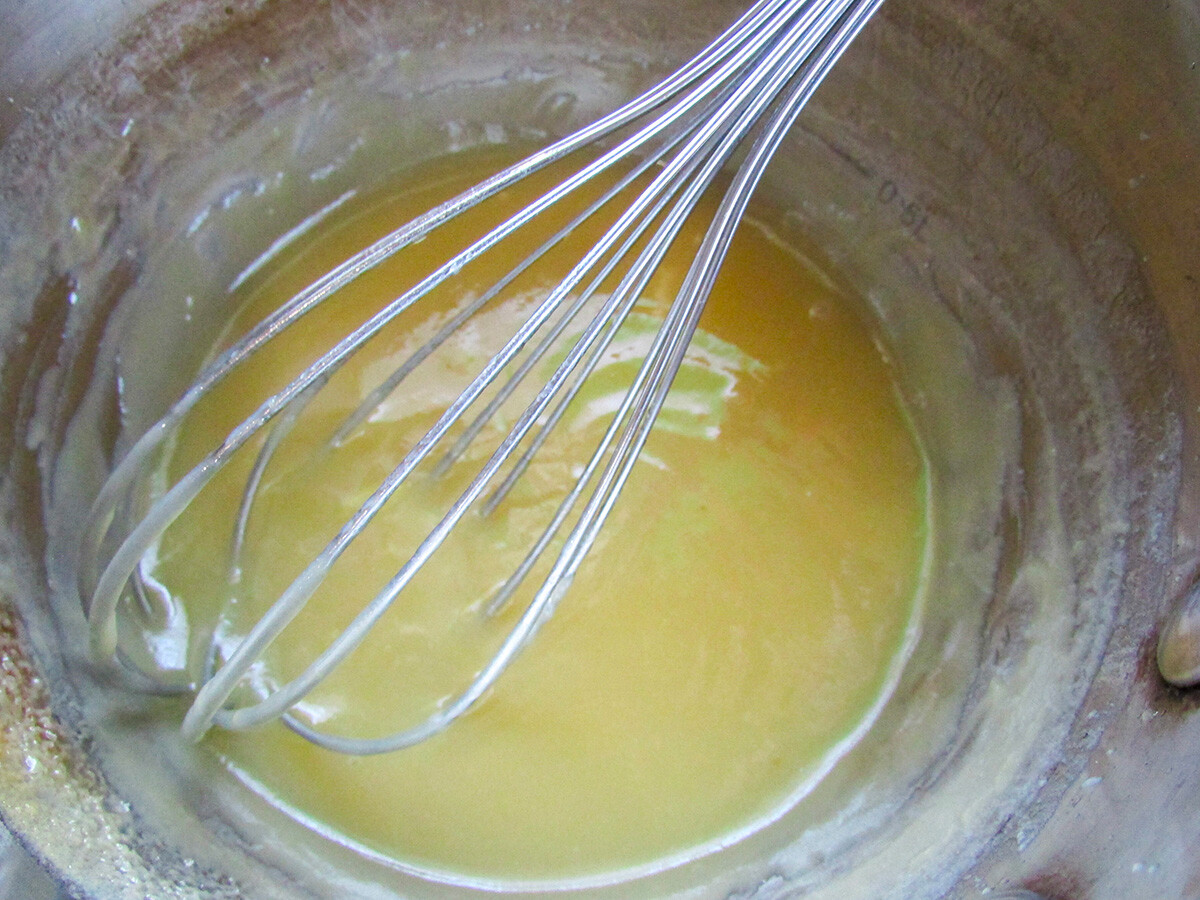 Olga Brovkina
7. Beat 160 g of butter until white, add the syrup gradually, continuing to mix. At the end, add 1 tbsp of apricot liqueur and vanilla.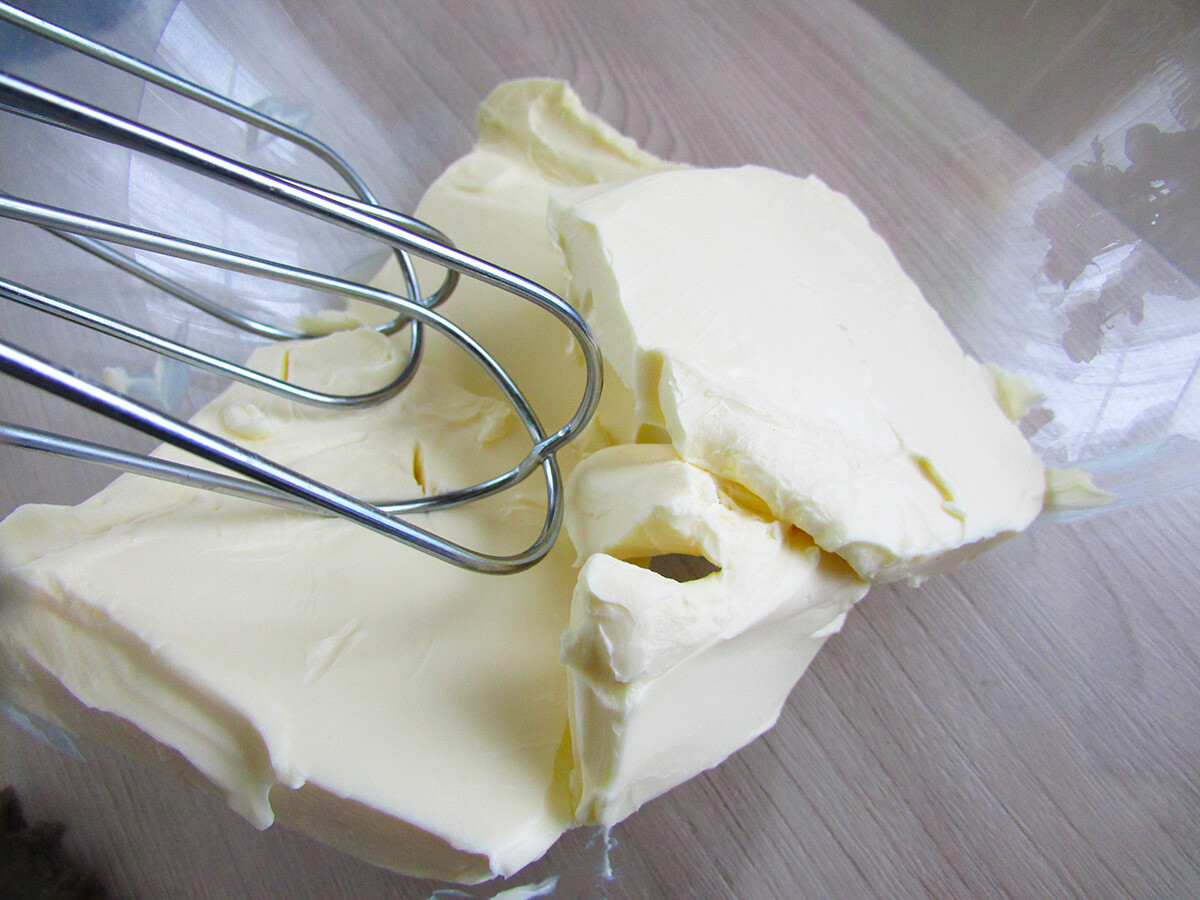 Olga Brovkina
8. Divide the cream into 6 parts. Set aside one part. Put 4 cakes on top of each other, coating each with cream.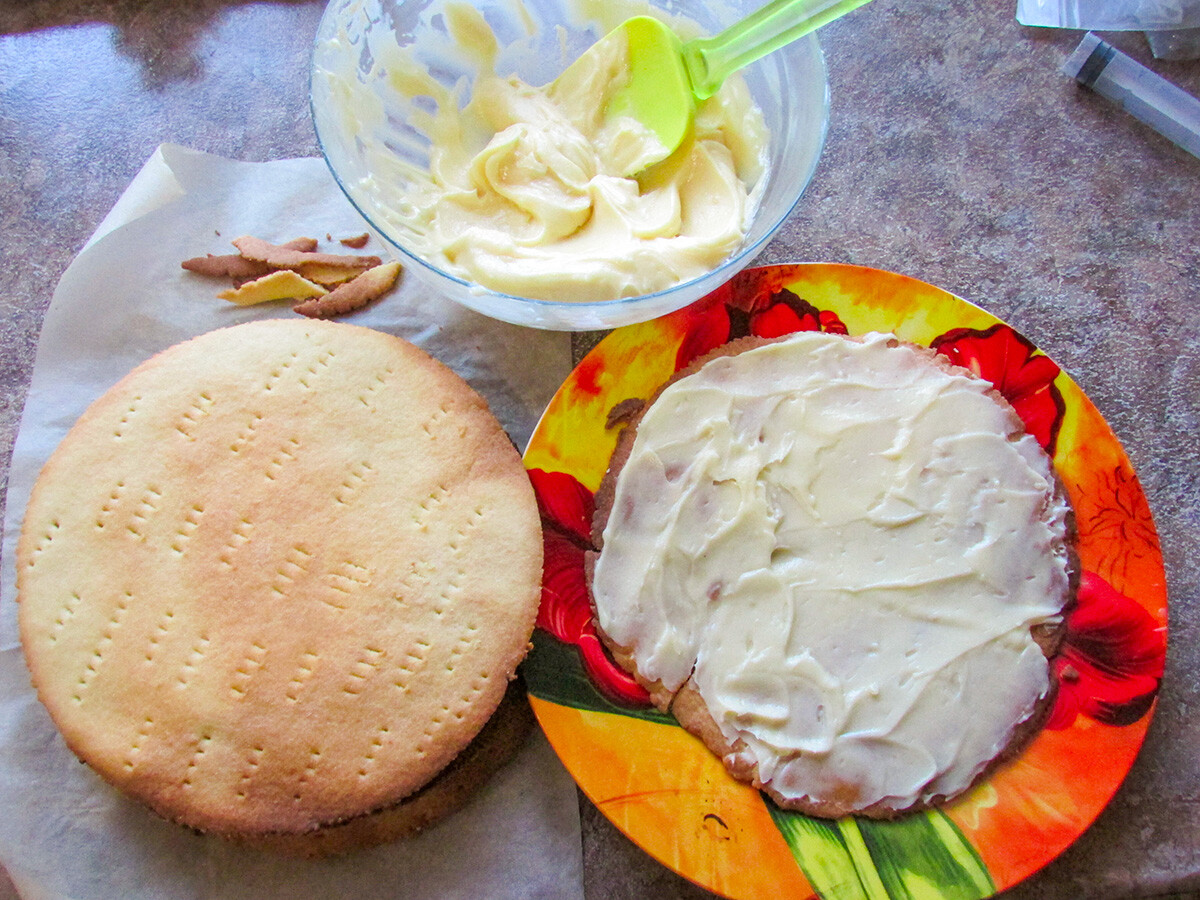 Olga Brovkina
9. Now is the time to make the glaze. Boil one beet, grate it and squeeze the beet juice through cheesecloth.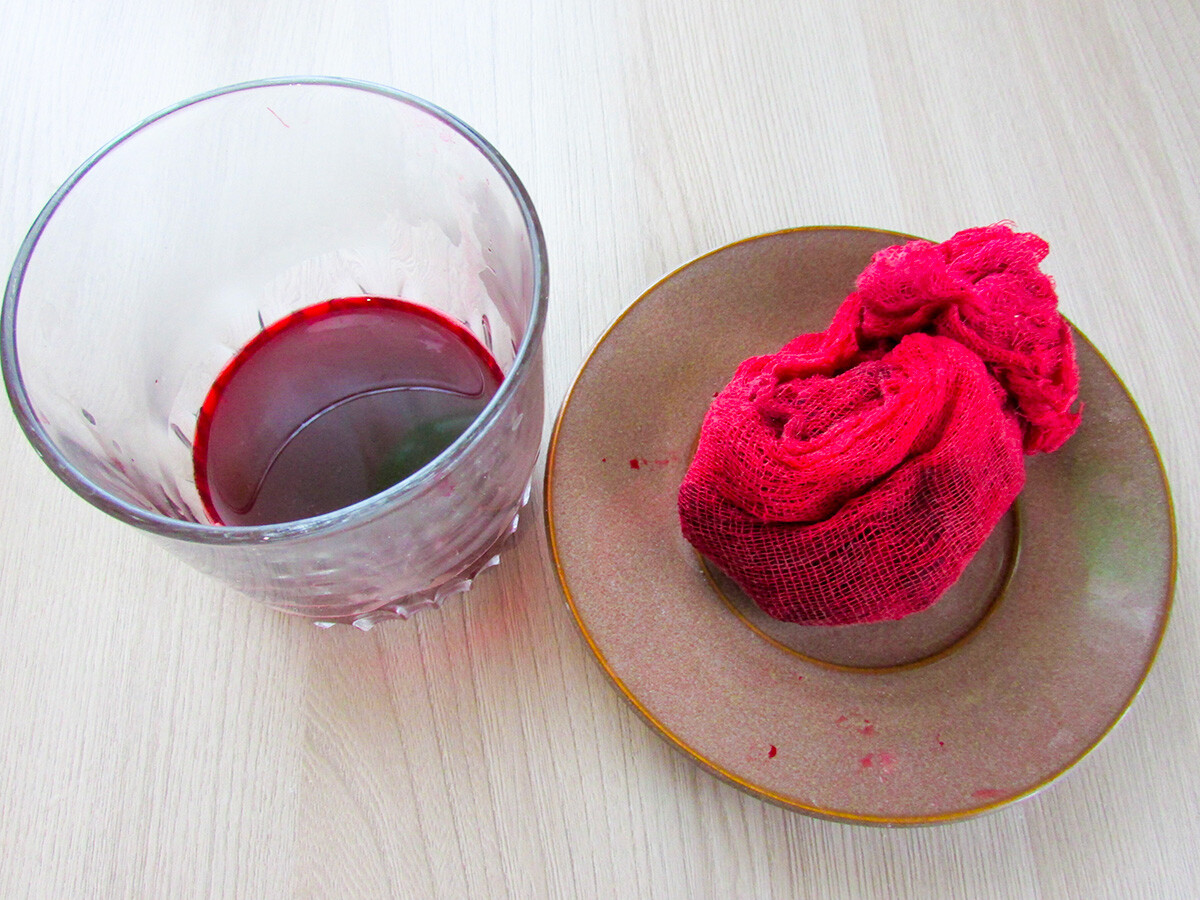 Olga Brovkina
10. Mix 100 g of powdered sugar with 2 tbsp of beet juice. Cover the cake with the glaze.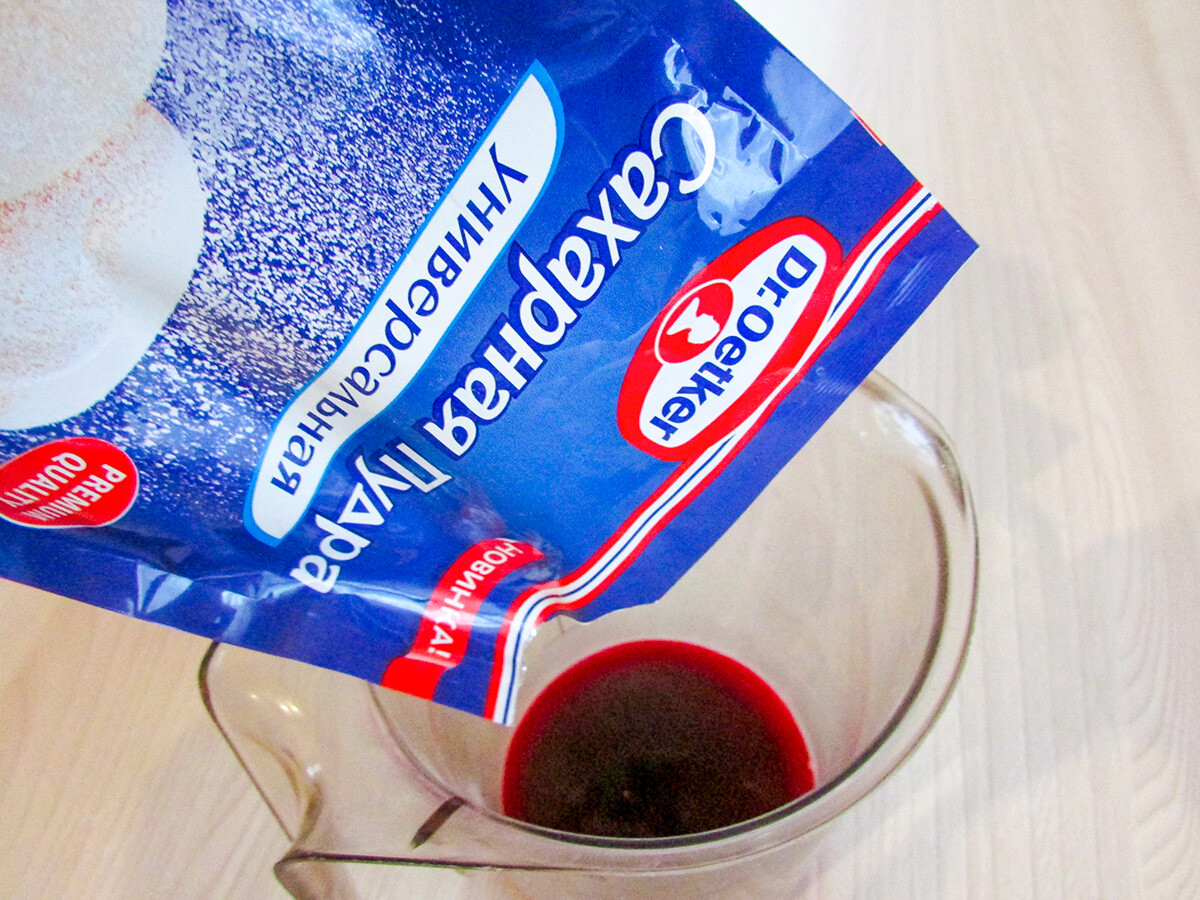 Olga Brovkina
11. Put the cake with pink glaze on the cream-coated cakes. Cover the sides with the rest of the cream and sprinkle the sides with biscuit crumbs.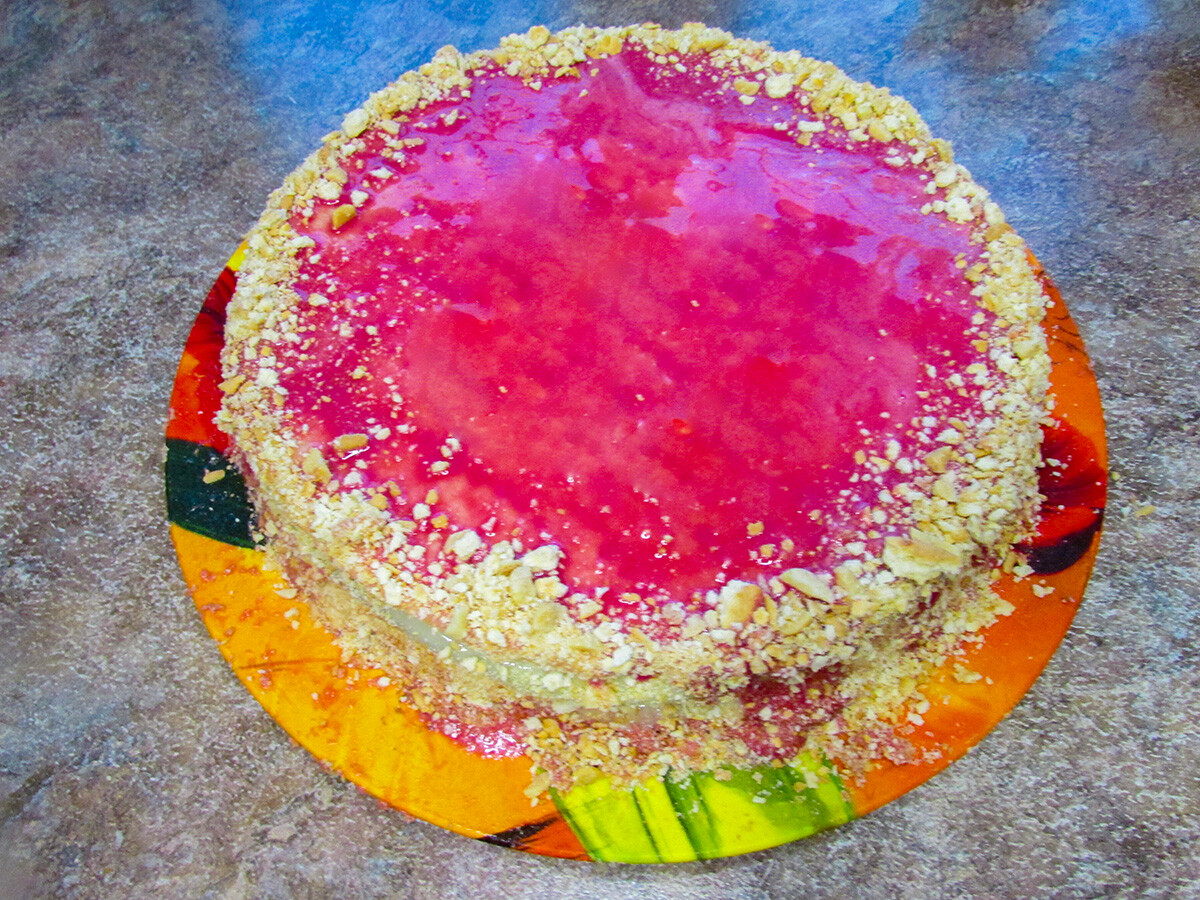 Olga Brovkina
12. Decorate the top of the cake. Melt the chocolate and pour it into a small cellophane bag; make a hole and decorate the cake making a net. Your Soviet Abricotine is ready. I added some fresh berries in the end. You can decorate it to your own taste - with nuts or cream. Enjoy!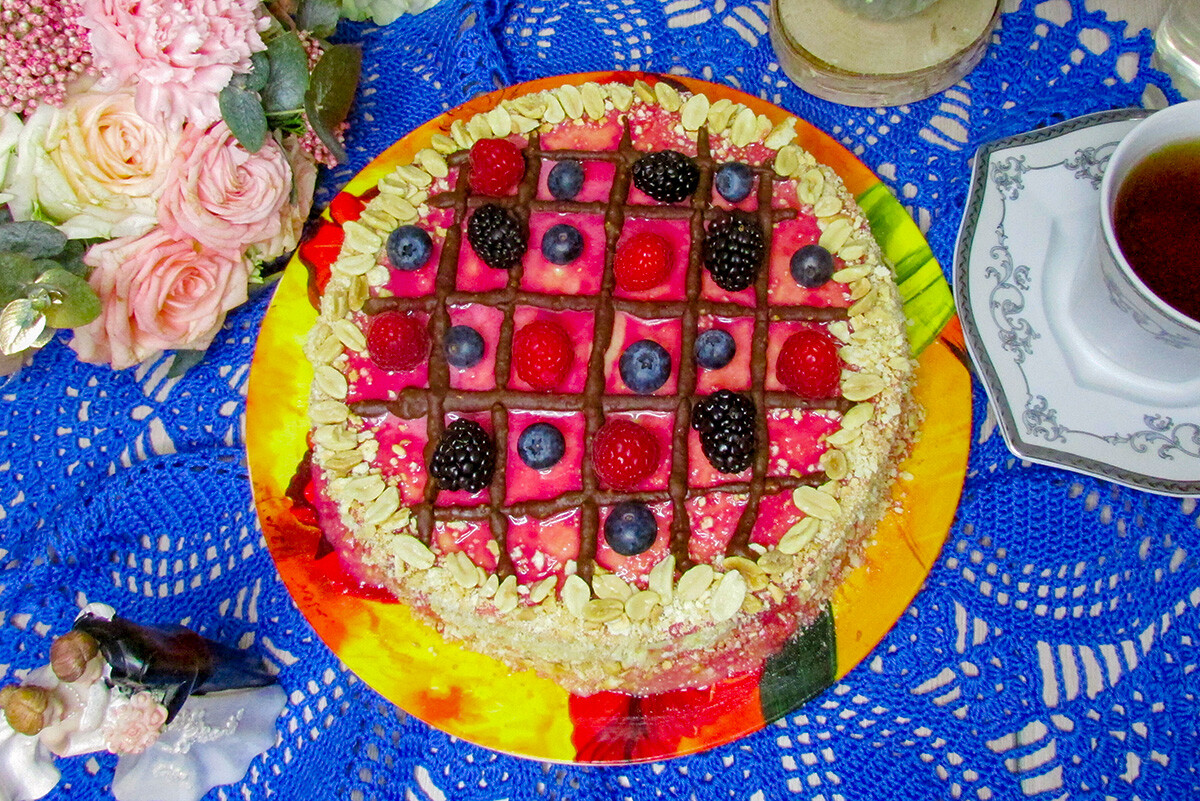 Olga Brovkina
Dear readers,
Our website and social media accounts are under threat of being restricted or banned, due to the current circumstances. So, to keep up with our latest content, simply do the following:
Subscribe to our Telegram channels: Russia Beyond and The Russian Kitchen
Subscribe to our weekly email newsletter
Enable push notifications on our website
Install a VPN service on your computer and/or phone to have access to our website, even if it is blocked in your country
If using any of Russia Beyond's content, partly or in full, always provide an active hyperlink to the original material.