How to cook a vegan champignon soup with pearl millet in the Russian way (RECIPE)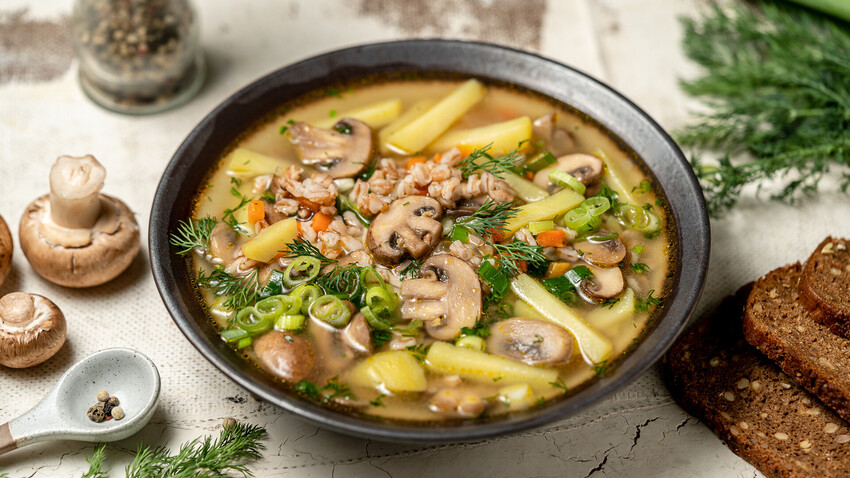 This soup is created to give variety to the vegan menu: hearty and flavorful.
Yulia Mulino
For centuries, champignons were looked upon with suspicion in Russia, but thanks to the 19th century horticulturist, Efim Grachev, this mushroom finally got the recognition that it deserves.
Mushroom soup is probably in the top three favorite dishes among Russians. There are many different recipes, including summer soups made from fresh porcini mushrooms and soups made from dried mushrooms. In the olden days, the forest was exclusively the source of mushrooms. Now, there is a wide choice of greenhouse mushrooms, such as champignons, oyster mushrooms or shiitake.
It is said that champignons used to be regarded with suspicion in Russia. Perhaps this is because they grew in the wild, often in places where food waste was discarded. Also, it was believed that the champignon was not a forest mushroom, and therefore had no soul.
Russians called the champignon "pechurka" because its white round cap resembled an ancient type of wood-burning oven. However, in some regions champignons were farmed even before the 1917 Revolution.
Efim Grachev, who lived in the Rostov region in the south of Russia, was one of the first who saw in champignons a potential not only in terms of gastronomy, but also in terms of business. He became the most successful horticulturist and entrepreneur of his era by cultivating greenhouse mushrooms and vegetables.
Born into a simple peasant family, he was familiar with the processes of agriculture from childhood. Having gathered some funds in 1848, he organized the production of mushrooms, asparagus and vegetables near St. Petersburg.
He pioneered a technology that allowed him to grow mushrooms all year round in greenhouses, with 400 mushrooms in one bush. Grachev was respected in Russia and internationally recognized, and eventually was named a member of the Paris Academy of Agriculture. He generously shared his innovative mushroom cultivation methods and regularly published articles in agricultural journals. His techniques can still be applied today. March 29 is even celebrated as Champignon Day in Russia in honor of Grachev's birthday.
We suggest celebrating this day with champignon soup that was popular during Grachev's lifetime. This is especially relevant during Lent. Sour cream is a frequent companion to mushrooms in soups, but you can also make a vegan version that is delicious and hearty. The soup turns out quite nourishing because of the use of pearl millet and potatoes as ingredients.
Champignons are not as strongly flavored as wild mushrooms. Nevertheless, the soup is fragrant due to the special roasting of vegetables with champignons that are cooked separately, and not placed directly in the water. Also, the fresh herbs and spices enrich its flavor even more.
Ingredients for 4 servings: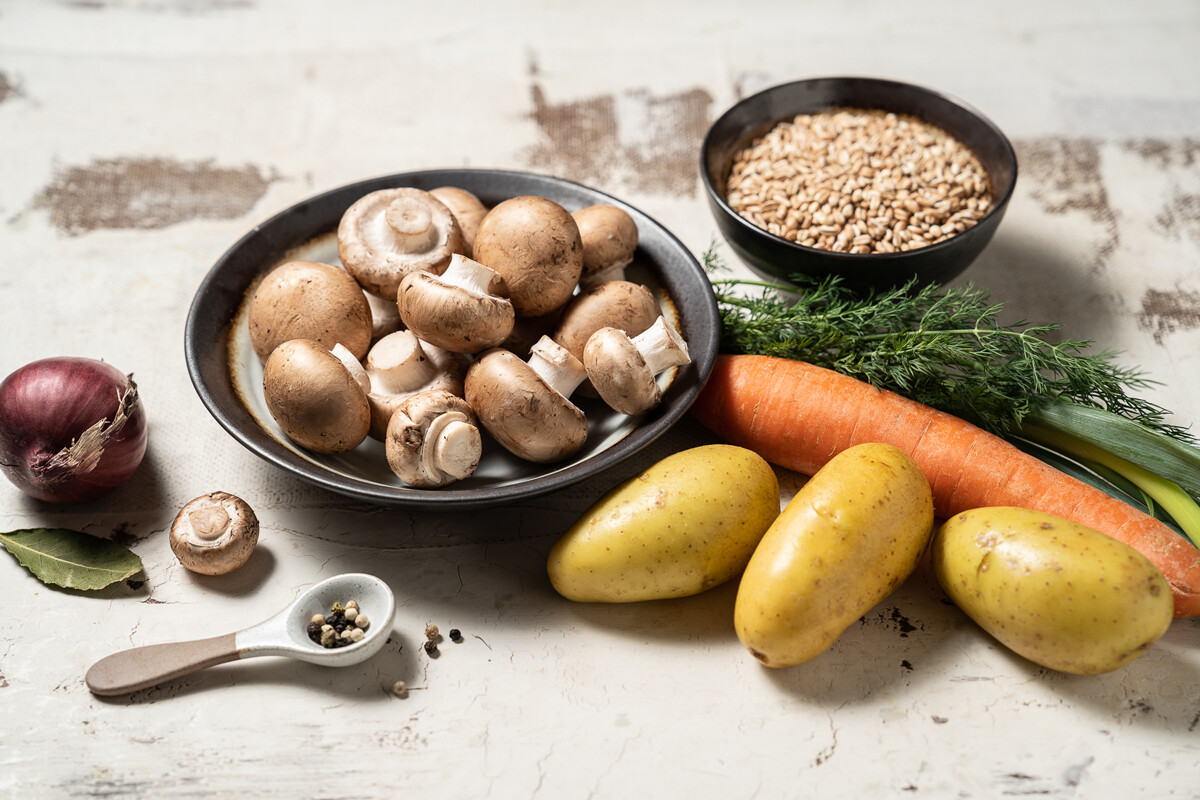 Champignons - 250 g
Pearl or spelt groats - 100 g
Potatoes - 3 units
Carrots - 1/2 pc
Onions - 1/2 pc
Water - 1.3 - 1.5 l
Laurel leaf
Salt and pepper to taste
Fresh herbs
Preparation:
1. Peel the onion and carrot, cut into cubes and fry in oil until soft. Place into a separate bowl.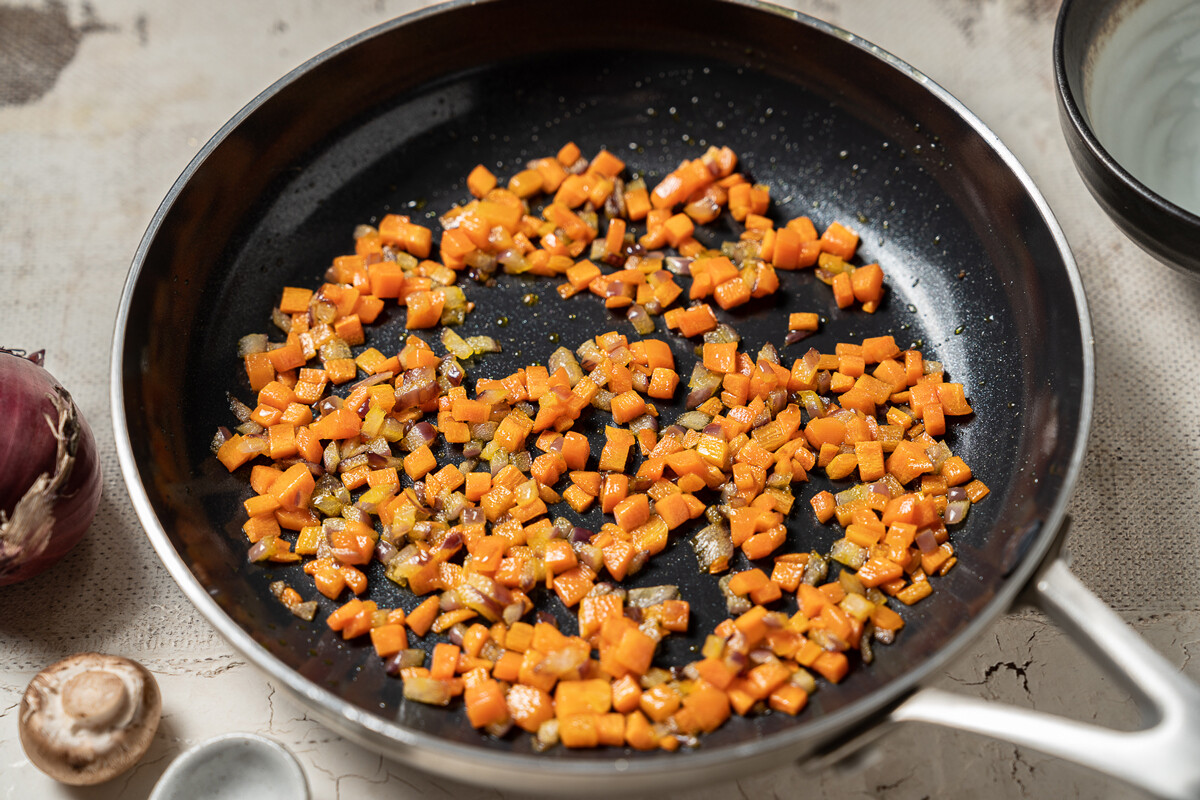 Yulia Mulino
2. Wash, dry, chop the champignons and fry in oil in the same pan with carrots and onions.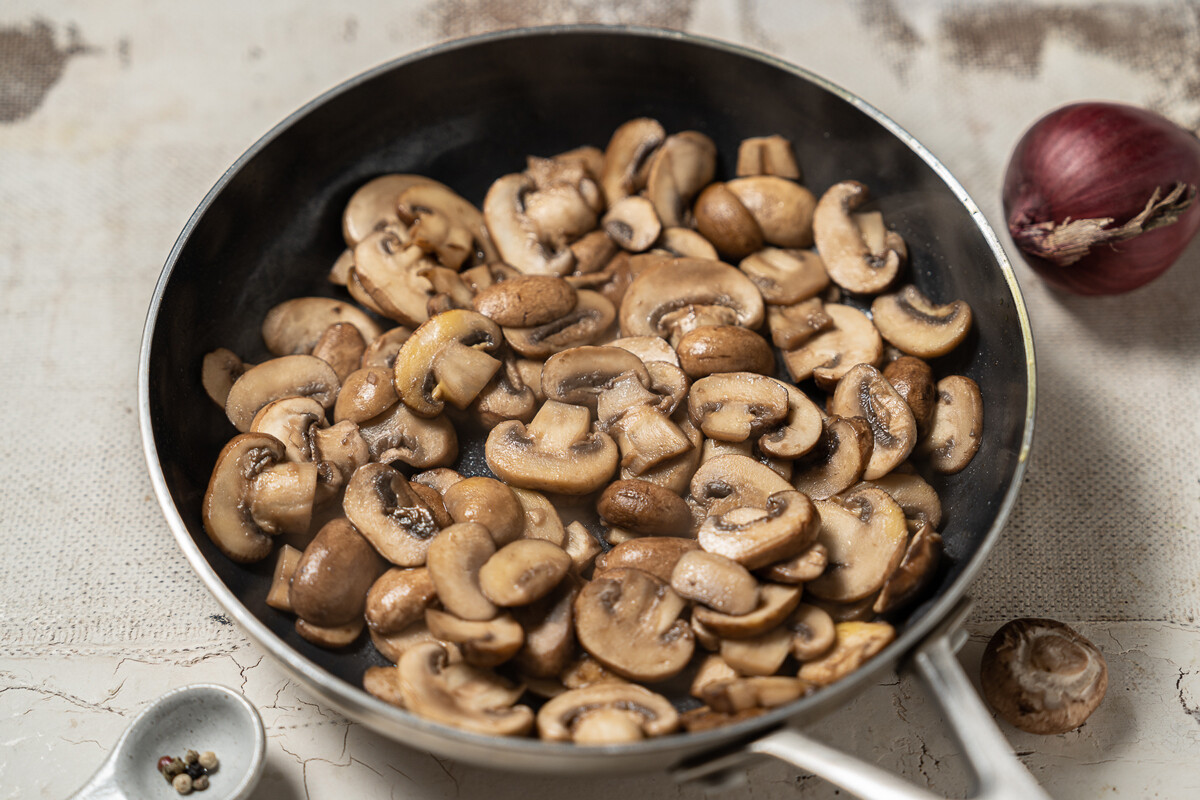 Yulia Mulino
3. Pour water over pearl barley, add spices, salt, pepper and put on the stove. Grits come in different treatments. Follow the instructions on your package to prepare for the soup. Mine was quick-cooking.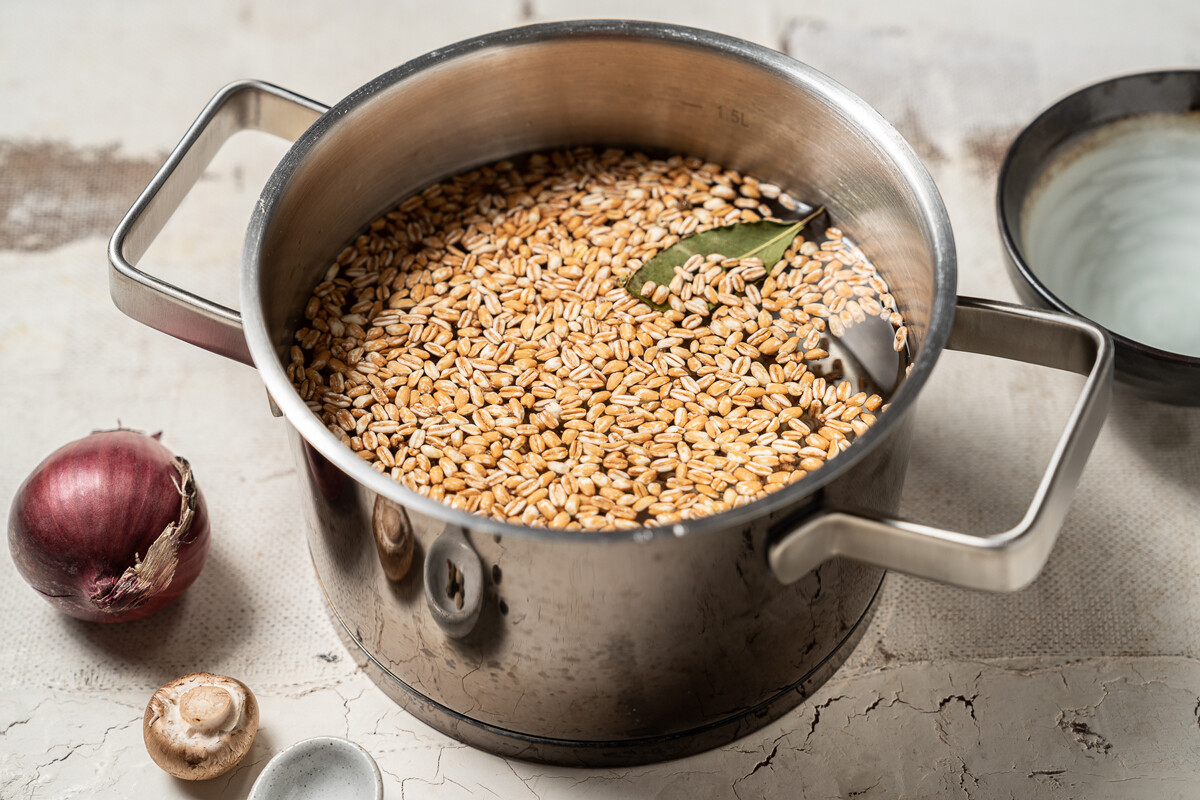 Yulia Mulino
4. Peel potatoes, cut them into julienne strips.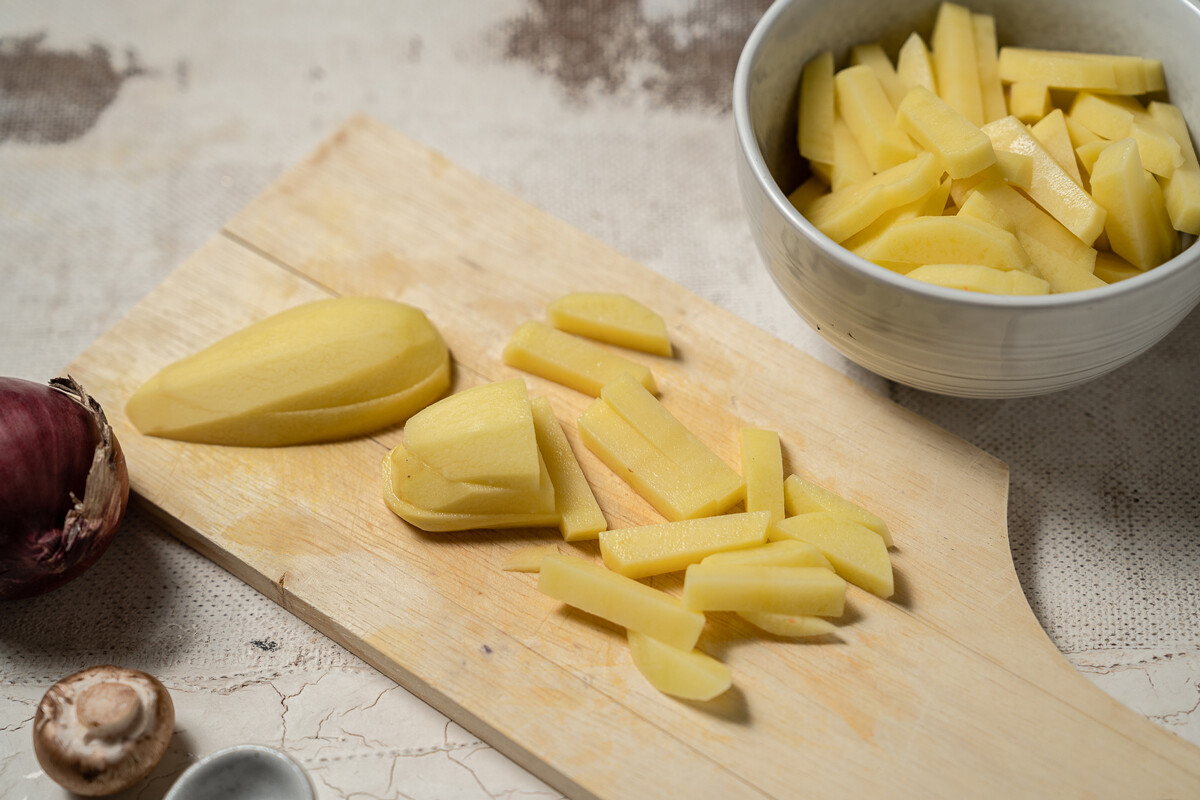 Yulia Mulino
5. Add the potatoes to the grits 15 minutes before the pearl barley is ready.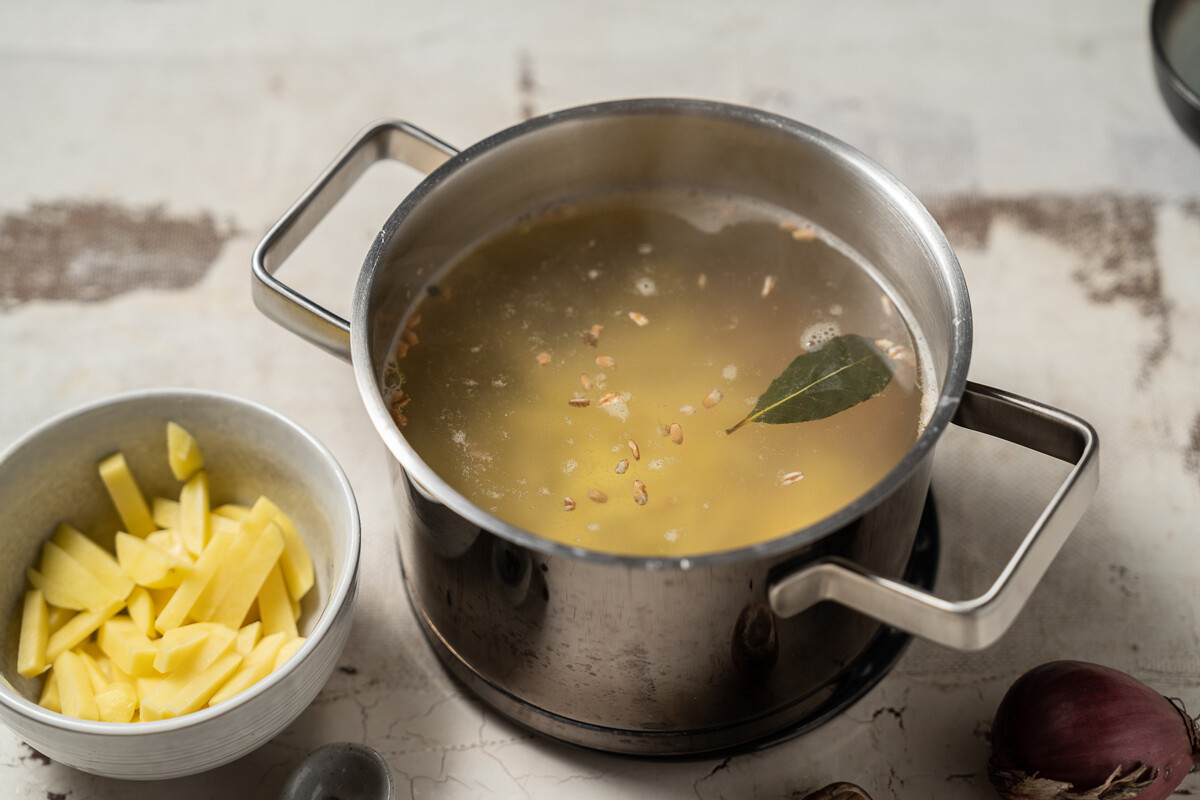 Yulia Mulino
6. When the potatoes are almost ready (in 10 minutes), add the roasted carrots and mushrooms. Allow the soup to simmer until all the ingredients are cooked.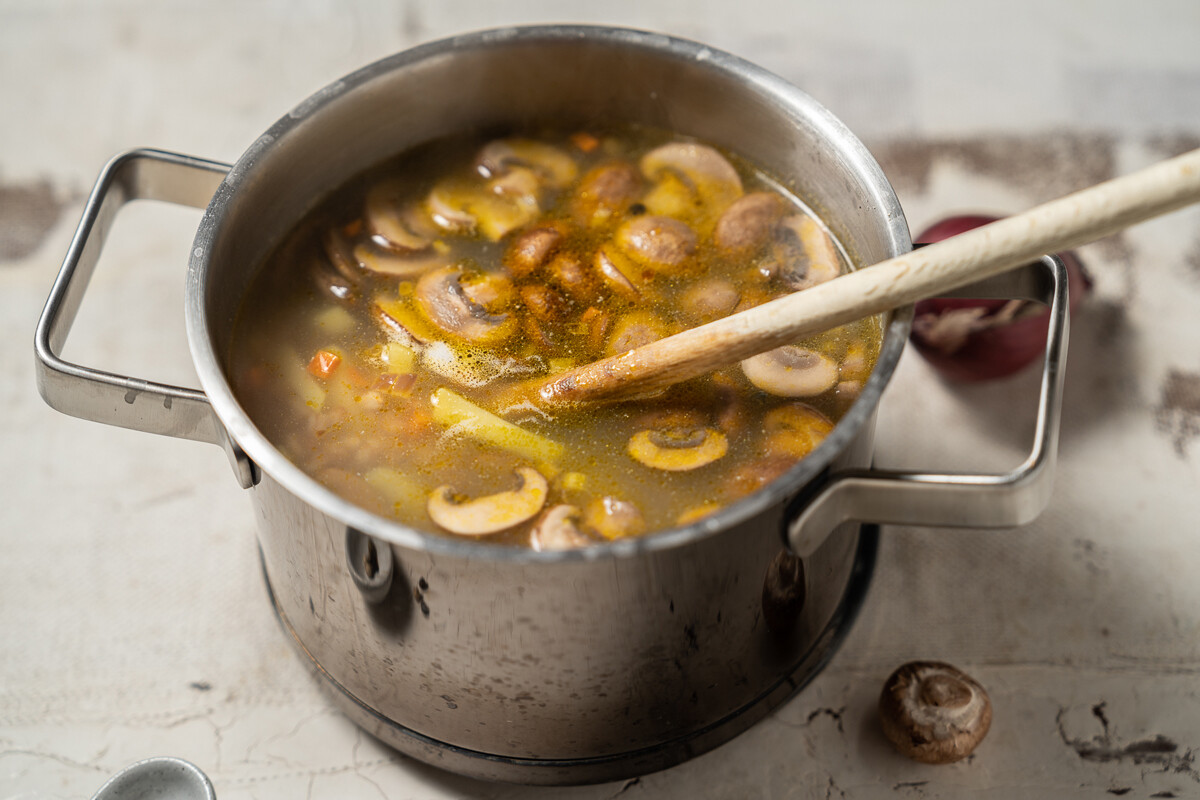 Yulia Mulino
7. Remove the soup from the stove. Add greens.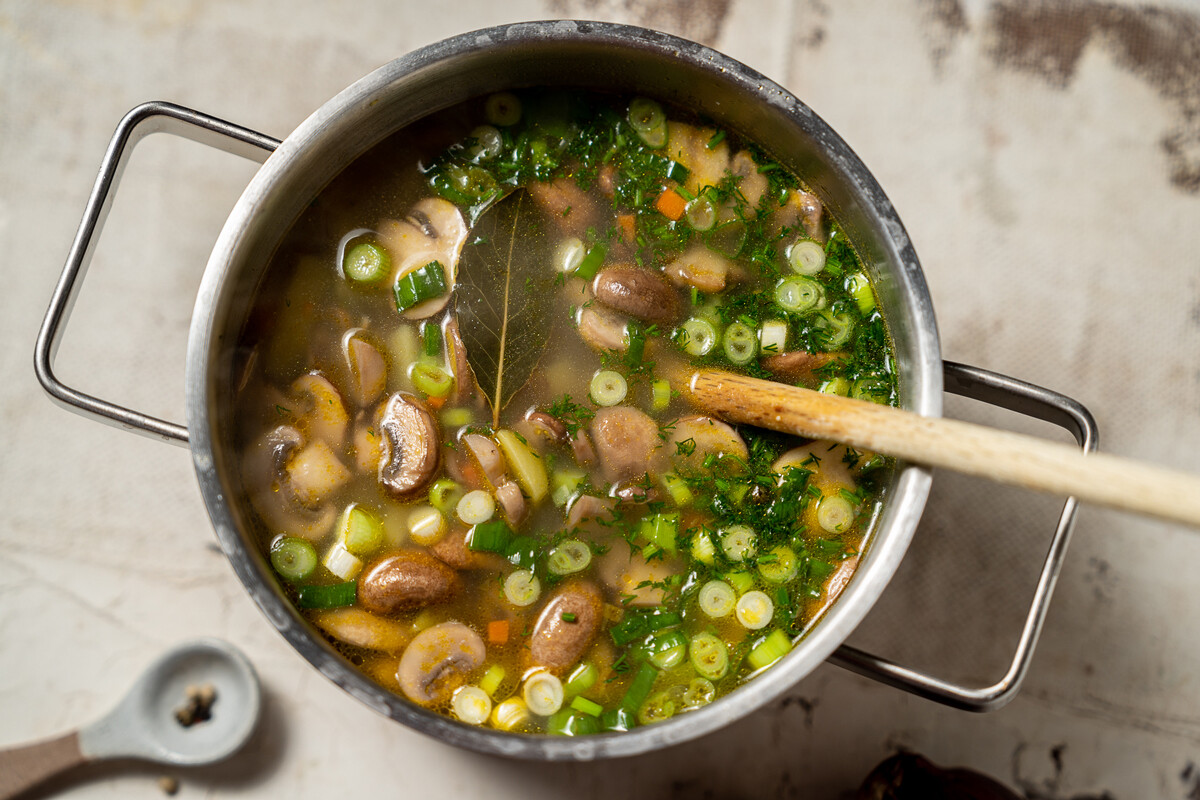 Yulia Mulino
8. Serve hot with rye bread.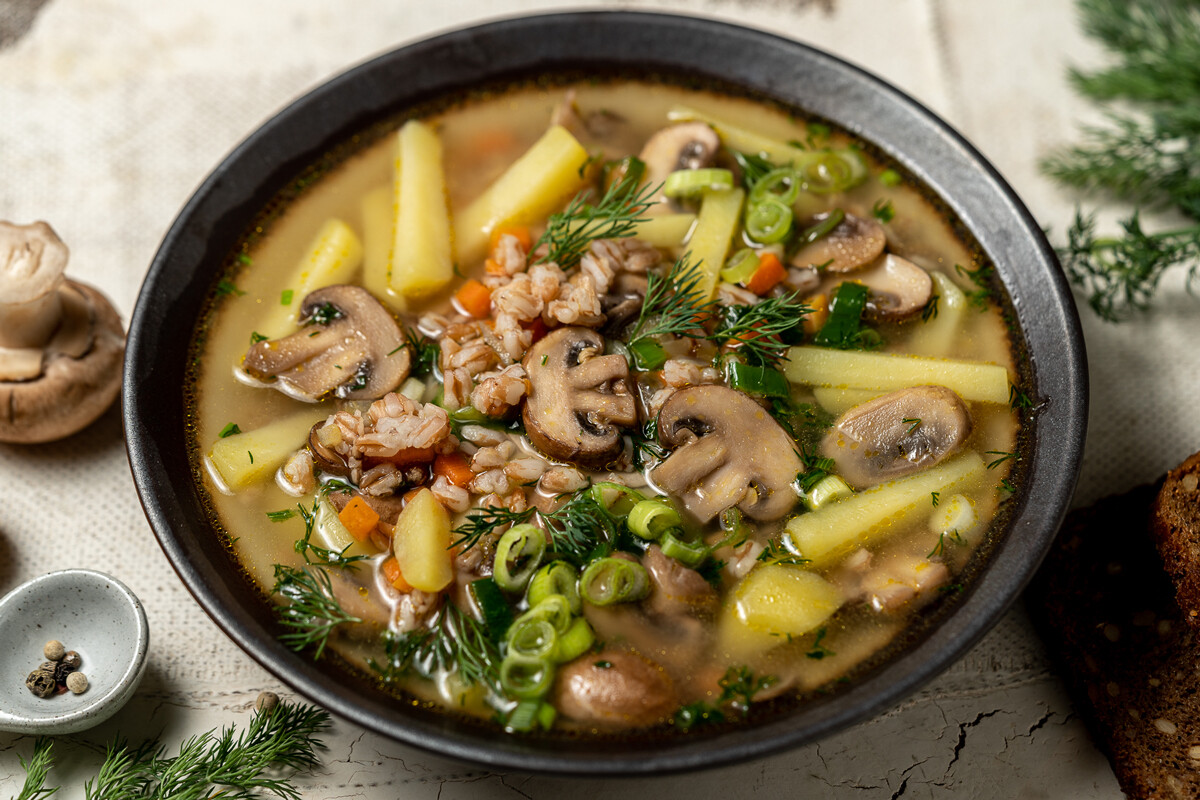 Yulia Mulino
Dear readers,
Our website and social media accounts are under threat of being restricted or banned, due to the current circumstances. So, to keep up with our latest content, simply do the following:
Subscribe to our Telegram channels: Russia Beyond and The Russian Kitchen
Subscribe to our weekly email newsletter
Enable push notifications on our website
Install a VPN service on your computer and/or phone to have access to our website, even if it is blocked in your country
If using any of Russia Beyond's content, partly or in full, always provide an active hyperlink to the original material.