Week in Russian kitchen: Orthodox Easter, Craft Weekend and balalaikas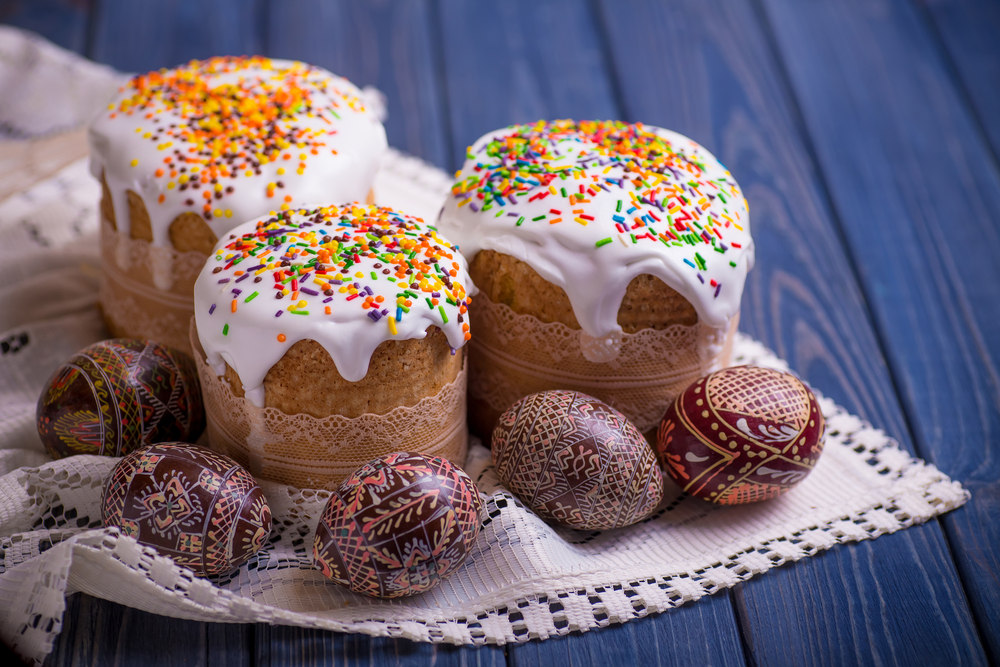 The traditional treat for the Orthodox Easter: colored eggs and kulichi.
Shutterstock / Legion-Media
RBTH presents a digest of Russia's most delicious culinary events from April 20-26, 2016.
Get ready to celebrate Easter
This week is one of the most important for the Russian Orthodox Church: it is Holy week, which begins with Jesus' entry into Jerusalem and ends with Easter. Orthodox believers already adhere to a strict vegan diet during Lent, which lasts for the 40 days before Easter, but during Holy Week, the restrictions are even more severe; most cooked food is prohibited. But at the end of the week comes Easter, which is celebrated with a huge feast featuring kulich (Easter cake), colored eggs and paskha, a kind of creamy cheesecake dessert that shares its name with the holiday itself.
The feast begins at midnight on Sunday and lasts, basically, for the next 40 days, although the biggest celebrations are held during "Bright Week," the seven days just after Easter.
You can buy kulichi in a wide range of sizes at every Moscow bakery or grocery store, but you might try making one yourself using this Soviet-era recipe.
Would you like a balalaika with your beer?
The latest addition to the Moscow bar scene is Balalaechnaya, located at 23 Arbat. As the name implies, there are a lot of balalaikas — they cover the whole wall. You can even buy one to take home!
The new outlet is a sister bar to Ukuleleshnaya (ukulele) at Pokrovka — the owners and the chief bartenders are the same, as well as the musical instrument theme.
Not surprisingly for a bar so devoted to traditional Russian culture, the main beverages are vodka and vodka-based tinctures, polugar (a kind of traditional Russian liquor distilled from bread) and craft beer. Balalaechnaya puts a modern twist on the old Russia theme, however, offering such tinctures as wasabi vodka, orange vodka, pu-ehr vodka and coffee with grapefruit and cinnamon.
Get crafty in St. Petersburg
Source: Shutterstock / Legion-Media
St. Petersburg welcomes craft beer lovers this weekend, April 30-May 1 for the first international Craft Beer festival at "Lenexpo" (Bolshoy pr., 103, Vasilyevskiy Ostrov). There will be craft beer, craft food and craft music, according to the organizers, who add that "craft" is a way of life based on the sustainable consumption of quality products.
But the beer, of course, is the main attraction. There will be over 120 varieties offered by more than 50 Russian and European breweries. The brews will be up for awards, including best beverage and the most original brand design.
Festival guests can also attend workshops and lectures dedicated to the craft brewery business.
Explore the ancient food of Rus'
Would you like to know more about what the ancient people of Rus' ate - and maybe even try it yourself? Then pay a visit to the interactive museum "The food of Rus'" (site in Russian only). The museum is located in the Moscow region village of Zhavoronki (22 miles northwest of Moscow), and it is truly interactive. All the exhibits can be eaten, used or made by visitors.
According to the museum, its main goal is the preservation and development of Russia's centuries-old culinary culture. The museum shows how traditional dishes can be incorporated into modern life through a program of tastings, thematic tours and workshops, as well as folk festivals.
All rights reserved by Rossiyskaya Gazeta.