Not by borsch alone: You won't believe what else can be made with beetroot!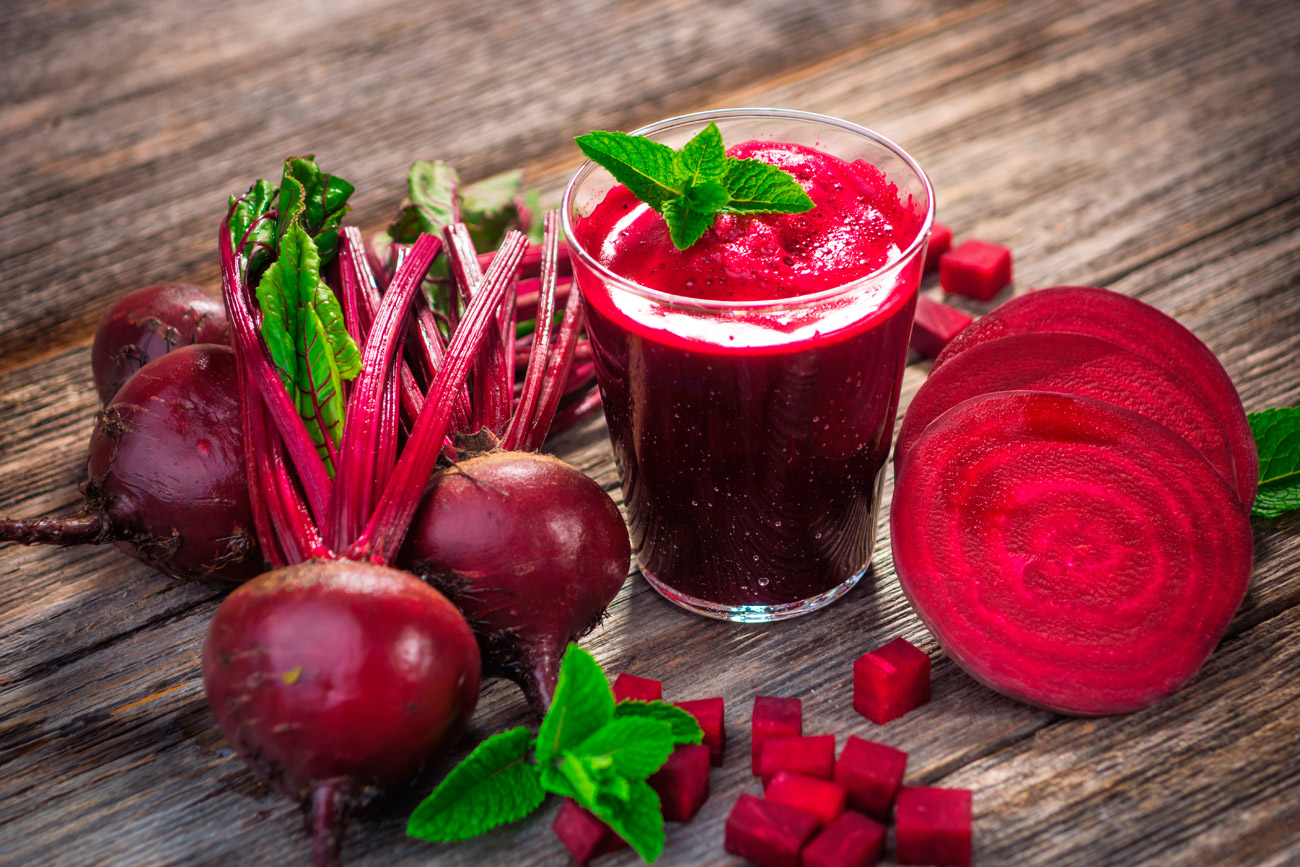 Moscow's renowned chefs share recipes that will blow your mind.
Vostock Photo
Everyone has heard of borsch, and most know its main ingredient is beetroot. But Russian cuisine is famous not only for borsch, and you can make many other meals with beetroot. Today, it seems Moscow's top restaurants are competing to serve you the most bizarre and amazing dishes made with beetroot.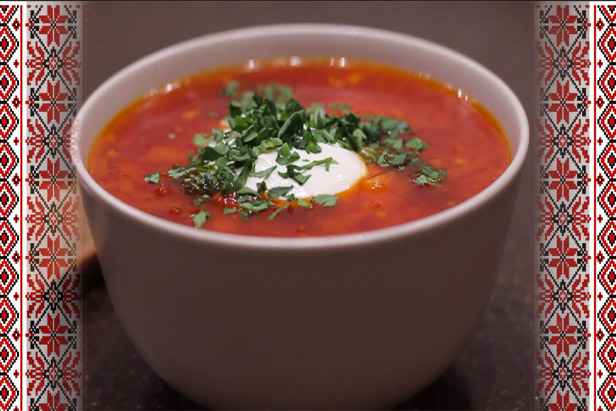 The beetroot is a special vegetable for Russians because it's the main ingredient in the world-famous borsch. You might be surprised, but the beetroot did not originate in Russia. The burgundy beauty was brought to Ancient Rus' from Byzantium, and it was immediately regarded with high esteem. And why shouldn't it? The beetroot contains folic acid, which is good for the nervous system; has a large quantity of iodine in respect to other vegetables (for example, 7-17 micrograms versus 0.2-6 micrograms in carrots); contains betaine, which regulates fat metabolism; and has magnesium, as well as a whole bunch of other vitamins and minerals.
This ode to the beetroot can continue, but it's time to eat! RBTH is happy to share some exotic beetroot recipes from Moscow's most prestigious restaurants.
Herring in a beetroot coat (Dr. Zhivago restaurant)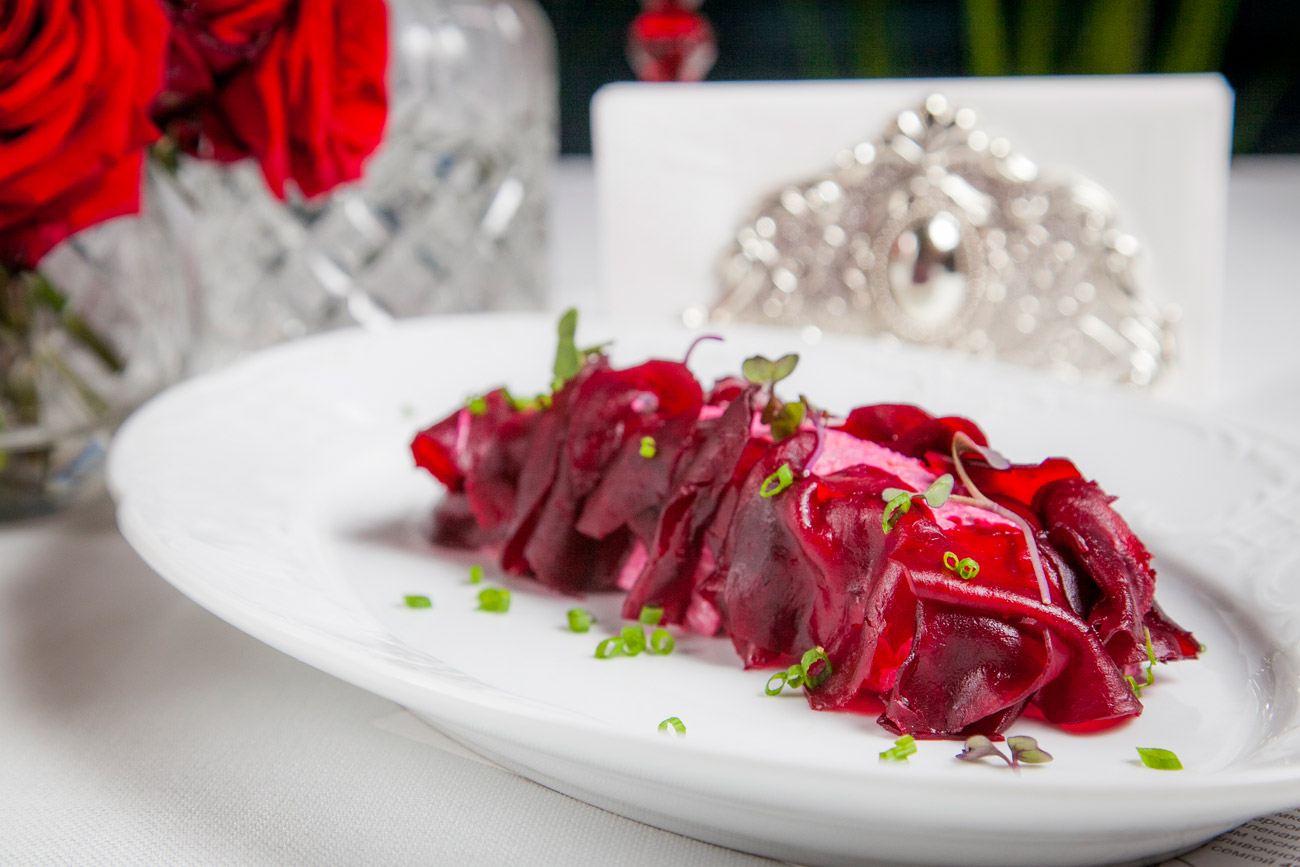 Photo courtesy of Dr. Zhivago
Ingredients for the 1st layer:
Boiled potatoes - 35 grams
Finely-chopped garlic - 2 grams
This dish is made layer by layer in the following order:
1st layer - mash the potatoes with garlic and mayonnaise.
2nd layer - mix herring with mayonnaise.
Ingredients for the 2nd layer:
Mayonnaise - 10 grams
Herring cubes - 50 grams
3rd layer - cut the apple, potatoes, beetroot, carrots and herring into cubes. Add mayonnaise and chili sauce. Mix everything into a homogenous mass.
How to make it:
Ingredients for the 3rd layer:
Boiled potatoes - 20 grams
Boiled carrots - 20 grams
Peeled apple - 10 grams
Boiled egg white - 20 grams
Boiled beetroot - 20 grams
Mayonnaise - 35 grams
Small herring cubes - 25 grams
Chili sauce - 5 grams
1. Cut the boiled beetroot into thin circles.
2. Place the homogenous mass onto a plate. Decorate with the thin beetroot circles.
3. When serving embellish the dish with green onions.
Svekolnik with blackberries (SEVEN restaurant)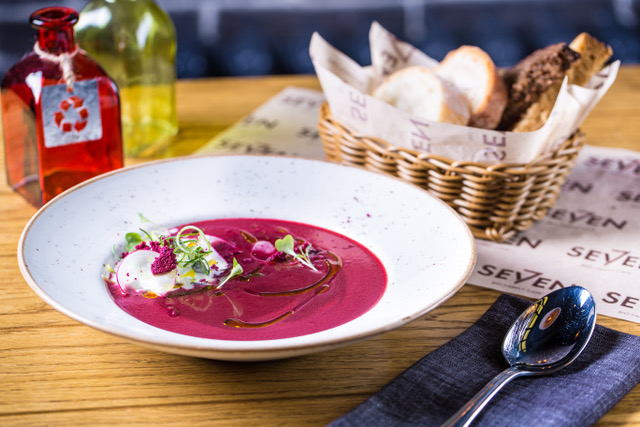 Photo courtesy of SEVEN
Ingredients:
Beetroot - 3 pieces
Blackberries - 100 grams
Kvas - 700 ml
How to make it:
1. Mix the sour cream, finely diced garlic, coriander and cucumbers to make the Matsoni sauce.
2. For cold borsch, stew the grated beetroot and blackberries for about 90 minutes and then pour in the kvas.
Ingredients for Matsoni sauce:
Sour cream - 50 grams
Coriander - 20 grams
Garlic - 10 grams
Cucumbers - 40 grams
Drain.
3. Place a tablespoon of Matsoni and leek rings in a plate, then pour in the cold borsch.
A Russian-Italian taste: ravioli from beetroot with avocado and walnuts (Ribambelle restaurant)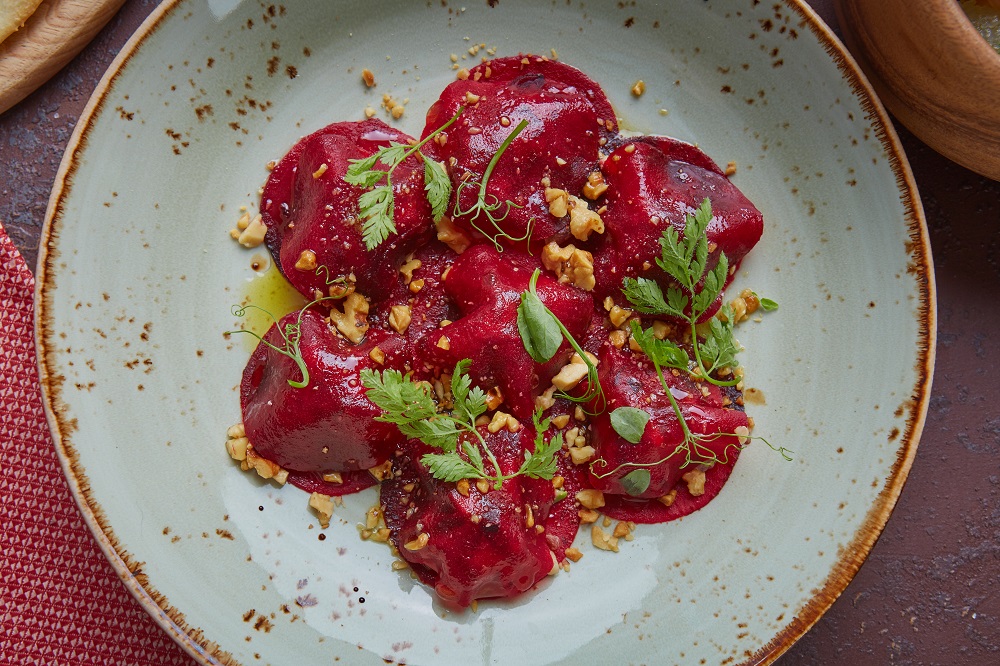 Photo courtesy of Rimambelle
How to make it:
Ingredients:
Beetroot - 70 grams
Avocado - 60 grams
Walnuts - 15 grams
Seedless grapes - 40 grams
Salt - to taste
Balsamic drizzle - to taste
Olive oil - to taste
1. Boil the beetroot and cut into thin slices.
2. Prepare ravioli filling - crush the avocado with a fork and finely cut grapes.
3. Crack the walnuts into large pieces. Mix the ingredients, and add a small amount of olive oil, salt and balsamic drizzle.
4. Place the filling onto beetroot slices and cover with remaining slices.
Serve immediately.
Beetroot with pears on a grill (Spices restaurant)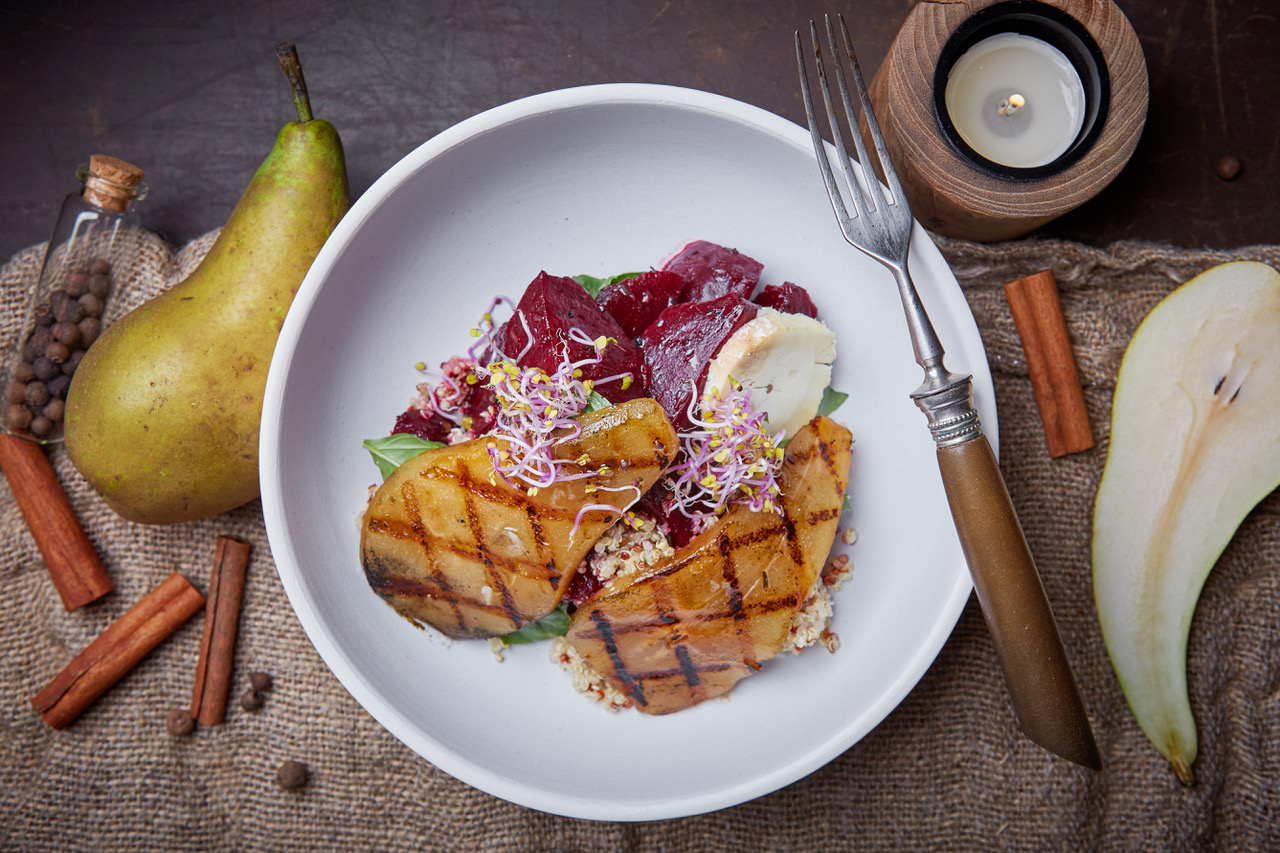 Photo courtesy of Spices
Ingredients:
Beetroot - 1 piece
Balsamic vinegar - 20 ml
Olive oil - 30 ml
Narsharab sauce - 15 ml
Pomegranate juice - 200 ml
Ginger - 10 grams
BBQ sauce - 20 ml
Basil - 5 grams
Quinoa - 50 grams
Pear - 1/2
Thyme - 5 grams
Sugar - 10 grams
Mint - 10 grams
Sheep cheese (Sainte-Maure de Touraine)- 20 grams (don't panic - this cheese is now made in Russia!)
How to make it:
1. Clean the beetroot and marinate for 45 minutes in pomegranate juice, olive oil, balsamic vinegar and ginger. Bake in an oven at 180 degrees Celsius for an hour.
2. Slice the pear and boil with thyme and sugar for 15 minutes. Cool in the same water. Brush on the BBQ sauce, and grill.
3. Boil the quinoa. Cool and mix with the mint, basil, narsharab sauce and olive oil.
Compose the dish and decorate it with the sheep cheese.
A Healthy Cocktail from Brasserie Most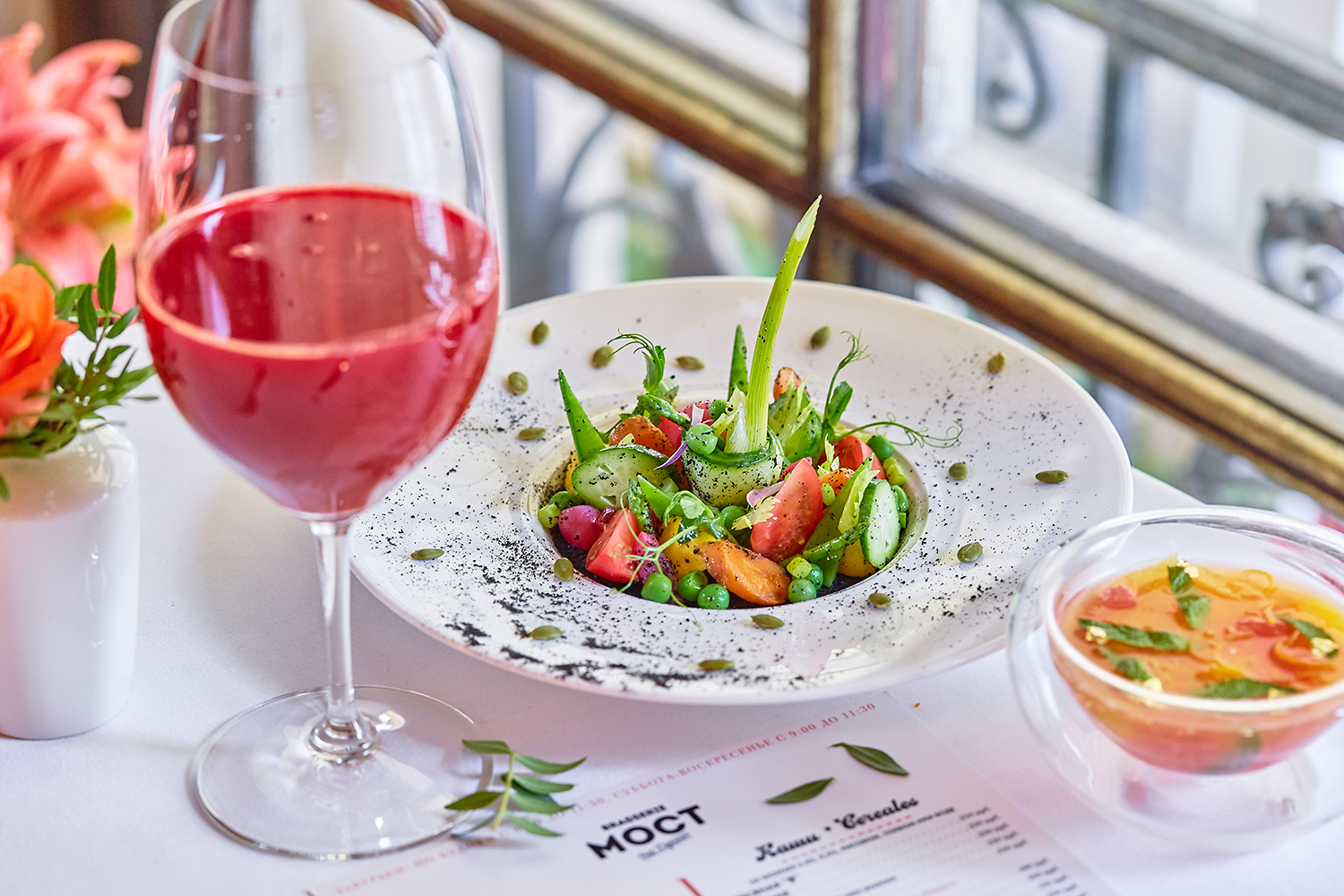 Photo courtesy of Most
We could not but ask for some useful suggestions from the restaurant's chef, Jean-Luc Molle:
Ingredients:
Peeled green apple (1 piece) - 240 grams
Carrots (2 pieces) - 250 grams
Orange pulp (2 pieces) - 220 grams
Peeled beetroot (1 piece) - 110 grams
"I called the drink antioxidant or "for weariness" because every ingredient is healthy and all together they give you strength, and act as a strong antioxidant. The green apple helps liver detoxification, removing harmful toxins. The carrot is a natural antioxidant and the brighter its orange color, the healthier it is. To balance the taste I add orange pulp. This citrus is great to fight weariness. The most important ingredient, which unites all these healthy qualities, is the beetroot."
How to make it:
Squeeze fresh juice from all the ingredients and mix.
If using any of Russia Beyond's content, partly or in full, always provide an active hyperlink to the original material.