This most important Islamic feast, known as Kurban Bayram in Russia, is a joyful one. The festive dishes have a pivotal role in the celebration, and the central part is an animal sacrifice, usually sheep, and then the mutton is served to everyone.
The sacrificial feast of Eid al-Adha is considered sacred by Muslims around the world, and begins on the 10th of Zulhijjah (the fourth month after Ramadan, prescribed for the pilgrimage to Mecca) and lasts for 2-3 days. This year the date falls on Sept. 1.
Eid al-Adha commemorates the sacrifice of the Prophet Ibrahim, who agreed to sacrifice his own son, but at the last minute Allah allowed him to replace the boy with a ram.
Preparation for the feast begins 20 days prior, when it is prohibited to rejoice, wear new clothes, cut your hair, and etc. More joy awaits believers, however, and the celebration starts early in the morning with prayers at the mosque and the imam's khutba.
The focial point is the animal sacrifice, and in Russia a mature lamb is usually offered, but it can also be a goat or a cow.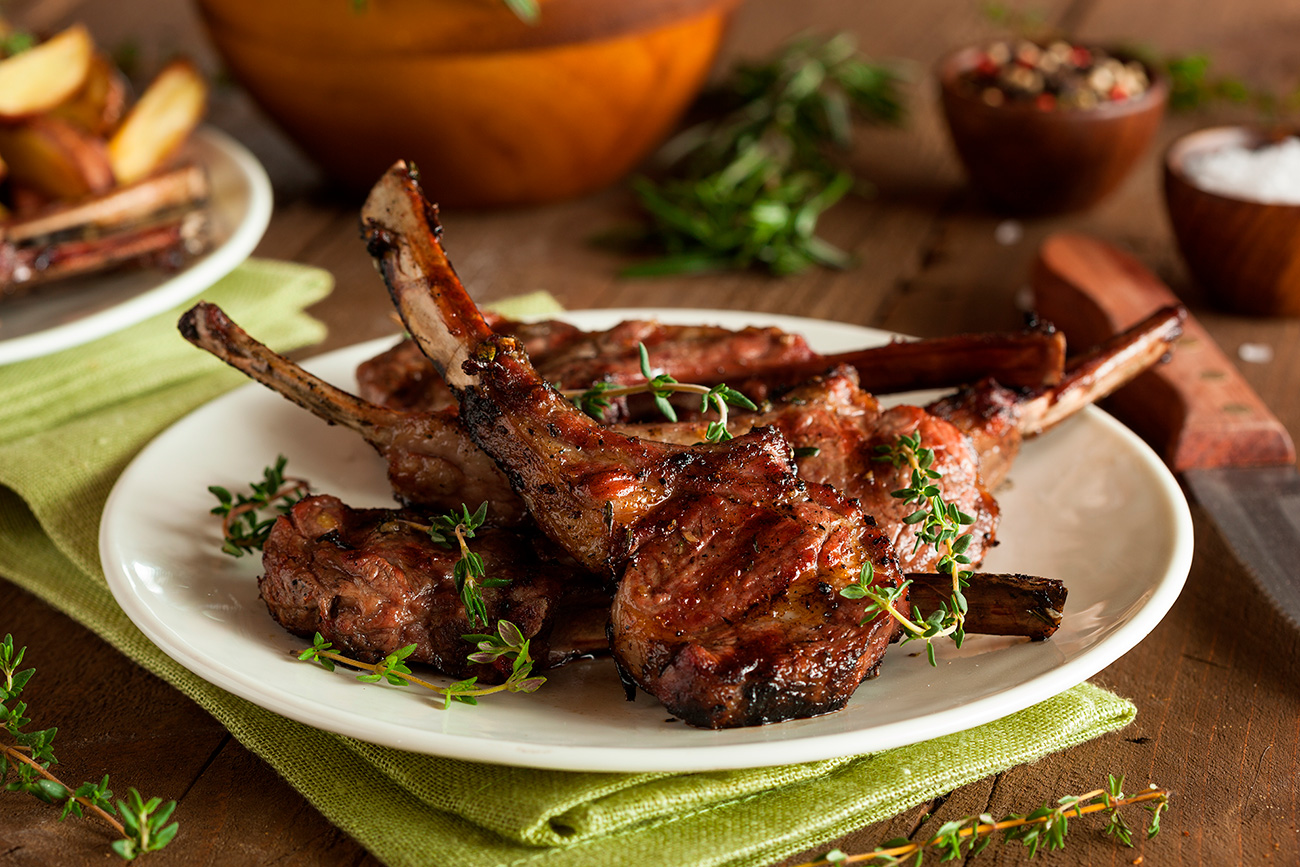 Various lamb dishes are usually the highlight of the Eid al-Adha table. / Legion Media
This is accompanied by important rituals. Muslims say a believer can only enter heaven on the back of a holy animal, and it can never be reached if you fail to bring a sacrifice.
It's strictly prohibited to leave any sacrificial meat after the holiday, but, frankly speaking, this is unlikely. Who can resist such delightful freshly cooked traditional meat dishes?! Furthermore, some of it is given to friends, neighbors and the poor.
What dishes are there at the festive table? Here's a sample menu for Russian Islamic Eid al-Adha celebration: definitely worth trying and cooking!
Mutton and radish starter
How to make it:
Ingredients:
200 g boiled mutton
100 g sour cream
100 g butter
bunch of radishes
white bread
salt, red pepper to taste
1. Finely slice the mutton. Add sliced radish, pepper, salt. Mix and add sour cream.
2. Finely slice the bread. Spread the butter on each slice.
3. Put the mutton-radish mixt atop the butter on bread slices.
Leg of lamb broth
How to make it:
Ingredients:
1 lamb head
3 lamb legs
3 garlic cloves
3 tablespoons 3% vinegar
2 egg yolks
salt and ground pepper to taste
1. Chop the lamb head and legs, put into cooking pot, cover with cold water. Add garlic, boil for 3 hours.
2. Take lamb head and legs out of the broth, remove meat from the bones.
3. Sift the broth, add salt and pepper, bring to a boil. Add meat and boil at low heat for 20 minutes.
4. Mix add yolks with vinegar, and season the broth.
Stewed lamb with leeks
How to make it:
Ingredients:
700 g leeks
300 g lamb
50 g melted butter
1 cup of cream
1 tablespoon of flour
salt and red pepper to taste
1. Cut the lamb into thin chunks. Season with salt and pepper and brown in the butter.
2. Chop the leeks coarsely, place in a little bit of simmering water, and stew for 20 minutes.
3. Add flour, pour in the cream, and bring to a boil.
Peaches in sour cream
How to make it:
Ingredients:
500 g peaches
250 g sour cream
100 g iced sugar
2 tablespoons ground walnuts
1 sachet vanilla sugar
1 teaspoon gelatin
1. Mix sour cream with icing sugar, add vanilla sugar. Leave in cool place for 1 hour, then whisk.
2. Dissolve gelatin in a small amount of water, add. Continue whisking for 3-4 minutes.
3. Cut peaches into halves, remove the pits. Put into dessert bowls, cover with cream. Decorate with ground walnuts.
Sea buckthorn and wild strawberries leaves tea
How to make it:
Ingredients:
2-3 sea buckthorn leaves
2-3 wild strawberries leaves
1 teaspoon green tea
½ teaspoon dried mint
sugar to taste
1. Pour boiling water over the teapot. Put sea buckthorn and wild strawberries leaves and mint inside. Cover with hot water (it should take ⅓ of the teapot capacity), mix and let brew for 3 minutes.
2. Add green tea, add more hot water. Cover with napkin and leave for 20 minutes. Sift.
3. Pour the brew into the tea bowls, add sugar, dilute with hot water.
If using any of Russia Beyond's content, partly or in full, always provide an active hyperlink to the original material.