Russia to test new battleship artillery system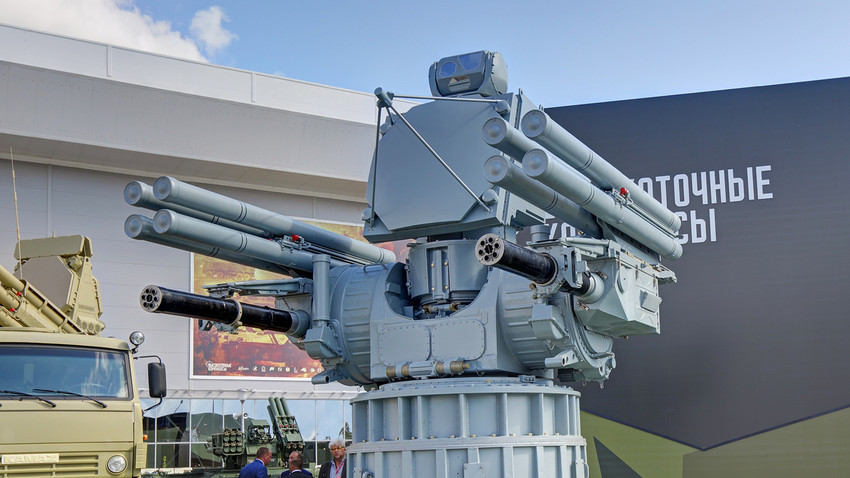 The ground version of this weapon passed a baptism of fire during the Syrian campaign. Now it's making its way onto Russia's new era sea beasts.
Russia's notorious ground-based anti-missile system 'Pantsir-S1' has just been redesigned and fitted onto next gen battleships, in order to defend them from sea-based missiles, with the first-ever battleship with these anti-missiles recently leaving its docks to pass actual battle tests.
Russia's new sea shield
The sea version of this artillery system is dubbed 'Pantsir-ME'. It's specifically created for sea warfare and meant to intercept enemies' missiles and other projectiles even in the worst weather conditions, including storms. In order to withstand such challenges and not break down, engineers made it compact and covered its body with an anticorrosive sheath.
The main difference between the ground and sea versions lies in the way the two have to intercept incoming enemies' missiles. If the first was created to shoot down targets from above that most of the time fly on predicted flight paths; the latter has to defend ships from missiles flying above the reflecting water surface, which usually hides projectiles' paths from anti-missile systems.
"As for today, the military command views the 'Pantsir-M' as one of the main battleship air defense systems of the coming decade. The first project for these artillery machines became the 'Karakut' battleships. And the 'Pantsir-M' will also change outworn and aged air defense systems of the past on other ships. For example, on the 'Admiral Kuznecov' aircraft carrier," former Izvestia newspaper military analyst Dmitry Safonov told Russia Beyond.
As he noted, the system is also suitable for different types of Russian, as well as foreign, warships.
In addition, the ships' extra displacement of 500 tons is minimal, meaning there's also the option of installing multiple 'Pantsir-M' air defense systems on larger battleships, in order to more effectively defend the ship from different directions.
"The 'Pantsir-M' is an "all-in-one" type of an air defense unit. Inside its modules there's already a radar with artificial intelligence that detects all modern types of aerial assault objects. It transmits all information directly to a command post with the targets locked down, where officers make decisions on opening fire," Safonov said.
He also mentioned that one command post can effectively monitor and operate up to four 'Pantsir-M' battle modules with machine guns and rocket launchers on them. Currently, a three-man crew is required to operate one 'Pansir-M' system from the command post. They are the system's chief-commander, module operator and engineer of the battle module.
Differences between ground & sea versions
Armament of ground and sea versions also differ. The latter one has a pair of 30-mm six-barrel automatic AO-18KD artillery guns with 500 rounds each. Each round is so powerful it could technically shoot down the world's biggest military planes with a single shot.
Alongside them, you'll find as much as eight guided short-range 57E6-E1 missiles that effectively work against aerial targets, flying at speeds of up to 1,000 meters per second. And specially for the sea version, engineers created an automatic reloading system that inserts new missiles from inside the dock once the primary weaponry has been used up.
'Pantsir-M' missiles are capable of eliminating targets on short distances of up to 20 km (12.42 mi.) and at heights of up to 15 km (9.32 mi.). Meanwhile, its artillery system is built to destroy the missiles that managed to evade its "missile shield" at distances of up to 4 km (2.49 mi.).
KEY NUMBERS:
Anti-aircraft missile system 'Pantsir-ME'
Missile range: 1.2 km-20 km (0.75-12.42 mi.);
Ammunition load: 12 missiles;
Gun caliber: 30 mm;
Ammunition: 1,400 rounds;
Rate of fire per minute: 10,000;
Muzzle velocity: 960 m/s;
Detection range: up to 20 km (12.42 mi.);
Simultaneous tracking of targets: 4
If using any of Russia Beyond's content, partly or in full, always provide an active hyperlink to the original material.