Yandex team creates Twitter-Yandex Money hybrid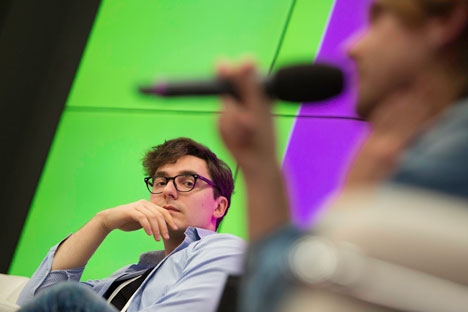 Twym developer Filipp Kontsarenko has presented his project on i-Conference event in Moscow. Source: Digital October
The brainchild of Yandex developers, Twym, is a robot that allows users to transfer money via Twitter. Users register on twym.ru through their Twitter account, link it to their Yandex Money online wallet and send "money tweets" with comments.
Twym start-up is a robot that lets you top up your Yandex online wallet via Twitter. This is the brainchild of Yandex developers. It is an unusual startup from a large tech company that can afford to dabble.
The idea is to allow users to transfer money from their online wallet with nothing more than a tweet. The way it works is very simple: Users register on twym.ru through their Twitter account and link it to their Yandex Money online wallet. They are then free to send "money tweets" with whatever commentary they like to their friends and acquaintances.
The whole process takes no more than a couple of minutes. For example, tweeting "Send $20 to @MisterX to order business cards" will transfer $20 to @MisterX's online wallet. If @MisterX does not have a Twitter account, Twym sends him an email with an invitation to do so.
The idea of combining Yandex Money with Twitter had been simmering for some time, says twym.ru developer Mikhail Vorzhbyansky. Yandex Money allows users to transfer money in a matter of seconds. Twitter is a form of instant messaging: You write a short post, tweet it, share information or links – and news in microblogs travels fast. Why not do the same with money?
Vorzhbyansky had the idea last spring, and he wasted no time in writing the first code for the app.
The pilot version of Twym was first showcased at i-Conference and caused an immediate stir, much to the surprise of its founders: the app reached its Twitter API limit (all apps have them) within half an hour of its release. This severely disrupted the service, leading to initial fears that the technical complexities of the app might frighten off potential users. At the same time, it was clear that Twym had promise and a captivated audience.
It was only when the app was ready for launch that the Twym team heard about other groups of developers working on the idea of combining an online wallet with a microblogging service. There are similar projects outside of Russia, including Hashpay, which has yet to launch, and Сhirpify, which is successfully up and running but takes a whopping four percent commission from customers for every transaction.
Twym users do not pay anything on top of the usual Yandex Money fees to transfer funds, which stand at 0.5 percent when sending money from one account to another. The app is also different from its competitors on a purely technical level: Twym has been developed for a specific platform and takes full advantage of Twitter's speed and ease of use, whereas foreign equivalents are built on complicated mechanisms for transferring funds that need to be connected in stages.
"We didn't create Twym to make money. We just wanted to offer users an interesting service that is both useful and convenient," said Filipp Kontsarenko, one of the project's founders.
"Our target audience is quite specific as well – namely, Twitter users," he clarifies. "People create entire worlds inside blogs, and we want to make time spent there comfortable and interesting. It turns out that a run-of-the-mill money transfer can be both fast and fun. More than this, we hope that Twym will make the process of giving money to various charities that much easier."
Twym.ru currently has a few hundred registered users, the majority of whom do not yet view it as a full-fledged financial service. Tweeters are testing the waters, seeing how the product works. The service is only available to individuals with online wallets, and there are no immediate plans to work with corporate clients.
The developers are keeping tight-lipped about future innovations for the app – not so much for commercial reasons, but because they want to surprise their users. The development team has also fostered a kind of maternal relationship with their brainchild, lovingly referring to the app as Twym and taking care of it as if it were their own flesh-and-blood child.
Twym replies to its followers (usually only loosely connected with the topic of discussion, but always in a funny way), gives advice and tells users when their money transfers have been received.
The developers want to increase the number of answers that Twym can give, as well as the robot's IQ. One of the innovations that can be expected in the near future is a "white list" of apps through which payment tweets can be sent. This will be followed by a fully functional crowdsourcing project that will be based on Twym.
Read more about Top Russian Start-ups
All rights reserved by Rossiyskaya Gazeta.