Russia's Far East to import medical technologies from Israel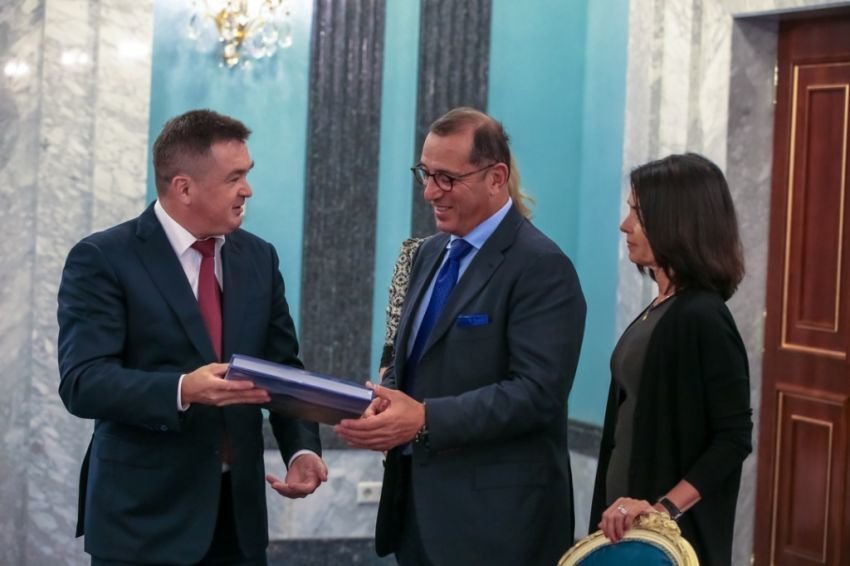 Primorsky governor Vladimir Miklushevsky (L) during a meeting with Israeli ambassador to Russia Zvi Heifetz (R).
Press Photo/ RG
Israeli companies are interested in diverse areas of cooperation in the region, including industry, agriculture and shipbuilding.
The government of the Primorsky Territory is ready to cooperate with Israel in the field of medicine, said Primorsky governor Vladimir Miklushevsky during a meeting with Israeli ambassador to Russia Zvi Heifetz on Aug. 1.
"You have made a big leap in this field, making possible the most complex operations. The Primorsky Territory has a modern medical center that is part of the Far Eastern Federal University (FEFU) and a medical institute. Your technologies would come in handy here," said Miklushevsky.
The Primorsky authorities had already signed agreements with Israeli investors in two fields, primarily in agriculture.
Medical projects
According to Miklushevsky, two large medical projects have been launched in Vladivostok. Firstly, there are plans to open a center for transplanting internal organs in affiliation with FEFU. Equipment is currently being purchased for the unit.
Secondly, construction of a center for nuclear medicine that will use radio-diagnostics and radio-surgery is about to begin on Russky Island. Collaborators in the new center will also create a new generation of drugs destined for treating malignant brain tumors.
Scientists have already started conducting pre-clinical tests of drugs against Alzheimer's disease, and by the end of 2016 they expect to obtain a prototype of the drug that could be clinically tested on people.
Israel has supported the idea of exchanging technologies with Russia's Far East.
"Next time I will come to the Primorsky Territory with a delegation of professional Israeli doctors. All that we have is our technologies and we are ready to share them," said Zvi Heifetz, adding that Israeli companies are also interested in other fields of cooperation, including industry, agriculture and shipbuilding.
Agriculture
According to Vladimir Miklushevsky, Russian-Israeli cooperation in the Primorsky Territory is actively developing. During the first Eastern Economic Forum in September 2015 in Vladivostok the regional authorities and an Israeli investor agreed to create a breeding and genetic center for transplanting embryos.
"We plan to produce cattle embryos in the Primorsky Territory. We plan to bring out a breeding herd," explained the governor. The enterprise will not only guarantee demand for the entire region but will also export the production, in particular to Asia-Pacific countries, he stressed.
It is precisely the food market in the Primorsky Territory that is actively attracting investors. One of the areas of the territory already has a functioning pig-breeding complex called Mercy Trade, thanks to which the region's pork demand has been guaranteed.
The same investing company plans to launch another high-tech complex for breeding pigs in the Mikhailovsky advanced development territory, a zone with preferential taxation. This complex will produce up to 10,000 tons of pork annually.
Meanwhile, Rusargo, one of Russia's largest agricultural companies, is investing about 18 billion rubles ($271 million) in the creation of another pig-breeding complex with 700,000 pigs.
However, according to Vladimir Miklushevsky, for now the region does not need such a number of pigs, so the companies plan to export their production, primarily to China and neighboring countries.
Partner generated content
All rights reserved by Rossiyskaya Gazeta.